Finding the best color laser printer isn't easy with all the options out there. But we're here to help you make a sound and educated decision. We've researched and found the best laser printers for home use and small businesses.
Laser printers have become a must-have for small businesses and at-home enterprises. They no longer have the hefty overheads. They're more efficient and cost-effective than other printing alternatives. So they're the best solution to your printing needs!
If you're looking for the best color laser printer, we suggest the HP Color LaserJet Pro M255dw. Its performance and ease of use solidify the top spot, and all this for a great price!
The Best Color Laser Printers
These are our recommendations for the best color laser printer this year. We've considered the needs of different amateurs, professionals, and companies. There is something for everyone on this list. We have printers for one-person home operations and growing small businesses and offices.
All the printers on this list have wireless printing features. But if you're wondering what else to look for in the best color laser printer or why you need one, go to the end of the article. We have answers for you in our buying guide.
The HP Color LaserJet Pro M255dw is the best all-rounder on our list. It has excellent functionality in a compact body. It's affordable to buy and has reasonable running costs. So it's ideal for home use, professionals, and small businesses.
Laser printers have a reputation for being big and bulky. But the HP Color LaserJet Pro M255dw bucks that trend. It's a compact machine with a cube shape, so it's easy to find a spot for it in your office space.
This HP Color LaserJet has automatic two-sided printing. You don't need to fiddle with the settings when you want double-sided prints. And it's a fast printer, giving you a rate of 22 pages per minute.
You have reliable HP wireless connectivity. You can connect to a Wi-Fi network at home or in your office and print wirelessly from any device on the same network. And there's a front-side USB port if you prefer printing that way.
The 2.7-inch color touchscreen makes controlling the M255dw easy. And you also have the option of voice-activated printing, which is another fun feature.
HP has taken wireless printing to another level with the HP Smart App. It's available for iOS and Android systems. And it gives you more freedom and control over your printing, allowing you to print from anywhere. You can also set up shortcuts for repetitive tasks and organize your files on your mobile.
The toner cartridges available for this model offer a high yield of prints. The introductory cartridges give you about 800 black-and-white prints and 600 color ones.
Replacement cartridges can be pricey, primarily because HP sells the cartridges separately. You can't buy a set of all four (black, cyan, magenta, and yellow). The HP brand cartridges yield 1350 pages per cartridge. But there are third-party cartridge sets that give you more pages.
The Brother HL-L8360Cdw can handle high demand. It's designed for a busy work environment and can put out a high print volume. It's ideal for busy offices. But you can use it at home if you're running a small business.
The HL-L8360CDW has automatic duplex printing, meaning double-sided sheets are the norm. You also have dual-loading trays, so you don't have to refill the paper constantly. Each tray holds 150 sheets of paper. That's 300 prints before you need to reload.
This Brother laser printer leads the field when it comes to print speeds. It can put out 33 pages per minute, which is ideal for large meetings, conferences, and company-wide memoranda.
The color touchscreen works well, and the menus are straightforward to navigate. The printer has a USB port so that you can connect without Wi-Fi. And you can print directly from other USB devices like drives and external storage units.
The Brother HL-L8360CDW has wireless printing options. You connect it to the local Wi-Fi network, then you can print from any device on the same network. You can also use the Google Cloud Print App for remote print work.
The Brother HL-L8360CDW gives you options to reduce running costs. There's toner save mode and energy save mode. The first reduces the toner amount used for each print, so they appear slightly faded. But it's acceptable for less important documents. Plus, Energy Save mode puts the printer to sleep when you're not using it, bringing down power costs.
The toner cartridges are another strong point for Brother laser printers. They have Brother brand high-yield toner cartridges that can turn out 4500 pages. You have to buy each color separately, which drives up the price. But in terms of cost-per-page, it doesn't get much better.
The Canon ImageClass MF741Cdw is a bigger unit, better suited for busy offices with a few employees needing to print. It's a hardworking machine. And it can cope with all the requirements of a small business.
The print speed is impressive. The MF741Cdw produces 28 pages per minute. Color prints are slower, but it's still a respectable pace. It's a versatile laser printer that prints on different types of paper (thin, recycled, color, and coated).
There are three USB ports for direct connection to devices. It can read media storage drives directly. And you can connect and print wirelessly with the Wi-Fi Direct option if you're more high-tech.
You can also download Canon's Print Business App onto your Android or iOS device. It allows you to print and organize your documents remotely. As long as your printer is connected, you can print from anywhere!
You might be disappointed that Canon no longer includes fax features in its laser printer models. But you can add voice control to your printing by combining it with an Alexa device. And it has a customizable control panel for individual preset workflows and shortcuts.
You can buy the Canon color cartridges as a set. The initial overhead is expensive. But the black cartridge yields 7600 prints before exhaustion. The color cartridges aren't so fruitful, only delivering 5000 sheets.
The Brother HL-L3270Cdw is the perfect color laser printer when working from a home or office with a few employees. It's compact and has excellent features. And the color print quality is second to none.
The HL-L3270Cdw may be small, but its output is impressive. It gives you 25 pages per minute when it gets cooking. And that's with duplex printing (double-sided) as an automatic selection.
The paper tray holds a max of 250 sheets. That's plenty for a home office setup. And you can adjust it for letter-sized and legal-sized paper. The printer also accepts glossy photo paper, meaning you can print color photos too.
It's Wi-Fi compatible, so wireless printing is accessible from any device. And you can also print remotely using the Google Cloud Print App. You also have USB ports to print directly from storage devices.
Brother has standard (TN223BK) and high-yield (TN227BK) cartridges for black toner. Standard gives you 1400 pages, while the high-yield alternative boosts that to 3000 prints.
The color toner is only available in standard cartridges. They give you about 1300 pages before you need to refill. But the total yield is less if you print color photos. The color printing from the Brother HL-L3270cdw is excellent. But the cost adds up.
The HP Color LaserJet Pro M454dw is another wireless printer perfectly suited to busy business life. It's ideal for small offices and small businesses. And it even services larger ones very well. The size is also suitable for a home office. But it might be expensive for personal use.
The regular input tray holds 250 sheets of standard paper. But you can fill the optional trays to take the total storage to 550 sheets. So you won't have to reload in the middle of a big print job.
The lack of an automatic document feeder lets this model down, certainly from an office-use standpoint. But it is proficient with a printing speed of 28 pages per minute. The quality is excellent, producing sharp lines and vivid colors. And double-sided printing is the automatic option, saving you paper.
Wireless printing is easy with the HP Color Laserjet Pro M454dw. You can connect the printer to your Wi-Fi service. And there's the HP Wi-Fi Direct option for wireless printing without an internet connection. It allows you to join the printer to a mobile device directly. You can also get the HP Smart App for remote printing.
Connecting devices to the internet can be worrying to some. But the HP Wolf Pro Security feature keeps your documents and information safe and secure. This is an essential feature for businesses handling sensitive information.
HP cartridges aren't the cheapest. But the cost-per-print value isn't bad. They have standard and high-yield black, cyan, magenta, and yellow options.
The Canon ImageClass LBP622Cdw is one of the smaller machines on the list. It might be small, but it has all the excellent features you need to run a business. It's one of the best color laser printers for homes or small businesses.
The paper tray can hold 250 sheets of paper. And the print speed is a respectable 22 pages per minute. It won't keep you waiting, and the print quality is superb. The text is always crisp, and the color graphics are vibrant and professional.
The recommended print volume for the LBP622cdw is between 150 and 2500 pages per month. You can put the printer through its paces if you are a single professional. That's also enough for a small business, with scope for increased output if your business grows.
The LBP622cdw has all the wireless features of the larger Canon printers. It has Wi-Fi connectivity. And you can also connect without an internet connection using the Wi-Fi Direct option.
Apple Air Print also gives you remote printing access if you download the Canon Print Business app to your mobile device. And you can connect the printer to an Alexa device for voice-activated printing. The control pad on the printer is easy to use. But voice activation takes ease to a new level.
Business documents contain sensitive information. And when you connect the printer to the internet, you might be worried about online security. But the LBP622cdw has security features that keep your documentation safe. And all security settings are hidden behind an administrator login.
The laser printer takes one toner cartridge for black (054), yielding 1600 pages. The color cartridges give a smaller yield of 1300 prints. You can buy all four cartridges as a set.
The HP Color LaserJet Enterprise M554dn is a pro-level printer. It was made for life in a busy office, producing professional-grade prints at a rapid pace. And it's perhaps too big for use in the home. But with features geared toward companies, it's an ideal color laser printer for a growing business.
You get automatic duplex printing for efficiency. There's a paper capacity of 650 sheets, so you won't spend all your time restocking the machine. And the printer has the highest output on this list at 35 pages per minute. That's quick, especially for double-sided color printing.
The color touchscreen is intuitive to use when you're at the machine. But you can also set up remote access with the HP Web Admin feature. You can give new devices access to the printer, remove old ones, and update features and settings. This gives access to the person who needs it.
Wireless connectivity is essential in an office environment. And the M554dn has plenty of wireless options. You have standard Wi-Fi connectivity. Plus, there is the Wi-Fi Direct option and Bluetooth if you don't have internet access.
Security isn't an issue with the HP Color LaserJet Enterprise M554dn. With HP Wolf Enterprise Security, your private information is secure. It employs defense layers to protect against malware and unauthorized access.
The printer has toner cartridge anti-fraud technology. It recognizes when you're not using genuine HP cartridges. It means you can't buy third-party toner. But it also ensures your printer functions well, producing top-quality black and white and color prints.
You need HP 212A cartridges. All colors, including black, are sold separately. The black toner gives you up to 5500 pages from a full cartridge. And the color cartridges produce less, at approximately 4500 pages.
If you're looking for a simple solution to your home-printing problems, the Lexmark C3224dw could be the laser printer. It has a compact cube shape, making it easy to fit in your house or office. And it still has all the features you need for efficient printing. But the print quality is not as good as others on this list.
The Lexmark C3224dw can turn out 24 pages per minute. And it can maintain that speed with duplex printing in black-and-white and color. The paper tray has a max capacity of 250 sheets, so you don't need to get up and reload it after large print jobs.
It may look like a simple machine, but the Lexmark C3224dw still has excellent wireless printing capabilities. You connect the printer to the local Wi-Fi network and can print from any computer, tablet, or phone. You can also join using ethernet and USB ports.
You have plenty of options for mobile printing, with several printing apps available. There's the Lexmark mobile print app. Or you can go for Air Print, Google Cloud Print, or Morpria. They all work with this printer, giving you more printing and organization options.
The Lexmark C3224dw has 256 MB of internal memory. And the machine remembers documents you often print, which is a fantastic time-saving feature.
Lexmark is also conscious of the environmental issues we face. And they want to reduce running costs for their users. So the C3224dw has energy-saving modes and uses double-sided printing as a standard to save paper. They also have a free cartridge recycling system!
The black toner cartridge (C3210K0) yields up to 1500 pages before they need replacing. And all three color cartridges (cyan, magenta, and yellow) have a similar yield of 1500 pages. That gives you a healthy cost-per-page average if you do a lot of color printing.
The HP LaserJet Pro M281fdw has all the functions and features you need to run a small business. It's an all-in-one machine with print, scan, copy, and fax options. It's small enough for home if that's where you run your business. But it's more than capable of holding its own in a professional office.
The performance is fantastic, with duplex printing at 22 pages per minute. The print quality is excellent, with sharp text and vibrant color toning. The paper tray holds 250 sheets. And there's an automatic document feeder for improved efficiency.
This printer is wireless. It has Wi-Fi through Wi-Fi Direct options. And you can make the most of mobile printing with the HP Smart App on your phone or tablet. And ordering replacement cartridges is a one-click operation with the app.
The HP LaserJet Pro M281fdw is equipped with a flatbed scanner. The scan-to-email feature means you can send paper documents anywhere. And faxing is another option available to you.
The flatbed scanner also allows you to photocopy paper documents. It can copy in black and white and color at the same rate as printing.
You can use the ethernet connection if your Wi-Fi network is unstable. And the USB ports give you the option to print directly from storage devices like pen drives and hard drives.
The Dash Replenishment feature is a highlight of this machine. It recognizes when your cartridges go below 10% and order new ones automatically. So you'll never run out of ink again! Plus, you can activate this service on the printer with no subscription fee.
The standard cartridges (HP 202A) aren't cheap. And the cost-per-page is one of the M281fdw's downsides. But the high-yield cartridges (HP 202X) actually offer better cost efficiency in the long term.
Why You Need a Laser Printer
Color laser printers are the perfect machines if you need a lot of paper documentation. Whether for personal use at home or as a small business, they meet your needs and help streamline your business.
Until recently, a laser printer at home was unthinkable. They were too big and too expensive for small companies. But the situation has changed. Now laser printers are more compact and more affordable.
Laser vs. Inkjet
It's not just the initial overhead cost of buying the printer. Color laser printers are quicker and more cost-effective than inkjet alternatives. Inkjet printers are cheaper to buy and more versatile. But they're slow and inefficient for businesses.
Plus, ink cartridges are expensive. And inkjet machines don't always use the ink wisely, wasting precious ink on test pages and cleaning procedures. The unnecessary use of ink adds to running costs and hurts your budget.
Toner cartridges for color laser printers can be pricey too. But they give you far more prints from one cartridge than the ink alternatives. And laser printers have a much better cost-per-page efficiency than inkjets. Simply put, a laser printer gives you more for your money.
Inkjet models are better for printing color photos. But if you need a lot of documents in black and white or color, a laser printer is more beneficial. They're quicker, cheaper to run, and more efficient. And a laser printer makes sense if you have a home office or small business.
What to Look For in a Color Laser Printer
The best color laser printer for you might not be the best for someone else. So it's best to consider certain factors before buying a laser printer. How much do you need to print? How important is paperwork to your business? And how many employees and clients do you have?
The price is the detail most people look at first. And many professionals and business owners are pleased that the cost of laser printers has decreased in recent years. They are no longer a luxury exclusive to large offices and corporate spaces.
While color laser printers are still more expensive than inkjets, it's not just the initial retail price you need to look at. You want a more cost-effective printer to use over some time. That might mean buying a pricier machine at the start. But the lower running costs will save you money in the long term.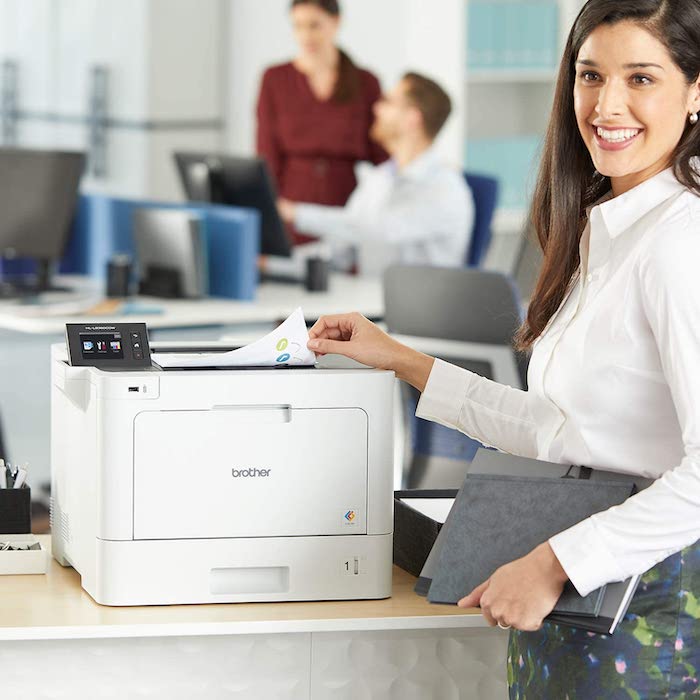 Cartridges, Wireless Features, and Other Options
You also need to look at the price of toner cartridges and how many pages you get from them. This gives you a good idea of the cost per page. And think about print speeds too. You don't want to waste time waiting for color documents to print.
Some newer models now have wireless printing features that give you more flexibility. Printing via Wi-Fi, Bluetooth, or an app reduces the cables you need and gives you more freedom to print from anywhere.
More advanced models have email capabilities. You scan a document in the printer and send it directly to an email address. Newer models also create and file PDF documents. It's a handy, time-saving feature.
Conclusion
Forget inkjet printers. You need a color laser printer if you're running a business with relentless paperwork. It's an all-in-one printer solution with fast print speeds and lower running costs. They're far more cost-effective for large print jobs.
There are small and large printers. (If you're looking for smaller printers, check our post on portable printers!) But they all have the functionality to meet the need of individuals and small offices. They all have wireless connectivity. Plus, you have remote options for printing and organization with mobile apps.
Our favorite is the HP Color LaserJet Pro M255dw. We don't think you can go wrong with this affordable printer! It prints well and is easy to use. But choose the best color laser printer that meets your needs. You'll see improved efficiency and productivity straight away!