As photographers, printing photographs is one of the most important aspects to consider. Printing is crucial whether you want to print photos for sequencing or just want a pretty picture to put on the wall. When buying a printer, there can be so many different options to consider. It's best to tailor your selection to how you will use the printer. 
Today, we're going to show you the top 12 portable printers on the market. This is particularly useful for the traveling photographer who needs a printer to fit in a bag or even their pocket! I will guide you through a range of options. Some are serious printers capable of producing beautiful prints. And some are handheld, fun printers that let you enjoy your photographs on paper and not just in the digital world. 

How To Choose Your Portable Printer
When choosing a portable printer, you must think about what you want and how you'll use it. 
Portable printers aren't here to bring you the best quality, but they lend themselves better to the photographer on the go. If you are constantly moving studios or offices, having a portable printer is a great way to cut down space. And it makes moving much easier.
Printers for High-Quality Photos
If you're looking for the best quality prints you can get, look for printers that work with Inkjet capabilities. Inkjet is the standard method of photo printers. Of course, the ink will be expensive, as will the printers themselves. But as the common rule of thumb goes, you get what you pay for. And it's true that more expensive printers are usually of higher quality.
This range of printers will be able to print documents and photos at a relatively good speed without giving hugely different results from your standard printer. Most of the options we will provide you with come with battery options, so you will be able to print without being connected to a power outlet. These printers are the best option for someone who wants a regular printer but in a portable size. 
Printers For Portable Fun
On the other side of the spectrum are portable printers that are the modern answer to instant photos. Some of these printers even use the same technology as old instant photographs. 
These printers definitely don't have the best print quality, but they give us a way to hold our photographs. In the digital age, being able to hold, collect, and even distribute photos by hand gives us a better connection to our images. It makes it easier to sort through a selection and also makes it more special to share with friends or put on our walls. 
So, in short, these printers make photography more fun. Some even double as receipt printers. You could even bill your friends for the lovely photos you are sharing! 

Best Portable Printers
Printing Method: Inkjet
Max Paper Size: A4 
Connectivity: USB 2.0, Wi-Fi, Wi-Fi direct
Size: 15 x 7.8 x 3.5 inches (38.1 x 19.8 x 9.1 cm) 
Weight: 6.6 lbs (3 kgs) 
Price: $$$
The HP OfficeJet 250 is the closest option you will get to a desktop printer. It brands itself as the "mobile all-in-one printer," and you can see why! It is the only portable printer on this list with its own scanner. It also boasts a long battery life and only takes 90 minutes to fully charge. This can make a massive difference to your workday if you're constantly on the go. 
As far as portability goes, it's pretty big. But it would be able to fit in a backpack or a bigger bag. This printer has easy and simple connectivity. The OfficeJet 250 is designed for the most straightforward mobile and cloud printing. This means that getting the photos out of the printer in an office or even in your car will be the least of your worries. 
The print quality is the best you will find on this list. It can even scan documents at up to 600 dpi. That's plenty of quality for the professional environment in both offices and photography labs. Of course, inkjet ink is expensive. But if money isn't an option and you need a printer you can rely on, this is a great option. 

Printing Method: Inkjet 
Max Paper Size: A4
Connectivity: USB 2.0, Wi-Fi, Wi-Fi direct
Size: 12.6 x 7.3 x 2.6 inches (32.2 x 18.5 x 6.6 cm)
Weight: 5 lbs (2.3 kgs)
Price: $$$
This portable printer is Canon's Pixma TR150. Their printing system means you only need two ink cartridges (one for blacks and the other for colors). It's quick and also provides great image quality on the go. Along with its portable size and easy USB charging, Canon has made one of the best portable printers on the market. 
To print, you will have to use the Canon PRINT app, which is available for Apple, Android, and even Windows mobiles and tablets. If you don't have a wireless router, the Pixma has Wi-Fi direct capabilities that allow for connectivity without being connected to a mutual server. Another great feature is that you can sync the printer to work with Amazon's Alexa or the Google alternative for fast, seamless printing.
The ink cost won't set you back as much as others mentioned on this list. But of course, it will still be expensive. You also don't get the most detailed display to flick through. This isn't an issue when it comes to portable printers as long as you're able to get to the desired settings.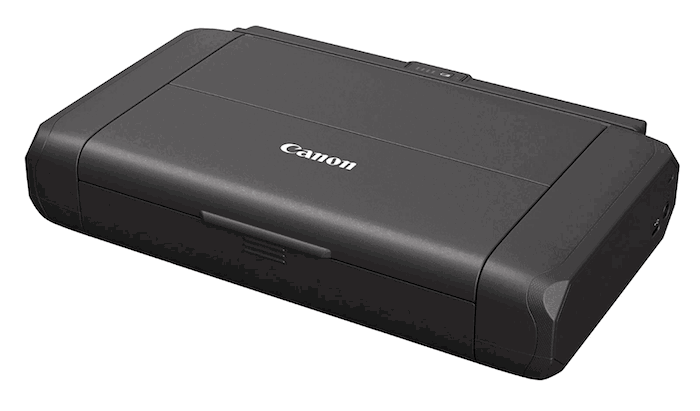 Printing Method: Inkjet 
Max Paper Size: A4
Connectivity: USB 2.0, Wi-Fi, Wi-Fi direct
Size: 12.1 x 6 x 2.4 inches (30.9 x 15.4 x 6 cm) 
Weight: 4.4 lbs (2 kgs)
Price: $$
The Epson brand is well known and trusted in the printing market. And they keep their reputation in their portable range. The printer produces arguably the best quality photos from a portable printer. If you're looking for sharp photo prints on the go, this could be the one for you. 
Keep in mind that unless you buy the additional battery, the internal battery will only last you around 50 prints. (And probably even less for high-quality photo prints.) But, with the other battery, it boasts over 200 prints. You're also able to charge the printer by USB if you need more power. 
This printer also looks excellent. Its sleek design can fit in many places. And the printer won't look out of place in a professional setting. Because of its compact size, they couldn't make this the quickest printer on this list. But with image quality like this from a compact printer, this is only an issue if you need prints fast. 

Printing Method: Thermal
Max Paper Size: Roll prints with A4 width
Connectivity: USB 2.0, Wi-Fi, Wi-Fi direct
Size: 10 x 2.2 x 1.1 inches (25.4 x 5.5 x 3 cm) 
Weight: 1 lb (0.5 kg)
Price: $$$
Now to look at a thermal photo paper printing option, the Brother PocketJet MT800. This printer has a design that lends itself to printing documents on the go. I don't think it's going to be too much of a use for a photographer unless you're using it for administration purposes. You could print black and white photos, and it may have a cool aesthetic. But for the money, you can find a better printer than this. 
The PocketJet truly is travel-sized and is the smallest printer you will find that is able to print A4 documents. This portable printer even comes with options to be able to mount it in your car, specifically designed for police cars. 
At least with these options, there's no fear of running out of ink cartridges. This means that the special thermal paper itself is expensive. And you do have the option to buy roll photo paper. This means you're able to print continuous prints, but this may not be useful in day-to-day operations. 

Printing Method: Inkjet 
Max Paper Size: A4
Connectivity: AirPrint, Wireless
Size: 14.8 x 8.1 x 3.5 inches (37.7 x 20.6 x 9 cm) 
Weight: 6.6 lbs (3 kgs)
Price: $$
The HP Tango X is an excellent example of a genuinely modern printer. Not only does it look at home with all modern tech, but it performs in the same way. Using modern connectivity to its full advantage, the Tango X makes printing a simple task. If you're an Apple user, this could be the printer for you as it is specifically tailored to Apple users. 
The printing itself is quick and of great quality. They're definitely good enough to put up photos around your house. Although it classifies as a portable printer due to its size, it doesn't have a battery option, so you will need to have it plugged in at all times. 
Although it does not have a scanner, the HP printing app takes advantage of Apple's scanning system. This allows your phone to scan documents, and it does a surprisingly good job at this. It's not the most accurate scanner but it does a better job than simply taking a photo.
I am a fan of the fabric case that comes attached. Not only does it provide a clean space for your prints, but it wraps around the printer for added protection while on the go. 

Printing Method: Instant film 
Max Paper Size: 4.3 x 3.3 inches (10.8 x 8.6 cm)
Connectivity: Bluetooth
Size: 5.5 x 5 x 1.3 inches (13.9 x 12.8 x 3.4 cm) 
Weight: 0.75 lbs (0.34 kg)
Price: $$
The Fujifilm Instax Link WIDE is here for fun. It uses the same ink method as the classic polaroids, where the ink comes in each sheet of paper. This makes the photo paper quite expensive. Luckily Instax has cemented its place in the market, so the paper is widely available online or in stores. 
It's nice and compact. It's small enough to fit in a handbag, which means it lives up to its name as a portable printer. But the best thing about the size is that it is not too small. If you're looking for a portable printer that produces photographs that aren't simply business card size, this could be the one for you. 
It also boasts a huge range of extra features that comes from the app it comes with. You can attach all sorts of extras from messages, voice notes, and videos through its use of a QR code. The QR code gets generated in the app and comes out as a small section of the photograph. This instantly links your friends to extra features with the help of a smartphone. Polaroids have made their way into the 21st century!

Printing Method: Dye sublimation 
Max Paper Size: 5.8 x 3.9 inches (14.8 x 10 cm)
Connectivity: Bluetooth
Size: 10.7 x 6.6 x 2.6 inches (27.3 x 16.9 x 6.8 cm) 
Weight: 2 lbs (0.93 kg)
Price: $$
The HP Sprocket Studio fits in a strange place between the inkjet printers and the more portable options. It is a portable printer, but its size and shape aren't the easiest to transport. You will need a backpack or a bigger shoulder bag to carry it around. The strange form is due to a bed for your prints to lie on as they are finished.
Despite this, there is a reason its size is like this—it produces beautiful prints for 4 x 6″ photographs. So I assume HP has managed to strip down as much as it could without sacrificing print quality. The printer produces instant dry, smudge-proof, and waterproof photographs through dye sublimation. You also have the option to buy a battery pack to make it that much more portable.
HP has produced an easy app to use alongside the printer, giving you a huge range of editing options. These options aim at fun photographs rather than serious photography. The price is pretty high, especially as you will have to pay for the paper and ink on top of this, but you do get great results. 

Printing Method: Inkjet
Max Paper Size: A4 
Connectivity: AirPrint, Wi-Fi, Bluetooth, USB
Size: 17 x 11 x 5.6 inches (43.1 x 28.1 x 14.4 cm) 
Weight: 6.4 lbs (2.9 kgs)
Price: $
The Canon Pixma TS302 does seem like it could be a step back in portability. But I wanted to include it on this list for its excellent performance at a great price. You get an inkjet spec printer for a fraction of the cost of others. The Pixma also allows you to take KL cartridges if the constant changing is too much for you. 
The design is also very effective for maximizing its space. You get a flat space on top that you can use for taking accurate scans on your phone with the HP app. When folded up, it simply looks like a box you can easily transport to different locations. 
If you're looking for a home printer that can do both documents and great photos for cheap, then look no further. This printer is ideal if you work with groups of people who change their workspace often. This is because the printer can happily sit there and print great visual material without taking up too much time for a setup or too much space. 

Printing Method: Dye sublimation
Max Paper Size: 3 x 1.9 inches (7.6 x 5 cm) 
Connectivity: Bluetooth
Size: 5 x 3 x 1 inches (12.7 x 7.6 x 2.5 cm) 
Weight: 0.55 lbs (.25 kg)
Price: $
Now let's take a look at how Kodak has approached a portable printer. The Step Wireless Mobile Printer is a small, handheld printer that produces prints through zero ink ("zink") technology. This is pretty much a thermal printing technology, but it can produce color as well as black and white images.
With a size like this, you shouldn't expect to get the best print quality, but that isn't the point of the Step Wireless printer. This printer is here for fun. It allows you to share moments with your friends that are more accessible than having to flick through your phone. And for this, I welcome these types of portable pictures. 
It's straightforward to set up, print, and maintain. Kodak has also produced an app that lets you get creative before printing the photograph. This includes a range of different borders or stickers to put on your image and small adjustments. I also really like how some zink paper comes with an adhesive back, so you can stick your photos anywhere! 

Printing Method: Dye sublimation
Max Paper Size: 3 x 1.9 inches (7.6 x 5 cm) 
Connectivity: Bluetooth
Size: 5.8 x 3.2 x 1 inches (14.9 x 8.1 x 2.7 cm) 
Weight: 0.6 lb (0.26 kg)
Price: $
Polaroid has stepped into the 21st century by providing the next generation with instant photos. Just like the generations before! The Polaroid Originals Hi-Print is one of the many portable printers that use zink technology to produce instant, smudge-free photo prints. This technology means you can keep this portable printer in your bag without ever filling it up with ink. It is small enough to fit in a handbag and it's perfect for holidays!
The most significant advantage of this printer is how fast you can get a picture from your phone into something you can hold. It also comes with a useful app that helps you select your photos and get them to print. You also get a range of editing options in this app to spice up your photographs. Thermal paper can be expensive, and Polaroid doesn't use the same type of zink paper that other companies use. 

Printing Method: Dye Sublimation
Max Paper Size: 3 x 1.9 inches (7.6 x 5 cm) 
Connectivity: Bluetooth
Size: 4.7 x 3.2 x .7 inches (11.9 x 8.1 x 1.7 cm) 
Weight: 0.35 lb (0.16 kg)
Price: $$
Now we have Canon's answer to zink paper prints with this extremely small IVY Mini Mobile Photo Printer. This is one of the portable printers which are truly portable. It is even small enough to fit in your pocket! This means it's perfect for a day out with friends that you don't want to forget. Also, printing is so simple and easy that printing a couple of photos won't take your time away from friends either! 
This is the lightest printer on this list and performs just as well as other dye sublimation photo printers. So in a way, the IVY is the most portable and easily accessible pocket printer on this list. I am a big fan of the sleek design and can imagine this never leaving my bag, just in case I wanted to share a photograph with a friend. 
Many of the best portable printers use this zink technology. This is because it is an excellent way to strip down a printer's parts to the bare minimum. It also is great for us as it means we can find the cheapest zink paper available. There will be no difference between the different brands of paper, as long as they're the same size. 

Printing Method: Thermal
Max Paper Size:  2.3 inch roll (6 cm)
Connectivity: Bluetooth
Size: 3.2 x 3.2 x 1.5 inches (8.3 x 8.3 x 3.8 cm) 
Weight: 0.66 lbs (0.3 kg)
Price: $
For our final selection of the best portable printers range, we have the Poooli Wireless Printer. This isn't a portable printer that's made for printing photographs, but I love the results it gives. The printer is closer to a receipt than to photograph printer, and it uses the same type of paper too!
All you will get are black and white images. But, I love the aesthetic that comes with this rare practice. This makes it a cheap option if you need to print photographs as references in a sketchbook. Or if you just want to stick photos around the world! 
Not only does this produce easy prints, but the paper it comes with has an adhesive back. So you can use it for a number of purposes, from label making to decorating an entire room. I am a big fan of its simplicity. It's not the best on the list in terms of image quality. But you do get to have real-life prints, which are arguably better than any digital ones! 

Conclusion 
Now that we have guided you through the top portable photo printers on the market, you will have to decide which one will suit your needs. You have the inkjet printers with the best print quality, but that comes with having to swap ink cartridges occasionally. And then you have the thermal paper that sacrifices print quality for truly mobile printing. 
I think portable photo printers are worth the investment for any photographer or anyone who works with images on a daily basis. I am enjoying the fact that people are starting to treasure portable printing again, which is why Polaroids became so popular. So get your photo paper ready and start getting your photos out into the world! 
Check out our Photography for Beginners course to make sure every photo you take is worthy of printing and hanging on your wall.