Being a newborn photographer is a complex role, and it takes time to master it. Babies don't understand that a photo shoot is going on. They get hungry, cranky, and tired. The best baby photographers know this, so they are always quick and flexible. But, even though pictures look heartwarming and cute, a lot of effort behind the scenes to get those results.
eBooks and Courses for Everyone
10 Famous Newborn Photographers
Check out these ten famous baby photographers. You will get some inspiration and new ideas from their art.
Benedetta Vallone loves taking photos and has refined her style since she was a teenager. Her photographs focus on babies, childhood, and family. Benedetta's photos are featured in magazines and she was one of the best baby photographers of the year in 2019. She takes mentorship from Ana Brandt (see number three on this list), and her photographs are full of perfectly captured moments.
Sonia Gourlie is an award-winning baby photographer. She specializes in child and family-oriented pictures. She thinks that photographs are perfect for capturing important moments of our lives. Sonia's pictures look like they are from a children's fairytale book. The kids look happy and glow with childhood innocence.
Tricia Schumacher is a newborn photographer with countless creative ideas. She resides in Illinois, USA, so you may want to contact her studio for your newborn photoshoot if you live nearby. Tricia's studio is called Wigglebug Photography, named after her kids and how babies tend to move around. This name reflects how she captures the unique period when newborns act like this.
Lauren Grayson is a maternity, newborn, and baby photographer in Cleveland, USA. She introduces herself as a "time preservation artist." Her photographs capture genuinely natural moments. She finds it essential to create meaningful portraits, shooting details that the whole family wants to remember forever.
Natalia Brembor is an award-winning photographer in Maryland, USA. She specializes in newborn, children, maternity, and family photography. And she thinks that photography is the best way to freeze moments and tell stories—"I find fulfillment in the ability of photos to capture moments, smiles, and other instantaneous emotions that we experience and feel. For me, photos tell a story. It never fails to give me a magical feeling every time I am able to tell a narrative behind each shot and each frame that I take."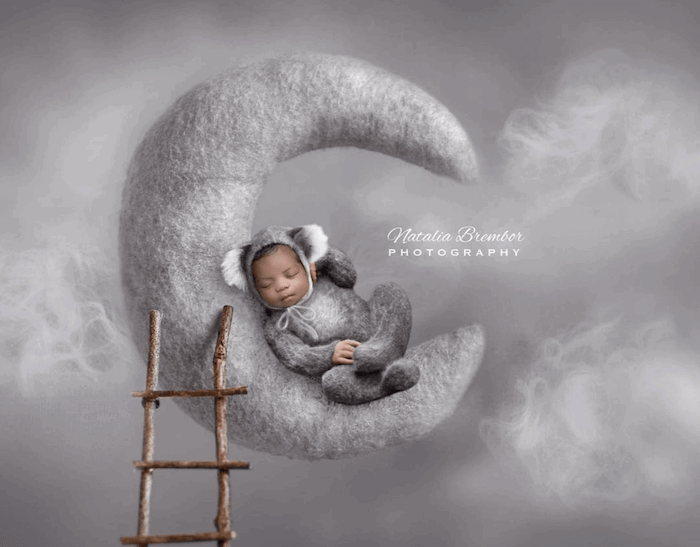 Jolia Stern is known as the best baby photographer in 2020. She has worked in Germany and used to work as a media designer. She now follows her passion and pursues baby studio photography full-time! She claims we can understand photography only with our hearts and not words. Looking at her baby and newborn photos, she obviously puts all her heart into the work.
Erin Elizabeth is a newborn and maternity photographer from Perth, Australia. Erin finds it essential to use natural light for her family and newborn photos. She also holds workshops and offers to mentor in her studio.
Erin's photos are dreamy and beautiful. She makes the best out of the available natural light.
Ana Brandt is a professional maternity and newborn photographer based in California. She works with celebrities and has nearly 250,000 followers on Instagram. She also has a popular YouTube channel and offers courses and workshops.
Ana also designs maternity gowns, and her work is found in various magazines.
Shannon Leigh is an award-winning baby photographer based in Atlanta. Before becoming one of the most recognized newborn photographers, she worked as a preschool teacher for 13 years.
Shannon has a large studio and continuously provides fantastic props for her photo sessions. Her setups are often inspired by fairy tales, movies, and Disney characters.
Anne Geddes is often considered the most famous baby photographer in the world. She is known for her iconic baby photos in the 90s. She dresses up babies in the cutest outfits and always prepares her photoshoots well in advance.
Anne grew up on a cattle farm in Australia where photography courses were unavailable. When she turned 25, she taught herself photography and now specializes in baby photography. Today, she lives and works in New York City.
"I had seen the way children and babies were generally being photographed. It just didn't seem realistic to me that people took their children along to photographic studios all dressed in their Sunday best. Photographs that didn't really show the personality of the child."
Anne Geddes believes that every baby is unique and beautiful. This is why she wants to show the baby's personality in her photos. She uses custom-made props and plans the whole setting in detail.
Conclusion
Photographing babies and children is not easy, but it is gratifying. Your photo becomes an everlasting memory for the family.
Try to get inspired by the best newborn photographers whose style you like. You will find it easier to improve your art if you have idols to follow.
Check out our Dreamy Childhood Portraits e-book to take photos that will put a smile on your face for generations to come! 


eBooks and Courses for Everyone