Choosing the best memory card for your camera can be confusing. Even though you're limited to the format that fits your gear, you still have a massive choice of cards. And the stakes can be very high. A failed memory card can be an emotional or financial disaster.
So we've picked some of the best memory cards for you. There's something here for all the main popular formats. And you'll find capacity variations for most of them. So if you need to spend carefully, there might be a usable but smaller card for you.
Our top pick is the SanDisk Ultra 64GB Class 10 SDXC UHS-I. It is from one of the most respected manufacturers. It offers decent speeds and envious reliability.
What Is the Best Memory Card for Cameras?
Before we look at the cards we've chosen in a little more detail, let's look at a summary of our recommendations. Or you can jump to our buyer's guide at the end for more guidance.
Choosing the Best Memory Card for Cameras
After you know what memory card you need, you can choose the one you want. Or maybe you're considering card type as you choose a new camera. In that case, these details will help you choose.
This SanDisk Ultra 64GB card is not the biggest or the fastest. But it's inexpensive and, most importantly, reliable. Choosing small cards makes a lot of sense if you've got only one slot.
I personally use four of them. They are perfect for general shooting. Just in case, my camera bag always has one or two spares.
This SanDisk 64GB extreme is the SD card that (together with a similar CF card) I put in my Canon 5D Mark III when shooting professionally.
It's the best you can get with a UHS-I connection, providing a writing speed of around 90 to 110 MBps.
This Amazon Basics microSDXC Memory Card offers exceptional value. You might hesitate to use it as a daily card. But at this price, you should have one or two ready and waiting in your camera bag.
Having this as a convenient reserve memory card won't break the bank. It comes in 64, 128, 256, 512 GB, and 1 TB.
This SanDisk SDCFXPS memory card (along with its SD card counterpart) is often the one in my camera. When I shoot professionally, I need speed and reliability. And this is the card for that.
It maxes out at around 150 MBps. It's perfect for burst shooting on lower-frame rate, high-resolution cameras, like the 5D Mark III. It comes in 32, 64, and 128 GB.
The Lexar Professional 256GB CFExpress is a solid choice for demanding photographers. It's fast enough to cope with 8K video recording. And it's available in up to a whopping 2 TB capacity!
More and more manufacturers are adopting the CFExpress format for their high-end cameras. This Lexar meets the needs of anyone looking for a large-capacity card.
Buyer's Guide to the Best Memory Card for Cameras
A memory card is an essential piece of equipment for any photographer. The best memory card for your camera depends on several factors.
You must consider your camera type, the amount of storage you need, and your budget. Here are some tips to help you choose the right memory card for cameras.
Types of Memory Cards for Cameras
The first, most basic thing is the type of memory card your digital camera accepts. In most consumer-oriented cameras, it's a single SD card. That's the one type that you've undoubtedly seen before.
But there are many more. Here's a list of the main card types used by at least a few cameras.
1. SD Cards
SD memory cards are the most popular and widespread format memory card type. They range from cheap to high-end, fast cards. The first generation is standard SD. They go up to 2 GB in size.
SDHC and SDXC cards are bigger. SDHC ranges from 2 to 32 GB. And SDXC is anything above 32 GB.
In terms of speed, there are five categories. Default Speed and High Speed were introduced with the SD card standard. Ultra High Speed or UHS (I, II, III) cards are available in SDHC and SDXC.
A UHS-I memory slot is found in most digital cameras. It allows 104 MBps data transfer. (MBps and Mbps are different units. MB is megabytes, and Mb is megabits. MBps is 8x faster than Mbps.)
UHS-II and UHS-III are quicker. They are used in mirrorless cameras like the compact Canon EOS M200 and APS-C Sony ZV-E10 to pro cameras.
2. MicroSD Cards
MicroSD cards are the little brothers of SD memory cards. They are widely used in smartphones. And some smaller cameras, like dashcams and security cameras, accept them too.
You'll also find microSD card slots in almost all drones. Their speed ratings and classes are similar to those of an average-size SD card.
3. CF Cards
The first DLSRs introduced Compact Flash (CF). It's bigger than an SD card.
Traditional CF memory cards are being phased out, but some cameras still employ them. Notably, Canon's flagship 5D Mark IV and 1DX Mark II bodies accept CF in one of their slots.
In terms of speed, they sit between the UHS-I and UHS-II SD cards. The upper limit for CF is 160 MBps.
If you have a digital camera that uses CF, you'll need an external card reader. You can't plug them directly into a laptop like you can with an SD card.
They are being replaced by CFast cards. They look identical but use different protocols.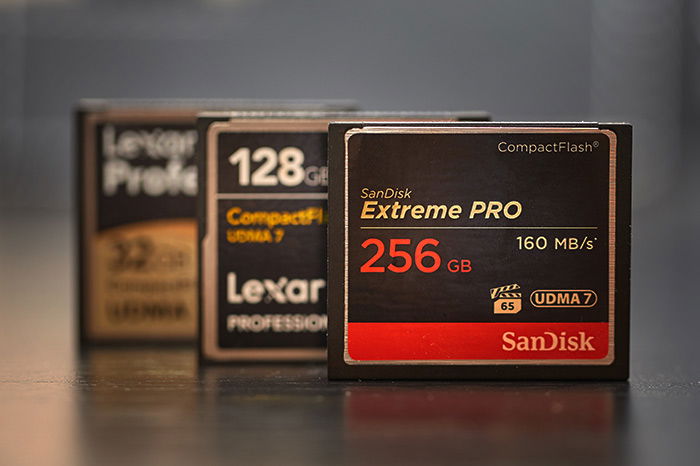 4. CFast Cards
CFast cards are the latest derivation of the CF format. They have an identical size and design.
But CFast uses SATA protocol, like computer hard drives. So you cannot interchange them with CF cards, even though they look similar.
CFast improves significantly upon CF in terms of speed. The best CFast memory cards on the market reach writing speeds of around 400 MBps.
Most notably, you can find a CFast card slot in the Canon 1DX Mark II and the Hasselblad H6D-100C. It's widely used in professional broadcast and movie cameras, as well.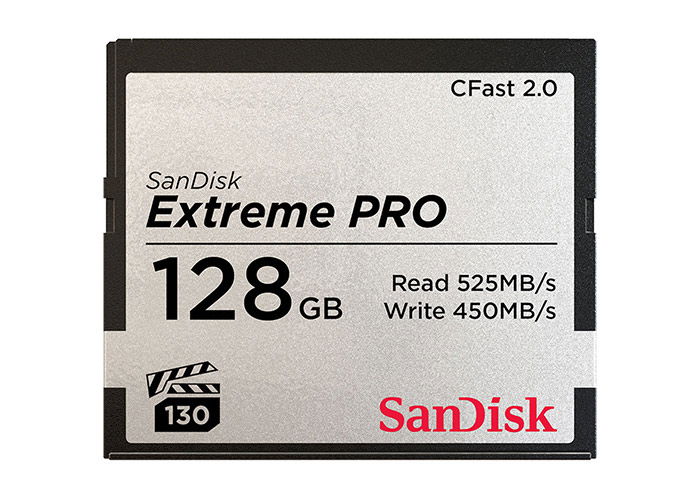 5. XQD Cards
The first XQD cards were released in 2012. They have a completely new form factor and offer excellent read and write speeds.
You can find XQD memory cards in some professional cameras. Nikon cameras have been using them since 2017. You can find them in the D500, D850, D5, Z6, Z7, Z7 II, Z8, and Z9.
6. CFexpress Cards
As the name suggests, CFexpress cards are not a continuation of the CFast. The format has been developed as the successor to the XQD.
These memory cards for cameras offer blazingly high speeds. Cameras with XQD slots will be compatible with CFexpress, as well. But you need a software update for that.
The first digital camera to exclusively use dual CFexpress cards was the Canon 1DX Mark III. Another popular camera that uses it is the Sony a7 IV.
Both this Sony and Canon camera record RAW 4K video. So a high-speed class card is crucial.
How to Decide Which Card to Buy
So far, we have covered all memory card types you'll potentially encounter in a digital camera. It's best to consider a few specs to find the best memory card for your camera.
1. Memory Card Capacity
Think about how many photos you want to take on a single occasion. And take a look at the file sizes your camera produces.
A standard 20 MP JPEG file is around 10 to 15 MB. RAW files vary a lot in size. They can be anywhere between 25 and 150 MB. It depends on resolution, bit depth, and compression.
Multiply this file size by the number of photos you'll take. Shooting videos alongside photos makes the equation a bit more complicated. If you're planning on that, account for slightly bigger memory cards.
So you can calculate your ideal memory card size. But the world isn't perfect, and you must consider backup options.
If you have a single slot in your camera, you don't want to buy a single, large memory card for your camera. You will lose all your data if that card goes missing or broken.
Instead, we recommend purchasing a few smaller memory cards. You can swap them on the run and even back them up at the same time.
If you've got dual slots, this is not an issue. Shoot and record media to both of them simultaneously, and you're good to go! In that case, you can buy two large memory cards.
2. Memory Card Speed
First, it's important to distinguish between writing and reading speeds. The read speed is usually largely printed onto the memory cards. But it's not what you're looking for.
Writing speed is much more critical. It sets your limitations in terms of taking photos or videos.
Consider whether you want to shoot a high frame-rate burst. Photographing wildlife, sports, or action usually requires using burst mode. In that case, you'll want the fastest card your camera can handle.
Have a glance at the specifications of your camera. Maximum writing speed should be there.
Alternatively, you can calculate it yourself. Multiply the biggest possible file size by the highest frame rate. Then choose a card that has writing speeds slightly above that.
Video recording, notably with 4K cameras, also requires fast cards. In that case, look at your bit rate, and choose your card accordingly.
The writing speed of the card should at least match the bit rate. Note that writing speeds are usually given in MBps (megabytes per second). The bit rate is marked in Mbps (megabits per second).
If you're not shooting in burst mode or recording video in 4K, don't purchase an expensive high-speed memory card for your camera. Buying reliable products is essential, though.
3. Memory Card Quality
In terms of reliability and durability, memory cards can vary a lot. It's not an issue with newer, top-grade formats like XQD or CFast. But it's very much an issue with CF and SD cards.
You're good to go if you're buying cards from well-known brands. Sandisk, Lexar, Kingston, and Transcend are renowned manufacturers.
Before purchasing a memory card from a lesser-known brand, do a little research about them. Check their ratings on Amazon, as well as user reviews.
Also, take extra care if you're not buying directly from an authorized dealer. SD cards are easy to counterfeit. You might get a working memory card for your camera, but it may be slow or die quickly.
Conclusion: Best Memory Card for Cameras
By process of elimination, you can narrow down the range of suitable memory cards for your camera. All other things being equal, we think this SanDisk Ultra is a great choice for your photography needs. It's fast enough for most, reliable, and comes from a trusted brand.