In a world where technology is constantly evolving, it's important to make sure that your devices are always up-to-date and well protected. That's why it's crucial to have a quality SD card case and memory card holder to keep your devices safe and secure.
Luckily, there are a number of great SD card cases and memory card holders on the market today, so you can find the perfect one for your needs. Here are fourteen of the best SD card cases and memory card holders for 2022.
[ExpertPhotography is supported by readers. Product links on ExpertPhotography are referral links. If you use one of these and buy something, we make a little bit of money. Need more info? See how it all works here.]
Which Memory Card Holder to Choose?
Memory card cases and holders help you to store your cards together in one place.
Choosing the best memory card is a challenge. Finding the best storage option also takes some time.
Some of the items on our list come with carabiners or clips, allowing you to ensure they stay attached to you or your bag for easy access. Others are waterproof and shock-resistant which will protect your cards from extreme environments.
Have a look to see which is the best fit for you, and your camera system.
These memory card holders are durable and also stylish. They let you organise your cards quickly, and they don't take up much space.
As they are weather-sealed and sturdy, you can take them along for any outdoor activities.
Suitable for SD /Micro SD /SDHC /SDXC /TF
Holds 8 SD cards and 8 microSD cards, giving you space for 16 cards
Hard protective metal shell
Water-resistant
Seal and shock-proof
4.4 x 2.9 x 0.7 inches
Think Thank is a renowned company that has many great products for photographers. Their memory card wallet is secure and practical.
As promised, the Pocket Rocket fits in your pocket and comes with a strap. So you can apply it to your gear.
Holds 9 SD cards but smaller cards can be stored as well
Made from Makrolon BASF
Staticproof
Shock-resistant
Dustproof
Built-in business card holder
4.5 x 2.5 x 0.5 inches
These memory card cases have customizable storage. They come with four internal configurations so you can choose your own memory card layout. We find the additional sticker set quite useful in labelling your cards.
Customizable Interiors with four options
Protective metal outer shell and soft foam interior
Dustproof
Compact
Sticker set included
3.7 x 2.4 x 0.7 inches
These cases from Gepe offer strong protection for your cards. They are shock-resistant and staticproof.
Holds 4-CF, 4-SD, 4-SmartMedia, 4-MultiMediaCard, and 4-Memory Sticks. Stores up to 8 cards depending upon media type.
Made from Makrolon BASF
Static-proof
Shock resistant
Dustproof
3.9 x 3 x 0.9 inches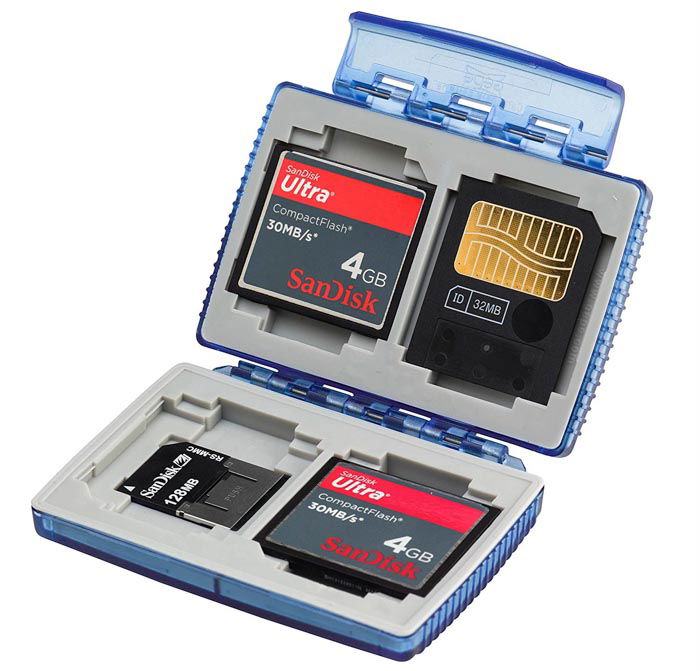 This Neewer memory card box is an excellent and simple product. It has 14 slots so that you won't run out of memory card storage anytime soon. The casing is durable and firm and keeps your cards safe from the elements.
Stores 4 SD/ 4 XD/ 2 CF cards + 2 CF/ 10 MSD/ 10 TF cards
ABS Plastic
Snap Closure
Waterproof
Dustproof
Dirtproof
Shock-resistant
1.18 x 5.2 x 4.17 inches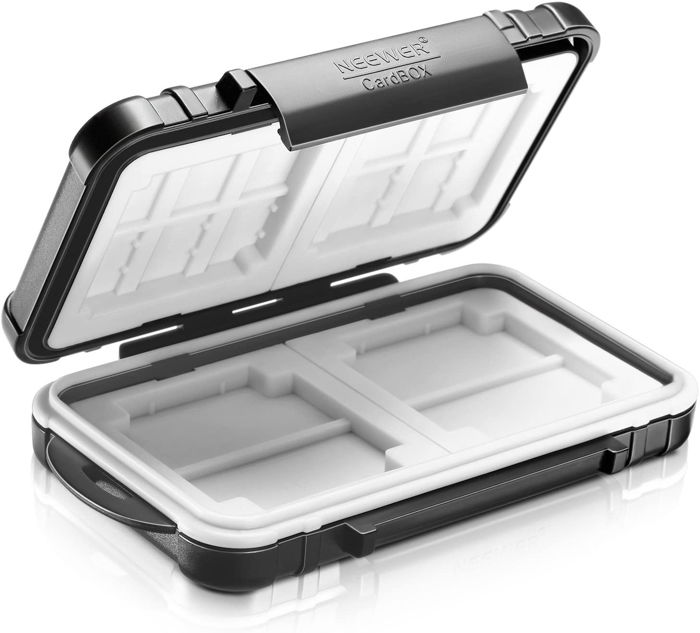 This CamKix storage case has an impressive design. Shaped like a Swiss Army Knife, it fits your pocket or the tiniest nook of your camera bag.
It can store different kinds of SIM cards as well. This is beneficial for those who use the same phone for business and private purposes and often need to switch SIM cards.
Stores 1x SD, 6x Micro SD, 1x Mini-SIM, 1x Micro SIM and 1x Nano SIM cards
Also fits SDHC, SDXC, and TF versions
Micro SD reader
Eject Pin (for certain cell phones)
3.9 x 3 x 0.7 inches
This Kiorafoto case is a sturdy option, and it protects your cards from water and dust. It's also comfortable to use, as you can attach it to your camera bag or straps with its carabiner.
Stores 12 SD + 12 Micro SD memory cards
Polycarbonate exterior
Moulded rubber interior
Snap-on locking system
Water-resistant
Dustproof
5.63 x 3.23 x 1.10 inches
This is one of the smallest memory card cases on our list as it fits in your wallet. It's compatible with only Micro SD cards. So, if you're a GoPro user, this is perfect.
Holds 10 Micro SD cards
Dustproof
Lightweight and portable like a credit card
Markable – With memory card patterns on the back
A keychain hole is designed for easy carrying
3.4 x 2.1 x 0.1 inches
The Pelican flash memory card case is for those who don't have too many cards. It's thin and durable, offering you an elegant and simple solution for storing your Compact Flash Cards.
Stores 6 Compact Flash memory cards
Snap-on locking system
Removable insert liner to absorb shock
Water-resistant sealing (Polycarbonate resin)
4.79 x 2.55 x 0.55 inches
This Pelican case can store different types of cards. It's small and compact, so you can take it wherever you go. It has the capacity for 24 cards of varying sizes.
Stores 12 SD cards, 6 mini SD cards and 6 micro SD cards
The interior part absorbs shock and protects memory cards
Made of tough polycarbonate resin
Water-resistant seal
5.55 x 3.27 x 0.85 inches
This 9-in-1 case is for photographers who work with different card types. It can even hold XQD cards. Sturdy and compact, it's perfect for harsh environments as well.
Stores 2 XQD, 2 CF, 2 TF and 3 SD cards
Waterproof
Dustproof
Anti-collision
Anti-shock
Snap-on Locking System
2.3 x 2.8 x 1 inches
This is a tough and durable option. It is both weather and dustproof. The bag and carabiner make it a practical choice if you're always on the go. There are 24 places for SD and Micro SD cards. That's more space than you could ask for!
Compatible with SD and micro SD cards
12 x SD/SDHC/SDXC cards and 12 x MicroSD cards
Weatherproof
Waterproof
Dustproof
Polycarbonate case
Comes with a drawstring bag and carabiner
5.5 x 3 x 1.1 inches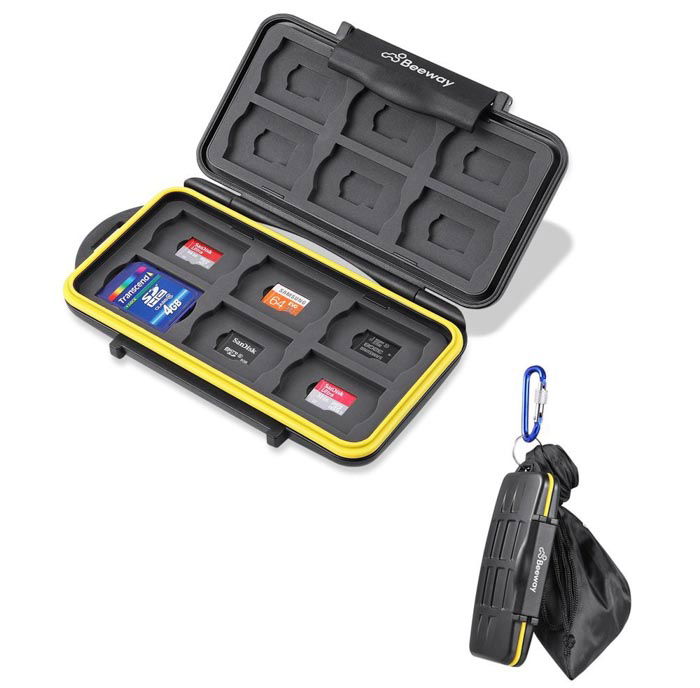 This is a soft and lightweight holder for different card types. You can keep your memory cards labelled and organised in a tiny case. It also comes in fun colours!
22 slots for 18 small and 4 large slots
Fits SD, SDHC, Mini SD, Micro SD, Memory Stick Pro Duo, XD and MMC cards, and Compact Flash (CF)
Made from durable nylon mesh that's tough and lightweight
SIM cards & coin compatible
4 x 1 x 2 inches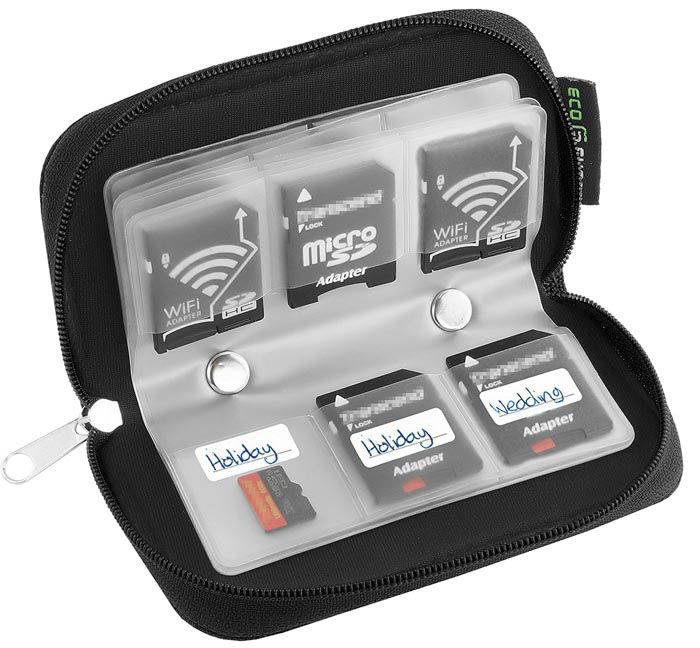 This Elephant Memory Card is a robust and safe option. Due to the removable custom foam interior, you can easily turn it into a simple storage box for any of your small items.
Stores 26 SD cards
Waterproof
Dustproof
Shock-resistant
Removable interior
7 x 4.5 x 1.75 inches
Conclusion
As you can see, there's a plethora of designs and functions to choose from when you are looking for a memory card holder.
From card wallets to hard boxes, you can find something on our list in every category. So how do you pick just one? These are a few questions worth asking:
What kind of memory cards do you use?
About how many do you have/ intend to buy?
Do you need space for SIM cards and coins?
Do you shoot in extreme environments?
This streamlines the decision-making for you.
Hopefully, our list helped you to find what you were looking for!
With the right gear and storage solutions in place, you're ready to devote yourself to the craft. So when the moment arrives, don't stumble with the camera and give up! Mastering the settings of even the simplest camera can catapult your progress as a photographer. Check out our beginner's course in photography to make the most of your time and gear!