The Sony A6400 is a popular mid-range mirrorless camera. The specs and features look great on paper. But we want to find out why so many people are raving about this camera. Is it really the best mid-range mirrorless camera?
In this review, we'll be taking an in-depth look at the Sony A6400. We'll test all the main features and functions. And by the end, you'll know if the Sony A6400 is the right camera for you.

Sony A6400 Overview and Specifications
The
Sony Alpha A6400
is part of Sony's mid-range crop sensor lineup. It houses a 24 MP APS-C sensor, a class-leading autofocus system, and great video features.
It has a durable but small body with good ergonomics. But it does have some annoying design flaws.
The A6400 is an interchangeable-lens camera. It has Sony's E-mount, which is the most popular and versatile mirrorless mount to date. For this review, I used the 16-50mm Power Zoom kit lens—a cheap and decent lens.
Who Is the A6400 For?
Mid-range interchangeable-lens cameras appeal to most photographers. And the A6400 is no different.
Beginners like them because they're a significant step up from entry-level models. For experienced casual shooters, they're an economical choice that offers many pro-level features. Professionals often use such devices as a backup camera or for shooting behind the scenes.
The most notable uses are casual shooting, street, travel, and documentary photography. It is useful for situations where you need a highly portable but capable camera.
Paired with the right lenses, the A6400 is perhaps the best mid-range camera for shooting sports, action, and wildlife. Its autofocus system is fantastic.
It's also very usable for video recording. If you're a hybrid shooter, it should definitely be on your list. If you only record video, you have better options at this price point, mainly the Panasonic G9.
Key Features of the A6400
Let's dive right into what separates the A6400 from its rivals, where it excels, and where it lags behind.
Mount and Compatibility
The A6400, like all of Sony's mirrorless cameras, is built around the E-mount.
For years, Sony's lens lineup for crop sensors had cavernous holes, most of which are now filled. In 2023, you have many choices. These include budget and premium zooms for most focal ranges and several primes.
Third-party support for the E-mount is more extensive than for any other mirrorless mount. Manufacturers like Sigma and Tamron produce high-quality and affordable glass for the system. Smaller brands like Laowa and Irix make mostly premium lenses for very specific uses. There are also fast and cheap lenses by brands like 7Artisans.
The E-mount has a very short flange distance of 18mm. This means that you can adapt lenses designed for non-mirrorless systems to any E-mount camera, including the A6400.
There are reliable mount converters from EF and F-mounts to E-mount that transmit all electrical signals. This allows you to work with your Canon and Nikon DSLR lenses.
But there are also "dummy" (non-electronic) adapters for almost every vintage lens mount. Sony's system is the most capable when it comes to adapting old glass to new cameras.
Sensor
The A6400 has a 24 MP APS-C sensor made by Sony.
In this camera body, it does have an optical anti-aliasing filter on the top to reduce moiré. This added layer introduces a slight softening effect for photos, but it's standard on Bayer-array sensors. It's still an awesome sensor for stills and video alike.
The 24 MP sensor is great for general photography purposes. And the 6000 x 4000-pixel images are fine for heavy cropping or large printing if you use the right lenses and settings.
The dynamic range of this sensor is fantastic. When this camera was first released, it may have have had the best dynamic range you could find on the market at the time. According to my not-so-scientific testing, I would put it around 13 stops.
Its ISO performance is also among the best. It provides very clean images up to ISO 1600. Between 1600 and 12,800, we see subtle increases in noise levels. Around ISO 25,600, noise becomes too harsh for the images to be useable for most purposes.
A feature that this sensor lacks is stabilization. Even though none of the A6400's competitors have this, it would've been a nice addition.
Note that the shutter on the A6400 doesn't close when the camera is off. The sensor is exposed to direct air and dust.

Autofocus and Burst
The number one feature that makes the A6400 stand out is its autofocus system.
It's an on-sensor phase-detection system—a solution used in many modern mirrorless cameras. It pairs the speed of DSLRs with the accuracy of contrast detection. This results in very noticeable improvements over mirrorless cameras from a few years ago.
The entire sensor area is covered by 425 contrast-detection and 425 phase-detection points. Focus acquisition speed feels almost instantaneous at any of these points.
Sony's AI-trained autofocus technology also offers fantastic tracking capabilities. It can track almost any moving object, even at high speed.
It also detects human and animal eyes with unprecedented precision. Most eye-detection systems can pick up an eye only in close-up portrait scenarios. The A6400's system picks up eyes from full-body shots and keeps them in focus.
Setting up the system exactly to your taste is a meticulous process. But once you're done, it works like a charm and outperforms anything except Sony's own high-end models.
The A6400 shoots 11 fps with the mechanical shutter and 8 fps with its silent electronic shutter. But with the electronic shutter, you'll see a lot of rolling shutter artifacts. Because of this, it's best to avoid shooting fast action with the electric shutter.
Generally, the A6400's autofocus tracks very well even at 11 fps burst. But it has two caveats. One is that while shooting in burst mode, Sony cameras autofocus with the lens stopped down. This can significantly impact speed if you're using fairly slow apertures. For the best burst-tracking performance, use your lenses close to wide open.
The other is that clearing the buffer takes a long time. Given that the A6400 is limited to UHS-I SD memory cards, its write speed is unable to keep up with the speed that 11 RAW files require. When the in-camera buffer fills up, transferring the shots to the card can take up to half a minute (full RAW) or a minute (best JPG + full RAW). During this time, you can't shoot or review images.
Video Features
The A6400 is a highly capable camera when it comes to video recording. But it does have a few flaws.
It shoots 4K at 24, 25, and 30 fps. At 30 fps, it applies a 1.2x crop. It's also capable of shooting Full HD at 120 fps. All of these are at 8-bit, 4:2:0, which doesn't promise a lot for excessive grading. The maximum bitrate is 100 Mbps at all settings. And autofocus in video mode is great.
There is no limit on recording time, which is a great benefit. You're only restricted by the size of your card or the buffer.
Nonetheless, there are still Log and HDR picture profiles included. Most of my experienced videographer friends recommend using the HLG 2 setting in 8-bit Sony cameras because of its flexibility.
A notorious issue of the A6400 is the presence of rolling shutter artifacts. This is because the top and the bottom of the sensor are not read out at the same time, but roughly 30 milliseconds apart. That is enough to cause serious bending when panned or a "jello" effect when digitally stabilized.
There is a minor overheating issue, too. But it's no more significant than in any other mirrorless camera of similar size.
Body and Handling
The A6400 body is made of a magnesium alloy, which makes it solid but lightweight. The grip is rubberized for better holding. It feels very sturdy.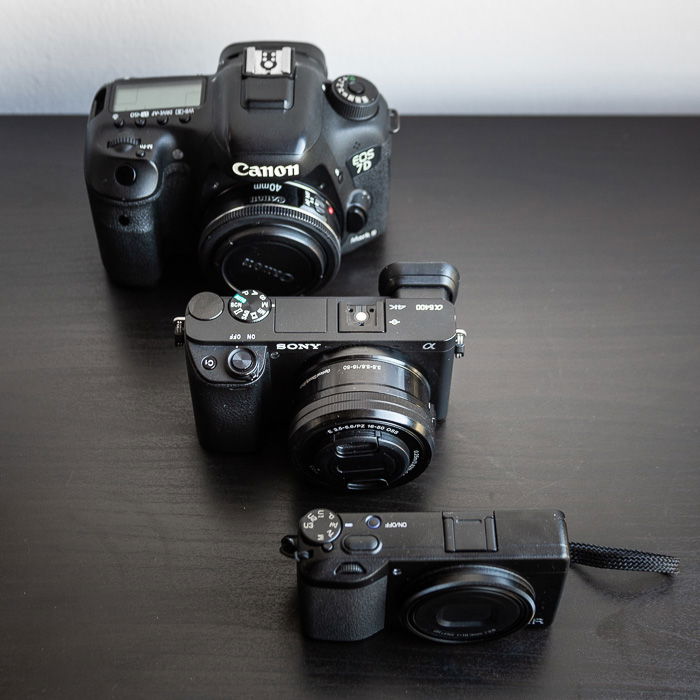 The exact dimensions are 120 x 67 x 60mm. And it weighs 403 grams with the battery.
The grip looks small but it's actually quite comfortable. It helps that the shutter button is placed on top of it and not on the rear. That would've been detrimental to the ergonomics.
A very welcome addition to the package is the weather sealing. Sony claims that this camera is "moisture and dust" resistant, which means you can shoot in the rain without much concern.
But be aware that the kit lens is not weather sealed. To have full weather sealing, you have to use one of Sony's high-end lenses or third-party weather-resistant lenses.
A flip-up touchscreen occupies the larger part of the back. It's accompanied by several function buttons—an AF/MF-AEL switch, the flash release button, a control dial, a mode dial, and a control wheel.
Overall, the camera is highly customizable. The electronic viewfinder is great—it's large and responsive. Color and contrast are great right out of the box.
Battery life is decent, but nothing groundbreaking. During my testing, I drained a full battery in about 400 shots.
The camera is chargeable via micro-USB. Or you can charge the battery separately with an adapter. A single UHS-I SD-card slot shares the slot with the battery.
The tripod mount is placed far away from the combined battery/card door. So you can easily exchange batteries and memory cards even when the camera is on a tripod. It's placed in line with the center of the lens mount, so creating seamless panoramas is easy.
There are some issues with the ergonomics of the controls on the A6400. The menu system is far from intuitive. There's an infinite amount of pages and key settings scattered across it. Luckily, there's a My Menu section where you can save 30 of your most important settings how you want.
Another problem with Sony is the terrible integration of the touchscreen. The only thing you can use the it for is setting your focus area. You can't change settings, navigate menus, or review images on it. This is not the first or second generation of touchscreen cameras from Sony. There's no excuse for such poor touchscreen access.
Image Quality Out of the Box
A well-known accusation against Sony is that the default color calibration profiles are quite weak. Especially in comparison to Canon or Fujifilm. This is definitely true to an extent, but there are easy solutions.
The first and most obvious is to shoot in RAW. But I understand that not everyone has the time to edit their shots in post.
There are options in the camera to change the color calibration to a degree. This won't replace the versatility you have with RAW processing software, but it's better than nothing.
I've also found that default sharpening and noise reduction are too strong. You can reduce these in the menu.
Alternatives to the Sony A6400
There are a number of alternatives to the Sony A6400.
The Fujifilm X-T30 shares many traits, including a similar sensor at a similar price point. It stands out with its beautiful design and exceptional JPG and video quality.
The Nikon Z50 is also a decent choice with great ergonomics and user experience. But the Z ecosystem lacks an extensive lens selection. And adapting F-mount lenses isn't smooth at all.
The Canon EOS M6 Mk II has a 32 MP sensor and a great autofocusing system. It also has surprisingly great ergonomics in a tiny body.
The Canon EOS RP has a full frame sensor. While there are few native RF lenses, the adaptation of EF lenses is possible without annoyances in AF speed or accuracy.
Sony A6400—Our Verdict
The A6400 is a very versatile and high-quality camera with little drawbacks. Its issues can be annoying, but they don't impact everyday shooting much.
I am fairly confident that the A6400 is the best you can get in the mid-range mirrorless category.
Scores