Urban exploration photography is one of the most exciting ways to venture out with your camera. Our cities and industrial areas are full of abandoned buildings. And they make a prime location for urbex photography.
But you should never go exploring unprepared. If you plan on visiting abandoned places, you need to have your bag packed with all the right urban exploration gear.
In this article, we'll show all the gear you'll need for urban exploration photography.
Weather-Resistant Protection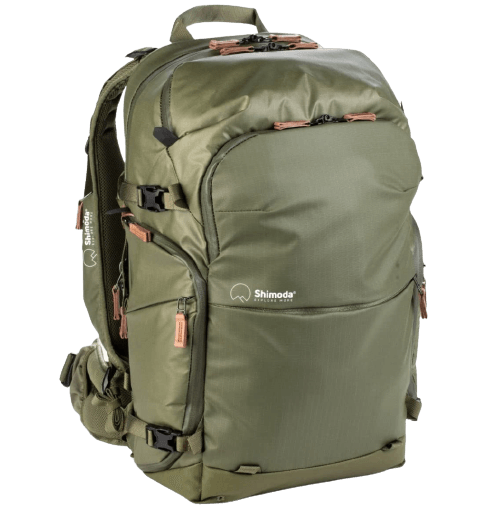 Shimoda Explore V2
Looking for a spacious and durable backpack to carry all your urban exploration gear? Check out this travel-friendly camera backpack that meets U.S. and international carry-on regulations and features adjustable torso height, multiple access points, and modular camera inserts.
[ExpertPhotography is supported by readers. Product links on ExpertPhotography are referral links. If you use one of these and buy something, we make a little bit of money. Need more info? See how it all works here.]
Urban Exploration Gear: What Is Urbex?
Urbex, or urban exploration, is when you venture into abandoned buildings and disused places. It's about searching for forgotten locations and dilapidated construction.
The urban explorer searches for old factories, no longer in use. Or maybe a crumbling hospital or an apartment block that was unfinished and forgotten. And right across Europe, you can find relics of the Cold War—all left to rot and ruin.
Urban exploration by itself can be a real thrill. But if you take your camera, you can get started with urban exploration photography. Not only will you visit these mysterious and haunting locations, but you can also capture their mood and magic with your camera.
Choosing Your Urban Exploration Gear
Urban exploration can be a thrilling hobby. But the decision to go exploring abandoned places should not be taken lightly. Derelict locations can be full of danger, from broken glass to falling masonry.
That's why you need a bag packed full of urban exploration gear. You need to be prepared and think ahead. The old saying goes, 'fail to prepare, prepare to fail'.
If you're eager to go out on an urbex adventure, we'll help you get packed. We'll discuss all the urban exploration gear you need for a complete urbex backpack.
A Sturdy and Spacious Backpack
Before you can pack your urbex gear, you'll need a bag to pack. You'll need a bag that can carry everything urban explorers need.
Many photographers like to use messenger bags. But when it comes to urban exploration photography, a messenger bag isn't suitable. Urban exploration can involve climbing and jumping. That's why most urban explorers use a backpack.
A backpack is spacious enough for all the gear you'll need. And it keeps your hands free. You get full mobility of your arms so you can climb, grab, and cling. You can also use your camera.
Our top backpack recommendation is the Peak Design Everyday Backpack V2. It's designed to keep cameras and photography equipment safe. The padding is excellent. And it's big enough for all your urbex gear.
The charcoal color is also great for urbex, as it blends in with your concrete surroundings. Some places might have security, so you don't want to get spotted.
The Right Urban Exploration Camera
There's no one specific camera for urbex. You can use a DSLR or mirrorless. You can even get excellent photos with a smartphone when you're urban exploring. Some great camera apps give a lot of creative control.
If you're going for a DSLR camera, try the Nikon D7500. It has a crop frame sensor, so it's portable and easy to carry. The resolution is great, but it's the ISO range that gives you an edge. Which is good, because there usually isn't much light in an abandoned building.
The best camera for urban exploring is the Fujifilm X-Pro 3. It's a mirrorless camera with a compact and robust design. The sensor resolution is 26.1MP and the ISO range goes from 80 to 51,200.
Durable Gloves
Exploring abandoned buildings is a dangerous game. These old buildings are filled with sharp objects and broken glass. While you're making your way through, you need to be careful where you put your hands.
Sometimes, taking care isn't enough. You might need to place your hand somewhere you can't see. That's why a durable pair of gloves is a vital item in your urban exploration pack.
The Handyman Flex Grip Work Gloves are perfect. They're strong, protective, and offer good finger movement. This is important when using your camera.
A Long-Lasting Torch and Headlight
Light is one of your top considerations. Disused factories and ruinous cold war bunkers are dark places. Many urbexers like to explore at night, but even during the day, natural light can be limited.
You'll need a solid flashlight to light your way while exploring locations. A handheld torch is a must-have. Something like the Maglight LED 3-Cell D Flashlight is perfect.
But you'll want to keep your hands free as much as possible. So a headlamp is another urbex gear item you'll want to consider. The Klein Tools LED Headlamp illuminates your path while you clamber around.
Remember to take extra batteries for both torches. You don't want to be left in the dark.
A Complete First Aid Kit
You can take as much care as you like, but accidents can still happen. If you're in a remote location, you'll need to treat yourself. That's why a first aid kit essential for urban exploration.
The Surviveware First Aid Kit is perfect for exploring locations. It has everything you need in a compact and waterproof case.
A first aid kit might sound over the top for a photography shoot. But it could be a life-saving piece of equipment.
Protective Safety Goggles
With a pair of safety goggles on, you won't exactly look cool. Thankfully, no one will be around to see you.
You might think goggles are a bit extreme. But abandoned buildings are full of nasty surprises. Things can fall or fly out at you. You could get dripped on or splashed by god knows what.
The Honeywell UVEX Carbon Vision goggles give your eyes plenty of protection.
A Heavy-Duty Safety Mask
Again, a safety mask might seem extreme. But when you're exploring abandoned places, you never know what you might encounter. Old factories might have toxic gases and liquids.
The Lincoln Electric XLR P100 gives you excellent protection from toxic gases. But even something like a small filter mask, like the Huheta KN95, can provide a lot of protection.
A Compact Tripod/Gorilla Pod
If you want to get the best shots in low light, but you don't want to push your ISO all the way up, you can take a tripod.
The Torjim 60″ Travel Tripod is lightweight and folds down to a compact size. The legs are telescopic, so it fits into your backpack and is easy to carry.
You can also try the Joby Gorillapod. It's small, and the three legs can be twisted and used to grip. It's a versatile piece of kit.
Additional Equipment to Consider
Always take your phone while exploring locations, and make sure it's fully charged. Don't use it as a flashlight. It'll drain the battery, and you might need to make an urgent call later.
Mosquito Repellent is another good thing to have in your pack. You won't always need it. But if there's a location with stagnant water, you'll be glad you have it.
A water bottle and snacks are vital on urbex expeditions. You could be gone a long time and it's important to stay hydrated.
Wear robust clothing and shoes. You need to protect your skin and keep warm if it gets cold. A pack waterproof is another handy item to include in your urbex gear.
Conclusion
Abandoned places are amazing locations for exploration and photography. But never head out on an urbex expedition unprepared. Always pack the correct urban exploration gear.
The first thing you need to prepare is your attitude. Think of safety first, then the rest of the equipment will be logical. Of course you'll need your camera. But much of your pack will be dedicated to health and safety.
Once your bag is packed, you can head out into those forgotten urban locations and capture some stunning urbex images.
Our Urban Smartphone Minimalism course is perfect for creating amazing urbex photos with just your smartphone!
Weather-Resistant Protection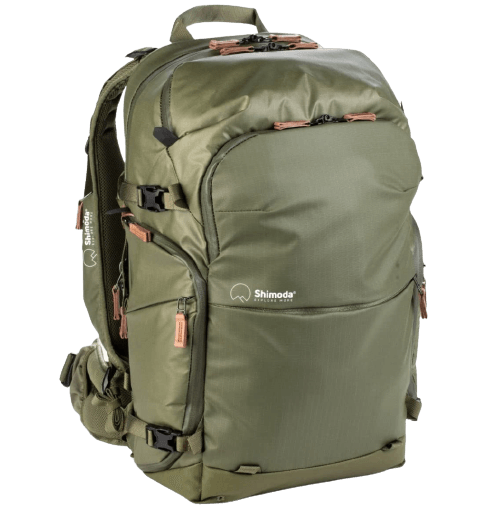 Shimoda Explore V2
Looking for a spacious and durable backpack to carry all your urban exploration gear? Check out this travel-friendly camera backpack that meets U.S. and international carry-on regulations and features adjustable torso height, multiple access points, and modular camera inserts.