Urban photography has a lot of creative potential. But one of the biggest questions is how to pack your bag for your needs?
We'll show you just what to bring with you to take the best urban photos! And what you should leave at home.
What Is Urban Photography
Depending on your answer, you might need different equipment. In this article, you'll learn about three of the biggest areas of urban photography.
These are urbex, street photography and night photography. Each of these is different. But they have the potential to overlap with each other.
Urbex
Urbex stands for urban exploration. This form of photography often means accessing places that you're not strictly speaking meant to access.
ExpertPhotography certainly doesn't encourage trespassing, you'll need to use your own judgment when deciding which locations you'll photograph.
As a general rule, it's a good idea to scout your intended location first. When you go there to photograph, be as discreet as possible.
You'll want to pack light, avoid using a torch at night, and wear dark clothes.
Street Photography
Another very popular type of urban photography is street photography. Once again a small bag, packed light will be sufficient. Items like tripods and strobes aren't needed.
You'll want a lightweight camera body and one or two prime lenses. You can also try a pancake lens to be extra lightweight. Unlike urbex photography, you won't need to dress like a ninja. Wear regular clothes that are comfortable for your work.
Night Photography
Urbex and street photography can both be practiced at night. Urban settings are great places for night photography though. All those artificial lights can be put to great use.
It's recommended you bring a wide angle lens, a mid-range zoom lens, and a tripod. Night time cityscapes, kinetic light painting, and light painting are all techniques that work well in an urban setting.
Camera Gear for Urban Photography
Having established the type of urban photography you're going to attempt, it's time to pack the camera bag.
There's no reason you shouldn't try more than one of the above areas of photography. But don't try to pack for more than one at a time. It'll needlessly complicate your life.
Best Bags for Urban Photography
The bag you use for urban photography needs to be durable. If it's also stylish this is simply a bonus.
If you're a street photographer, using one prime lens in a smaller bag makes sense. An urbex photography going into a dark environment might need more space for a tripod or strobes.
Manfroto 3N1-35 – This is a great camera bag. It has multiple compartments that allow you to customize what you carry. It can hold a tripod and is designed to support your back. The bag allows for quick easy access to gear through a well-designed zip system.

ONA – The Union Street Leather – Better suited for the street photographer who wants to maintain a stylish look. This will also make you blend into the crowd more than a regular camera bag. It can carry multiple lenses and your camera, but you should consider not weighing it down. This is a bag with one strap. If you're photographing all day, it will make your neck sore. There is also no additional support such as a hip strap.

Verdict – Take the ONA bag for street photography where you're out for a few hours. The Manfrotto bag for when you need a more durable bag.
Best Camera Body for Urban Photography
We don't have a particular preference over which camera manufacturer you use. The two main body types you can look to are DSLRs or mirrorless cameras.
DSLR – Great performance, but larger in size. If you're looking to pack light this might not be for you. These cameras are more durable though. With the bumps involved in getting into a location for urbex work that's a plus. The latest Canon and Nikon models are the best here, both the Canon 5D Mk IV or the Nikon D5 or D750 are good choices.
Mirrorless cameras – In this area Sony leads the way. Olympus and Panasonic also make good cameras as well. Check out the Sony Alpha III. If you're on a budget, go for the Alpha II.
Verdict – The Sony Alpha III is the camera of choice here. Excellent quality, and compact in size.
Best Lens for Urban Photography
It's tempting to overload your bag with lenses. As an urban photographer, this isn't the best plan though.
The chances are you'll be living in the urban setting you're going to photograph. Repeat visits with alternate lenses are possible if needed.
You'll also have to work with the focal lengths you have. This will make you think more creatively about how you can capture the scene.
So what are the best choices?
Wide angle – One of your lenses should be a wide angle lens. This is useful in all three of the genres mentioned above. Wide-angle prime lenses might be best if you don't wish to bring a tripod. The lens I recommend for urban photography is a wide angle zoom lens. You'll need to pick a lens according to your camera body's manufacturer. The Sigma 14-24 f2.8 DG HSM Art is a good choice though.
Prime lens – The nifty fifty is a popular lens that many photographers own. It's a good choice to compliment your wide-angle zoom as well, being of slightly longer focal length. Great for street and low light photography. There are several versions of this lens with increasingly large apertures. A 50mm f1.8, which many manufacturers make, is a good choice. It's not expensive, relatively compact and lightweight.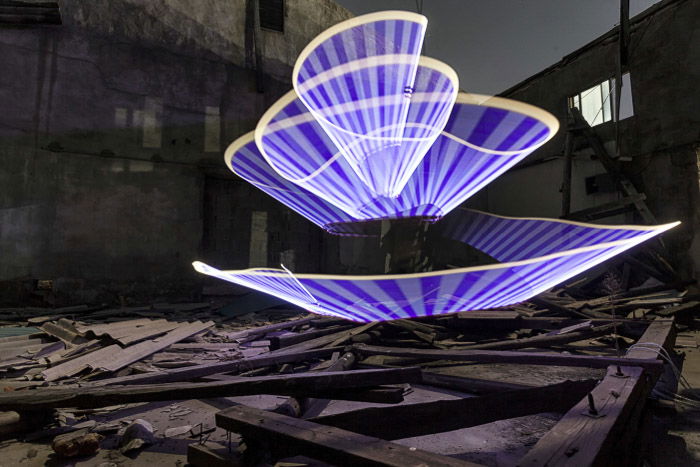 Best Tripod for Urban Photography
You don't need this for street photography. But it can be useful for both urbex and night photography.
Go for a sturdy yet lightweight option here. Here are two that I recommend.
Full tripod – The bulkier option, but will allow you to position your camera exactly where you want it. No need to go for something super heavy either. The Sirui T2204X is a good compact tripod.
Gorilla pod – Small and lightweight, these make an excellent substitute for a full tripod. You can set them on a wall to get extra elevation, and the legs allow you to wrap them around a railing for extra sturdiness.
Verdict – In the interest of keeping your bag light, go for the Gorilla Pod. It has its restrictions so you'll just have to work creatively to get around them.
Best Lighting Gear for Photography
Urban photography will often take you into places that have low light. Adding your own is one solution. The other solution is long exposure and a tripod.
Using your own light source allows you to create more drama in your scene by directing the light. Light coming from the side will show more texture on a wall for instance, with more shadows as well.
So what can you use?
Strobes – A strong light source that you can direct and control. Some camera systems allow these to be triggered remotely by an infra-red signal. If you don't have this system, getting a radio trigger and receiver to go with your strobe is recommended.
LED light stick – You will, of course, need a tripod to go with this. Use it to lighten the scene in front of the camera. Or stand in front of the camera and make light patterns that compliment the scene you're photographing.
Verdict – A strobe you can trigger remotely by infra-red or radio trigger is a great addition to any camera bag.
Accessories for Urban Photography
There are lots of smaller pieces of camera equipment you can get that will enhance your work. These are useful for many situations, so it's worth packing most if not all of these items.
Camera clip – Carrying a camera around your neck or holding it all day can be draining. You can attach a camera clip to your belt, and then attach your camera to it.
Cleaning equipment – Microfibre cloth and a camera blower are good things to own. Urban settings are not always clean, so you'll need to have camera cleaning items available.
Angle finder – Getting a low angle perspective can be great for urban photography. If your camera body has a movable live view screen this item isn't as necessary.
Filter – A simple UV filter is a good item to protect your lens in an urban setting. Use a circular polarizing filter to enhance the colors in your photo, or add and remove reflections from your photos.
Essential Gear That's Not Photography Related
Urban photography can be demanding, and not just on the camera. You also need to consider what you bring with you that's not photography related.
The following is a guideline to the things you should look at.
Sturdy Footwear
This is of particular importance for urbex photographers. It's a good idea for street photographers too.
Those exploring abandoned buildings and structures need good foot protection. There can be sharp objects around, mud or slippery areas.
Torch
A torch is a useful item to have in low light environments such as tunnels, or at night. It will allow you to see where you're going, and avoid potential hazards.
You can use it to shine into your camera bag, making it easier to retrieve needed items. It can also double as a light painting tool. Use it to illuminate a surface during a long exposure.
Getting a headlamp is better still, as it will allow you to be hands-free.
Dark Clothes
Perhaps dark clothes are not always the most stylish, but they are the most practical for urban photographers.
As a photographer, you don't really want to stand out and be noticed, especially if you're practicing urban exploration.
Those of you who do light painting will benefit by being a lot less likely to show up in the photo when you're making a light pattern in front of the camera.
String or Bungee Cord
A really good item to have whether you're heading out into the country, or exploring an urban area.
It takes up very little space, and bungee or string has a lot of uses. Whether for attaching a strobe to a metal pillar or pulling your camera bag through a narrow gap, this is a must-have item.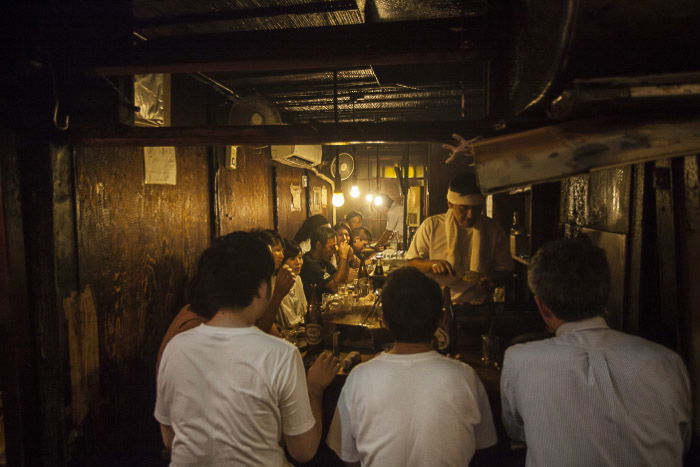 Weather Related Items
The items you bring will depend on the season, and the climate you're in. Nobody needs sunglasses on a cold rainy day, but if you're located in a hot country they're absolutely needed.
If you're in a hot country, items like sunscreen and a hat are important. You're likely to be outdoors a lot and need protection. In the winter a woolly hat, and hot packs are a good idea.
A pro tip is to pack an additional hot pack to store with your spare batteries in the winter. They won't drain so quickly if they're less cold.
Phone and Power Bank
Today's smartphones have so many uses that urban photographers can take advantage of. They're really an essential item.
Taking a power bank with you is a really good idea as well. This will ensure you don't run out of power on your smartphone.
So what uses are there for a smartphone?
Maps – Great for navigating the urban jungle, so you know where you are. You can also use drop pins to mark interesting locations you wish to return to later.
Notes – Lists are always good. Make a list of locations you want to visit, or a list of photo types you want to take at a particular location.
Torch – You should bring a torch separately, but the phone is a nice backup just in case.
Extra camera – A backup camera never hurts, even if you just use your smartphone to take recording photos.
Camera apps – There are a plethora of apps out there which make life easier for photographers. Download apps that show you the direction of the sun, edit your work on the go or allow you to see correct camera settings.
Emergencies – There are of course times you could get in trouble, a phone is a lifeline is such situations and can be used to get you out of trouble. On the same note of safety, always look to explore urban areas with a friend, you're much safer in that situation.
Conclusion
You're now all set with the items you'll need for urban photography. Look to pack light, and be bold about the locations you want to photograph.
The non-photography items are in some ways more important than an extra lens in the bag, keep that in mind.
What goes into your urban exploration camera bag? Are there items you'd put in that you think are more important than those on this list? Let us know in the comments!
And if you have some great urban photography, you can also share that with us in the comments section to this article.
Looking for more great tips? Check out our new post on ShutterBands camera equipment!