Bridge cameras are great for people who don't want to spend so much on DSLRs. Or it's for those wanting more control or features than a compact camera can offer.
My first camera was a bridge camera—the Sony Cyber-shot DSC-HX200V. I bought it for my very first African safari in 2013. It was much cheaper than a DSLR and the best bridge camera on the market. It had the highest-resolution sensor (18 MP) and one of the most powerful zoom lenses (27-810 mm).
With smartphone cameras getting better all the time, there are fewer bridge cameras out there these days. But we've found eight great choices for you. Our top pick offers great value for money, a telephoto lens beyond anything a smartphone can do, and 4K video.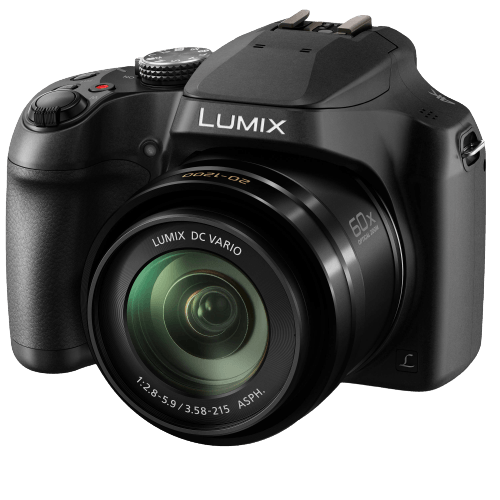 Panasonic Lumix FZ80 / FZ82
This bridge camera offers a powerful 60x optical zoom and 4K video recording capabilities, making it perfect for capturing stunning images and videos.
Shop 2 Offers
[Note: ExpertPhotography is supported by readers. Product links on ExpertPhotography are referral links. If you use one of these and buy something, we make a little bit of money. Need more info? See how it all works here.]
What is the Best Bridge Camera in 2022?
We'll look at our choices in some detail. But first, here is a summary of all our recommendations and why we like them. (If you want to learn more about bridge cameras (superzooms), go to the end of the article.)
Best Bridge Cameras (in Detail)
Now let's dive in and see what's so good about these cameras. Let's start with our top pick!
1. Lumix FZ80 (FZ82)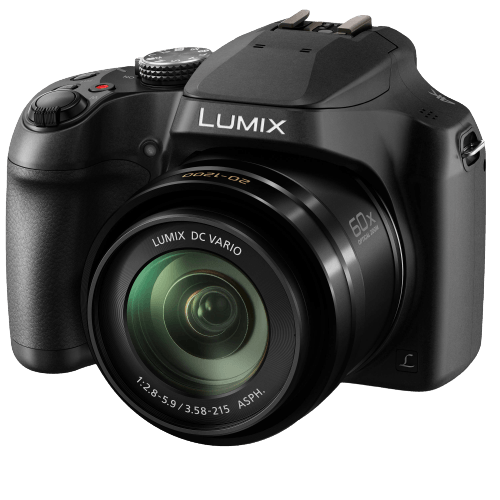 In-body Stabilization
Video
Best For
People on a tight budget who want to move beyond their phones
You can't beat the zoom range of the Nikon Coolpix P1000 or P950. But the Panasonic Lumix FZ80 (FZ82 outside the US) is a good value alternative.
It has the same 1 cm focus distance but a higher-resolution sensor (18.1 MP). It has a wider starting point to the zoom range (20 mm) if you're shooting landscapes or indoors. And it also offers TouchPad AF (autofocus) and a Depth From Defocus system with rapid focusing speeds of 0.09 seconds!
It also offers 4K video with a Live Cropping mode that allows you to produce 20-second or 40-second Full HD / 1080p clips using pan and zoom. All you set is your start and end points using the rectangle that appears on the screen. The camera does the rest!
Another cool feature is the 4K Photo mode. Normally, the max frame rate is only 10 fps (frames per second). But this lets you choose the best frame from a 4K video clip using the joystick or 4-way controller. The image will only be 8.3 MP, but that's still enough to create an 11 x 8.3-inch print at 300 dpi.
2. Cyber-shot RX10 IV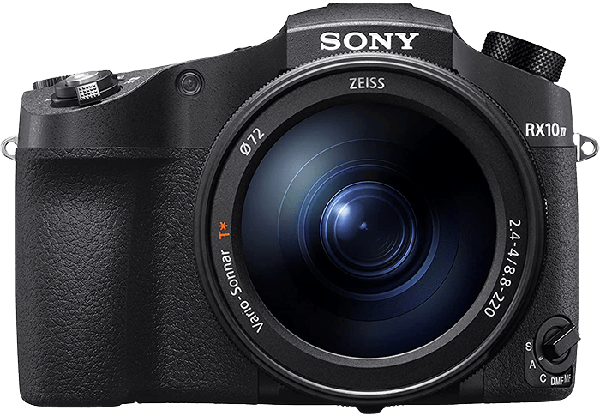 In-body Stabilization
Video
Best For
Wildlife and sports photography
Are you looking for the best overall wildlife, sports, or action camera and have a little more money to spend? Consider the Sony Cyber-shot RX10 IV. The new version has a touchscreen and a new 315-point phase-detection AF system. It cuts the focus acquisition time in half and makes for excellent subject tracking.
It's also capable of shooting in RAW and taking 4K / 30p (3840 x 2160 pixels) video clips. You can capture 8 MP stills from these, a feature similar to Panasonic's 4K Photo mode.
The 24-600 mm (25x) zoom range is not the biggest of these cameras. But the variable aperture of f/2.4-4 gives it the fastest lens, and the 24 fps continuous shooting speed is the best in class!
3. Lumix FZ300 (FZ330)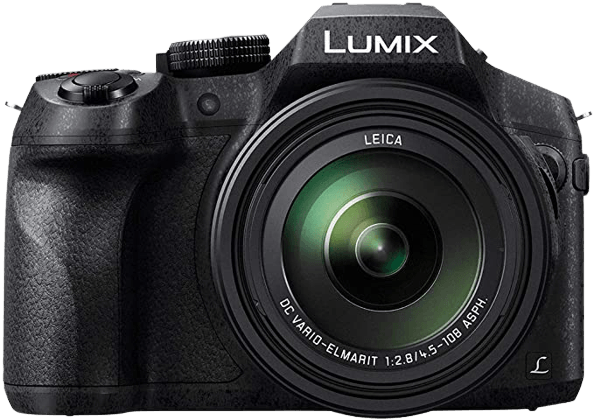 In-body Stabilization
Video
Best For
Getting close to the action
The Panasonic Lumix FZ300 is the update to the popular FZ500 (FZ200). It keeps the same 12 MP sensor and 25-600 mm (24x) f/2.8 lens—which is very fast for a superzoom. The resolution might seem low, but the advantage of limiting the megapixels is a marked reduction in image noise. Photo quality also doesn't deteriorate much, even when fully zoomed in.
This version has some differences. Some of the main improvements are a new image processor, 5-axis image stabilization, and weather sealing. But it also boasts a new high-resolution electronic viewfinder (EVF) and a tilting touchscreen. And built-in Wi-Fi is another welcome addition.
It also offers 4K video with a 4K Photo mode for grabbing 8 MP stills. The only difference between the European FZ330 and the American FZ300 is the video frame rates, which are 25 vs 50 fps and 30 vs 60 fps, respectively.
4. PowerShot SX70 HS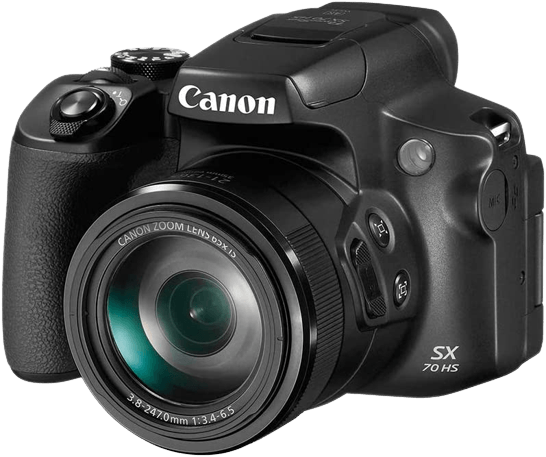 In-body Stabilization
Video
Best For
Wildlife photography with good light
The Canon Powershot SX70 HS is a compact and affordable bridge camera. It features a 21-1365 mm (65x) zoom range, a 20.3 MP sensor, a 3-inch vari-angle screen, and simple menus and controls.
The image quality is pretty good, with an impressive dynamic range for a bridge camera. The autofocus system deals well with moving objects. And this Canon bridge camera also has Bluetooth and Wi-Fi connections.
But the f/3.4-6.5 lens doesn't cope well in the dark. And the 10 fps max continuous shooting rate drops to 5.7 fps with continuous autofocus. There is also no built-in GPS, 4K video is only possible with a crop, and the screen isn't touch-sensitive.
5. Coolpix P1000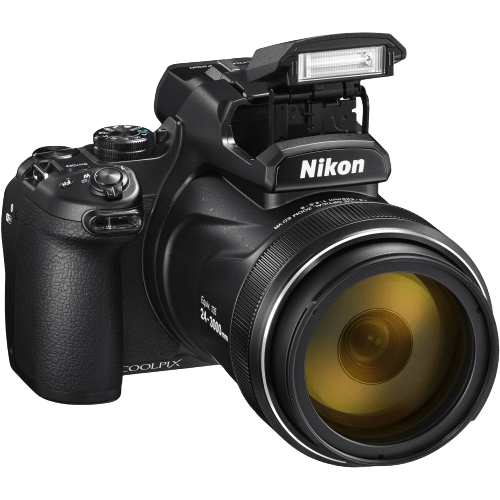 In-body Stabilization
Video
Best For
People who need an extreme telephoto
The Nikon Coolpix P1000 and the very similar P950 take the idea of the superzoom to the very limit. You can take your pick when it comes to these two.
If you want a massive zoom range, then go for the P1000. But if that's too bulky for you, the P950 still has a 24-2000mm optical zoom lens. With the 166x Dynamic Fine zoom, you can extend it digitally to 4000 mm!
Both cameras indeed lose sharpness when fully zoomed in. That's partly because of the small sensors and the camera shake at such long focal lengths. It's also true that the widest aperture on the P950 drops from f/2.8 to f/6.5 when fully zoomed in.
But you get 16 MP RAW images with a frame rate of 7 fps (up to 10 frames), a 1 cm focus distance for macro work, and a 2.36M-dot EVF. Plus, you can also shoot in 4K. And that's not at all bad at this price!
6. Lumix FZ1000 II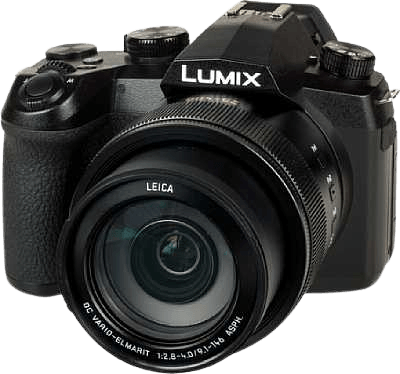 In-body Stabilization
Video
Best For
Sports photography and video
This Panasonic Lumix FZ1000 II might be for you if you're not so worried about having a long focal length. The zoom range is only 25-400mm (16x). But the 20.1 MP sensor provides great RAW photos. And the fast aperture of f/2.8-4 helps in low-light situations.
It also comes with 5-axis Power OIS stabilization, Wi-Fi, and NFC. And it has a 3-inch vari-angle LCD screen. It's capable of shooting 4K video, and there are three burst modes—7 fps (continuous AF), 12 fps (single AF), and 30 fps (in 4K Photo mode).
7. Lumix FZ2500 (FZ2000)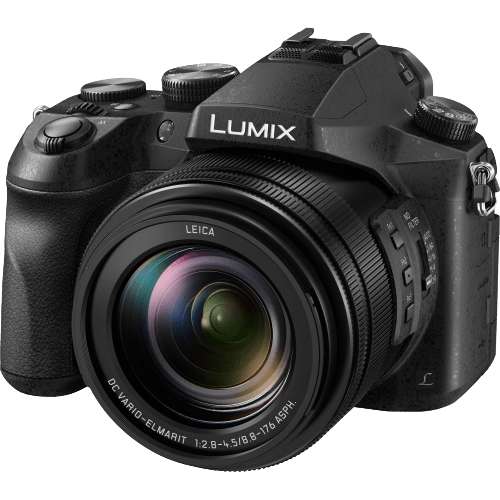 In-body Stabilization
Video
Best For
Sports photography with good light
The Panasonic Lumix FZ2500 (or FZ2000 in Europe) is more expensive than the FZ1000 II. Yet it also offers a step up in performance. You get the same 20.1 MP sensor with RAW file capture but slightly more reach with the 24-480mm (20x) zoom. This comes at the cost of a slightly narrower aperture of f/2.8-4.5.
You also have a variable neutral density filter, effective subject tracking, touchscreen control, and an EVF with slightly higher magnification. The only problems are that it's not weather-sealed, and JPEG images suffer from too much noise reduction and clipped highlights.
In terms of video, you get DCI 4K / 60p (4096 x 2160 px) with various sound level settings and even a wind noise filter!
8. Coolpix B500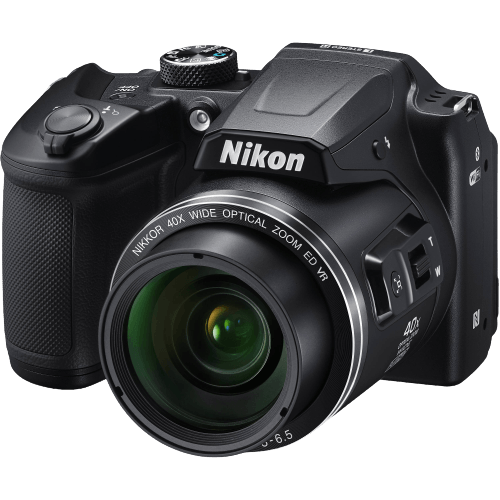 In-body Stabilization
Video
Best For
People looking for good specs on a tight budget
This Nikon Coolpix B500 is the best option if you're looking for the best budget bridge camera. Nikon has discontinued the B600 and B700. But the B500 has the same 16 MP sensor.
II only has a 22.5-900 mm f/3-6.5 lens, which means you'll miss out on the 1440 mm max focal length of the other two. But a 40x zoom range is still pretty good. Plus, the B500's list of features means it offers excellent value.
On the other hand, it doesn't support RAW files, and you can't shoot 4K video. Plus, there's no electronic viewfinder (EVF), and the image quality is no better than you'd expect at this bargain bridge camera price.
Bridge Camera Features
Bridge cameras (or "superzoom cameras") "bridge the gap" between compact cameras and DSLRs (or mirrorless cameras). And that was what I was trying to do with my first camera. A bridge camera is often a staging point for buying an interchangeable lens camera with an APS-C or full frame sensor.
The other point about bridge cameras is that they occupy a particular niche. They offer good value and an exceptional zoom range. They're bulkier than compacts. And can't match the image quality or low-light performance of APS-C or full frame cameras because of their smaller sensors.
The fundamental trade-off in finding the best bridge camera is between zoom range and high-quality images. Yes, it's great to have a fixed-lens bridge camera that does the job of a DSLR with two or three different lenses. So bridge cameras are perfect for those on a budget who want a powerful zoom but don't want to carry a heavy bag full of lenses around!
But you must ask yourself what you want to do with your photos. If you only want to publish them on Instagram, then sensor size is unimportant. But it might become an issue if you want to print them out.
Sensor Area Sizes
To avoid confusion, let's talk about a superzoom's two sensor sizes:
1/2.3-inch sensors (6.17 x 4.55 mm)
1-inch sensors (13.2 x 8.8 mm)
They're a bit confusing, aren't they? How can a fraction have 2.3 on the bottom? And why isn't a 1-inch sensor 1-inch wide or long? The answer is that those measurements refer to the external diameter of the cathode-ray tubes used in broadcast cameras.
The "sensitive area" of the tube is usually around two-thirds of the diameter. That gives us the diagonal of the 1-inch sensor, which is 0.63 inches (15.9 mm)—or roughly two-thirds of an inch.
Technology has changed now. And what matters is the area size of the sensors. The greater the sensor area is, the greater its light-collecting power. That means better image quality, dynamic range, and low-light capability.
Comparing Sensor Sizes
A good way to look at bridge camera sensors is to compare them to full frame ones, which are 24 x 36 mm. But you might be in for a bit of a shock!
A 1-inch sensor is only around one-eighth the size of a full frame sensor (116 mm² v 864 mm²).

A 1/2.3-inch sensor is only around one-thirtieth the size (28mm² v 864mm²)

!
The small sensor size might completely put you off bridge cameras. After all, what good is a VW Beetle compared to a Rolls-Royce? But the zoom lens is the big selling point. As long as you do not intend to put your pictures up on the walls of a gallery, there's still plenty to appreciate.
Most bridge cameras, for example, can shoot 4K video, and a couple of Sony bridge cameras even offer eye detection. That's not bad for the money you spend.
Conclusion
If you're looking for the best bridge camera, your first job is to decide how important image quality is to you. That's largely dependent on sensor size.
If you're more worried about posting images to social media than printing them out, a small-sensor superzoom with a massive zoom range will suit your needs perfectly. Try the Nikon Coolpix P1000 or P950. On the other hand, if you want to make the most of a long zoom lens and prefer sharper images, try one of the Panasonic bridge cameras.
The best superzoom camera may be the Sony RX10 IV if you don't mind spending more. But our top pick is the Panasonic Lumix FZ80. It blends affordability with features your phone can't match!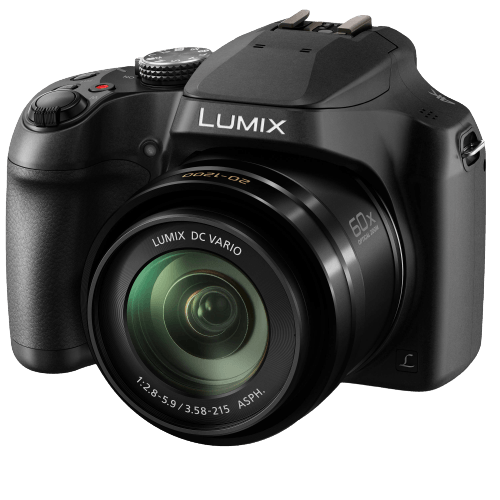 Panasonic Lumix FZ80 / FZ82
This bridge camera offers a powerful 60x optical zoom and 4K video recording capabilities, making it perfect for capturing stunning images and videos.
Shop 2 Offers