In this article, we determine the best camera under $500 you can buy. Photography is an expensive hobby (or profession). But there are great-quality cameras out there for a smaller budget! From the Sony Alpha a5100 to the DJI Pocket 2, we've got you covered. Read on to find out which camera is the best choice for you.
Our top choice is the Canon EOS Rebel T7. It's a DSLR that has incredible abilities for under $500! The clear selling point is its incredible image quality for the price. But the professional controls aimed at entry-level photographers also make it top of this list.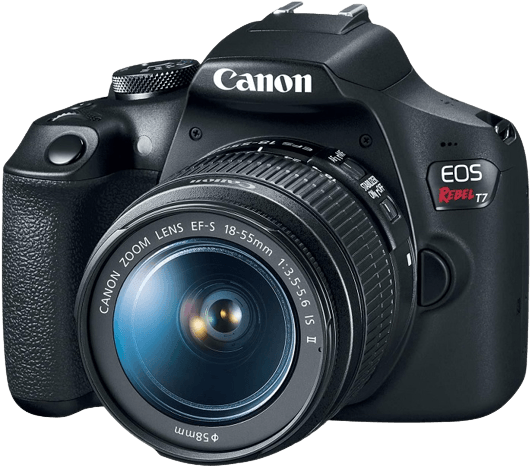 Canon EOS Rebel T7 / 2000D
A lightweight, entry-level DSLR camera. It offers great image quality and user-friendly features, perfect for aspiring photographers.
Shop 3 Offers
[Note: ExpertPhotography is supported by readers. Product links on ExpertPhotography are referral links. If you use one of these and buy something, we make a little bit of money. Need more info? See how it all works here].
What is the Best Camera Under $500?
Here's a quick roundup table of the cameras we've selected. We have included a mix of DSLR, mirrorless, compact, and action cameras. So with a list like this, you will find the right camera at a great price!
Best Cameras Under $500
1. Canon EOS Rebel T7 / 2000D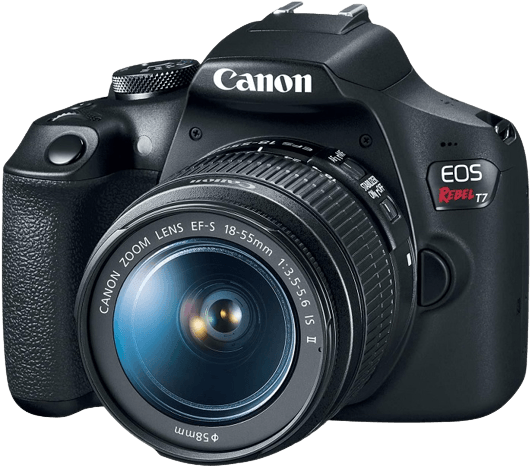 In-body Stabilization
Video
Key Features
High-quality sensor, Full HD video
Best For
Photographers moving toward professional photography
The Canon Rebel T7 comes at the top of this list, as it's almost impossible to find a better-value camera for under $500. As it's a DSLR, you get all the manual controls and fully automatic features.
You can also use a wide range of Canon EF-mount interchangeable lenses available. It's a wide range of glass.
Now let's talk about this camera's obvious winning traits—a 24.1 MP sensor with Full HD video abilities. These two aspects make the Rebel T7 an ideal camera for someone who has a passion for photography… but perhaps they don't have the money to support this expensive hobby.
The 24.1 MP sensor has a good dynamic range for a crop frame sensor. And you can shoot Full HD video at 30 fps. If you want more frames per second, you can shoot in HD at 60 fps.
The Rebel series has been extremely popular and is well known as the best affordable camera. It does have newer iterations in its series, the Canon Rebel T7i and Rebel T8i. But they don't make this list due to their prices.
You can still expect modern features from the Rebel T7, though. It has Wi-Fi connectivity and allows you to use the Canon Camera Connect app for remote shooting.
2. Sony a5100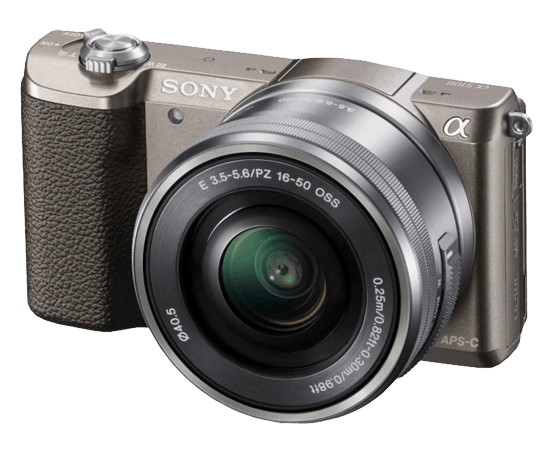 In-body Stabilization
Video
Key Features
Compact with a quality sensor
Best For
Casual on-the-go photographers
Sony released the a5100 a while ago, but it still comes high on lists thanks to its incredible 24.3 MP sensor! You rarely have a camera still in production and dominating lists so long after its debut. But the Sony a5100 makes this list thanks to its dropped price as newer models have been released.
One reason people might like this camera is its size and weight. The a5100 can slip into your pocket (depending on the lens) and won't leave your arm slumped after a day of shooting. Speaking of lenses, this camera allows you access to all of Sony's excellent E-mount lenses, which is another huge advantage of this camera.
Another strong point in the a5100 is the autofocus system. It is capable of fast and accurate autofocus and has 179 autofocus points to choose from! And it can also take video in Full HD.
One disadvantage is that you will not be able to use manual controls for your photographs. This is helpful for people who just want a point-and-shoot camera. But for those who want to grow in photography, you may quickly grow out of this camera.
3. Nikon D3300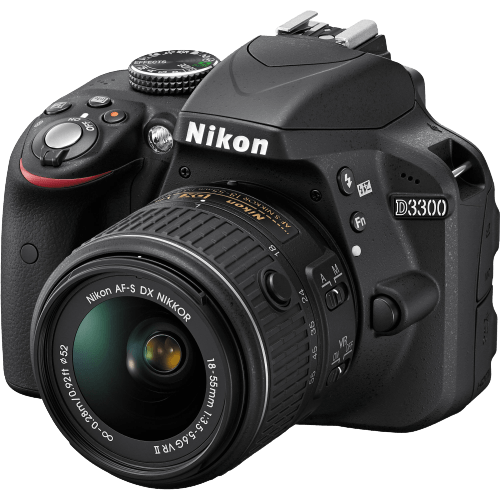 In-body Stabilization
Video
Key Features
High-quality portable DSLR
Best For
Photographers looking to learn manual controls
The Nikon D3300 is the best DSLR that Nikon offer for under $500. It beats our top choice by 0.1 of a megapixel. But realistically, this extra 0.1 won't make a noticeable difference.
It does beat the top spot when it comes to its autofocus capabilities. There are a few more autofocus points in the D3300. And the Nikon autofocus system tends to be slightly more reliable and accurate than Canon.
The Nikon D3300 is small, light, and super portable for a DSLR. This makes it ideal for photographers who like landscape or street photography. But it's for any photographer who will have their camera out almost the whole day.
You also get access to all of Nikon's DX lenses. And they have options for any style of photography. There are newer versions of this range available from Nikon, but they all cost more than $500 (with a kit lens).
If you are tempted to go for the newest version (which is what I would recommend), choose the Nikon D3500. There is little difference in image quality, but you get more up-to-date features.
4. GoPro Hero11 Black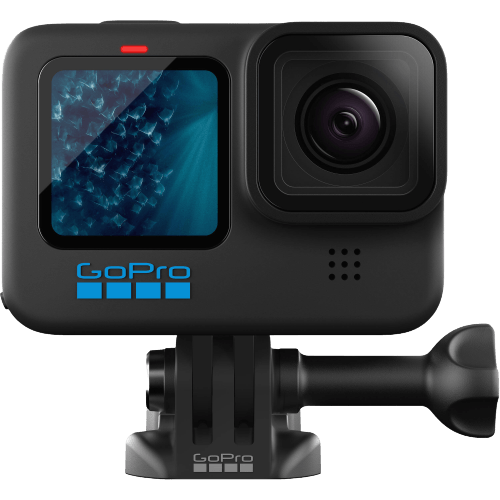 In-body Stabilization
Yes
Key Features
Extremely weatherproof and great stabilization
Best For
Action videographers in unfavorable conditions
The GoPro Hero11 makes it onto this list as one of the top cameras thanks to its specially built design. A GoPro is not a camera for those who want to advance their knowledge in photography. But no camera can capture as it can.
It can capture up to 5.3K video at 60 fps and normal 4K video at 120 fps! This makes it one of the best video cameras under $500! You can still take photos with its 27 MP sensor. But with great video quality like that, you can take screenshots of videos!
The main reason people buy GoPro cameras is their waterproof and rugged qualities. This makes them suitable for any environment. GoPro does a great job of demonstrating this in its marketing. You will see their camera being thrown out of planes with a skydiver or under the ocean with scuba divers.
The GoPro Hero11 is extremely light and portable. This is why it has become the most sought-after camera for traveling. Its ease of use makes it accessible for photographers at any skill level.
My favorite aspect is its incredible image stabilization. This allows you to follow your friends while skiing without using a gimbal.
5. Sony Cyber-shot RX100 IV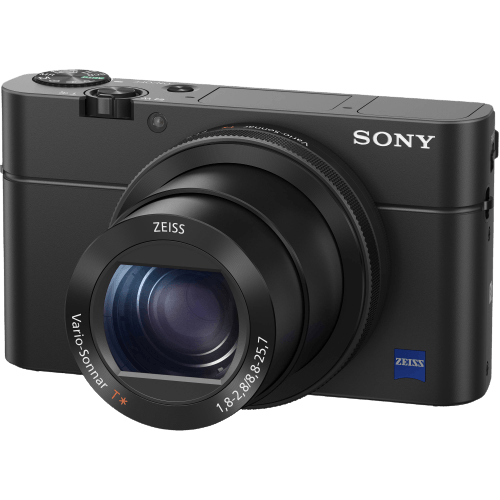 In-body Stabilization
Video
Key Features
4K video in a compact camera
Best For
Travel photography
The Sony RX100 IV is another compact camera on this list thanks to its great image quality and 4K video recording. Its sleek design allows you to carry the camera everywhere. It can even fit inside your pocket!
A 20 MP camera is enough to take high-quality images and share them with your friends and family. As it only has a one-inch sensor, it does not have a great dynamic range like others on this list. This is a common theme throughout compact cameras.
But the RX100 IV's autofocus system helps make up for this. Its contrast detection has improved tenfold from its last iteration. And this system also allows for subject tracking! All these points ensure your image is as sharp as possible.
The RX100 also has a pop-up electronic viewfinder to keep all its features as safe as possible. It even houses a small built-in flash that makes it great for taking photos of friends at night.
As this is an old model, you can find the Sony RX100 IV for under or around $500. So it's a super bargain!
I suggest this camera for those going on a holiday who want a professional-quality camera without the manual functions. But it's for any photographer who wants to focus more on composition than mastering exposure.
6. Canon PowerShot SX620 HS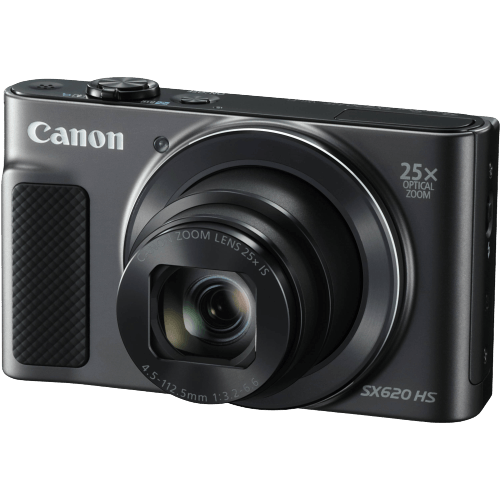 In-body Stabilization
Video
Key Features
Great zoom for a compact camera
Best For
Beginner photographers
The Canon SX620 is one of the best compact cameras from Canon for under $500. It is the best compact camera on this list for zoom. So if you are looking for a small camera that can zoom in tight on your subject, look no further.
The Canon PowerShot series is well known for producing high-quality point-and-shoot cameras. The 20.2MP sensor can take high-quality photographs and 1080p HD videos. And this version has great connectivity capabilities, letting you share photos over Wi-Fi.
One of my favorite points about this camera is its accessibility. All the buttons and menus you encounter are user-friendly and easy to navigate. This means you can spend less time looking at the camera and more time photographing the subjects you love.
The SX620 is also great for beginners who want to experiment. The camera has a Creative Shot function that creates five different unique edits of your photograph. You can also use this while creating videos.
On top of that, you get a range of Creative Filters like Fish Eye and a few others. This makes it a great camera for anyone new to photography who wants to experiment.
7. Olympus Pen E-PL10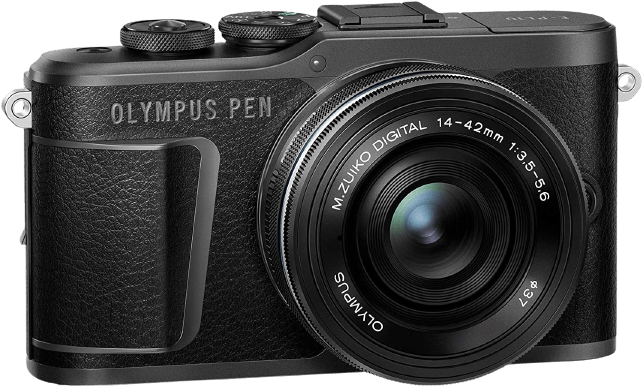 Sensor Format
Micro Four Thirds
In-body Stabilization
Video
Key Features
Options for fast shooting styles
Best For
Those looking for a stylish manual compact camera
The Olympus PEN PL10 is the most stylish camera on this list. It is often sold for over $500, but that's with a lens. You can find the camera body under $500 to meet the criteria for our post.
Apart from its looks, my favorite aspect about this camera is its spectacular in-body stabilization. This allows you to shoot in tougher lighting conditions without popping up the built-in flash or using a tripod.
The Olympus PEN PL10 can also help transition photographers to learn manual control settings. It features both a shutter speed and aperture priority mode. This means you can take advantage of manual settings to control your photograph.
Speed is a big selling point of the PL10. Not only does it have a high ISO to help shoot fast in low-light conditions. But it has a whopping 8.6 fps continuous shooting! It even allows you to shoot 720p video at 120 fps.
The camera also works with many Olympus lenses. So you can get a wide range of focal lengths with this small and portable camera. All in all, this is a great camera if you have the budget for a range of lenses. And you may not need to trade up for years to come!
8. Panasonic Lumix ZS80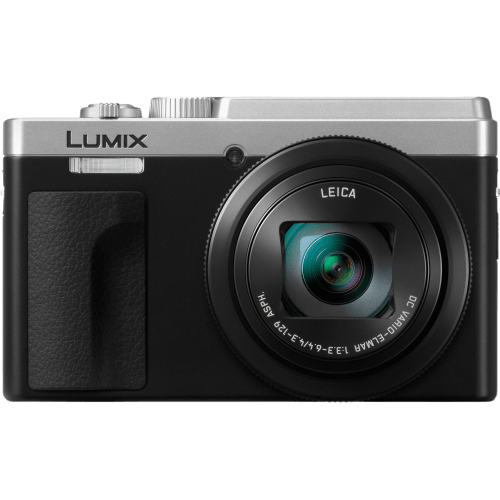 In-body Stabilization
Video
Key Features
Great zoom for a compact camera
Best For
Compact camera users who need a good zoom
The Lumix ZS80 is a pocket-sized compact camera that gives you high-quality travel photos with spectacular ease. Every inch of its construction is built to be a travel companion. This is everything from the 24-720mm zoom focal range to the speedy autofocus and high-quality sensor.
The 24-720mm zoom range allows you to focus purely on the subject that your attention is drawn to. This is particularly useful when traveling in busy destinations where the point of focus can disappear in a busy scene.
The quality of the lens emphasizes the quality of its zoom. Of course, the Lumix ZS80 comes with the renowned Leica DC lens, guaranteeing sharp images.
If you are worried about missing a fleeting moment, the ZS80 has got you covered with its 4K Photo feature. This enables you to take a video and save a screenshot from that video as an 8 MP resolution image.
It's a step down from the 20.3 MP quality you normally get, but it ensuress you get the exact moment you want. This feature can be particularly useful when you want both video and images.
I am a big fan of the Post Focus function. This lets you take a photo and then set the focus after! This is done through a Focus Stacking function and allows you greater creative control over your images!
You will find that the HX99 is packed with modern features like Fast Intelligent AF and responsive Eye AF. Fast autofocus is a must-have feature for those who want to take the perfect holiday or travel snaps.
People who have used point-and-shoot cameras for their travels know the importance of fast autofocus. You see a subject you like and try to get the picture before it slips out of your sight. Fast AF maximizes your chances of capturing fleeting subjects.
9. Nikon Coolpix B500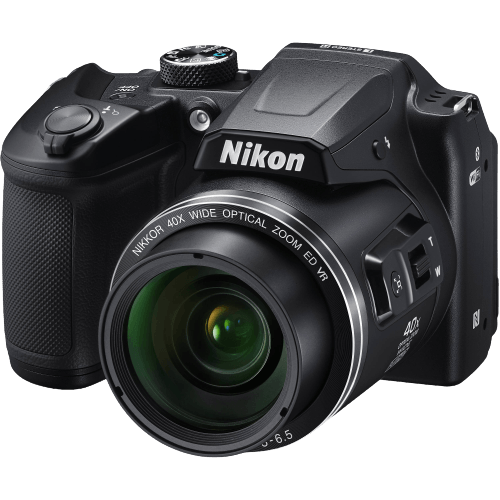 In-body Stabilization
Video
Key Features
40x optical zoom
Best For
Those who want to upgrade from a compact camera
The Nikon Coolpix B500 is a bridge camera that is perfect for anyone who wants a small step up from the limitations of compact cameras.
As we were just speaking about the zoom abilities of the Lumix ZS100, the Coolpix B500 comes and blows it out of the water. In this budget Nikon camera, you get 40x optical zoom! This effectively gives you a focal range of 22.5mm to 900mm!
My favorite aspect is Nikon's Vibration Reduction (VR). This image stabilization gives you up to three full-stop increases in your shutter speed. This ability can completely change your shooting experience, especially in low-light situations.
The image stabilizer also works with video. You can shoot 1080p Full HD video, which will be smoother than ever!
You can also connect to this camera through SnapBridge. This app allows you to share photos across several devices from your smartphone. You can also control your camera remotely! This means you can leave your camera on a tripod and take pictures without touching it.
10. DJI Pocket 2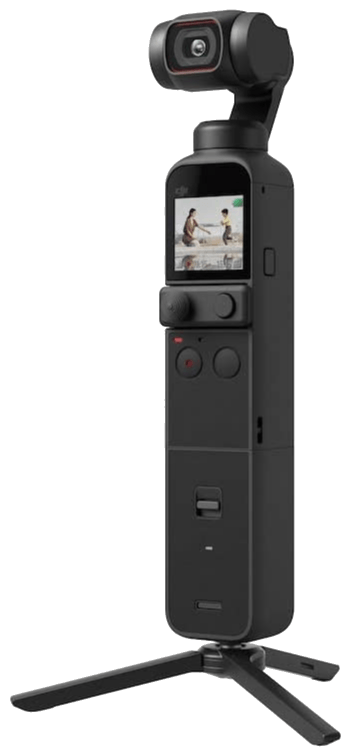 In-body Stabilization
Yes
Key Features
Camera is on a gimbal
Best For
Vloggers, streamers, or travel photographers
The DJI Pocket 2 finds its way onto this list as it is the best camera under $500 for vloggers. It does have a photography function but is primarily for taking high-quality 4K video at a max of 60 fps. But because its sensor is so powerful, you can still take fantastic 64 MP images.
It is a strange design, almost like a gimbal rather than a camera. This special shape helps keep the video as still as possible and makes it extremely easy to hold and carry around.
And the image stabilization on this camera is crazy. You can walk down the road and not produce shaky footage.
If you are looking for extra features, the DJI Pocket 2 is packed with them. It has a great panoramic mode that stitches together multiple photographs. You also get a Story mode that stitches your videos together and adds music.
I am also a big fan of ActiveTrack 3.0. This feature allows you to place the camera down, and the head will follow you where ever you move!
Conclusion: The Best Camera Under $500
The Canon EOS Rebel T7 (2000D) is the best camera under $500. It offers a 24.1 MP sensor, a three-inch LCD screen, and Full HD 1080p video recording. So the EOS Rebel T7 is a great choice for anyone looking for a high-quality camera on a budget.
And with its impressive features and affordable price, it is perfect for anyone looking to take their photography to the next level. So it is an excellent entry-level camera for beginner and intermediate-level photographers.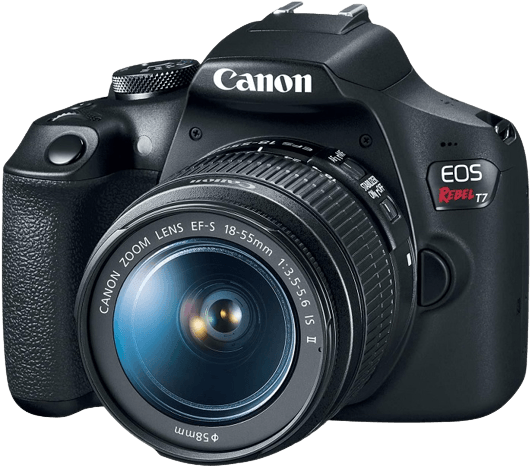 Canon EOS Rebel T7 / 2000D
A lightweight, entry-level DSLR camera. It offers great image quality and user-friendly features, perfect for aspiring photographers.
Shop 3 Offers