Digital cameras and smartphones make it easy to build up a collection of personal photos. Your extensive catalogue of personal shots can be so big that it's hard to pick just a few to put in picture frames.
Digital picture frames have made solving this problem a whole lot easier. With a digital photo frame, you don't need anything printed. And you don't need to select just one photo.
If you want a digital photo frame to display your beloved family pictures and holiday snaps, we're here to help. We have the best digital picture frames you can buy today.
[Note: ExpertPhotography is supported by readers. Product links on ExpertPhotography are referral links. If you use one of these and buy something, we make a little bit of money. Need more info? See how it all works here.]
Why Choose A Digital Photo Frame?
The technology for creating and displaying photos may have changed, but the images themselves are still personal and sentimental. We have photos of special people and memorable moments in our life. And we still want to display them in our homes.
Having digital photos printed can be a bit of a chore. If you don't have your own photo printer, you'll need to find a shop that does. It's time-consuming and expensive.
You will also need to buy a new photo frame for each picture you have printed. It's another expense, and it won't be long before you've run out of space on the mantelpiece.
A digital picture frame solves all of these problems. You don't need to print anything as it's all electronic. And you don't have to stress about which photo to select. You can change the photo with a few clicks or even have a collection of photos on rotation.
The Best Digital Photo Frames in 2022
If you want to bring your photo displays into the 21st century, this list is for you. These are our picks of the best digital photo frames to buy in 2022.
The Aura Mason is the best digital photo frame on the market. While other manufacturers are treading water or have even given up with their digital photo frames, Aura is still pushing forward.
The Mason frame has a dynamic yet stylish design. It's sleek and simple, so it looks good in your house. But it doesn't draw attention away from the photos. It has a graphite-effect finish, and it's free-standing in portrait or landscape positions.
Choosing photos for the display is completely painless as the storage is near limitless. Using the Aura network cloud storage, you can store more than 10,000 images. And you can transfer images from your phone using the Aura app on both iPhone and Android.
One criticism of digital picture frames is that the photo quality is often poor. This may have been true in the past, but the Aura Mason Frame has a sharp and clear image resolution. It gives you 1600×1200 resolution for pristine image quality.
This digital frame also has intelligent photo curation software. It crops and positions your photos perfectly within the frame. You no longer have to worry about an uneven or wonky display of pictures.
This option from Pix-Star is another of the best digital photo frames available. It has a large 26.4cm IPS display screen, giving you a resolution of 1024×768 pixels. With this digital picture frame, distorted or pixelated images are a thing of the past.
The frame is easy to set up and WiFi-enabled. The digital frame has 8GB of internal memory—enough for about 30,000 pictures. And you can easily upload photos using USB sticks or SD cards.
The Pix-Star becomes a smart digital picture frame if you download the Pix-Star app. The app makes it even easier to upload photos to your frame. It's compatible with iPhone and Android handsets, and it gives you a remote control for sharing and managing photos.
You can use the Pix-Star app to access your social media profiles and online cloud storage hubs, like Google Photos. It gives you incredible freedom for curating your photo display.
This digital picture frame is good value for money. And it has excellent functionality for a digital photo frame. The only problem is that it does look like a digital screen rather than a picture frame. But overall, it's a fantastic digital photo frame.
The Aeezo digital photo frame is a more budget-friendly option. But it's still packed with tech and features that make it one of the best digital photo frames you can buy.
The frame has a 22.7cm IPS display screen, though the design is that of a sleek standard picture frame. It gives you 1280×800 image resolution. And it operates much like a table, as you use the touch-screen to navigate and adjust settings.
The Aeezo has 16GB of internal storage, giving you nearly 60,000 pictures. You can upload photos using a USB stick or SD card or you can connect with your mobile device using the Frameo app.
You get many options for displaying photos. The frame sits in portrait or landscape, and you can mount it on your wall. It has many photo rotation options, so the sequence never gets boring.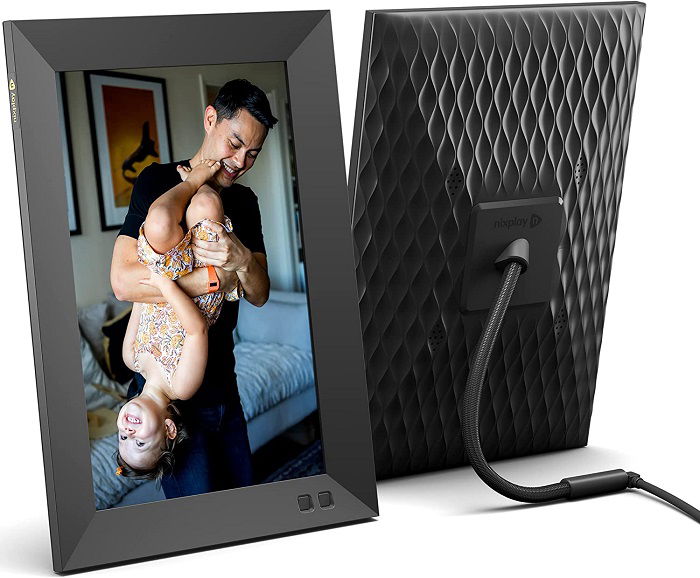 The Nixplay Smart is one of the best-selling digital photo frames and for a good reason. It's easy to use, even for members of the family who aren't tech-savvy. And the photo reproduction is excellent.
The Nixplay display is a smart digital picture frame, so you can connect to it using the Nixplay phone or computer app. And you can connect it to Instagram, Facebook, and Google Photos, making it easy to upload images to the frame.
The frame has a screen size of 25.6cm with an image resolution of 1280×800 pixels. The pictures are clear, and the colours are beautifully rendered. You'll have a smashing picture when viewed from all angles.
The Nix Family Circles software gives the photo frame more scope for interaction and personalisation. Different users can create unique photo playlists. You can change the mood of the room without changing the decor.
The Nixplay digital photo frame has a slick and simple black design. It's unobtrusive and lets the photos speak for themselves. It's good value for money too.
The Meural WiFi Photo Frame has a stunning display, giving your treasured photos a large platform. It isn't cheap, but this digital photo frame gives you a stunning image presentation.
The Meural WiFi is the largest frame on the list so far, measuring 34.3x19cm. But it's not just the size that's worth talking about. The image resolution is 1080p so that you won't see any distortion or pixelation on your photos.
You can connect your mobile devices to the frame with WiFi. You can select photos from your social media accounts or image hubs like Google Photo. And you don't have to worry about others connecting and stealing your photos—it's completely secure.
The Meural WiFi Photo Frame allows you to curate photos playlists. You can keep things fresh and interesting by setting schedules and changing albums. And the auto-orientation system makes sure the picture fits the frame.
The PhotoSpring 10 WiFi photo frame has a timeless design that will match any style of home decor. You have the choice of either a black or white frame. And both designs are simple and tasteful.
This digital photo frame is made for people who might not have the best knowledge of electronic gadgets. The set-up process has three simple steps. And once you're connected to the WiFi, sharing and displaying photos is easy.
The frame has 16GB of internal storage, which gives you a massive selection of photos. And changing the library is easy with a WiFi connection. You can upload photos and videos using a web browser, email, or the PhotoSpring mobile app.
The 25.5cm digital screen gives you a resolution of 1200×800 pixels, so the image quality won't be an issue. And the PhotoSpring 10 WiFi photo frame gives offers good value for money.
The Dragon Touch WiFi digital picture frame has a sharp modern look. It'll go well with modern interior design, but it lets the images do the talking.
The large 39cm screen has an image resolution of 1920×1200 pixels, displaying your favourite photos in pristine quality. You don't need to worry about pixelation or distortion.
The frame is easy to set up, even for the non-tech-savvy members of the family. And you have the option of using the touch screen or the remote control. The remote gives you the power to change your display without having to take the frame down if it's wall-mounted.
You can download their Our Photo app to your computer or mobile device. The app allows you to upload photos to the frame. And it can also access images from social media or cloud storage.
The Dragon Touch digital photo frame has an excellent array of additional features. You can set alarms, listen to the radio, or see the weather forecast. It's a high-quality device that's very user-friendly.
This smart photo frame from PhotoShare is one of the smaller options on our list. But the image quality and usability are still of the best quality, making it one of the best digital photo frames you can buy.
The display screen has an image resolution of 1080p, which is excellent for a 20cm screen. Your photos will look sharp against the unpretentious frame design.
The free PhotoShare app allows you to upload photos from your mobile device. The smart frame can connect to other PhotoShare digital frames to create a social network for sharing photos and messages with friends and family.
As well as the app, you can upload photos using email. Or you can access other image apps like Google Photos. And you can also send videos and music to others.
The PhotoShare digital photo frame looks great free-standing or wall-mounted. And smart technology means you don't have to take it off the wall to make changes. You can do it all remotely.
The Skylight Frame is simple yet impressive. It's definitely one to consider if you're looking for the best digital photo frame.
One of its main selling points is how easy it is to use. The initial set-up won't take much longer than a minute. And once you're connected to your WiFi network, uploading your favourite family photos is easy.
The photo display has a resolution of 1200×800 on a 25.5cm screen. The touch screen is intuitive and easy to follow. Any family member will get the hang of it in no time, giving everyone access to their favourite photos.
There are no ports for USB sticks or SD cards, which is a downside. But when you're connected to the WiFi, uploading images is quick and painless with email. Anyone can email their photos to the digital photo frame. And the on-screen display will provide a notification when they arrive.
The Facebook Portal is a smart digital photo frame. And it has one of the best selections of interactive options of all the frames on the list. It helps you stay connected with family and friends. And it's great fun too.
The screen 25.5cm frame can display any of your photos from Facebook or Instagram. But the Facebook Portal isn't just a digital frame. It has a built-in camera so you can create new pictures. And there's a ton of fun filters you can play with.
The Facebook Portal has Alexa built-in, giving you voice-activated control. You can use voice activation to change the display or play music.
It's more than just a digital photo frame. You can use the Facebook Portal for Whatsapp and video calls, helping you stay connected with your friends and family. And there are interactive story options for the children. There's something for every family member.
The Meural Canvas II is a digital photo frame for people proud of their photography. It's a large wall-mounted frame that resembles a gallery-style picture frame.
This digital photo frame measures 40x60cm, giving you an impressive display area. The design is sleek with a modern-meets-classic style. It'll look great hanging on the wall of any living or dining room.
You can upload your own photos to the frame using WiFi connectivity and the Meural app. But one of the unique selling points of the Canvas II is the art collection it can display. You do have to become a member, but you have access to an extensive collection once connected.
The Meural Canvas II allows you to display your photos or classic art pieces in all their glory. But this digital picture frame isn't cheap. It's not bad value for money, but if you only want to show off your holiday snaps, there are better options.
This digital photo frame from Atatat is another great option, especially if it's a gift for a non-technical family member. It's simple, easy to use, and has a wonderful display screen.
You get an 18cm screen with a resolution of 1200×800 pixels, giving you excellent display quality. All your favourite family photos will look fantastic, with beautiful colour rendering and no distortion. The digital frame will also play video in 1080p.
You can control the digital photo frame with the Atatat remote control, making updating your collection easy. You can make any changes you want from the comfort of your sofa.
You can upload photos from a USB stick or an SD card, as the frame has ports for both. Once your photos are uploaded, you have plenty of slideshow modes to choose from, so you'll never get bored of your collection. And the frame will automatically switch between landscape and portrait orientation.
The Feelcare Smart WiFi frame is another digital photo frame on the smaller side. It's compact with a sleek design. It'll look good in any living room, and the smart display has excellent image quality.
You get 1024×600 pixel resolution on an 18cm screen. And the touch screen makes it easy for everyone to use. Any family member will be able to upload and display photos.
Whether standing alone or wall-mounted, the photos will automatically rotate to fit the portrait or landscape orientation.
The Feelcare Smart WiFi digital photo frame has 8GB of internal storage—about 30,000 images. But you can add pictures and create slideshows remotely using the free Frameo app. The app is available for Android and iOS devices, so anyone can upload their favourite family photos.
This digital photo frame from LOVCUBE has a simple and timeless design. The image display is wonderful, and it has great functions and features.
The screen size is 25.5cm with a resolution of 1200×800. And the photo frame will also play videos. But it is limited to MP4 files only, which is a downside. But you can create video slideshows.
This photo frame is WiFi-enabled so that you can upload images remotely. All you need is the Frameo app, which is free on Android and iOS. But if that sounds too techie, you can use the simple touch screen to get started.
The frame has 16GB of internal storage, so you can add around 60,000 photos to it. And the app allows easy image sharing between friends and family.
The last competitor on our list is a super-simple, budget-friendly digital picture frame from Aluratek. It doesn't have the smart features like many of the other frames on this list. But if you want something simple, this could be for you.
The LCD touch screen is 20cm in size, with an 800×600 pixel resolution. With a display of that size, your photos will look fantastic.
There is no WiFi connectivity and no app to accompany the frame. But you can upload your family photos using a USB stick or SD card. And the touch screen makes everything easy to operate and organise.
It's one of the simplest digital frames you can buy. For many, that might be a plus point. And the clock and calendar functions are an added bonus.
Conclusion
There's a digital photo frame for everyone. There are smart devices with fabulous functions and features. And there are simple digital photo frames for tech-shy family members.
We've covered everything in this list, making sure you're able to find the best digital picture frame for you. Whether you want to celebrate your photography work or show off your family albums, there's a frame for you.
Gift your loved ones our Photography for Beginners course to ensure every photo in your frame is perfect!