Need to keep an eye on your furry friends? Today we're going to discuss what is the best pet camera on the market in 2022. Leaving your loved ones at home unguarded can be a frightening thought. Not just for their safety but the safety of your new couch as well.
We're going to look through the most important features to consider. This will range from the camera's quality to all the extra features they provide. By the end of this article, you will have a good idea of what will work best for your pet.
Who Is A Pet Camera For?
A dedicated pet camera will be helpful for every pet owner. From finding how a small hamster escapes to seeing your dog during work. It, of course, becomes more helpful with bigger pets. But most animals should not be left alone for more than four hours. Especially with dogs, where this can create separation anxiety.
The best pet cameras have two-way audio functions, which can help reduce anxiety. An interactive pet camera can go a long way and can even drop treats on demand! This should keep your pets entertained and your favorite cushions out of their mouth.
Even the best pet cameras shouldn't be a substitute for having someone look after your pets. They can be the most helpful for people who have busy schedules. If you are obsessed with your pet and can't stand a second without them, a pet camera would be welcome to your life. Some pet cameras even support this obsession by allowing you to save the cutest video clips straight to your phone.
Pet cameras are for everyone who has a pet and values their security. Not only this, but pet cameras can be extremely valuable for monitoring the health of your loved one. The best part is that some pet camera options are cheap! This means you can look after your furry friend without breaking the bank.
Features You Should Look For In A Pet Camera
Does It Come With Toys?
The best pet cameras come with toys or some form of interaction. You can find pet cameras with laser pointers for cats or ones that throw treats for dogs. These can confuse your pets, but mostly in a cute way. Sometimes their attention is all you need to worry about.
Some pet cameras on this list include toys in their roster of features. I like the ones that get creative, like the Skymee Owl Robot. This pet camera allows you to remote control your camera to go find your pet. You can even set preset paths for it to follow to get your dog in the right room for a treat.
Added Home Security
Maybe you bought a guard dog but it turned out to be a softy? Not to worry. With a pet camera, you can keep guard over the nap times as well as the whole house. This can be particularly useful when watching over your house at night. Most pet cameras have night vision abilities. This will make sure whatever happens in your house in the dark is being caught on camera.
An outdoor camera is the most helpful security, but a pet camera can do both. Some pet cameras are even designed to recognize if a person is at the window! An indoor pet camera can also help keep an eye on any trouble caused at home.
A Form Of Communication
Most of the best pet cameras have two-way audio capabilities. Two-way audio means that both sides of the screen can talk and respond to each other. (Even if the response is just a bark!) Two-way audio may not seem important, but a comforting voice can do a lot for separation anxiety.
Dogs are great for responding to commands. A stern voice through two-way audio would be able to get your favorite shoes out of the dog's mouth and settle them again. On the other hand, a pet camera with two-way audio would be best for reminding your pet of what a good boy he is.
A Wide Field Of View
An important feature among the best pet cameras is a wide field of view lens. These are often very wide-angle lenses that are measured by the degree they can capture. Ideally, you want to see as much of the room as possible. We all know your pet has their favorite spot, but often the bits you want to track happen out of this area.
A wide-angle lens is crucial in a pet camera. To a further extent, a pet camera that can swivel on its own is even better. This will allow you to track your pet anywhere it goes. You can even set this in strategic positions to get the best view of your house.
A zoom function is also handy to have on a pet camera. Especially on a wide-angle lens. This is because you may want to see the smaller things that happen to your pets. This could be anything from checking what they're playing with to seeing their faces clearer.
Best Pet Camera in 2022
Resolution: 1080p
Field of View: 140 degrees
Two-way Audio: Yes
Night Vision: Yes
Extra Features: Very small body
Price: $
The Ring brand revolutionized home security. It was the first brand to make an accessible and easy security camera for your front door. Even though the Ring Indoor Camera isn't specifically for pets, it works perfectly as one. The best feature is its small body which can fit in many places. This means that you can even hang up the camera if you want!
Ring is a well-known brand. And most people may want to go with their camera as the app is refined and familiar. If you have a Ring device already, the Indoor camera would fit into your app with minimal setup.
I am a fan of the photos they can send as a preview with notification. It may just be of your pet walking past the camera. But it could also capture the image of your dog barking loudly, which may be helpful. One point worth mentioning is that Ring has a few subscription-based options for its device. You will not be able to use the device to its full potential without paying a monthly fee.
Resolution: 1080p
Field of View: 120 degrees
Two-way Audio: Yes
Night Vision: Yes
Extras: 360-degree spin
Price: $$
The SimShine Simcam home security camera isn't designed just for pets but for your house too. Their key feature is that the cameras can spin 360 degrees. This is perfect if you have an open-plan house or your pets love moving about. The SimCam also has both pet and person detection. They can also track pets or people as they move around. This will be extremely handy if you want the camera to always follow your pet.
I am a fan of its size. It can easily sit on a desk or a sideboard without disrupting the space. You can tilt the camera up or down, but this cant be done remotely. Their app allows you to set an activity zone that will notify you of what happens in this area. SimCam has spent a long time ironing out the false alerts. This means you will get fewer notifications bothering you throughout the day.
SimCam is also a subscription-free product. You will get access to all its features without having to pay a penny more. This security camera can also detect if a person is at the window. This works well for your pet and your own safety as well. But it's the 360-degree camera that makes SimCam one of the best cameras for dogs at home.
Resolution: 1080p
Field of View: 160 degrees
Two-way Audio: Yes
Night Vision: Yes
Extras: Treat Dispenser
Price: $$
The Petcube Bites 2 Lite is an amazing security camera primarily for pet owners. You will see the more advanced sibling of the Petcube Bites 2 later on in this list. The main difference between the two is that the Petcube Bites 2 Lite is made with cheaper protective materials. Petcubes advertise the Lite as having a hard plastic body. This is okay, but in comparison to its aluminum sibling, it is not quite as durable.
The other main difference you will find is that the Petcube Bites 2 Lite has only one microphone compared to the four on the Bites 2. This means the voice or bark recognition will not be as refined as its advanced version. The Lite will also be slower than the normal version as the Wi-Fi abilities are more advanced.
The good news is that the Petcube Bites 2 Lite is half the price of its complete version. This is emphasized by the fact that Petcube Bites 2 Lite comes free with purchasing their Petcube Care. This device shines with this app, but it can be expensive. It may be better to pay more for its more advanced sibling. But at least with this version, it's cheap and still comes with the treat dispenser.
Resolution: 1080p
Field of View: 110 degrees
Two-way Audio: Yes
Night Vision: Yes
Extras: Rotatable
Price: $$
Neos SmartCam is the cheapest pet camera on this list. It has all the standard features (minute the treat dispenser) you need for a successful pet camera. The camera doesn't move on command, but you can rotate it up to 320 degrees. This means you can put it in awkward places while maintaining a great view of the room.
You are also able to mount the camera easily to a wall. You can do this with a magnetic base and a mounting plate. The magnet means it's easy to access the camera each time without having to unscrew anything.
The Neo SmartCam has great motion detection, which works for both people and pets. This motion sensor also has an auto-arming feature. The camera will automatically be on security mode whenever you walk out of the house. This tells you that Neos has spent time considering their product's ease. This is reflected in their easy camera setup and easy-to-navigate app.
It is the only camera on this list with 8x digital zoom (this is most likely due to its narrower field of view camera lens.) The camera comes with free cloud storage. It's not much, but you can extend it with a subscription to Neos Boost. I like that all the clips save automatically onto an SD card, especially since these are cheap now. Another great feature is that it lets you download clips straight to your phone.
Resolution: 1080p
Field of View: 130 degrees
Two-way Audio: Yes
Night Vision: Yes
Extras: Remote Control Movements, Treat Dispenser
Price: $$$
Skymee's Owl Robot is the best camera for pet monitoring. I say this purely because you would be able to drive the owl around the house until you find it! Skymee's Owl Robot is even able to be found by your pet! If the device is off, it has a thermal sensor that will be activated if your pet walks toward it.
The robot can move in a few different ways. You can control the motion live from your app like a remote control. Or, you can preset a path for the robot to follow. You can schedule it to follow this path at particular times in the day. This means you will have an automatic device laying a set amount of treats around your house without your intervention. I don't know any other pet camera that would provide your pet the same amount of entertainment as the Owl Robot.
The Skymee Owl Robot comes with 8 hours of battery charge. This is just long enough for a full work day, but it also means you must remember to charge it every night. It also saves videos in the hardware, but you will have to get a TF card. You are also able to speak to your pets through the app. A moving robot that has your voice might confuse them a little. But, it will definitely grab their attention.
Resolution: 1080p
Field of View: 170 degrees
Two-way Audio: Yes
Night Vision: Yes
Extras: Spins 270 degrees, Treat Dispenser
Price: $$$
The Eufy Pet Dog Camera is a great dog treat dispenser with a camera. The treat dispenser is probably its best feature. The dispenser has three options for the distance it fires them out at! This means you can keep your dog entertained for a while, trying to guess where the treats will go. This is also helpful if you have several dogs, especially with a big one that likes to get in the way and steal all the treats.
My other favorite feature is that you can spin the camera 270 degrees. This means you can aim the treats in different directions while also keeping an eye on wherever your pet goes. The treat dispenser also has an anti-clog mechanism. Clogging is a big issue with treat dispensers.
I like the smart AI tracking that is inside the camera. This means the pet camera can identify your pet and follow it around the room. It can also detect barking and send an alert to your phone. The Eufy also has 16 gigs of local storage. This is plenty to keep your camera functioning for a while.
The camera only comes with a 2.5x digital zoom. This isn't great, but its swivel feature makes up for this. The device works best with a paid subscription. With this, you can alert yourself if your pet does anything out of the ordinary. But it also gives you a Doggy Diary, showing you the best clips your dog has provided daily!
Resolution: 2K
Field of View: 160 degrees
Two-way Audio: Yes
Night Vision: Yes
Extras: Alarm, Spotlight
Price: $$
The Arlo Pro 4 is a wireless camera aimed more specifically at being a security camera. But it still functions great as a pet camera. Its winning feature is the 2K camera. This is the highest resolution camera on our list. Having a 2K camera makes a big difference when saving your pet's best clips. It does not have many features geared toward watching over your pets. But, it does have full weather resistance. This means if your dog drops their water bowl or chucks it outside, the camera will be fine!
Because it's a wireless camera, it is easy to set up and install. You just have to put it in its base plate then it attaches magnetically. It is easier to install on a wall or somewhere high up. This is good because you will likely get a great view of your pet's stomping grounds.
The Arlo Pro 4 is smart-home integrated. So if you have any of these systems, you can easily add them into the mix. It also comes with a rechargeable battery that can hold its charge for a long time.
The Arlo Pro 4 has great AI detection capabilities as Arlo focuses on privacy and protection. It does have a paid subscription for extra features. One of these features allows you to mark a specific zone. Then if the camera senses movement within that zone, it will send you a notification. It's a great way to alert you about the dog getting onto your bed for a nap.
Resolution: 1080p
Field of View: 160 degrees
Two-way Audio: Yes
Night Vision: Yes
Extras: Treat Dispenser
Price: $$$
The Furbo Dog Camera is a dog camera that throws treats. It looks like the most satisfying dispenser on this list. Not because of how it fires the treats. But because of the button you get to press on the app. It has a cute little treat logo right at the front, which would make it hard for me to stop pressing. The device works with Alexa, so this could be handy for Alexa users. You would be able to give the dog treats or even set the times for treats all through your voice commands.
The Furbo Dog Camera also has a "spill-proof" body. This tells us the creators are already planning for your dog's naughty habits or the pet owner's accidents. The design is sleek and simple. This means it could fit in with several styles of decor. The camera has a 4x digital zoom, giving you a great view of your pet.
They do also provide a subscription-based service called Furbo Dog Nanny. This allows you to access Smart Alerts. Smart Alerts can identify the dog's activity or a house emergency. Furbo Dog Nanny also has a dog diary when it sends you a minute clip of your pet every day!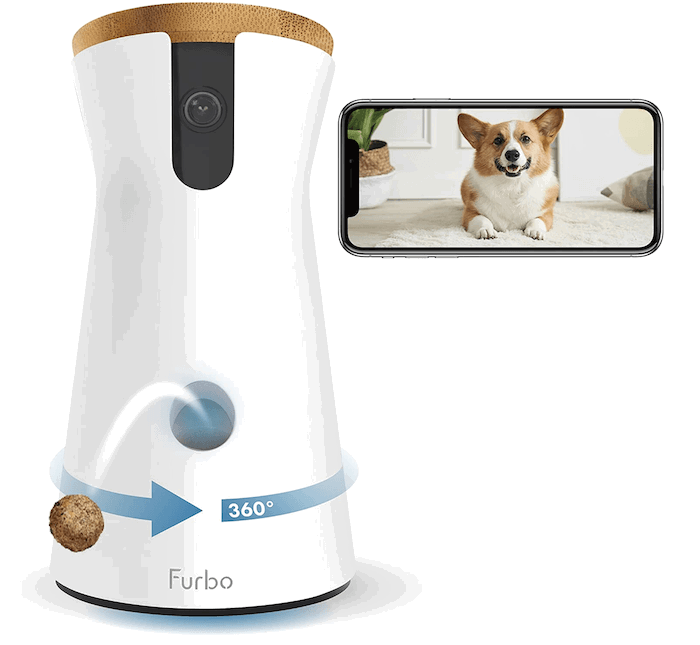 Resolution: 1080p
Field of View: 130 degrees
Two-way Audio: Yes
Night Vision: Yes
Extras: Built-in Light
Price: $
Wyze Cam v3 is a cheap and powerful indoor/outdoor security camera. Not only is it weatherproof and dustproof, but it also has exceptional night vision. This would be useful for people who know they will be home late at night. Or the pet owners who work night jobs but still want to keep an eye on their pets. In fact, the Wyze Cam v3 night vision is 25x better than its previous version. This night vision also allows you to see in color, which is rare for a security camera. It also has much higher processing power.
You can pair the camera with Alexa. If you have multiple cameras around the house, you could easily swap between them via voice commands. The camera has pet, person, vehicle, and package detection abilities. Only the top two are relevant for pet cameras, but it's still worth knowing.
Wyze Cam v3 records 24/7 directly onto an SD card. This is very useful as you can find SD cards for cheap online. I am also a fan of the accessories that come with the camera. This includes a headlight, an auto-charge solar panel, and a window mount. One of these features could be extremely handy for a particular room or setting. The best part about this camera is its price.
Resolution: 1080p
Field of View: 160 degrees
Two-way Audio: Yes
Night Vision: Yes
Extras: Treat Dispenser
Price: $$$
The Petcube Bites 2 is the best pet camera as it features everything with a high degree of quality. It may not be the most discreet device, but it is packed with many features. The camera can detect your different pets. This is helpful when you see direct notifications on your phone tailored to each of your pets. The device is triggered by movement or sound. So if anything is happening with your pets, the device will capture it.
The paid subscription service features 24/7 assistance and direct contact with online vets! This is extremely helpful as you would even be able to send images or video clips to the vet. The extra paid service also gives you a load of cloud storage. This will allow you to save your favorite clips without uploading the videos from a memory card.
The Petcube Bites 2 is durable and tough. It is built with an aluminum case, so it won't break even if it falls over The only downside is that the Bites 2 is expensive, especially if you want to get the extra features on top. It is also quite big and can stand out amongst your decor. But, I would say it seems to give you the best connection with your pets when you're away from home!
Conclusion
After looking through this list, we can see there's a wide range of pet cameras to choose from. Each pet camera has unique features that you can use to your preference. The main point to consider is which room the camera will sit in. Once you have decided this, you can look at the different wide-angle lenses or if they can swivel. This is also where you will consider the size of your pet camera. Some are fairly discrete, while others will be a noticeable device in your house.
Getting a pet camera doesn't have to be expensive, but it is always worth it. If not for the safety, then it's for the endless pet clips you will accumulate!