Owning a portable iPhone printer has become popular among smartphone photographers, especially in the last few years. But believe us when we say that they come in handy for users of both Android smartphones and iPhones.
They're not only small and user-friendly, but they also make people appreciate the joys of having real photographs once again.
Let's take a look at the best and most popular iPhone printer options!
[Note: ExpertPhotography is supported by readers. Product links on ExpertPhotography are referral links. If you use one of these and buy something, we make a little bit of money. Need more info? See how it all works here.]
What is an iPhone Photo Printer?
An iPhone (smartphone) printer is most often a portable printer. It connects to your phone and prints images directly from it. They are usually small and compact. Most of them even fit into your pocket or a small bag if you want to carry them around.
They connect to your phone via Wi-Fi or Bluetooth. And once you pair the devices, you can print your images wirelessly.
These printers tend to be more expensive than average iPhone accessories. But they're worth the investment if you love printing your iPhone images.
There are several types available for different uses. So it's important to know what kind of prints you'd like to create.
Some of these printers included in this review are the HP Sprocket, Canon Ivy, and Lifeprint Hyperphoto. They're all competitive when it comes to the features. But each one also has a unique offering that makes them stand out from the rest of the pack.
There are also printers with a digital to analogue printing format. They sometimes use instant film instead of paper to print.
And of course, we can't forget about the ones that remind us of traditional office printers, in a smaller version.
Zink (Zero Ink) printers are the most common when it comes to smartphone photo printing. Three of them made it on our list. These devices use heat to activate crystals in the Zink photo paper to create an image instead of ink cartridges. As a result, they're smaller and lighter than their counterparts.
Now, let's detail the pros and cons of each product to figure out which iPhone photo printer is best for you.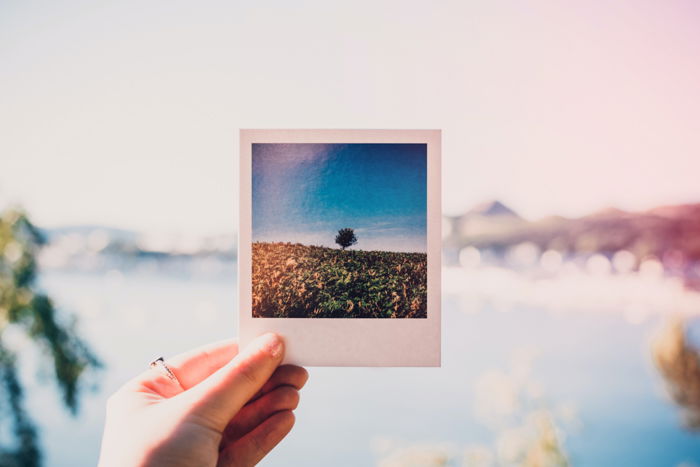 Best iPhone Photo Printers
If you love having physical copies of your photos from social media, HP Sprocket is the printer for you.
What makes it attractive to me is its portability and ease of use. At 3 x 4.5 inches, you can stow it in your bag or pocket and take it anywhere you go. It's one of the smallest Zink photo printers available right now. That's why it is understandable that it only prints 2 x 3 wallet-sized images. It also has a rechargeable battery that lets you print up to 30 photos per charge.
There is no need to use a cable to print since it connects via Bluetooth. All you have to do is pair it up with your phone, and it prints your photos wirelessly. This printer also comes with the HP Sprocket Photo Printer companion app. You can link up the HP Sprocket app with your social media accounts.
However, keep in mind that it only connects with your phone and doesn't connect with a computer via USB cable. Also, this HP portable printer can be a bit expensive, especially if you're only using it for fun.
If you are looking for a compact but quality photo printer, you should check out this one.
The small and compact design enables easy portability. The printer is pocket-sized. Its dimensions are 0.87 x 2.91 x 4.72 inches, and it weighs 0.4 pounds. It is small enough for you to carry it around in your daily life easily.
It also has a free downloadable app that makes connecting the printer with your smartphone simple. In this app, you can add stickers, filters, and borders before printing your image. You can even create collages of up to four images. On top of that, all Polaroid ZIP photos are sticky-backed. So it's easy for you to put them on your notebook, fridge, or wall.
However, quality does come with a price. The cost of this printer is slightly more than the average iPhone printers out there. Also, it lacks flexibility, as it only offers one printing size for all images.
In the end, it all comes down to your priorities. If you want a fun and portable printer, this one is for you.
This instant photo printer is one-of-a-kind in every sense. It creates photos with Instax mini-film instead of using Zink paper or regular ink.
There is no need to carry around your Fujifilm Instax camera if you have this printer. Plus, the printer is more portable and lighter than any Fujifilm Instax camera model out there.
This nifty gadget converts your digital iPhone images into incredible Polaroid shots. Since it prints from your phone, you can edit your photos to make them look the way you want them. You can even include stickers if you wish.
It is the best-looking smartphone photo printer on this list, in my opinion. It has colourful options that include Slate Gray, Rose Gold, and Mint Green.
I admit the Instax Share is not for everyone. It comes with a price tag that might put off the average customer. And once you add the print film cartridge to the list, your expenses can get out of hand fast. Also, it doesn't print any other instant film formats except Fuji.
But it's worth the price for what it can do, as it turns your digital photos into analogue prints. No other smartphone printer can do that. If you like the film photography look but love the convenience of digital photography, invest in this printer.
This portable product is exceptional, as it is both a printer and a camera simultaneously.
It allows you to shoot and print your shots anytime. Plus, you print photos with a laminating process that ensures they last a long time. You also print the images in a 3.4 x 2.1-inch size, which is the standard business card format.
You can connect your phone to it and use Bluetooth to print photos from your gallery. And the Kodak app allows you to edit your photos before printing. It includes features such as framing, adding stickers, or using filters.
On the other hand, the cartridges tend to get jammed while printing. It is something you should be aware of before ordering the product. If you are looking for a fast and reliable printer, you might need to choose something else.
But apart from this issue, the device provides good value for your money. Both the paper and the printer cost is pretty low, especially considering it also includes a camera.
Are you in need of a real workhorse and not a fun toy? Then consider getting the Selphy CP1300 Wireless Compact Photo Printer. It is affordable and has a lot more options than other printers for iPhones.
This device boasts fully functioning menu buttons and can print in many different sizes. You could easily find a  use for it in your office. It can print pictures in various sizes. Unlike other printers, which have a limit of one print size, it can produce 3.9 x 5.8, 2.1 x 3.4, 3.5 x 4.7, and 2.1 x 2.1-inch pictures.
The compatibility is outstanding. This printer includes a USB cable if you want to print photos straight from your laptop or desktop. Meanwhile, the Wi-Fi connectivity lets you connect with more devices, especially computers. It even connects with a PictBridge camera. That means you don't have to take out your SD card to print. The camera also features an SD card slot and a thumb drive port if you want to print files without a phone or computer.
It may not look as sleek as its counterparts. The size is quite bulky for an iPhone printer, and the design is not very different from a desktop printer. It also weighs 1.9 pounds, which can get heavy after a while. You also have to keep in mind that wireless printing can take longer than a minute, especially if the connection is weak.
On the other hand, the cost per print is among the cheapest on this list.
If you are looking for a printer that stands out from the crowd, this is it.
It has a unique design that makes it different from other printers. There are three colours available: ash white, dusky pink, and dark denim. You can alter 'print mode' and 'fun mode' by flipping the camera vertically or horizontally.
The print mode lets you edit and print photos in around 12 seconds. You can even pick a frame from a video. Meanwhile, the fun mode allows you to connect with friends through their phones. The printer also comes with colourful picture frames and hanging clips, which might inspire you to decorate your room with the printed images.
Some reviews suggest that the picture quality isn't as excellent as you would expect for the price. It is something worth considering if you are aiming for perfectly printed images.
On the other hand, this printer is perfect for those who want to have fun with polaroids.
Do you like the Canon Selphy but not its size and weight? Then try the Canon Ivy instead. It's true—the Ivy is not in the same category as the Selphy. But Canon has other printers to offer for more basic needs.
This Zink printer is small, portable, and user-friendly. Like its competitors, it's perfect for printing your online photos using your phone. It has a sleeker design than the Canon Selphy. It comes in elegant colours such as Rose, Pink, Slate Gray, and Mint Green. Compared to the 2.5-pound Canon Selphy, it is way smaller at 0.7 x 3.2 x 4.7 inches and 5.6 ounces.
On top of these, the tilting feature allows you to connect up to four small images to create a large photo collage.
It is a simple printer, including only the basic features. It doesn't offer Wi-Fi connectivity, which means that you cannot connect it to your computer. There aren't many features that would set this product apart from its competitors. But those few features are worth checking out.
Generally, this printer has simple features, but it gets the job done anywhere you may be.
What makes this printer different from others is that it creates augmented reality animations out of still images.
The 3 x 4.5-inch prints are bigger than most ink printers can handle. At the same time, the 4.5 x 6-inch product is relatively small even though it prints larger photos.
To create a Hyperphoto, you'll need to take a snapshot of your videos on your phone. Once you print that thumbnail, the printer transfers some of the video information onto the paper. When you view the image through the Lifeprint app, you'll see a video playback on the screen. You see your hand holding the photo paper and whatever else is in the background in real-time.
The printer's own social media platform allows you to share and enjoy photos with fellow users. It's one of the most creative uses of augmented reality.
But the technology comes with a price, as a Lifeprint photo costs more than its competitors. Since it uses larger photo paper, it prints slower. Also, you cannot use the features of this printer without downloading the app.
However, the app does a good job animating the photos. It makes you feel like the images in the picture are moving in real life.
The Kodak Smile is a low-cost yet modern, digital, and wireless photo printer. It uses Zink Zero Ink technology to maintain the quality of its prints.
The pop-up design is remarkably unique and portable. You can purchase it in three different colours: red, green, and black.
The size of the photos are 2 x 3 inches. And they are printed on sticky-backed paper. It allows you to easily put the photos up anywhere you want quickly and easily.
The Bluetooth connectivity ensures that the printer is compatible with all smart devices. If you download the app that comes with the device, you can add filters to your images. You can also manually crop your picture, as well as manually adjust lighting and correct colours. Unfortunately, some reviewers say that the app is not working as consistently as expected.
The printer also tends to jam paper, making it difficult to remove from the device. But, given the low price, this is a compromise you may be willing to make.
The printer is surprisingly cheap, making it a perfect choice for those looking for something affordable but reliable.
Best iPhone Printer: Conclusion
In the end, deciding what the best iPhone printer boils down to what you want to do with your photos.
If you're going to print iPhone photos for fun, consider buying the HP Sprocket or the Canon Ivy. If you're feeling creative and adventurous, try the Fujifilm Instax Share or Lifeprint Hyperphoto instead. For professional work, consider getting the Canon Selphy as it does anything a regular printer can but on a small scale.
We hope our list has helped see what's out there for iPhone printers. Let us know if there's a photo printer for iPhone we missed.
Are you trying to build a larger following on Instagram? Check out our Social Success Strategies e-book to build that base of rabid followers.