Nikon's first APS-C mirrorless camera was the Nikon Z50. It's an entry-level camera and you can get some good deals with the 16-50mm kit lens (53-85mm full frame equivalent). Its fold-down screen and good low-light capabilities make it a useful take-anywhere camera.
It sits in that niche where it has to be better than your smartphone or you're just going to leave it at home. So, let's have a look at the Nikon Z50 and see if it's worth buying in 2022.

Nikon Z50 Overview and Specifications
The
Nikon Z50
is Nikon's newest and (so far) only APS-C crop sensor mirrorless camera. It shares its design and many functions with Nikon's earlier
full frame mirrorless
models, the Z6 and the Z7.
In a smaller body, it represents a well-balanced mix of ease of use, durability, and quick action. It promises the same, great image quality that we can expect of APS-C cameras in 2020.
The Z50 is an interchangeable-lens camera. It's built around Nikon's Z-mount, a new contender in the mirrorless world.
For this review, I got my hands on what Nikon calls the "Experience Kit". This pack includes a 16-50mm lens, a 50-250mm lens, and an FTZ mount adaptor.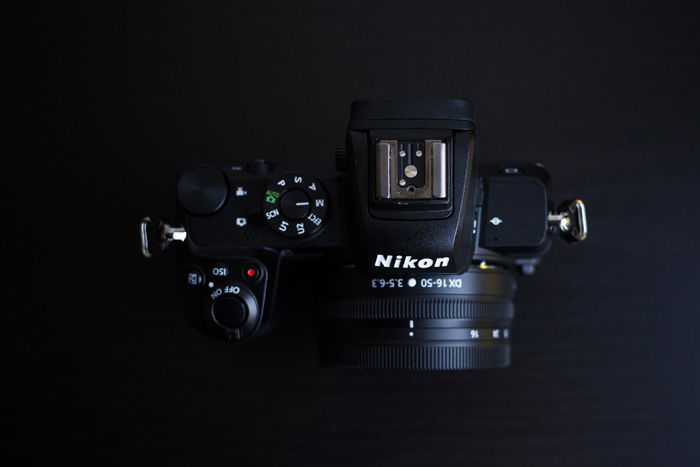 Who Is the Z50 For?
As I mentioned in my previous reviews, the market for a camera like the Z50 is huge. From beginners to professionals, there are many photographers who can benefit from the Z50.
The most notable use cases are casual family and portrait shooting, street, travel, and documentary photography. But there are many other situations where you need a camera smaller than your bulky DSLR, but more versatile than a phone or a compact camera. The Z50 excels in these.
The Z50 offers good, but not great casual video options. If you're a hybrid shooter with serious video plans, the Sony A6400, the Panasonic G9, and the Fujifilm X-T30 do more. If you only record video, you have even better options, mainly the Panasonic GH5 at a slightly higher price point.
Key Features of the Z50
Mount and Compatibility
This is one of the Z50's weaknesses, but also a big advantage in some situations.
The Z50 is based on the Nikon Z-mount. It's a new system, only a few years old. This mount is optimised for full frame use, thus it comfortably fits the smaller crop sensor.
This combination is great for future compatibility. Unlike Canon with the RF and EF-M mounts, Nikon now has the same mount for full frame and crop mirrorless cameras. Unlike Sony, the mount is adequately sized. Unlike Fujifilm, there are full frame cameras to upgrade to, so it makes sense to buy full frame lenses.
In terms of technicalities, the Z mount is the best on the market. It has the largest diameter of any digital full frame mount, at 55mm. And it has the shortest flange distance of any system ever to enter consumer use, at 16mm. For those who like fun, this actually makes a Sony E to Nikon Z adaptor possible. You can use Sony mirrorless lenses on the Z system, with aperture controls and autofocus.
DSLR lenses and vintage lenses of any brand are adaptable, too. However, finding adaptors for less popular mounts might be troublesome because of the novelty of the Z system.
Nikon produces an official adaptor for their older, DSLR F system. This is called the FTZ adaptor, and it's included in the Experience Kit. In my experiences (tested with a 50mm f/1.4G), the adaptor doesn't impact autofocusing speed negatively with the latest firmware. So, you have no problems with attaching your existing Nikon glass, besides the extra step when attaching or removing the lens.
So, adaptability is great, but how about native lens options? This is less of a success story, for now at least.
Currently, there are two kit lenses on the market for the Z50, the aforementioned 16-50mm and the 50-250mm. According to Nikon's official roadmap, another one, a 18-140mm is on its way. 28mm and 40mm pancake prime lenses are also promised until 2021. I'm eagerly waiting for the 28mm, as it will make this camera fantastic for casual street and documentary photography.
In the Z system, there are three fairly affordable primes, designed originally for full frame but perfectly fine with the Z50. These are the 35mm f/1.8, the 50mm f/1.8, and the 85mm f/1.8S. For slightly more, there are 20mm and 24mm f/1.8 lenses available, which will work well on the Z50 as standard wide primes.
But other than that, we only have fully-fledged full frame lenses, which are much more expensive, and far heavier than anything someone with the Z50 as their main camera would get.
Sensor and Image Quality
The Nikon Z50's sensor is a 20.9MP APS-C one, which we've seen before in the D7500 DSLR.
Its resolution is slightly below Sony's 24MP and Fujifilm's 26MP. The difference is marginal, and I would not consider it to be an important factor of comparison. But keep it in mind if you're looking for an extra 7-10% in cropping.
In terms of dynamic range, it's excellent, in line with its competition at around 13 stops. This gives you great headroom when shooting in RAW and post-processing. It's ideal for landscapes and contrasty scenes.
A powerful feature that differentiates the Z50 is the highlight-weighted metering mode. It's essentially an automatic expose-to-the-right setting. When you're shooting quick situations and you want to protect the highlights above all, it's a winner. The only camera I tested that has this is the Ricoh GR III (which I actually own now).
High ISO performance is also up to the standards of 2020, although I have to admit I don't like the style of the grain so much. I've seen much better in the GR III, and slightly better in the Sony A6400.
There is no excessive color noise until ISO 25600. I would comfortably use the Z50 up to 12800 for general, photojournalistic work.
Image quality, in general, is great. I love that RAW files come out of the camera fairly neutrally – no excessive color cast, no sharpening and no noise reduction (you can fully turn them off).
Like most of its rivals, the Z50 also lacks sensor stabilization, which would've been a very welcome addition. Nonetheless, both kit lenses have excellent optical stabilization, especially the 50-250mm. I've been able to perfectly and consistently hand-hold 1/10s at 250mm, which represents roughly 5.5 stops of stabilization.
Note that the shutter on the Z50 doesn't close when the camera is off. The sensor is exposed to direct air, and thus dust. As far as I know, only Canon mirrorlesses close their shutter on idle.
Autofocus and Burst
The autofocusing system on the Nikon Z50 is based on hybrid, phase and contrast detection. 209 AF points cover the entire area of the sensor.
This system works well, it's smooth and quick,  although not as ridiculously quick as the Sony A6400's system.
Thanks to the stepping motors inside the kit lenses and other Z lenses, autofocus action was completely unnoticeable, with no noise or vibration at all.
With the FTZ adaptor, I've also experienced no issues at all. The F-mount 50mm f/1.4G I tested worked just as well on the Z50 as on a friend's D7200.
I have to note that this test was done with the latest firmware as of July 2020. Previous reviewers have expressed concerns about the reliability of autofocus with the adaptor. The issues seem to have been resolved by now.
I had one noticeable issue with the autofocusing system. When the Z50 is set to full-area AF mode, it hunts a lot with telephoto lenses (above 50mm). With the 50-250mm at the long end, it was completely unresponsive at times, not finding focus for over 15 seconds.
This problem is fully gone once you switch the Z50 to any of the tighter area or pinpoint AF modes. This should be fixed via a firmware update.
The Z50 is equipped with face and eye detection. With these turned on, the system grabs faces from fairly far away. For it to switch to eye detection, your subject's face needs to fill roughly half of the frame. This might not be enough for precise portrait work at very wide apertures.
It tracks humans and other subjects well, throughout a burst of roughly 50 frames (RAW) at 11fps. My keeper rate was around 75%. But, again, the A6400 is ahead of everything in this segment of the market. For sports and other fast action, I'd definitely choose that over the Z50.
In video mode, the winner of the comparison is not so evident. The A6400 is quicker, true. However, the Z50 seems to pull focus more smoothly and less aggressively, which can sometimes look better in videos. Both are perfectly accurate.
Video Features
When it comes to recording video, the Nikon Z50 is usable, but not great.
It shoots 4K at 30fps, with a caveat: a 1.5x crop. This basically renders wide-angle shooting impossible. We don't yet have the wider lenses for this camera: 16mm on the wider kit lens becomes 35mm with the 2.25x total crop.
In 1080p, it shoots 120fps with the full width of the sensor. The footage here looks nice, although quite soft, but that's always the case with such high framerates.
Autofocus, as mentioned, works well in all settings.
Overall, I wouldn't buy the Z50 for video shooting, but if you need it for quick jobs from time to time, it will be fine.
Body and Handling
The Nikon Z50 is built very solidly. Much of the body is crafted out of magnesium alloy, which is lightweight but durable. Some parts are covered with plastic, and the grip is rubberised.
This camera body is comparable in size to the Fujifilm X-T30, although much more comfortable to hold. Its exact size is 127mm x 94mm x 60 mm, and it weighs 450g.
It's environmentally sealed, meaning it will withstand dust and rain. Note that the kit lenses are not; you have to use one of the higher-level Z lenses to achieve full sealing. The FTZ adaptor is weather-sealed, so you can use protected F lenses as well.
In terms of ergonomics, the Z50 is excellent, but it has some minor design bugs.
The grip is solid and large, perhaps the best I've tested on a medium-sized mirrorless. Unlike Sony and Fujifilm, Nikon has kept the lens release button at a reasonable location on the middle right side. This makes swapping lenses with one hand much easier.
The user experience and controls are also great. A large, 3.2″ touchscreen (flip-up) is placed on the back. The touch functionality is well implemented. You can use the touchscreen to set exposure, autofocus, navigate through the menus, or review your images.
Next to the screen, on the flip-up part, there are three touch buttons. These control the Display, Zoom in and Zoom out functions.
I've found it quite annoying that with my eyes up to the viewfinder, my thumb would accidentally hit the Zoom in button, enlarging the live preview. To then zoom out, I had to remove my eyes from the viewfinder to find the button – it's only marked visually. I would've much liked to see physical buttons there.
There are plenty of other buttons, but they are not very customizable. You have two control dials, a mode dial, a movie/stills switch, and some others.
The electronic viewfinder is bright and large, no complaints here at all.
You can expect to see about 300 shots from one charge of the battery. You can charge the camera via the micro-USB port, or charge the battery in a separate AC adapter, not provided in the package.
A single UHS-II compatible SD-card slot sits next to the battery. To fully use the burst capabilities, use UHS-II cards, so you don't have to wait for buffer clearing so much.
Thankfully, the tripod screw-mount is placed quite far away from the combined battery/card door, so you can exchange those easily even when the camera is on a tripod. It's placed in line with the center of the lens mount, so creating seamless panoramas is fairly easy.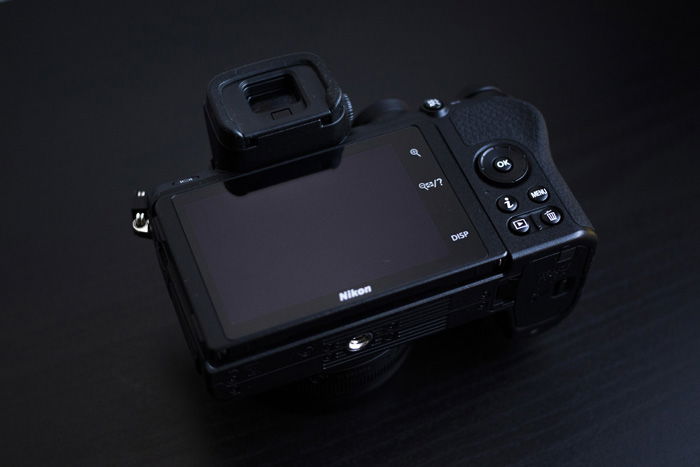 Alternatives
There are a number of rivals to the Z50, so let's list them one by one.
The Fujifilm X-T30 stands out with its beautiful design, higher resolution and exceptional JPG and video quality. Read my review here.
The Sony A6400 should be your choice for fast action in this category. It also has good ergonomics, comparable to the Z50. Read my review here.
The Canon EOS M6 MkII has a 32MP sensor, a great autofocusing system, and decent ergonomics in a tiny body, but has no viewfinder.
Another Canon, the EOS RP has a full frame sensor. While there are few native RF lenses, the adaptation of EF lenses is possible without annoyances in AF speed or accuracy.
The Panasonic G9 is an excellent hybrid video/stills camera, which also has the largest and most ergonomic body of these all. It has a smaller, Micro 4/3 sized sensor, though.
Our Verdict
The Nikon Z50 is an excellent, well-balanced, and versatile camera. Its ease of use and edge in ergonomics could make it a compelling choice for many enthusiasts.
The Z system is also a good investment in the future – it will become better-versed, and it's already the most physically capable.
Any camera at this price point will get you fantastic images if you put your own share into it – but I can wholeheartedly recommend the Nikon Z50.
Scores