Sometimes you look at a photograph and topple off your chair. It looks impossible, is that Photoshop?
Not always!
You don't have to spend a fortune on high-end photography equipment to take incredible shots. With simple photography hacks and DIY tricks, you can create mind-bending images yourself!
Go through our list of  31 photography hacks to learn how to level up your photography without breaking the bank!
Who uses CDs anymore, right? The cases seem to be useless once you stop using them for storing CDs.
But they are made of strong plastic. And that makes a durable rain guard for your lenses and camera.
For this hack, you'll only need a CD case, polythene, an easy-to-tear gaffer tape, a ruler, a pair of compasses, and a sharp craft knife.
If you like shooting outside, you definitely have to try this idea before investing in an expensive rain guard!
If you put a layer of glass between you and your subject, your images are going to have a softer look. Windows are great tools for this purpose.
This is not only a great idea for portraits, but you can use it for still life images or street photographs as well.
Reflections can add interesting elements to your composition, and they are also great for adding textures. Try bringing out the best by using them consciously.
Check out this video tutorial to try this photography hack yourself!
If you would like to take images from above, but you don't know how, this DIY camera hack is for you.
Make your own top-down camera holder, following the instructions. Take selfies or flat lays with this simple idea!
You only need a piece of cardboard, some tape and a self-timer function ar an app for your smartphone, and voilà!
Check out these step by step instructions to try it yourself!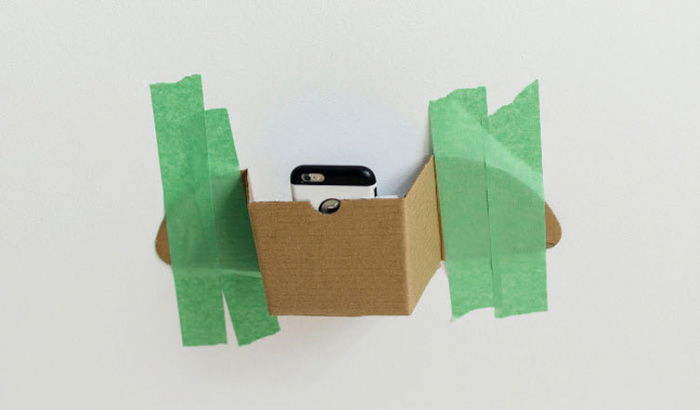 A softbox is a not-so-expensive tool even if you are buying one. But it's much more fun to make your own, not to mention that it's more environmentally friendly too.
You won't need anything you couldn't find at home. Grab a box, use a plastic bag, scissors, tape, a marker, and follow our tutorial to make a softbox! Also, you'll need a hot-shoe flash to use this.
Unless you are a photographer with your own well-equipped studio, you are going to find this idea perfect for portraits.
You don't necessarily have to buy a softbox when you can soften the light with a shower curtain.
A milky white curtain is the best choice. If you hang it between your subject and the light source, you have the same effect you would have with a softbox.
You can check out this video for more details!
Photographers use backdrops and backgrounds to frame and enhance their subjects. Knowing how to make your own backdrop is really helpful for product, food or portrait photography.
In our article, we collected not less than 21 ideas, they are all fun DIY projects to try.
We saw the ways you can make your own backdrop, now see what's going to hold it.
A DIY backdrop stand doesn't require expensive components, they are made of PVC pipes.
It's a great solution because you can build and take it apart easily. It won't take up too much space in your room. Also, they are quite stable, so you don't have to worry about the quality either.
Check out the full article here.
Why would you buy a light box, when we can show you three ways you can make one for yourself?
All of these DIY photography hacks can be done at home and you won't need any special equipment to create them.
After you have one, you can use a DIY light-box for product or macro photography. No one will notice that your images weren't made in a mass-produced box!
Check out our step-by-step guide here.
The shape, size and the silver interior of a Pringles tube make it perfect as a DIY light modifier.
Here you can see more ways you can use it. These are cheap but perfect tips you can take great advantage of whether you are shooting in a studio or somewhere else.
You can find more information in our article.
A bean bag can be useful when you need to stabilise your camera, but you don't have the chance or space to use a tripod.
Just place your camera on it, and it'll help to keep it in place. It can be easier to carry and can be used in many ways even if you put it on the ground.
Luckily, you can even make yours at home. This post shows you how!
If you are thinking about having your photos printed and used as decoration, you should try this DIY idea.
You can transfer the image to wood, this way it's going to gain a unique look. The pattern of the wood looks great on your shots.
In our article, we have two tutorials for this, none of them requires any special gear. A laser-printed image, sandpaper, a brush, a slice of wood, Mod Podge and a cloth or sponge, and you are ready to create!
Do you love fun and unique tote bags? Or tutorials that show how to spice up your old clothes and accessories? Then this idea is for you.
You'll need a laser-printed photo, some kind of fabric, transfer gel, a brush, water, a hairdryer and an iron. Follow our tutorial for one of the most fashionable photo hacks!
There are a few photography hacks for removing strangers from your images. But the easiest one is probably doing it in Photoshop.
You should learn to use the clone stamp tool for this.
Follow our guide and make your images look like you were the only one on the spot!
To create engaging food photography, and make the images look dynamic and lively, try out this DIY photography hack.
You'll need some flour to it to create clouds around your subject. The photos are going to look like the food was right in the making!
Check out our article for the full tutorial!
If you take a closer look to soap bubbles, they are amazing! This is why it's worth experimenting with shooting closeups of them. You can try filling the frame with them or letting them fly and randomly create different compositions.
Set up your own desktop studio, your lighting, choose a lens (macro is the best), stabilise your camera and start blowing bubbles!
Check out the full guide here!
Creating a soft focus is one of the easiest DIY photography hacks. You just need a piece of cloth and a rubber band to attach it to your lens.
This way you can create a nice vignette at the edges of your photos. You can add effects like this during post-processing, but they won't look this natural. This is the easiest way of reaching a misty, soft effect.
Check out the full tutorial here.
Lens flares are something you can turn on your side by using creatively. It suits portraits the best, but you can experiment with other genres too.
You don't need anything else but a CD. Use it to reflect light right before your camera lens. The results are going to be amazing and everyone is going to ask how you reached it.
This video tutorial gives you more info!
The shape of the aperture is the shape of the bokeh in your photos. You can use this idea for your portrait shots but simply shooting the bokeh has sightful results.
Cut the shape you wish from a piece of black cardboard, put it on the front element of your lens and shoot through it.
If you want to try this great DIY trick, our article shows you how!

Pinhole photography is about shooting without any kind of glass. A pinhole is like you had a really small aperture.
For this, you'll only need a small piece of cardboard and a needle. Punch a little hole on the cardboard. By placing it in front of your smartphone camera lens, you can create a pinhole tye of image.
This video will give you more information!
20. Create Interesting Shadows With a Sifter
Cleverly-used shadows can spice up even a simple portrait. To have unique portraits, create patterns on your model's face with a sifter!
This is one of the easiest DIY projects, and you can use any kind of sifter you find at home. Place it between your light source and the model's face and move it until you like the results.
If at first, the shadows are not clearly visible, you might need stronger lighting.
You can take this idea further by cutting shapes from cardboard and using them to create shadows.
Our article on gobo lighting will give you more inspiration!
21. Turn Your Sunglasses Into a Filter
Sunglasses work like filters, when you put them on, you can see that the colours change.
You can capture this effect by simply placing the glasses in front of the camera lens. This trick can be used with smartphones or professional cameras, it doesn't matter which one you have.
Focus through the glasses, you wouldn't want the object itself to be sharp and the rest blurred.
If you drop paint into the water, their mixture can create amazing smoke-like effects.
You can use this idea creatively, and tweak the composition by adding different objects. You'll see, it's really not as hard as it seems!
We have a full paint in water tutorial you can check out next!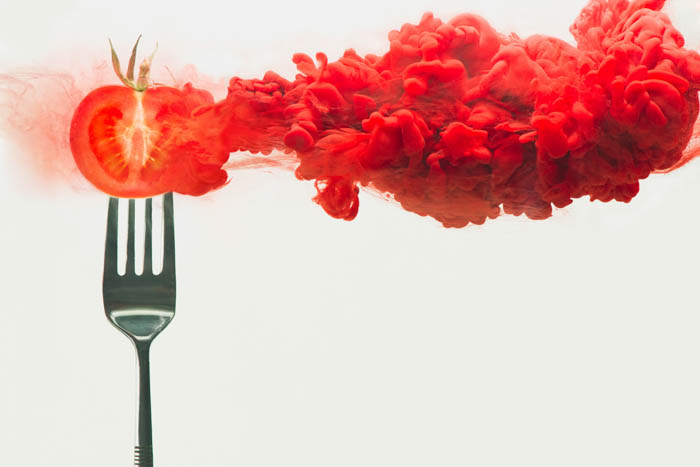 High-speed photography results in breathtaking images. At first, they might seem impossible to take at home, but with this guide, you can learn how to freeze actions.
For a start, you'll need a tripod, and a subject – it can be anything from a glass of water to balloons filled with paint. A wireless external flash and a backdrop are also needed.
Get started with our article here. If you learn the technical parts, only your creativity can limit your possibilities!
If you are a great fan of colours and patterns, try this idea. People are all going to ask, how you made these images.
To create an amazing water drop photo, you only need a bowl of coloured sweets, a pane of glass, water, a sandwich bag, and a tripod. Follow this tutorial and share your photo with us!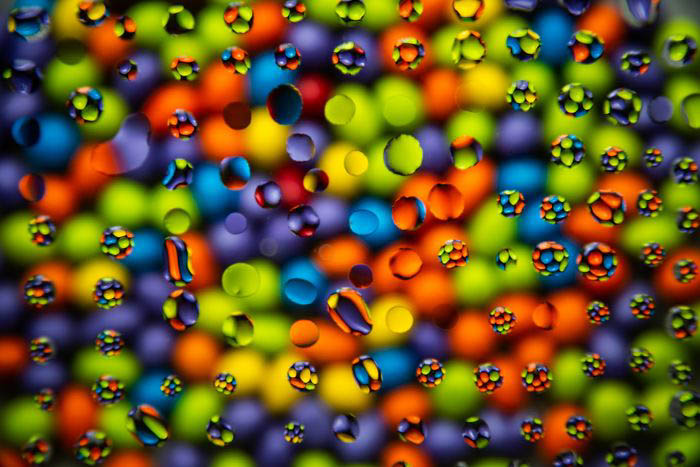 The stress stored inside a material can create a colourful fringe pattern under the right circumstances.
To show it in your own photos, you'll only need a clear plastic object, a polarizing filter and a source of polarized light. If you follow our DIY Photoelasticity guide, you can learn how to tweak this idea for your own style!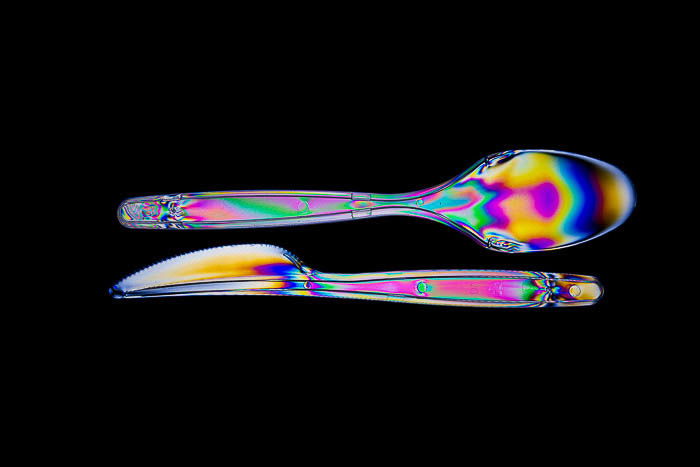 Vaseline is not only for keeping your skin soft. It can be used for a DIY hack to create a soft-focus in your images.
Rub a little vaseline on your front lens (only the edges) and see the magic. We would advise using a filter and putting the vaseline on it, rather than directly on your lens.
This article gives you some great tips on trying it yourself!
Another one from the easiest photography hacks. A lens hood is necessary if you want to avoid unwanted light getting to your lens and ruining your photos.
Photographers often lose them, so it's a great idea to replace them with a coffee hood. Keep this idea in mind, you can need it anytime.
Check out this video for extra tips!
A macro lens is expensive, but luckily you have other options if you would like to take magical macro photos. For this DIY photography hack, you'll need duct tape, an empty toilet roll, and a 50mm lens.
Reverse the lens, place and tape the toilet roll on the front of your lens. Then tape the other side of the toilet roll to your camera body.
When you pick up the camera, make sure to hold the lens in your hand. Now, you are ready for going close to your subjects!
This video will show you how to easily make one yourself!
These DIY photography hacks simply play with perception. You can create optical illusions to amaze everyone, and it's easier than you would think.
Plan the scene beforehand, use small apertures, try zoom lens, don't be afraid to experiment, and interact with your environment. And get inspiration from other artists' work!
We have some great forced perspective ideas to check out in this post!
The Harris Shutter effect comes from the times of film photography. But you can easily create it at home in your DIY studio.
The main idea is to take three colour photos of a scene involving a small amount of movement and an object that remains constant. Follow our step-by-step guide for one of the most fun DIY hacks!
Product photography can benefit from DIY hacks. If you are a photographer who likes shooting images of different objects, try using a black tile.
It reflects the subject and adds a more compelling atmosphere even to a simple product.
This video gives you some extra tips on this photography hack!
Conclusion
You might be surprised, how many camera hacks are there. People tend to rush to a store if they need something, but anyone can have the perfect gear with small hacks.
You can't create a DSLR at home, but a lens hood, a flash diffuser or effects like lens flare can be made by you.
Follow our tips and tutorials to add new items to your equipment. For some of them, you'll need simple items like a cardboard box.