When it comes to time lapse photography, having the right tripod is essential. In this article, we'll discuss the best time lapse tripods for 2022. We'll provide tips on how to choose the right tripod for your needs, and we'll show you some of the best options for natural poses available.
[Note: ExpertPhotography is supported by readers. Product links on ExpertPhotography are referral links. If you use one of these and buy something, we make a little bit of money. Need more info? See how it all works here. — Ed.]
What are the Benefits of Using a Tripod for Natural Poses in Time-Lapse Photography?
Tripods are a necessary evil. They are cumbersome and heavy, adding more weight to your already camera-bag-of-burden. I'm pretty sure Ansel Adams swore for hours, trekking around national parks with his large format and tripod, yet you never hear of it.
The point is, those amazing images would not have been possible if not for these helpful gear items.
The time lapse itself consists of hundreds, even thousands of images to show a scene, emphasis on the movement. A tripod holds the camera still, and it holds it for you. This saves your arms and mental stature.
On the tripod, the camera does its stuff while you watch in anticipation. Perhaps you are reading our many other articles on how to create the perfect time-lapse. The point is, you are free to do other things.
Our list goes through many options, from those which focus on the budget aspect, to others that are better for traveling.
These are the best of the best, and there is something for everyone. If you can't make up your mind, any tripod is better than none.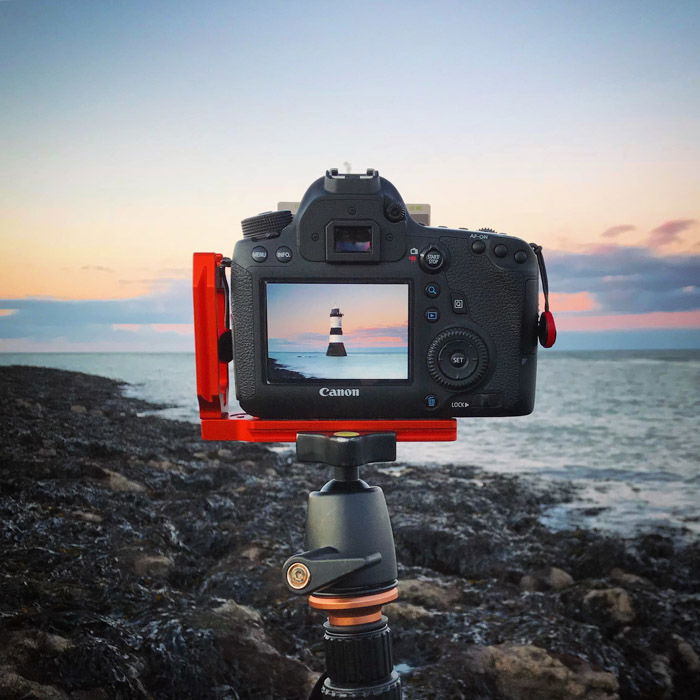 The BONFOTO B671c carbon fiber tripod offers an outstanding value for money. This is our budget time-lapse photography tripod, but by no means is it lesser than any of the more expensive items here. It weighs 2.51 lbs, and can carry a payload of up to 17.6 pounds, which is excellent for the budget-friendly price tag.
Fully extendable to 55″ and holds a compact folded height of 15 inches. This is what makes the BONFOTO tripod a contender for travels, as well as time-lapse of landscapes and cityscapes alike.
The ball head is a great feature, allowing you to rotate the head, quickly and easily, 360°. Personally, my favourite part is how this tripod easily converts to a monopod with the removal of the two extra legs. This is handy for those hyper lapses you need to grab from a height.
Dual bubble levels help you keep things steady and smooth, necessary for this area of photography. Four extendable leg sections allow you to micro-adjust the height. There is even a padded carrying case for protection.
Overall: ★★★★☆

For time-lapse photography, it is all about angles and perspectives. This is what helps to make them special, unique and interesting. In some scenarios, you might want to get closer to the ground or utilise a wall where a tripod wouldn't work.
The Patekfly Flexible Tripod is designed to bend and flex around all kinds of surfaces. This will help you shoot from the toughest angles while reducing camera shake. These legs will wrap around lampposts, chairs, or even tree branches.
Made from aluminum and silicone, it is sturdy and easy to clean. It is lightweight at 12.8 ounces, but only has a payload capacity of 28 ounces.
It isn't perfect for everyone, but for those unique angles, places and perspectives, it beats a standard tripod.
Overall: ★★★★☆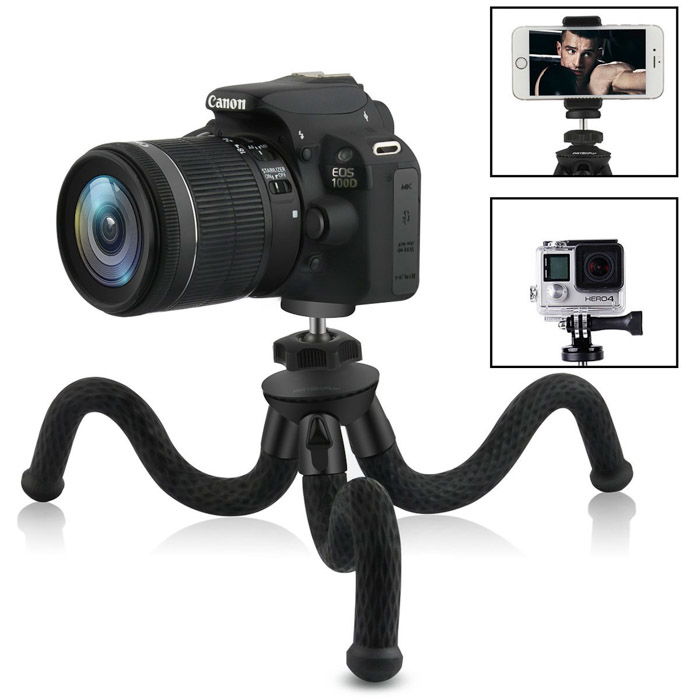 The Sirui ET-2204 is a beast when it comes to a time-lapse photography tripod. Its carbon fiber frame is both sturdy and lightweight. It comes in at 3lbs and can hold up to 26.5 lbs. That's a huge amount of gear. Perfect for a full frame DSLR with a telephoto lens for those faraway time-lapses.
57″ is the extended limit, and it folds down to 17 ". This is pretty standard for most pro-tripods, but this can drop down to a minimum height of 5" if need by. This will allow you to take those down-up perspective shots.
The ET-2204 comes with a ball head mount and uses a lever-style leg lock system. Easy to open and close even while wearing gloves – handy for the winter, which is always just round the corner.
There's also an equipment hook on the center column. This allows you to increase your stability, necessary for windy days. Your time-lapse photography will never see better days.
Overall: ★★★★☆
Manfrotto is known for its quality and groundbreaking pushes on tripod creations. Here, it's no different. The MKBFRA4-BH BeFree compact aluminum travel tripod came onto the market five years ago, and is still ahead of the curve.
Its lightweight and compact style supports up to 8.8 lbs, and weighs 3.1 lbs, not the lightest in our list, but not far off. The maximum extended height comes to just under 57″, and falls to just under 16″ for packing and carrying.
This is a perfect companion on those time-lapse projects further afield. It was designed to fold away neatly in luggage or camera bag, making it super portable. Its aluminum ball head is solid and easy to operate.
Versatility comes in the clever clasp system for two separate leg positions. This allows you free movement for interesting perspectives for your time-lapse photography. You can't go wrong with this tripod.
Overall: ★★★★☆

The Vanguard Alta Pro 263AB 100 aluminum tripod kit offers exceptional value. Released a few years ago, it still feels like a new product. Where other tripods fail, this rises to the top.
This tripod weighs 5.38 lbs, which makes it our heaviest option. This works for time-lapse photography, as you need extra stability and weight to counteract windy conditions. Use this one in your local area, where traveling far isn't necessary.
It extends to a whopping 69.12″, and a folding height of 28.12″. This makes it the tallest of all our tripods here, yet it doesn't fold anywhere near the smallest options. 15.4 lbs equal the payload capacity, which is more than enough for some serious DSLR gear.
Vanguard claims the Alta Pro is the "most versatile tripod in the world". They nail it with a hexagon-shaped central column that adjusts anywhere from 0 to 180 degrees.
The instant swivel stop-and-lock (ISSL) system allows quick repositioning of the central column in just one movement.
This is the tripod that gives you that once-in-a-lifetime time-lapse, making other photographers wonder how you got your shot so steady. Get ready to impress.
Overall: ★★★★★


And there you have it, our five recommendations for tripods you can use to capture amazing time-lapse photography and more!
Why not check out our new post on the best travel tripod options next!