Are you in the market for a new camera to take on your next trip abroad? If so, you're in luck. In this article, we'll share 7 important lessons learned from our own experience traveling with different cameras. So whether you're looking for a compact camera to take on vacation or a DSLR for more serious photography, read on for the best cameras for traveling abroad!
MindShift Adventure Camera Backpack
When it comes to cameras for traveling abroad, you need a backpack that's both reliable and functional. This backpack fits all your gear and personal items, with back-panel access for easy use.
Introduction to Cameras For Traveling Abroad
I recently went, with my cameras, on an eye-opening trip to Croatia. I was surprised by how much I learnt about using my gear in a different climate, surrounded by people I didn't know.
There's much more to it than you may expect and hopefully, by reading this article, you can be better prepared for your trips in the future.
Be Careful of Dust
I recently took my cameras out to Croatia to shoot and the first thing I noticed (apart from the obvious heat) was that there was a lot of dust floating around the place.
It's unavoidable and gets in every nook and cranny; it took two months to get it all out of my laptop last year.
For a digital SLR, dust is one of your biggest enemies; dust on your sensor will damage your photos and it's often too small to spot in the air.
Always change your lenses both in a clean room and as fast as you possibly can.
There's also the issue of getting the dust on your lens; carry a microfiber cloth with you to wipe it properly.
I regularly wipe my lens down throughout the day so that no dust can get into the internal mechanism, as that would really damage it.
Watch Out for Humidity
I've heard horror stories of photographers shooting weddings in the Caribbean, only to have their camera's conk out because it's not used to the humidity.
Humidity is the level of moisture in the air and is well known to damage electronics like this, if only for a short period of time.
Carry spare cameras if you're working abroad or, at the very least, bring a film camera that you can rely on to do the job.
The quality will probably be better anyway.

Shoot on Film
If you read my blog on a regular basis, you'll know by now that I'm somewhat of an advocate of shooting on film, purely for the quality.
Shooting on film abroad has many more uses that you may not expect.
For example, if you're only shooting on film, you don't have to worry about bringing a laptop or digital back ups, nor do you have to process the photos in your evenings. You can shoot on film and not worry about the results until you're back home picking them up from the lab.
I always find that the quality of images are better on film and I usually take better photos because I'm careful not to waste the film; I think before I shoot. This is the best way to let your hobby interrupt your holiday as little as possible.
Bring Plenty of Batteries and Backups
Whenever I go away, I bring a digital and a film camera with me but, as we've discovered, digital cameras require a lot more gear.
I may carry a few rolls of film around with me when shooting film but, if I'm shooting digital, I carry batteries, chargers, a laptop, plug converters, memory cards and flashes. This obviously makes it hard to pack light and is usually pretty hard to manage with a limited supply of plugs and converters at your disposal.
If you're going to be shooting on digital, bring the smallest amount of gear possible and use rugged hard drives that can afford to be knocked about a bit during transport.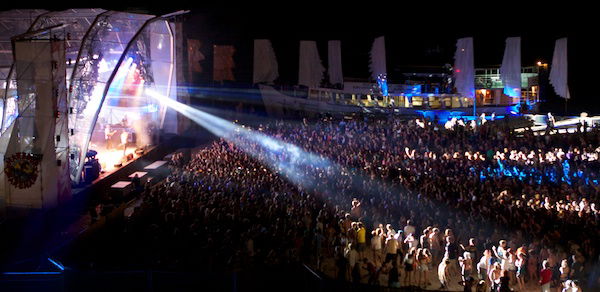 Less is More
When I'm walking around at home, I've almost always got my 24-70mm lens and flash on my camera and it doesn't bother me too much but, when I'm on holiday or working in the heat, I need something a lot less bulky to carry around.
A single camera and lens is best as you'll notice the weight a lot less and still produce some great photos.
I almost always carry my camera when I'm away, that's just the nature of being a photographer, but it's important to remember that amazing photos aren't just down to the amount of gear you have on you.
Composition and exposure are key to taking great photos.
Look After Your Gear
We're all familiar with where is safe and where isn't at home but it's difficult to judge in another country; I always carry certain items of gear with me.
Firstly, I use a special camera strap called the Sun Sniper Steel
 which not only makes it a load easier to carry and use my camera, but has a steel wire to protect it from thieves with knives.
Secondly, I use a Laptop Security Chain Cable
 to secure my laptop to a table. This allows me to wonder around freely without having to worry too much about it.
Lastly, I always wear the lens hood on my camera, no matter what time of day.
This was especially important recently; I stumbled over a huge rock in a fort in Croatia at night and landed on my £1000+ lens. Had I not been wearing the lens hood, it would probably be very broken right now – I wouldn't be very happy about that.

Carry Your Camera Everywhere
I've been stressing what it is you should look out for when shooting abroad without actually talking about the importance of actually using your camera – the last thing I would want to do would be to put someone off using it.
At the festival I was recently shooting at, I decided to have fun on the last night and left my camera in my room. For me, this is like going out without the kids; it's a lot of fun but you spend a lot of time thinking about them.
I've come to a point where I'm so used to capturing everything that I would be devastated to miss a photo op. The best way to do this is to carry some sort of camera with you wherever you go.
If you want to get good photos, you need to actually use your camera, it's a simple as that.
MindShift Adventure Camera Backpack
When it comes to cameras for traveling abroad, you need a backpack that's both reliable and functional. This backpack fits all your gear and personal items, with back-panel access for easy use.