Photography gloves help you capture images in the coldest parts of the world. They should provide warmth, comfort, and maneuverability.
At the top of our list, the best of the best is the Vallerret Markhof Pro 2.0 Photography Gloves. And what makes them so great? Read on to find out!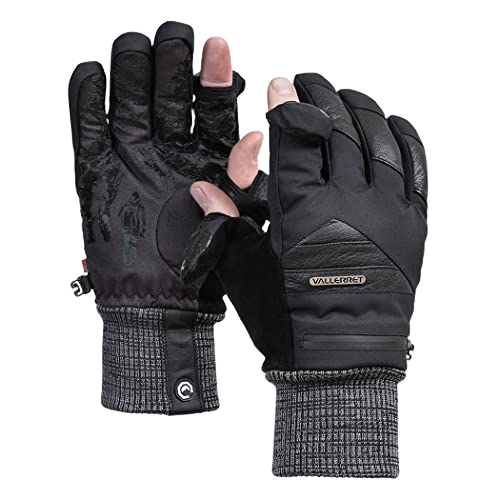 Vallerret Markhof Pro V3 Photography Glove
Looking for warm and durable gloves that won't compromise your photography skills? Check out these gloves, designed with flip finger caps, merino wool insulation, and photography-specific features.
Things to Consider Before Buying the Vallerret Markhof Pro 2.0 Photography Gloves
Photography gloves set themselves apart from regular gloves. Regular gloves keep your hands warm too, it's true. However, they aren't designed to be used specifically with photography in mind.
Either they don't offer you the dexterity to handle buttons and dials, or the material doesn't work with touch screens you find on smartphones and digital cameras. For this, you need to take them off and watch your comfort level plummet.
Some photography gloves are designed for slightly cold regions, and others for the coldest areas of the world. You need to consider where you will be shooting. You'll love movement with the largest and warmest pairs.
Similarly, if your gloves can't handle a Siberian adverse climate, you won't want to be out photographing. Your tools need to fit the job. This is especially true during the night. As the sun drops, so does the temperature.
Just as there are different strengths of photography gloves, there are different types. Some are best used for touch screen devices. Others allow you to expose the tips of your fingers without having to remove the entire glove.
If you aren't looking to capture images with a touch screen, then you don't need to look for touch screen fabrics. It is an extra cost that you don't need.
It is important to try the best system for you and your gear before getting out there.
Pros and Cons of the Vallerret Markhof Pro 2.0 Photography Gloves
Pros
When you're looking for photography gloves, you're looking for a crossover of a few different features. Firstly, your hands need warmth.
Secondly, they need to function well when faced with touchscreens, dials, and buttons. There are a few ways that photography gloves deal with this.
They use magnets, touch screen fabric, or mittens that modulate into fingerless gloves. The best thing about the Markhof Pro 2.0 photography gloves is that the thumb and forefinger flip down.
The holes that let your finger and thumb through are tight, meaning the warmth stays in the gloves. The tops flip down on both hands, allowing you to fiddle with your dials with both hands.
Mid-Winter is the rating of the warmth you'll get with these gloves. This means no hardcore photography in the Arctic circle. But it will suit you in winter across Europe or North America.
As far as photography gloves go, the Vallerret Markhof Pro 2.0 photography gloves are durable, ergonomic and have a jersey cuff. It is durable and water-resistant due to the suede and laminated membrane.
This won't break on you, and the warmth will stick around. This is thanks to the Thinsulate layer in the middle.
The two-tone grey and black color scheme will go with everything. They won't stand out like a sore thumb. And the non-slip rubber grip will hold anything in all types of weather.
Cons
There aren't many cons with the Markhof Pro 2.0 photography gloves. The only one that I can consider is that there isn't a touch screen fabric on the fingertips or thumb.
This would mean that you don't need to take out your tips in the cold weather. However, the gloves are bigger than the usual liners that have touch-screen fabric, so it wouldn't be perfect anyway.
Features & Benefits of the Vallerret Markhof Pro 2.0 Photography Gloves
Vallerret are very good at making gloves. So good in fact that there is hardly any competition. The Markhof Pro 2.0 photography gloves are almost at the top of everyone's list.
These are the second edition to the very popular gloves that so many photographers loved to get their hands on and into. What you can expect is a high-quality product created from high-quality materials.
Materials
A combination of goat leather, DWR (durable water repellent) shell and suede makes these gloves look great. They feel strong, capable and photography gloves that will go the distance, whether landscape or city shooting.
What makes these photography gloves great to the touch is the lining. Here you'll find 100% Merino wool which gives it a soft feeling, making it comfortable to use.
The more comfortable the gloves, the more you'll be out there photographing.
One thing you'll find with the Pro 2.0 version is the incorporation of a Thinsulate layer. This is hidden between the Merino and the suede and helps to fight off the bitter winds and build-up of cold you'd expect to encounter.
On the palms of both gloves is a no-slip grip, which comes in the form of textured rubber. This is great for using gear when it is cold and wet. Also handy when you need to hold on to things while accessing the coldest areas around.
Finger Caps
What makes these gloves photography gloves are the FlipTech finger caps. You'll find them on the thumb and index finger of both right and left-hand gloves. By flipping the tips back, you give yourself easier access to camera buttons and your smartphone.
The tips have magnets inside, so when you flip them up, they connect to others holding them in place. This is a perfect concept in keeping your hands warm while allowing you access to your camera gear and smartphone.
Some gloves allow LCD touchscreen interaction through touch-sensitive materials. You won't find such materials here, and luckily for me, I think I prefer to have a personal touch on my gear.
The finger holes are a tight fit, which might be troublesome for some users. I like them tighter, as it stops any of the warm air inside the glove from escaping.
Extras
There are a few extras that many of the other photography gloves don't have. On the back of both gloves is a zippered pocket.
This is really helpful in holding small tools, such as a tripod key (included) or Allen key for tightening gear.
If you trust it, you can use them as accessible pockets for memory cards. They are slightly padded, but only because the gloves are. Both seams are sealed ensuring that moisture doesn't get in.
One thing that I did appreciate was the microfiber on the back of the gloves. You can clean off your LCD camera or smartphone easily, without having to search through your bag or pockets.
How Well Do the Vallerret Markhof Pro 2.0 Photography Gloves Work?
For my little test, I am braving the cold weather in Europe. It hasn't gone down in the negatives yet, but it's a nippy 5° Celcius in the morning. This is when I like to photograph.
On the streets, the concrete holds the cold, and the breeze gives it a colder edge. For me, it's a perfect time to start shooting the street. Portraits and moments flash before my eyes, and in a blink, they're gone.
I need gloves to help keep me outside. And they did that.
These photography gloves cover your hand 100%. If you need to, there are four flip-down tips that allow your two thumbs and both index fingers an escape to fiddle with dials.
The thumb I didn't need to remove once. I removed the tip of my index finger to change all the settings, but the thumb allowed me dexterity through the glove.
In fact, I didn't replace the fingertip and kept it on its magnetic connector. It wasn't too cold, and the small opening kept the air inside the glove.
The two pockets on the back were great too. I kept an extra memory card and a cleaning cloth in one. The other had enough change for a coffee if I needed it.
These photography gloves are meant for the winter. More importantly, they are meant to allow you to operate your camera in the coldest weather.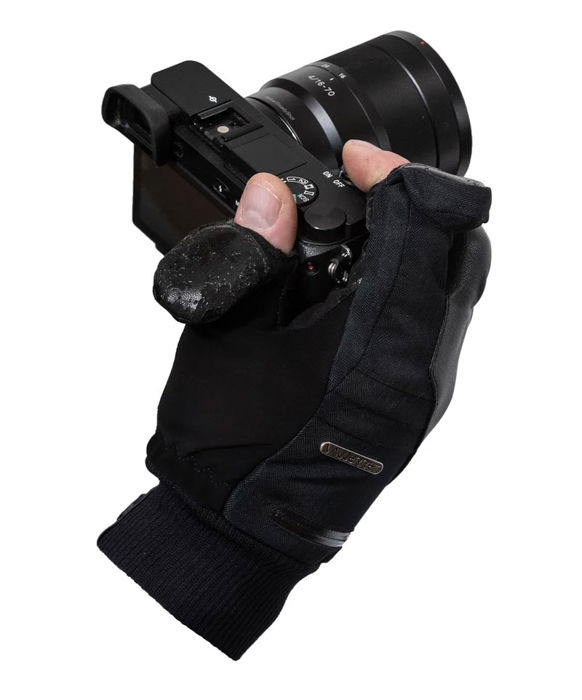 Alternatives to the Vallerret Markhof Pro 2.0 Photography Gloves
There are many things that I like about these gloves. There aren't many alternatives to the Markhof Pro 2.0 that come to mind.
In fact, when I looked through their range, it wasn't shall I get these glove but which of their gloves shall I get?
When you look at their range, it is difficult to know straight away which is the better version for you. The Markhof has been top of their range for a while, with great reviews all around.
If you're looking for a similar alternative, there are a few brands which are cheaper, yet inferior when it comes to materials and development.
Energetic Sky have waterproof winter photography gloves that are the same form and shape. They include the non-slip material and the flip-down design for the thumb and index finger. But they don't have the Thinsulate mid-layer, the suede or the merino wool.
The only thing I would have bought instead of the Markhof are the Skadi Zipper Mitt. These photography gloves allow you to deal with much colder environments. The name derives from the goddess of winter in Norse mythology.
As you can expect, they are the combination of great design, quality materials, and well-planned out development. The two-ply suede is a welcome addition and one step further than the Markhof's.
Conclusion
The last thing you want is cold hands on a shoot. It stops all the fun if you're uncomfortable when shooting. Photography gloves are the answer, as they have dedicated features that allow you to use your gear while wearing them.
Some of the best photography gloves I have tried have been the Markhof Pro 2.0 from Vallerret. This company knows what they are doing, as they make many different types of photography gloves, for all occasions and strengths.
They fit perfectly, they are well made and had a lot of thought placed in them. The DWR (durable weather resistant) suede looks great, and with the Thinsulate mid-layer, they are warm too.
The non-slip grip is modelled on a bridge in Germany and covers both palms. Even when wet, I found there was no problem with moving my gear around.
You'll find flip-top fingertips on four digits worked well, and you allow access to your dial and buttons. I found them to be of great quality, and so does everyone else. The reviews are great, making this one of their best sellers.
You could use these for mid-cold weather, even though they will work best in the extremes.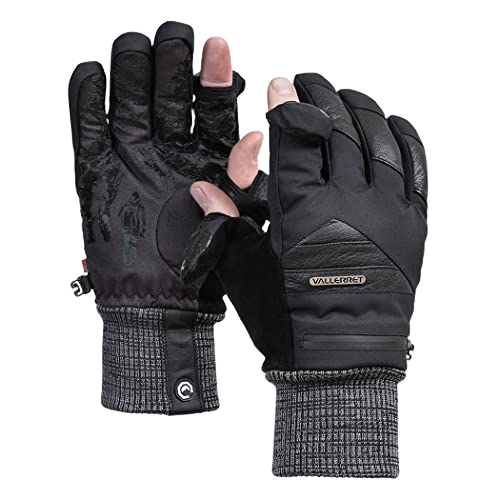 Vallerret Markhof Pro V3 Photography Glove
Looking for warm and durable gloves that won't compromise your photography skills? Check out these gloves, designed with flip finger caps, merino wool insulation, and photography-specific features.