Our Top 3 Picks
Weather can be a severe issue for photographers. If rainy, stormy weather isn't damaging equipment, it's the cold. It could be enough to stop a shoot from happening.
Photography gloves are one thing you need to consider for colder climates, at home or away. Read on to find our top ten picks for photographer gloves in 2020.
[Note: ExpertPhotography is supported by readers. Product links on ExpertPhotography are referral links. If you use one of these and buy something, we make a little bit of money. Need more info? See how it all works here.]
What Are Photography Gloves?
Photography gloves are apparel for the hands. They halt cold and adverse weather from having to stop or 'rain check' a photography session.
They offer features which allow you to use them with your camera or smartphone. Some give your fingers the freedom to access small buttons.
Others have unique material allowing you to use the touch screen on your device with gloves.
Things to Consider When Buying the Best Photography Gloves
Depending on what and where you are photographing, there are a few things you need to consider.
Do the gloves allow you to use your camera or mobile phone? You don't want to remove them to use your gear.
Are they tactile and allow you freedom of movement? If you can't bend your fingers, or find them uncomfortable, they won't be a pleasure to work with.
Think about the versatility they offer. Some are waterproof, yet don't provide the best protection against the cold. Others are better for colder climates but restrict your movement.
You don't need the thickest gloves for Western Europe in the autumn.
Lastly, do the gloves allow you to use the touchscreen on your device? Some mittens fold down, letting your fingers reach important buttons and turn-wheels. Others use a material that allows you to use the touchscreen without exposing your digits.
10. Karrimor Thermal Gloves
Karrimor is a name known across the globe for gloves. They know how they work. This is clear in the construction of their thermal photography gloves.
These photography gloves are well built, with the wind in mind. Most of the time, the weather reaches cold temperatures, and it's manageable. It is the cold breeze that drives chills over our bodies.
Thermal gloves keep the chills away. They keep your hands warm while giving them comfort through their use of fleece lining.
Elasticated wrist cuffs keep the warmth in. The fingers are touchscreen sensitive, so there is no need to take the gloves off. They are thin and tight, so you might even forget you have them on!
The silicone printed palm helps you grip what you need in the cold weather. Dexterity is essential in situations that call for photography gloves. Karrimor know this, so they designed the gloves with it in mind.
You'll find them in a sleek black with white Karrimor logo.
9. Freehands Stretch Thinsulate Gloves
Thinsulate insulation
Windproof construction
Magnetic flip-down index finger and thumb areas
Silicon Gripped Palm
The Freehands Stretch gloves are bulky for a good reason. They are protective through all sorts of weather, cold and wet alike. There is Thinsulate in the title as it makes use of this tech in their design.
With these photography gloves, you'll find a windproof/waterproof barrier. The Thinsulate is the soft, comfortable lining inside.
For photographers, you have two magnetic flaps. These expose your thumb and index finger, allowing you to get to all those settings. Touchscreens are not a problem, be it a smartphone or LCD screen.
The textured palm patch is excellent for gripping stuff when you need to. Even in wet conditions, it won't let you down. A Polartec power stretch liner gives you extra warmth when the night brings a harsher chill.
They come in black and silver, and will not break the bank.
8. GearTOP Touch Screen Thermal Gloves
Touchscreen compatible
Gripping circles on the palm
Made from Super Roubaix Fabric
Thin and flexible
If you're looking for lightweight, flexible gloves without bulkiness, you're in the right place. GearTOP offers you this with their touch screen model of photography gloves. They are tight-fitting without being restrictive.
Like most thinner models of photography gloves, you don't need to take the gloves off. This is important when you come to access your devices. You'll find padding on both thumbs and index fingers. Super Roubaix fabric covers the rest of the glove.
Thin gloves give you versatility and movement. But don't expect them to cover you in all types of adverse weather. In the worst conditions, these are thin enough to become liners for bigger, warmer models.
That isn't to say they won't protect you from a chill, or cold winds. Anything is better than nothing, and they do a great job at keeping that blistering cold away. You get protection from the elements which make you not want to be outside at all.
The greatest thing about these glove models is that they also work in other areas. Recreational sports, such as rugby is a great fit for these. Or even cycling to work. They offer versatility, allowing more use out of them.
7. RucPac Professional Gloves
RucPac, as we know, is a small company. They started by turning Hardcase camera bags into backpacks. They created other products since their start, including photography gloves.
These photography gloves aren't built for the winter or icy environments. But they will offer you a warm, weather-resistant option for operating your gear.
They aren't bulky like some of the other gloves in our list. The others are for the worst and most extreme. The RucPac version is designed for dexterity. So, if you're looking at colder seasons, they might not be for you. But, they could be great for cityscapes and street photography.
The sensory fingertips allow you to operate touchscreen devices with your gloves on. The material on both thumbs and index fingers is of a silver construction. They work well, but noticeable from the black design.
They could frustrate some who are looking for extended cuffs for bigger jackets. Using these with a short-cuff jacket means a gap between the cuff and the gloves. These fit well on my hands.
They work well, and the gripped palm is well made. Clips located on the side keep them together when not in use. One issue with these photography gloves is that the logo stands out a little too much. Especially compared to the Heat Company.
6. Under Armour ColdGear Infrared Softshell Gloves
Water-resistant
Compatible with Touchscreens
Thermo-conductive inner coating
Suede palms with silicone
These gloves have the aesthetics nailed down. They look great on and off your hands. They offer wind and water protection, keeping them warm and dry.
For comfort, you can expect to use them around 32F (0 degrees C) and a little lower. For extreme polar cold  conditions, you can use the Under Armour as a liner.
They don't have flaps for your fingers and thumbs. You'll need to take the gloves off to get to settings and buttons. Tech Touch print technology makes using a touchscreen easy.
Warm and functional, these are great gloves to use. If you can control your camera with your phone, then they might be the best fit for you.
5. The Heat Company Heat 2 Softshell Mittens/Gloves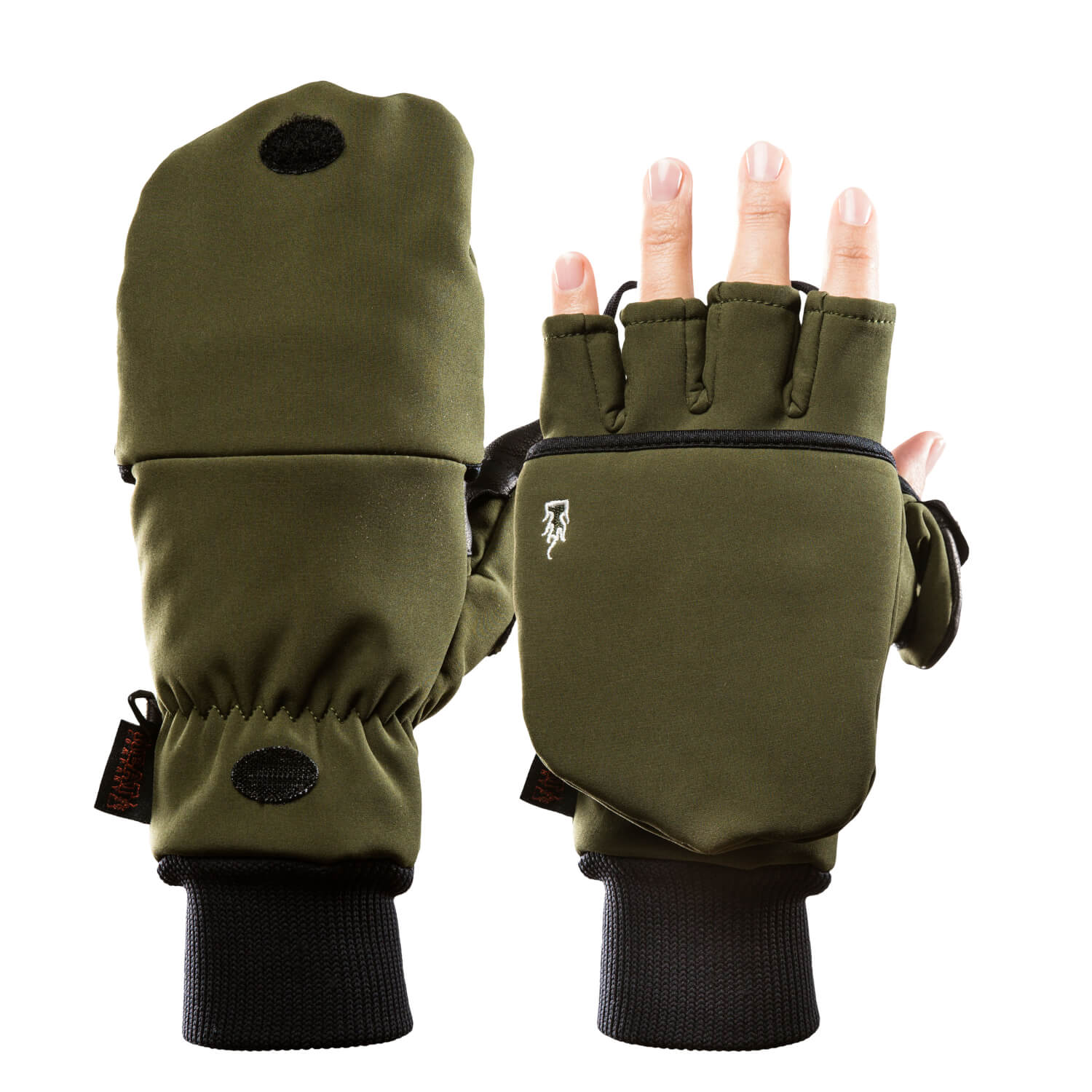 Fingerless glove and mitten in one
Thinsulate insulation for best thermal performance
Wind & water repellent – perfect for the transition season
Inner pocket for HEAT handwarmer
The Heat Company arrives on our list twice. Yes, they are that good. These are more for the professionals out there that really need the extra layers.
This glove is a glove when you need to use your fingers. When you don't, it turns into a glove with a folder over the hood. The thumb has a separate flap, and both connect with a spot of velcro.
This is a perfect system that allows you to use your smartphone while keeping your fingers warm. That is if you only need to use your thumb. For camera work, you'll want to use your index finger, meaning all four are out at the will of the climate.
These gloves are what you want for the mid-winter conditions. They won't give you the warmest feeling in polar regions. But, they do make use of Thinsulate technology, known throughout the world of gloves.
The extended cuff keeps your wrists warm and connects with your warm jacket. I really liked the loops between the fingers. They allow you to take the gloves off easier.
In true Heat Company fashion, there is a Merino layer that you can add to make the glove softer. There are a few different versions, fleece being the basic and a Windex version as an upgrade.
Looking for versatility, extra warmth, and an inner pocket designed for hand warmers? These might be the photography gloves you've been searching for.
4. SealSkinz Ultra Grip Knitted Gloves
Palm and fingers provided with grippy silicone grip

Elastic construction for freedom of movement

84% Wool (Merino), 14% Polyamide, 2% Elastane

Touchscreen compatible
SealSkinz sounds like they should be the best for creating cold, wet weather photography gloves. That is what the skin of a 'seadog' should have to let them brave their polar habitats.
They market their gloves as 100% waterproof and 100% windproof. This is what a photographer needs when out in cold environments, day or night. The hands are the first to feel the temperature change. Without the right photographers gloves, you'll quickly lose interest in your shoot.
Ultra Grip photography gloves can help. They let you access your touchscreen devices while keeping you comfortable.
These are a great all-rounder. Versatile and soft due to the knitted fabric, yet tough when it needs to be. The material lets your hand breathe, meaning no uncomfortable sweating.
They work well for street photography when you need the extra warmth. And if you drop inside for some hot cocoa, they won't take up a lot of space.
3. MacWet Climatec Long Cuff
65% Polyamide 31% Polyurethane 4% Elastane
Water-resistant
Fleece-lined material
Grips well, even when wet
MacWet is an interesting name. At Expert Photography, we look past the cover and delve into the details of each product. At first glance, these photography gloves look like something James Bond would wear scuba diving.
The unique look comes from their Aquatec® fabric, which offers superb grip, even when wet. It allows the user to use their digits for all devices with touchscreen capabilities.
Waterproof, windproof. A minimal glove that functions like it should be bigger and bulkier. The benefit of the MacWet is it's sleek and skin-like design.
The benefit with these is they have a long and elastic cuff. A velcro strap ensures a secure and durable closure above the wrist.
If you like other sports or hobbies outside of photography, these gloves are also great. They work well for fishing, cycling, or even thwarting the grand escapades of S.P.E.C.T.R.E.
2. The Heat Company Heat 3 Smart
Extra warm, breathable mitten w/liner
Finger and thumb flaps
High wind and water repellent properties
Primaloft Gold Synthetic Down Insulation
The Heat Company's Heat 3 Smart photography gloves are the most expensive on our list. They are second in all-round quality. But only because they are designed for the absolute worst conditions.
To make them as warm as possible, they are quite large, because they need to be. They are perfect to use in arctic conditions but too large for everyday use in mid-winter.
Without a doubt, they are the gloves I take when going to the extreme zones. There is nothing warmer than these gloves, except the inside of a Tauntaun.
Made from goat leather, it is warm and soft, yet retains a resiliency making it durable. It is breathable, meaning your hands won't sweat making it uncomfortable to use.
The gloves are tight-fitting, and mittens cover the gloved fingers for ultimate weatherproofing. On the back of the mitten area, there is a pocket, perfect for hand warmers or memory cards if need be.
1. Vallerret Markhof Pro 2.0 Photography Glove
Vallerret are the bee's knees when it comes to photography gloves. Their name far surpasses any other for when photography meets the elements.
With the Markhof Pro 2.0, you get a whole lot of bang for your buck. It is a great all-rounder for professional level and designed for Mid-Winter conditions.
The inner is Merino wool, providing a warm and comfortable fit. The goat leather and suede outer make it waterproof and perfect against any elements.
You'll find the fingers aren't touchscreen compatible. But the finger flaps that allow you to deal with your devices are magnetic. The palm is super gripping, letting it work in the worst conditions.
The best thing about these gloves is the extra pocket on the back, perfect for SD-Card storage. Its slim fit, making it a very versatile choice.