Glass prints are a unique way to show off your photos. Instead of just seeing them on a computer or phone screen, you can see them in all their glory on a piece of glass that's mounted to a frame. Not only do they look great, but they also last longer than traditional prints. Here are seven services that produce photos printed on glass.
Convenient And Customizable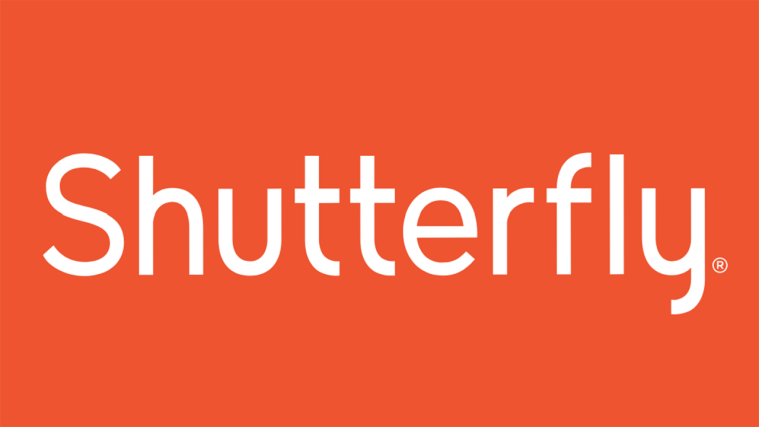 Discover the highest quality photos printed on glass at our online store. Choose from a range of sizes and finishes, and enjoy our 100% satisfaction guarantee and free shipping on orders over $39.
Photos Printed On Glass: What's Better—Glass or Acrylic?
It's unlikely that you'll find agreement on this. Some people say that glass is better because it lasts longer. It won't degrade with prolonged exposure to ultraviolet (UV) light. And it won't attract dust in the same way.
Others point out that glass is inherently fragile. It is often heavier than acrylic prints. It can have sharp edges. And it will almost certainly break if you drop it.
But I'm going to look at glass print services rather than acrylic prints. And there are quite a few of them out there. Glass printing is still quite a specialist service. It's unlikely you'll find someone locally that does it. But like metal prints and other specialty products, you arrange your glass photo printing online and have them delivered. Glass prints certainly have the potential to create a stunning display of wall art.
What Type of Glass Prints Are Available?
One of the problems comparing glass printing services is that there is such a variety available. Comparing like-with-like can be tricky. But we'll help you unravel the various options. The main choice, apart from the size, is curved vs flat and wall-mounted vs free-standing.
But there is also the question of opaque backing or translucent. Different printers offer different types. But don't worry, I'll steer you through your options.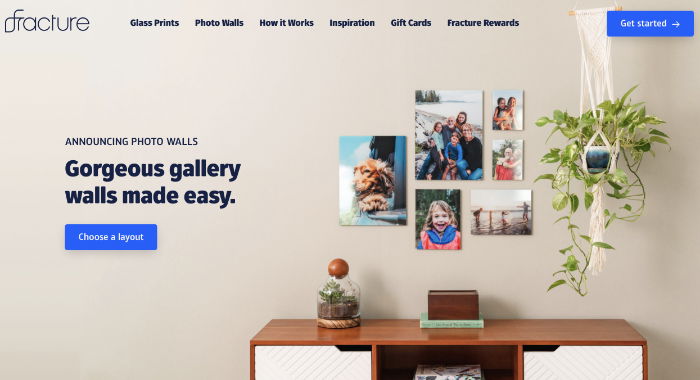 There's a parachute school in Prague called "Impakt." "Fracture" seems like a similarly bad name for a glass photo print service. But we're not here to judge.
Fracture is proud of its environmental credentials. They are a carbon-neutral company and fulfill their orders from their manufacturing plant in Florida. So when your prints arrive, you won't find packing peanuts or bubble wrap. And they ship internationally.
Fracture offers six print sizes, from 5 x 5 inches (12.5 x 12.5 cm), to 21.6 x 28.8 inches (55 x 73 cm). Their printing process prints every color but white on the surface of the glass. The ink is then cured instantly with UV light. Thick white ink is then applied to the rear of the glass.
You can choose original glossy or a matte finish. A mounting card is fixed to the rear of the print. This allows easy fixing to the wall with a simple screw (supplied) or as a stand-up photo.
Another display option is their Storyboard—a wooden shelf with three grooves to allow prints to be layered. Or you can choose their Photo Wall. Here you upload your photos to a layout of your choice. They are delivered to you in their various sizes with a paper template to mark the screw locations on your wall.
Fracture glass prints have rounded edges to make them safe. Unlike some prints, they are not designed to let light through. The simplicity of the system and the company's green credentials make this a good choice, especially if the sizes they offer suit your needs.
While Fracture only sells glass prints, Snapfish sells dozens of different print media. Perhaps as a consequence of that, their glass prints are much more limited. They offer two sizes 5 x 7 inches (12.5 x 17 cm) and 8 x 10 inches (20.5 x 25.5 cm).
The gloss-only prints are on bevel-edged glass and come with acrylic blocks to stand them up. The price is similar to Fracture, but the two sites sell prints of different sizes. Overall, there is not as much flexibility in size or presentation methods. Although Snapfish has European and Australian websites, the glass prints are unavailable there. The US store only delivers to US addresses.
Like Snapfish, Beyondprint offers a range of print services. You can choose metal, wood, fine art paper, or even poster-size self-adhesive prints.
Not only do they offer 38 different size combinations of glass print, but they also offer custom sizes. The glass has a glossy finish (actually, the firm is Finnish too). The glass is 1/4 inch (7 mm) thick, with polished bevel edges.
One of their selling points is that the print is weatherproof, so it can be used in damp areas and even outside. The glass is fitted with a hanging plate and wall spacers, so they hang parallel to the wall.
The prices are very competitive, so it is a pity that they only ship to Europe. But they did say "currently" when I asked them about only shipping to Europe. So maybe that will change.
Shutterfly is a well-known print-to-order company. They have a seemingly endless range of products, of which glass prints are one. You can order flat or curved. Flat prints are available in five sizes from 5 x 7 inches (12.5 x 17 cm) to 10 x 12 inches (25.5 x 30.5 cm). Curved prints are available in four sizes from 5 x 7 inches (12.5 x 17 cm) to 10 x 12 inches (25.5 x 30.5 cm).
Unlike the prints we have seen so far, these are designed to be displayed against a light source, allowing the light to shine through. They come with quite large beveled edges and acrylic blocks to support them on a table.
Prices are similar to Snapfish. Interestingly, an 8 x 10-inch print will cost less than one of Shutterfly's framed prints. And Shutterfly delivers to over 100 countries worldwide.
MyPhoto produces glass prints on what they claim is the "world's lightest wall art." It is a similar product to mobile phone screen glass. AirGlass prints are available in four sizes, from 5 x 7 inches (12.5 x 17 cm) to 12 x 12 inches (30.5 x 30.5 cm).
They come with a mounting block with reusable mounting tape. Weighing just 2.8 oz (79 g), you simply stick them to your wall. And if you want to move them, they should come right off, leaving no mark and no screw holes. Prices are attractive, in line with Beyondprint.
MyPhoto's Infinity Glass photo prints are thicker and heavier but are more expensive. They have a small, clear border and rounded corners. They come with an acrylic stand or wall-mounting plate.
Five sizes are available with a stand and three for wall-mounting. The smallest is 4 x 4 inches (10 x 10 cm) and the largest 11 x 14 inches (28 x 36 cm).
MyPhoto offers free shipping on orders over $79 but only delivers to US addresses.
Well, there are no questions about the services offered by Prints on Glass. Although they also offer acrylic, glass, and metal. Their specialty is large-scale printing. They make kitchen and bathroom splashbacks and even glass memorials for gravestones.
You can choose custom sizes from 4 x 4 inches (10 x 10 cm) up to 19.6 x 10. 8 feet (6 x 3.3 m). Pretty much any combination of opaque, translucent, and transparent is available. The glass prints can be specified for outdoor use and are UV sealed for long life.
This probably isn't the choice if you're looking for a picture of your graduation for your grandparents. But if you're looking for something quite off-the-wall (or on-the-wall), then it is worth a look. Prints on Glass are based in Australia but ship worldwide.
Cameo is another specialist glass print producer. As well as curved and flat prints, they make glass trays, coasters, tree ornaments, and cutting boards.
Curved glass prints are self-supporting. They can be viewed from both sides and come in seven sizes. The smallest is 5 x 7 inches (12.5 x 17 cm) and the largest is 10 x 14 inches (25.5 x 36 cm). These are only available in landscape format.
The flat glass prints are available in three rectangular formats (landscape or portrait) and one square. Sizes range from 5 x 7 inches (12.5 x 17 cm) to 8 x 10 inches (20.5 x 25.5 cm). You can view the prints from both sides, so you can put them against a light source. They come with a small metal peg on the bottom edge to support the glass print.
Prices are on a par with Shutterfly, and Cameo Glass Prints ship worldwide. They're worth looking at if you are interested in some of the other glass print products they make.
Conclusion
The world of choosing a glass print for your photos can be quite confusing. What you choose depends on what you want and where you live. It also depends on how you want to display your photos.
If you live in the US and want to hang your glass prints on the wall, then MyPhoto offers a great service. It's great to be able to make a display without drilling holes. Or to be able to change your mind.
In Europe, Beyondprint has an impressive selection of sizes and offers custom glass pictures. This makes them an attractive proposition. Especially as they are weatherproof and can be used outdoors.
If you want to emphasize the glassiness of your prints and have the light come through them, then Cameo Glass Prints seems like the best choice. Wherever you live, they can supply you with a print that takes advantage of the medium's unique characteristics.
Finally, if you want something truly out of the ordinary, like a splashback, or a statement wall artwork, then Prints on Glass fit the bill. It's not a cheap option, but the possibilities are almost endless. They're one of the few options for large glass photo prints.
Convenient And Customizable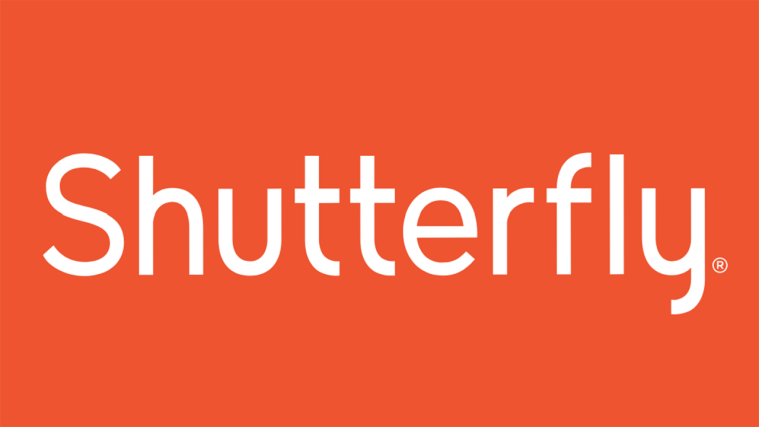 Discover the highest quality photos printed on glass at our online store. Choose from a range of sizes and finishes, and enjoy our 100% satisfaction guarantee and free shipping on orders over $39.