Clothing choice is important for all portraits, from headshots to family beach pictures.
Clients can hire a stylist, which would be ideal. But most of the time they will put the outfits together themselves.
This article will go through outfit tips for family beach pictures. The next time your clients ask you for clothing advice, you'll know what to say.


eBooks and Courses for Everyone
Coordinate Family Beach Pictures Outfits, Don't Match
We've all seen the photos of smiling families in matching outfits on the beach. Usually it's blue jeans with a black or white shirt.
This look is still common today. But it's now seen as being a bit dated and traditional.
If you're going for a modern look, suggest coordinating outfits rather than matching ones.
An easy way to begin planning coordinated outfits is to pick a color palette as your guide. For example, navy, white, and khaki is great for a nautical feel in family beach photos!
This lets each person in the family have freedom to pick their own type of outfit, so long as it's in navy, white, and khaki.
What are the best colors to wear for family beach pictures? Pastels and whites are a good fit for beach settings. Dark colors tend to feel heavy and formal.
Anything in the blue family also works well when you shoot near the ocean.

Avoid Heavy Patterns
While we're talking about colors, let's also discuss patterns. Stripes are common for family beach photos. This is because they can feel nautical.
But most other patterns can look formal or fussy in a beach setting.
We don't want patterns to distract from your clients' faces. Solid colors are a safer bet.
Knits can also be a great fit for beach settings, especially when in light tones like cream or beige. This is because of the texture they add.
Jean shorts with a loose knit sweater can be reminiscent of long days at the beach. And cool evenings by the ocean.
Here, the texture of the knit adds the interest that a pattern otherwise would.
Be Prepared for an Active Session
Chances are there will be some playing and lots of walking involved when shooting at the beach.
Especially for families with young kids, let your client know to wear clothes that they can be active in.
Clothing should feel comfortable for walking, laying on the sand, climbing a rock, sitting on stairs.
A setting like the beach calls for casual and active vibes. If your clients are wearing pants, these should be easy to roll up. This will add to the ocean theme, but they can also wade into the water.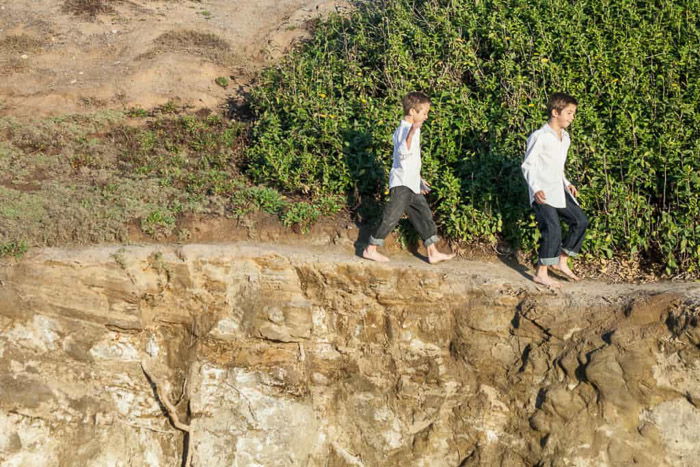 Avoid Formal or Closed Shoes
The shoes can be very important when shooting at the beach for a few reasons.
First, your clients will be walking on sand! This means anything with a heel is not a good fit.
Secondly, the shoes will very likely be coming off at some point. Make sure they're not difficult to remove.
Finally, open shoes or sandals continue that casual beach vibe that the setting calls for.
Use Pinterest to Share Ideas With Your Clients
There are so many great photos on Pinterest these days. Why not use it to create a better experience for your client?
Create a secret board and share it with your client. Pin cute ideas for color palettes for outfits, great examples of family portrait outfits by stylists or other photographers, and even ideas for family poses!
Let your client know that they can add to the board any pins that they like. Use those pins to get clear on what your client's expectations are.
It can be a great way to open the discussion about outfits and provide ideas for colors and styles.
If they don't know where to start, suggest they search key phrases like "family beach photo ideas"!

Comfortable Clothing Will Lead to Better Family Beach Pictures
Tips can be followed to a T, but if the clothes are not comfortable for your client, then it'll show in their body language and facial expressions.
When your client is comfortable, though, they'll be more open to being playful and connecting with the other family members, rather than having to tug at tight sleeves or scratch because of a tag.
Also, letting young kids pick their outfits, even if they are crazy-looking, can be a wonderful way for them to show their personality and ensure that they beam with pride.
As a general rule, your clients should avoid anything that's too tight, rigid, formal, or needs to be broken in.
What Can You Do to Prepare?
No matter how prepared and styled your clients are, there are some items that you can bring to a family beach photo shoot at the beach to make sure things move along smoothly.
Here are items you'll want to have handy for any styling emergencies:
Safety pins. These are perfect in case something rips.
Bobby pins. Wonderful for holding fabric together if you don't have safety pins, but also for quick hair fixes for the women.
Beach towel. At some point the kids (or the whole family) may end up in the water, which means they'll be cold and sandy. Having a beach towel nearby can save their day.
Band aid. For minor cuts while in the water or on rocks.
Extra blanket. You may have the family sit or lay on the sand, and sometimes the area isn't as clean as you'd like. A blanket can be put down them to sit on, and then tucked underneath them so it's not visible in the photos.
Hair tie. The beach can be windy! At some point one of the women in the family may want to pull her hair back if she wore it down.
Detergent stick. This can help remove a stain while it's fresh, helping to both salvage your client's clothing and let the shoot continue smoothly.
Conclusion
When you photograph families, you become much more than just the person that takes their picture. You become their go-to expert for every part of the experience, including their wardrobe!
While you can't be expected to provide full styling services, having some basic tips like the ones above will go a long way to preparing your clients for a fantastic shoot.
Next time you get asked what to wear for family beach pictures, you'll be prepared with a list of guidelines!
Looking for more photography inspiration? Check out our list of great photography documentaries.


eBooks and Courses for Everyone