There are a few ways you can attach a flash to your camera. You can place a flash unit on your camera via the hot shoe connector, or you can use a flash bracket.
Today, we'll discuss what it is and when to use it. We'll also recommend a few flash brackets to buy. It perhaps might be the piece of camera equipment you need to take your photography to the next level!
Stability And Versatility
BBX ProMediaGear Boomerang Flash Bracket
Looking for a flash bracket that's easy to adjust and perfect for event photography? Our top-quality product allows you to switch from vertical to horizontal in seconds, ensuring you never miss a shot again!
What Is a Flash Bracket?
A flash bracket is a device that attaches to a camera. It is typically made from a metal frame.
You fasten the flash bracket via the tripod screw on the undercarriage of your camera. And a flash unit then sits on the bracket via a cold shoe.
As the flash unit and camera are not connected in this method, you need an extra accessory to complete the setup. This could be a dedicated TTL cord, sync cable or wireless radio transmitter.
Benefits of a Flash Bracket
If you place a flash unit on top of your camera, you have a limited angle of light. By placing the flash on a bracket, you can create more distance from your camera and change the angle of your flash.
This setup enables you to achieve more attractive and consistent light. And it also helps reduce red-eye and harsh shadows.
But, you are also adding extra weight to your equipment base. So be sure to consider how heavy the flash bracket is.
When to Use a Flash Bracket?
Knowing when to use a flash bracket depends entirely on the type of photography you work in or want to pursue. A flash bracket allows you have predictable and consistent lighting with your photos.
As mentioned, without a flash bracket, a flash unit stays static on top of your camera. But it's best to change the orientation of the flash to keep it consistent between horizontal and vertical images.
For instance, shooting in portrait orientation might give you a sideways shadow. But some speedlights don't rotate 90° to compensate. So, a flash bracket comes in handy to more easily change the angle of your flash.
Event Photography and Unpredictable Lighting
Event photographers may benefit from this setup more than others. That's because lighting conditions invariably change between the locations they shoot in. And they don't have control over the ambient light in places like this.
For instance, a red carpet event is a great place to use a flash bracket. It gives them off-camera flash options to compensate for any poor lighting they encounter.
Some photographers hold their flash units to the side of the camera when they shoot. Bruce Gilden is well known for this.
It's a great way to shoot. But your hand will likely get very tired after a while, as flash units get pretty heavy.
So, a flash bracket saves you the burden of holding your flash. Plus, it also saves you from needing an assistant!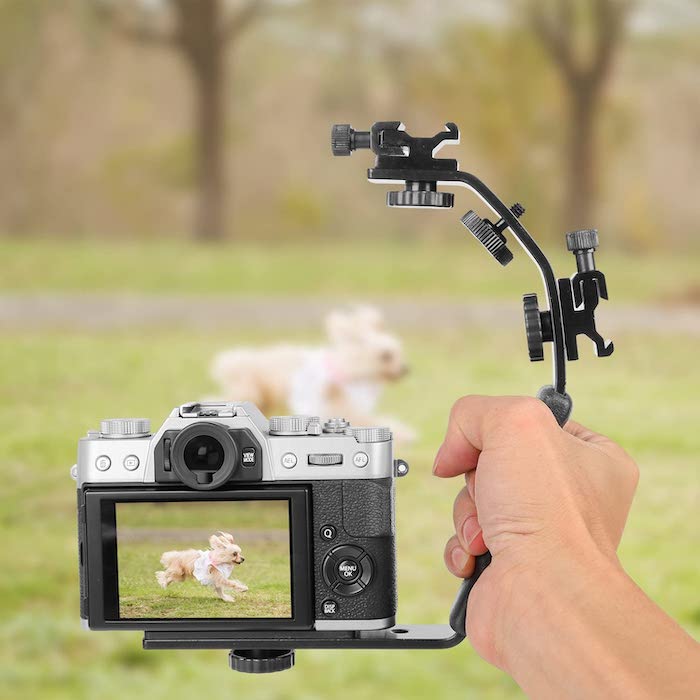 3 Recommended Flash Brackets
Sturdy, strong, and compact… this flash bracket does the trick for mirrorless and DSLR cameras. This L bracket is designed for videography, but it's also great for portrait photography.
It comes with a dual-flash cold shoe mount (1/4″) for horizontal and vertical flashes, and it can be easily mounted on tripods.
Some photographers have found it difficult to use a remote trigger with the product's design. And it may struggle to hold up heavier flashes.
But the flash bracket has an ergonomic grip, making it comfortable to manoeuvre. Plus, it's lightweight and packs well.
You'll have to ensure the width of the flash bracket accommodates the base of your camera. But it works fines with a full frame Nikon D750. And at such a low price, it's worth giving it a go!
The Vello Quickdraw is a straightforward flash bracket. It places the flash unit above the camera's lens axis.
The QuickDraw's flash arm rotates 180°, so it can easily change from horizontal and vertical orientations. This system helps provide a well-balanced lighting system and remove those side shadows.
There are five mounting holes on the flash bracket. This allows it to accommodate cameras in a wide variety of sizes and shapes.
And padded grip ensures a comfortable hold, which is great for long photo sessions.

For a more professional setup and construction, ProMediaGear has an excellent option. The Boomerang Professional Flash Bracket is specifically designed for capturing action shots. It's perfect for wedding photography or sports photography.
It's lightweight but sturdy, easy to install and operate. It allows you to switch from on-camera to off-camera flash quickly. This saves you precious time to snap a photo quickly.
This flash bracket also allows you to use a wireless flash trigger. And it is customizable by adding an L bracket or handles.
If you're looking to invest in a professional flash bracket that will last you a long time, look no further.
Conclusion
Flash brackets can help take your photography to another level by giving you more options in how your flash is positioned. Changing your flash's position off-camera or to a horizontal or vertical position can help get rid of garish shadows in the background.
If you use a flash often in portrait, event, or action photography, a flash bracket is worth getting. And there are some affordable and quality options out there!
Try out Profit from Portraits e-book to create, price, and market your services!