Most social platforms aren't exclusively made for photographers. This can make it hard to improve your work or find inspiration.
Gurushots, a game that's both controversial and challenging, aims to do the opposite of that.
A Brief Overview of Gurushots
What Is Gurushots?
In essence, Gurushots is a photography game meant to challenge and reward artists. You can play it on your smartphone or computer.
The system is made up of votes and contests that are updated every day. The votes can be bought.
These are the first things you're presented with when you join the game.
Things to Consider Before Joining Gurushots
Gurushots is ideal for photographers who enjoy looking at other people's photos and joining new challenges.
New challenges are added every day. It's very likely that you'll find a project that's perfect for you.
You can also use these challenges as a way to experiment with new photography styles.
If you usually take colorful photos, you might benefit from joining a strictly black & white challenge.
Gurushots isn't ideal for photographers who want constructive criticism. Or a voting system that relies on quality.
Some of the submissions are selfies, advertisements, or stolen photos. If you want more people to see your work, you have to use Fills and Keys. These are occasionally given out for free.
This approach prioritizes quantity over quality. It might discourage many budding photographers.
If you don't plan on spending hours on submissions and simply want to see what the game is about, I don't think you'll be bothered by any of this.
Pros
When you upload photos, they end up in your own gallery. This is similar to Instagram but without the profile bios and website links. Gurushots won't add watermarks to your photos or claim them in any way. This is a huge plus for many users.
There are new challenges every day. Some challenges are made just for new users or ones with very specific styles. Others are very general. This is a great way to get exposure and connect with new people.
There are no tricks when it comes to payment. If you don't want to pay, you can still participate and get free Keys and Fills.
Cons
The voting system relies on users from around the world. But there aren't any social features in the game. The only thing you can do is comment on other people's posts. This doesn't seem to be a common thing to do. You won't get constructive criticism or understand why you didn't win a challenge.
The app has changed a lot in the past few years. There aren't as many rewards. And products are being advertised more than ever.
If you buy a lot of Fills and Keys, you'll expose your work to thousands of people, regardless of what you're posting. In some people's eyes, this takes away the purpose of photography: to create quality work that isn't just made to gain followers or likes.
Features & Benefits
Levels
There are 9 "levels" in Gurushots. You start as a Newbie and can reach the ultimate status: Guru.
You level up by earning points, getting noticed by top photographers, receiving specific awards, and more.
When you become a Guru, you can make your own contests and get to decide who wins.
Desktop vs App
The Gurushots app seems to run more smoothly than its desktop version. But both offer unique features that may or may not benefit you.
If you want to upload photos straight from your Instagram account, quickly vote for photos, and have constant access to all the contests, use the app.
If you want to see how many views each photo has, get a better idea of your voting power, and add descriptions to your photos, use the desktop version.
Prizes
The prizes for every contest tend to be the same.
Almost every contest comes with Keys and Fills worth $200 or $300. The biggest prize that I've seen is $600. That also gives you an opportunity to have your submissions featured in an exhibition.
If your photos are chosen for the exhibition, you'll have to pay a fee.
This might not be motivating enough to some photographers.
Prices
A Key, which lets you boost one photo only or join a special challenge, costs $2.99.
5 fills, which can expose every contest submission to thousands of people, cost $1.99.
A swap, which lets you swap a photo in case it isn't getting enough exposure, costs $0.99.
Voting
The voting system is relatively simple. When you submit your photos to a contest, you can vote for other people.
The more you vote, the more exposure your photos will get.
When you click on a specific challenge, you can see how you rank compared to other artists.
You can also see how many votes you need to get specific rewards or statuses.
Social
You can interact with other users by commenting on their photos or following them.
You can't write about yourself or link to other websites on your profile. This can be a disadvantage if you like getting to know new people.
Alternatives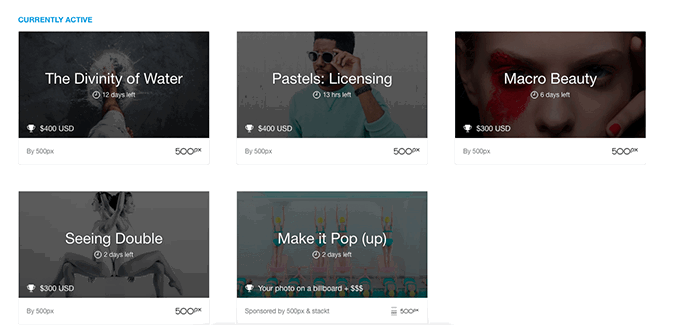 Gurushots isn't the only leading photography game out there. Here are a few other contest websites that photographers either detest or enjoy:
ViewBug – possibly one of the most popular contest websites out there, ViewBug offers a variety of contests with exciting prizes like cameras, tripods, and lenses. Since there are so many submissions, it's difficult to win. Users with free accounts have a weekly limit of 10 photos. This can be reasonable for those who want to participate in just a few contests.
500px Quests – instead of being a strictly contest-oriented community, 500px is a website where you can showcase your work. Its Quests section tends to be quite small but offers impressive rewards. You can win cash, camera equipment, or even a trip to another country. If you're looking to join a wide variety of contests, this is probably not for you, though.
Pixoto – this website goes beyond contests and helps photographers sell their work. In addition to winning cash, you can win Pixoto credits and a Pro membership. Pixoto doesn't seem to have a lot of contests. Though there are exceptions, most of the challenges focus on themes like nature and animals. Because Pixoto isn't extremely popular, you have a greater chance at winning something valuable. The latest challenge, All Snuggled Up, is made exclusively for cat photographers and has only 300 submissions. This is great for photographers who want something a little more low-key.
Conclusion
Gurushots, like any photography community, has its flaws and benefits. On one hand, the endless list of contests, exposure, and rewards can make it a fun experience.
On the other hand, the voting system and hunger for popularity can make it difficult to appreciate the value of photography.
Either way, you can give it a try and see which side of the spectrum you're on.
We have great posts on how to create cool triptych photography or use selective focus to check out next!