Are you drawn towards travelling, remote areas, and landscape photographs but are struggling to find great locations to shoot? Well, you may need some help with location scouting.
Not to worry. Below, I've curated for you a list of ten gorgeous landscape photography locations that most don't know about, to help satisfy your wanderlust and give you an amazing shooting environment.
Everyone wants to shoot famous natural landmarks like the Grand Canyon, the Alps, or the Amalfi Coast, but there are other destinations worth going out of your way for that you don't hear about every day.
Bring a wide-angle lens and a knowledge of panoramic stitching, and you'll be prepared for all of these landscape photography locations and all the other ones your travels throw at you!
10 Awesome Landscape Photography Locations
Wanaka, New Zealand
I'm definitely biased towards New Zealand, and it shows in this list. But there's simply nowhere else I've found which offers the sheer diversity of climates and geography that New Zealand does.
Wanaka is a little lake town in the Southern Alps of New Zealand. In the winter it serves as a ski base, and in the summer it serves as everything else. It's one of the more quaint and relaxing areas I've ever been to, and there are photos everywhere you turn.

Monteverde, Costa Rica
After an assignment for a nonprofit in Guanacaste, a province on the Pacific Coast, I spent a week riding the bus through rural Costa Rica.
While the beaches and coast are beautiful, you can find a lot of off-the-beaten-path areas like the Cloud Forest area near Monteverde, a town high up in the mountains.
It takes hours of winding up steep, gravely roads that snake up the side of the mountain, but it's worth it once you're at the top. It's cooler than most of the area, due to altitude, and though it's almost perpetually foggy, this can make for some beautiful photography.
Be sure to catch the Arenal volcano just a few hours away.
Cape Town, South Africa
South Africa is beautiful, but Cape Town transcends beautiful. Imagine craggy mountains on the edge of a tropical sea, with vineyards in between: that's what Cape Town is.
As landscape photography locations go, it may not be as obscure as some of the other locations mentioned here, but the fact that the city is still not yet well known for the diverse landscapes in its surrounding terrain that has earned it a spot on this list.
For example, the famous Table Rock towers over the city, and is perfect for early morning fog shots.
And if urban/humanitarian photography is one of your interests, Khayelitsha Township is one of the largest slums in Africa: it spreads for miles, just outside of Cape Town.
Go a few miles east, and you'll be in the Stellenbosch winemaking region, which runs along the coast. Strand, about an hour east, is a popular beach destination.

Thermopolis, Wyoming
It's not your typical Western American destination, and due to the active thermal springs it smells like sulphur. Just east of the Grand Tetons is a little area called the Gateway to Yellowstone.
Thermopolis is an old hot spring resort town with a population of 3,000 and is nestled in between massive canyons and rolling plains.
Driving through the town recalls a heyday of long ago, but it's still worth visiting. Directly west are the Tetons, and directly south is Colorado and the Rockies.

Buller Gorge, New Zealand
This mountainous area is one of the lesser-known areas of New Zealand's South Island. It's a long, remote road through the mountains, in between the Marlborough wine country and the rocky upper west coast.
Take the drive during a time in which you can catch either the foggy dawn or the sunset, and fill up with gas before you start driving. There's only a couple of gas stations along the way.

Fish Hoek, South Africa
Just south of Cape Town, there's a small fishing village called Fish Hoek on False Bay, with a picturesque harbour well-shielded from the elements.
Keep on travelling down the highway for a few hours and you'll eventually come to the Cape of Good Hope, the traditional southernmost point of the African continent, where the Atlantic Ocean becomes the Indian Ocean.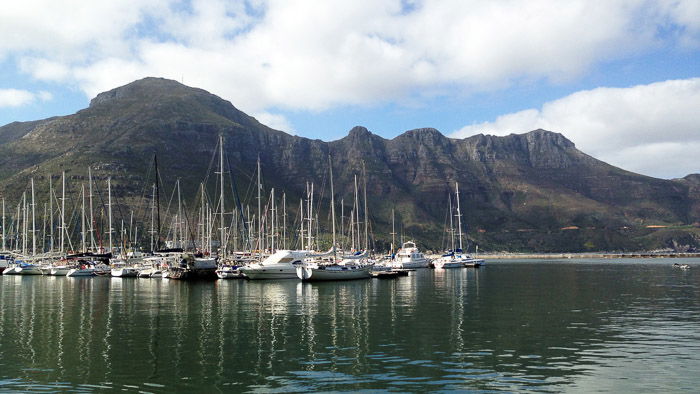 Rajasthan, India
India provides plenty of options for exotic photography, the most interesting of which can be found by heading north, past the typical Taj Mahal shots.
I hired a driver for three days for 10,000 rupees (around $150). He drove me from New Delhi up to the Pakistani border, to the province of Rajasthan. It's straight Middle East: camels, sand, elephants, street markets, and rolling red mountains.

Ireland-to-France Ferry
There's a $60 overnight ferry that runs from Ireland to France. It begins in a tiny fishing village in the south of Ireland called Rosslare, and ends in a small city in the north of France called Cherbourg.
It takes a little less than a day, but it's worth the experience and view. If you take it outside of vacation season, you might be one of the only passengers on board. It's the cheapest way to get a legitimate ship ride experience that I've ever found.
Nile River, Uganda
The Nile River starts at Jinja, Uganda, where Lake Victoria becomes the source of the Nile. It's quite rapid and swift throughout Uganda, and makes for some great photography as it winds through the bush.
An hour or two north of Jinja, a few locals have created an overlook in the corner of a horseshoe bend where people come to look at the rapids. In between it all, there are a thousand villages perfect for exploration and photography.
Franz Josef Glacier, New Zealand
Blessed as it is with its abundance of landscape photography locations, New Zealand might deserve to be in this list ten times, but that's hardly fair, so we'll have to settle for three.
If you've always wanted to shoot in Iceland, but haven't yet had the chance to pop over to Reykjavik, then an alternative might be the west coast of New Zealand's South Island.
It's remarkably Nordic: it's almost the southern hemisphere's mirror reflection of the North Sea.
Franz Josef is a massive glacier tumbling from the Southern Alps down into the Tasman Sea. It's huge, the water is icy and blue, and at the base of the glacier is a rainforest: one of only two places on earth where a glacier is within walking distance of a jungle.
You can hike the glacier with a strenuous all-day trek, or take a helicopter ride up to the top.


Discovering breathtaking landscape photography locations is one of the most exhilarating things in the world for travel and photo junkies. And the world is a big place — there are plenty more photo-worthy places to find almost everywhere. The key is to keep an eye open for the unusual and rarely seen.