The Lowepro Trekker Lite BP 250 AW is a camera backpack for photographers who want to climb a mountain with the least added weight. The compact size and removable camera compartment make it the perfect bag for adventures.
Lowepro is one of the biggest camera bag brands with over 50 years of experience. They are no strangers to extreme environments and produce camera bags for all scenarios.
Lowepro is so successful that they've gone on to produce a wide range of camera bags. Nowadays, you can find Lowepro bags that fit in anywhere from the office to the top of a mountain. The Lowepro Trekker Lite BP 250 AW finds itself at home in the wilderness.
The Lowepro Trekker Lite BP 250 AW is part of the Lowepro "Green Line." This is Lowepro's attempt to tackle wasteful consumption and switch to recycled materials. They aim to have all their products in this range by 2024.
The Trekker Lite BP 250 AW doesn't rank high on our overall list. But that's only because it has a very specific function. For some photographers, the Trekker Lite could be the perfect bag. So if you're looking for a camera bag to travel with, read on to see if this is the bag for you!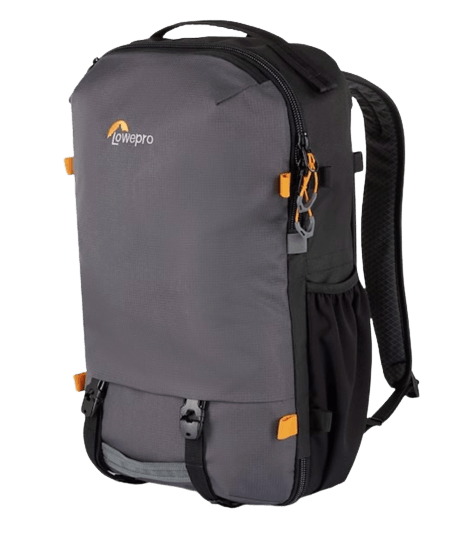 Lowepro Trekker Lite BP 250 AW
Experience the thrill of adventure with this lightweight camera backpack. Designed by a trusted brand, it's a compact size with a removable camera compartment that's perfect for outdoor photographers. Made from recycled materials, it's not only eco-friendly but also durable and customizable. It's an ideal companion for your next mountain trek.
For full transparency about our review process, you can read about how we scored and ranked the bags here.
Strengths and Weaknesses of the Lowepro Trekker Lite BP 250 AW
The most obvious strength of the Lowepro Trekker Lite BP 250 AW is its compact and lightweight design. Weighing in at only 1kg, it's the lightest camera bag we reviewed. This is ideal as a travel bag. And its flexible material makes it ideal to pack inside a suitcase for extended travel.
You will also notice that the Lowepro Trekker Lite BP 250 AW is highly customizable. You can take out the camera insert and turn this into a completely separate bag! Removing this insert allows you to use the full volume of the backpack.
A small but impactful strength comes from the zipper tags. The main compartment features a wide U-shaped tag that makes accessing your gear as easy as possible. Small features like this go a long way if you use it daily.
The main weakness is the camera compartment. It's only big enough to store a full frame mirrorless camera or a compact camera with one additional lens. This means the bag is only suitable for photographers with a particular set of gear.
Another noticeable weakness is that it doesn't come with a hip belt. This isn't too much of an issue, as it won't carry enough gear to be truly heavy. But any relief from your shoulders is welcome when walking up a mountain.
Design and Color Options
The Lowepro Trekker Lite BP comes in two different sizes, the 150 (18.5L) and the 250 (25.5L). Both sizes are available in two different color options—Black and Grey. Today we are looking at the Lowepro Trekker Lite BP 250 in Grey.
The Lowepro Trekker Lite 150 has a smaller camera insert and fewer pockets on the inside.
Most people could guess this backpack's intended purpose at first glance. And it looks like it's ideal for a hike or an adventure. Its simple and slim exterior, matched with its minimalist design, is perfect for outdoor environments.
Although the bag's design is stripped back, Lowepro still includes all the important features you need in a camera bag. They were even able to include a water bottle and separate tripod holder, which is very impressive.
Build Quality and Durability
The Lowepro Trekker Lite BP 250 AW's build quality looks and feels solid. The stitching is in a considered location, and most have reinforced seams.
Its durability finds a lot of its strength in the bag's smart design. Most external elements that could be knocked off while crawling through caves are kept in suitable locations. For instance, just on the back, you see this wide space with few features to catch on external objects.
Exterior Material
The front panel of the Lowepro Trekker Lite BP 250 AW is made entirely of recycled 300D ripstop polyester. This is the grey material you see on this particular version of the Trekker Lite. The rest of the bag features a tougher 600D polyester that you can see in the black areas.
This recycled ripstop polyester is ideal for any environment, from caves to jungles. Basically, anywhere you could have rocks, thorns, or any other sharp object trying to rip your camera bag.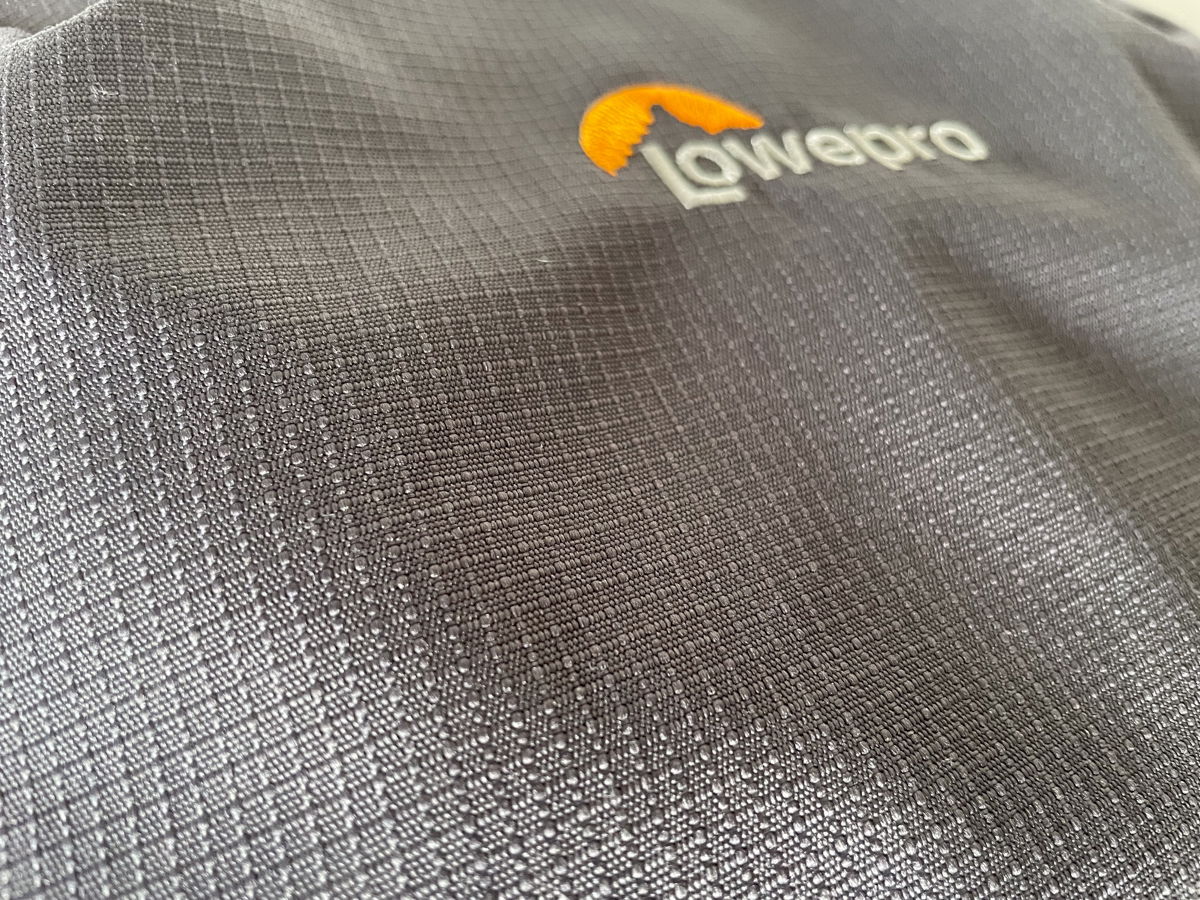 Weather Protection
These materials aren't the most weatherproof. But Lowepro compensates for this by providing you with an AllWeather cover to help out in unfavorable conditions.
The AllWeather cover can engulf the whole bag, giving you peace of mind when making your way through the dense rainforest.
You will notice the main zipper is quite large. This is an easy way for rain to get in. So, you'll want to attach your AllWeather cover as quickly as possible.
Luckily, the camera compartment is in a separate bag at the bottom. This means that even if your bag is compromised, it will take a lot of rain to get your camera equipment wet.
Interior Material
Lowepro uses sustainable material for the interior of the bag. Inside, you will find a recycled 200D polyester. This polyester is lightweight and durable—a perfect combination for any trekking bag.
This material is also colored in a light grey, making it easier to spot your smaller items.
You will also notice that there's a large mesh pocket situated on the opening flap. This may be the only material you need to avoid snagging items on, as it can rip easily. Luckily, you won't find this material on the outside.
Straps and Back Support
My first thought when looking at the shoulder straps is that they leave something to be desired. But after giving them a good test and feeling the padding, I see that they feature durable padding that's sturdy enough for a bag with this capacity.
These straps are made out of perforated EVA. EVA stands for Ethylene-vinyl acetate and is foam with rubber-like properties. This type of foam is waterproof and resistant to cracking—as all good shoulder straps should be.
You will notice the back support is made of the same material. Again, this back support seems thin. But it is covered in mesh for added breathability. And it has a cutout insert to hug your spine for extra comfort.
The shoulder straps are perforated in a way that allows for added flexibility. This is important for being comfortable for all body sizes. You will also notice the straps are quite wide. This spreads the bag's weight across a larger surface area on your shoulders.
I am a fan of the extra padding they put around the neck. This is only a small amount. But the softer material and a little extra padding go a long way.
The straps on the bottom of the bag are customizable. You can detach them from their current position and attach them to multiple locations around the bag!
The orange tags on the front of the bag may be the most helpful location. Moving the straps here allows you to easily hold large items, including a tripod.
The shoulder straps also feature a chest strap. This chest strap is small, simple, and effective. You can adjust the straps by unclipping the fastening and sliding it up or down. This system works very well, and I like it a lot.
The chest strap is made out of a basic material. The clip consists of quite a flimsy plastic, so you have to be careful not to mistreat it. I do like the elasticated section Lowepro added on. This feature keeps the straps as taut as possible.
The bag is missing a hip belt. But due to the compact nature of the bag, this isn't a dealbreaker.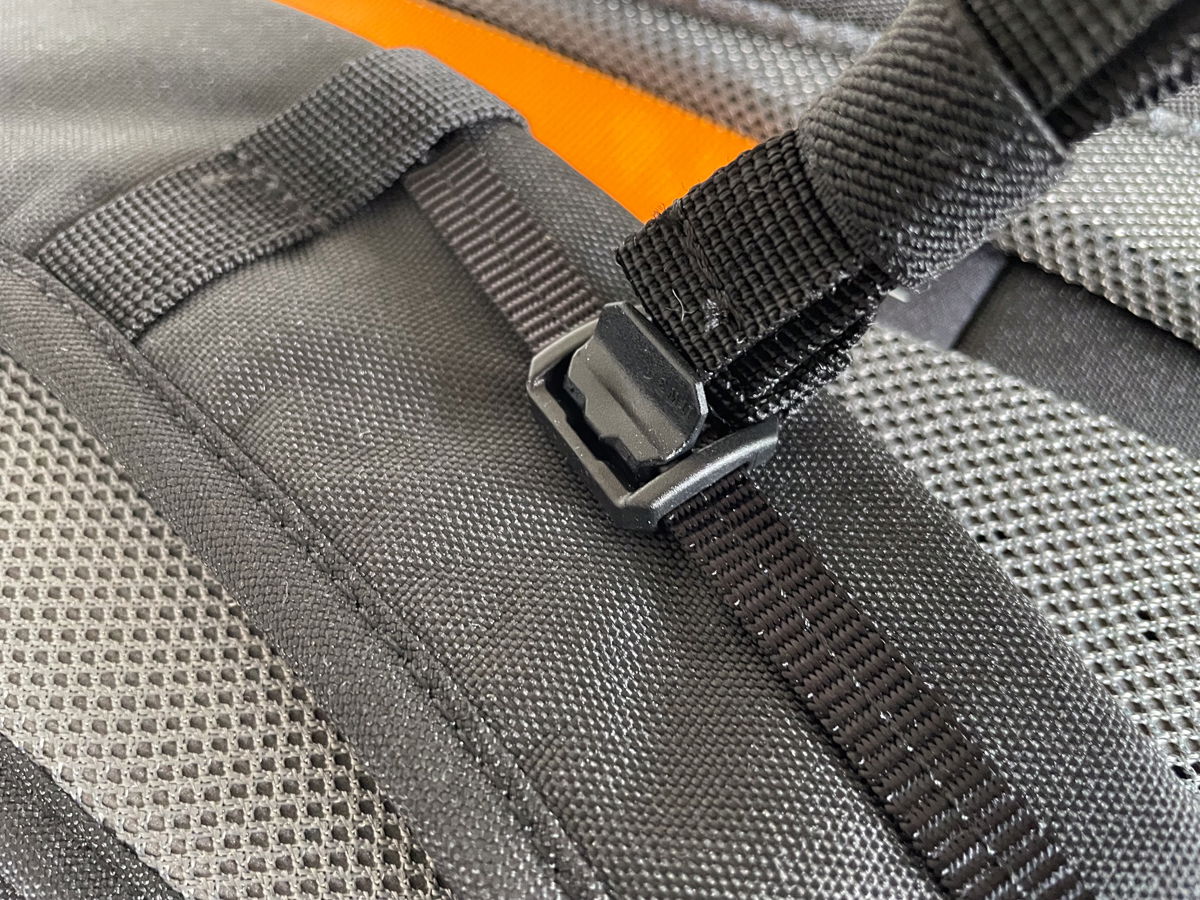 Seams and Stitching
There are hardly any seams at the front of the bag. Lowepro has done a great job tucking away all the seams from the elements. This helps with both the bag's durability and weatherproofing.
When taking a closer look at the sides of the bag, you can see the Lowepro Trekker Lite BP 250 AW utilizes small, tight stitches. These stitches go directly into the bag's main compartment. So it is best to put on the AllWeather cover as soon as the clouds gather overhead.
All the areas that should be reinforced have multiple strands of stitching throughout, making them extra durable. You can find these holding the various handles on the bag's top, side, and front. The shoulder strap stitchings are fully tucked in, so I cannot inspect these.
The interior looks just as up to standard when considering the seams. All the seams that encase the zippers, and attach the back panel, have an extra polyester cover on them to make them much more secure.
Internal Padding
You will find little internal padding in the Lowepro Trekker Lite BP 250 AW. This is a big weakness for the Trekker Lite.
Photographers considering the Trekker Lite may find that the padding isn't enough. But the reduced level of padding pays off as a positive by minimizing the camera bag's weight and improving flexibility.
The front door and the sides have zero padding. And the back panel only has minimal padding. This alone won't keep your camera safe.
Luckily, the detachable camera compartment provides more padding where it's needed most. This extra padding is great, but it still doesn't protect the camera enough to give you total peace of mind.
This padding is enough to keep your camera from slight bumps. But it may not be completely protected from harder knocks. But you shouldn't knock into too many hard objects anyway, as the bag is quite compact.
Zippers and Fastenings
The Lowepro Trekker Lite BP 250 AW zippers are all high quality. They are YKK brand, and you will find a range of sizes that correspond to the pocket size that they access.
I am a huge fan of the main access point zipper. This is because it features a large zipper making it quick and easy to open or fasten.
The real highlight comes from the zipper tag. This large and open U-shaped tag provides extremely quick access. And it's orange, so it's easy to find.
The other external zippers feature a robust plastic zipper tag. The front zipper is covered with fabric to protect it from dirt and water.
The internal zippers are also high quality. The zipper that separates the two compartments is robust and easy to identify.
The other fastenings around the bag are the two lower clips on the bag. These help store external items. The clips are durable enough to hold a small-to-medium-sized tripod.
These clips can be fastened to multiple locations around the bag. This allows you to configure your tripod or external equipment in numerous ways!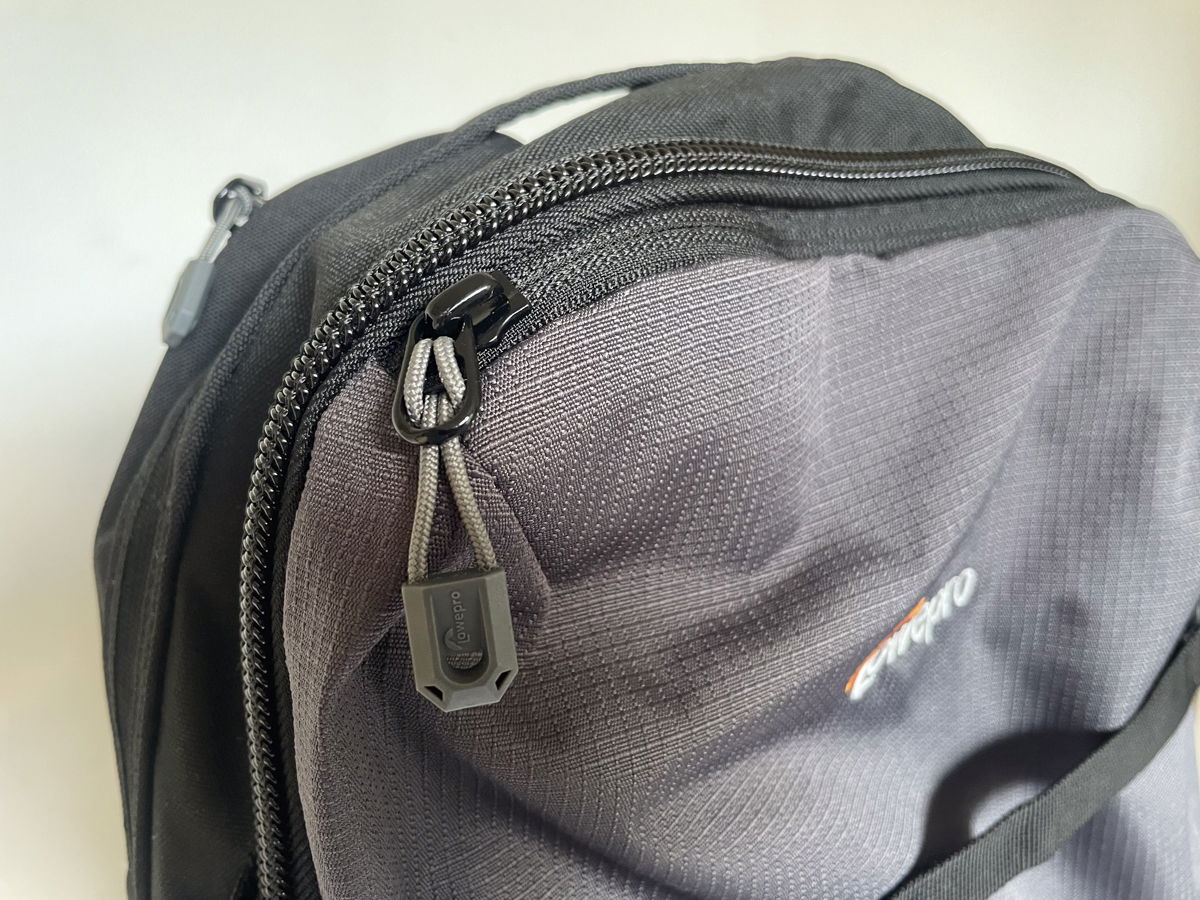 Functionality and Ease of Use
As a bag primarily made for treks or adventure vacations, the Trekker Lite provides a simple and efficient experience when accessing your equipment.
It does have a slightly unorthodox method of storing your camera equipment, but this may be ideal for some photographers. It's particularly good for those who want to keep their camera close but leave their backpack in a safe location.
Size and Weight
The size and weight may be the sole reason someone buys the Lowepro Trekker Lite. Weighing only 2.2lb (1kg), this bag is the lightest on our list.
You can also guarantee that the bag will never be too heavy as it doesn't have the largest capacity. You'll be able to pack the bag to the brim without worrying about the weight.
The Lowepro Trekker Lite also comes in an 18.5L version—the Lowepro Trekker Lite BP 150 AW. This is great if you want an even more compact bag, but I still recommend the 25.5L version (the 250). It's still extremely light and compact but gives you much more storage space.
The size and weight are huge advantages because they make a versatile travel bag. You can empty it and fit it in a larger suitcase or pack it up and use it as an all-in-one bag. There are many travel situations where this bag would be the go-to bag.
Capacity
The Lowepro Trekker Lite BP 250 AW doesn't give you tons of storage space. But it's not designed to carry that much equipment.
As mentioned, this 25.5L bag provides slightly more space than the more compact 18.5L version. This larger version will allow the most efficient of planners to fit enough equipment for a long weekend away.
When considering the lightweight nature of the bag, this is quite impressive. And thanks to its laptop compartment, even those planning to upload images or work while away can use this bag.
Organization and Customization
The Lowepro Trekker Lite BP 250 AW has a lot of great customization options. Its versatile interior allows you to use the bag in multiple ways for multiple situations.
The bag's interior is split into two sections—a place for everyday equipment and the camera compartment. This space is divided by a zipper that, when zipped, provides a bottom panel for your top compartment.
When this middle zipper is fastened, you can use the top compartment as a top-access backpack. You can also access just the camera compartment by using the zippers to only open the bottom half of the bag. This allows you to keep your personal contents safe when reaching for your camera equipment when both sections are full.
The interior also provides a big mesh pocket that spans the whole top section. This mesh pocket is handy for storing smaller items.
A wide mesh pocket like this is great because it lets you see what's in the pocket without opening it. But it could be easily damaged if you have items that can get caught or tear the material.
The removable camera compartment is the main highlight when it comes to customization. The camera compartment is a removable GearUp bag with a shoulder sling inside. It allows you to have easy access to your camera.
When the GearUp bag is outside the Trekker bag, you can undo the middle zip and use the bag's full capacity. Or you can store items separately inside the bottom half.
There is little space for customization inside the GearUp bag. But you still get a larger and a smaller divider.
The GearUp bag fits back into the bag by sliding the opening under a strap. This strap has a velcro section to keep the bag in place.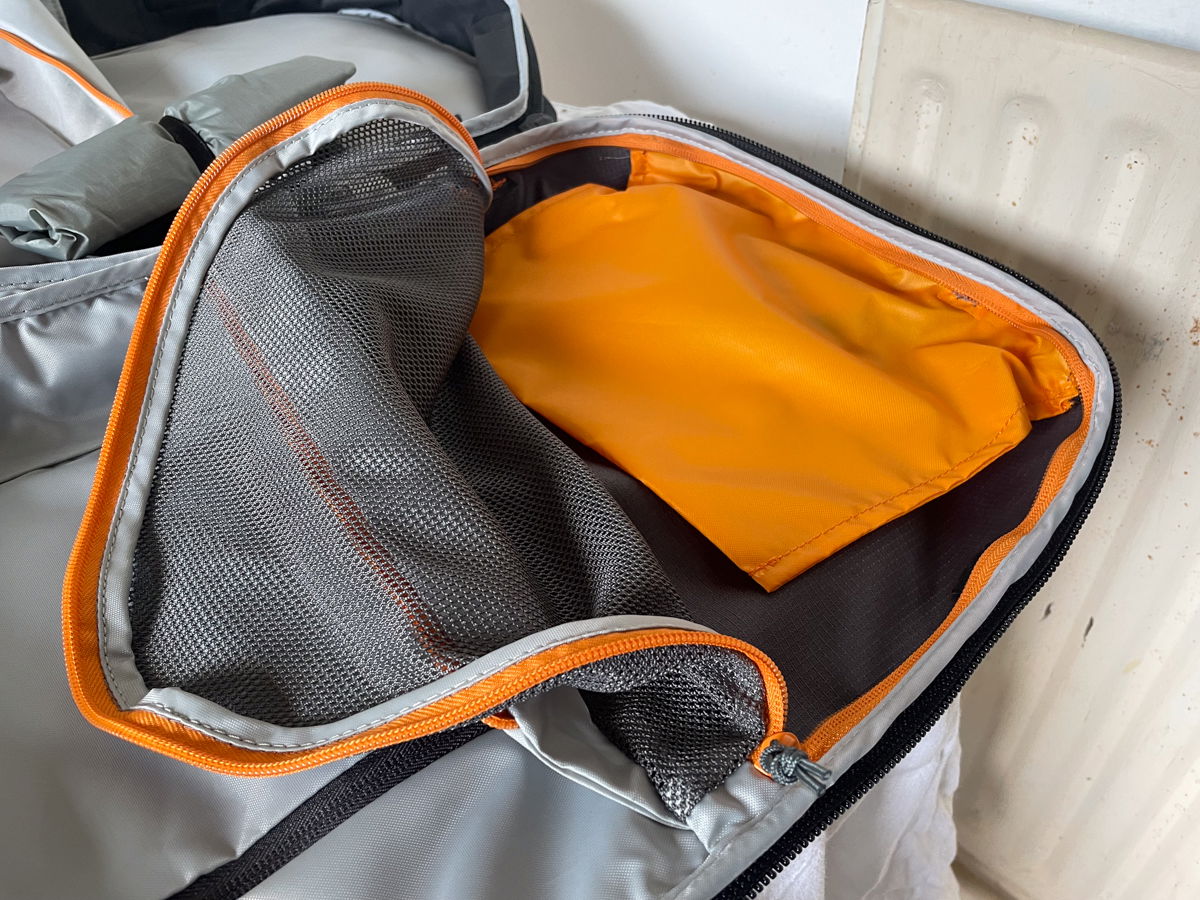 Access Points
One of my favorite features is that the Lowepro Trekker Lite BP 250 AW access zipper spans over three-quarters of the bag. A zipper like this allows you to access the bag in multiple ways.
You can unzip the zippers like a normal backpack if you want access to the top compartment. This allows you top-down access to the bag, perfect for keeping your camera equipment discrete.
The full zipper also allows you to access your content from the side. Again, you do this by using the zippers at the right angle. You'll want to be sure you don't open them too wide when accessing the bag on your shoulder. If you do, your contents could fall out.
You can also lie your bag down and fully unzip the bag to reveal all your contents. This is extremely helpful for packing or for finding certain bits of equipment.
As I stated before, you can unzip the bag's lower section to access your photography gear.
This wide zipper span allows you to use the bag in multiple ways. And each way has its benefits for certain situations. I love this simple design feature from Lowepro as it lets you use the bag in the best way for you.
When considering the GearUp compartment below, Lowepro lets you access your gear in two different ways. You can unzip the lid or unzip the whole side to show your equipment.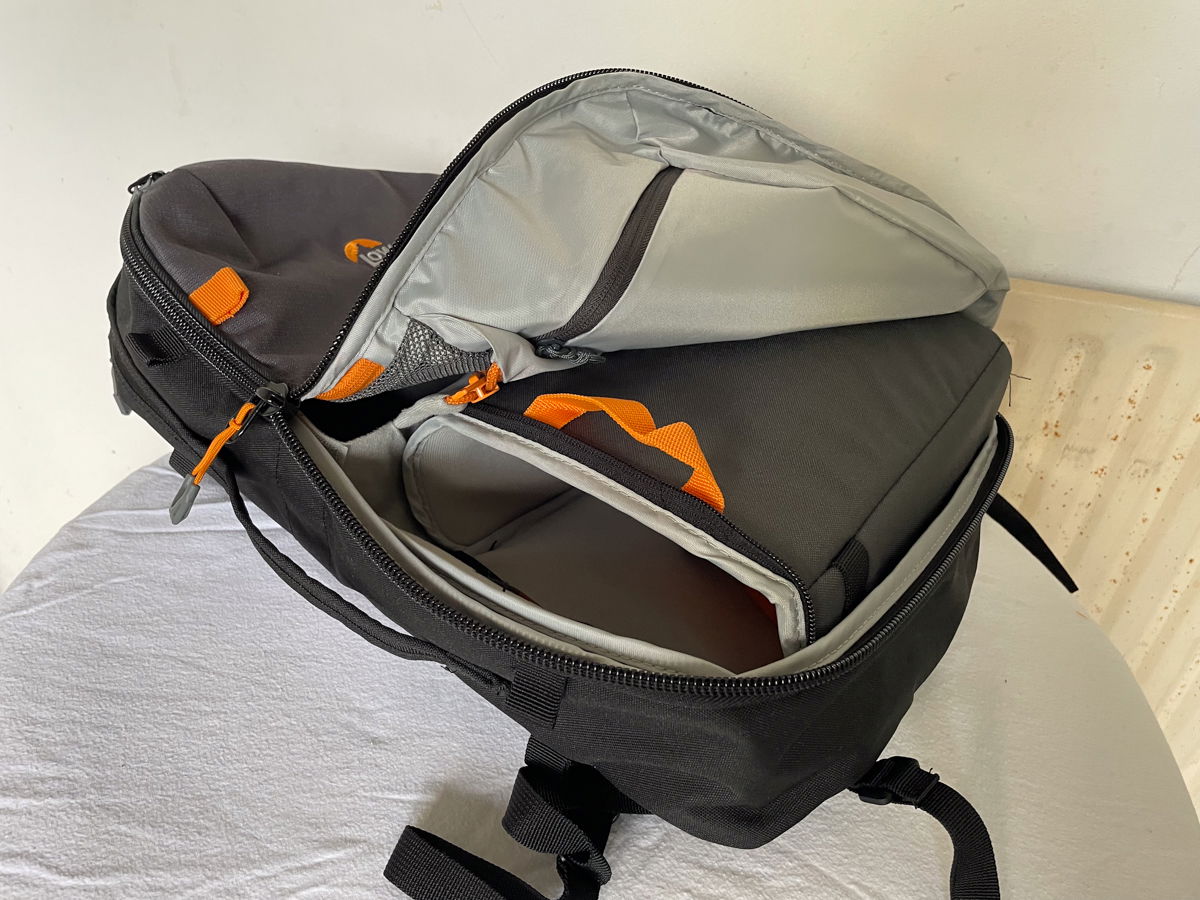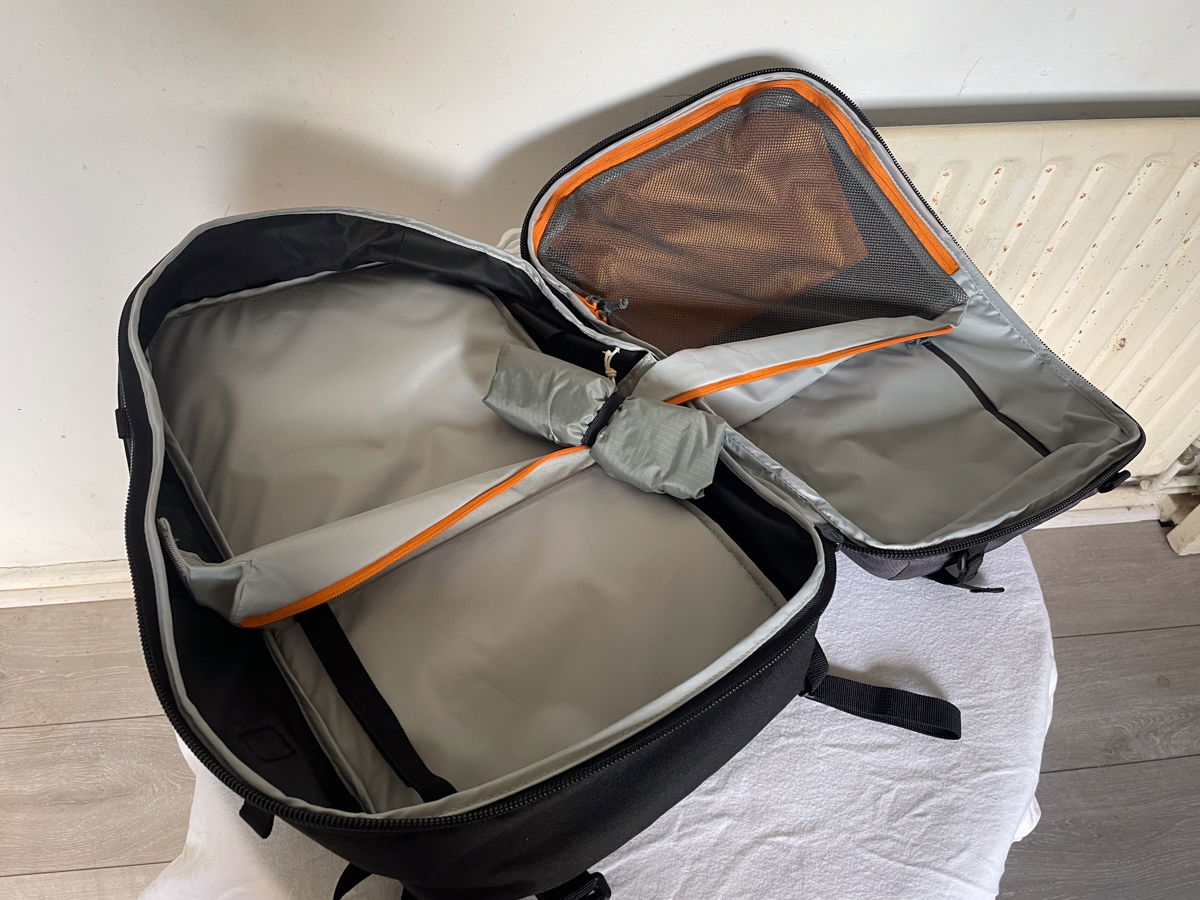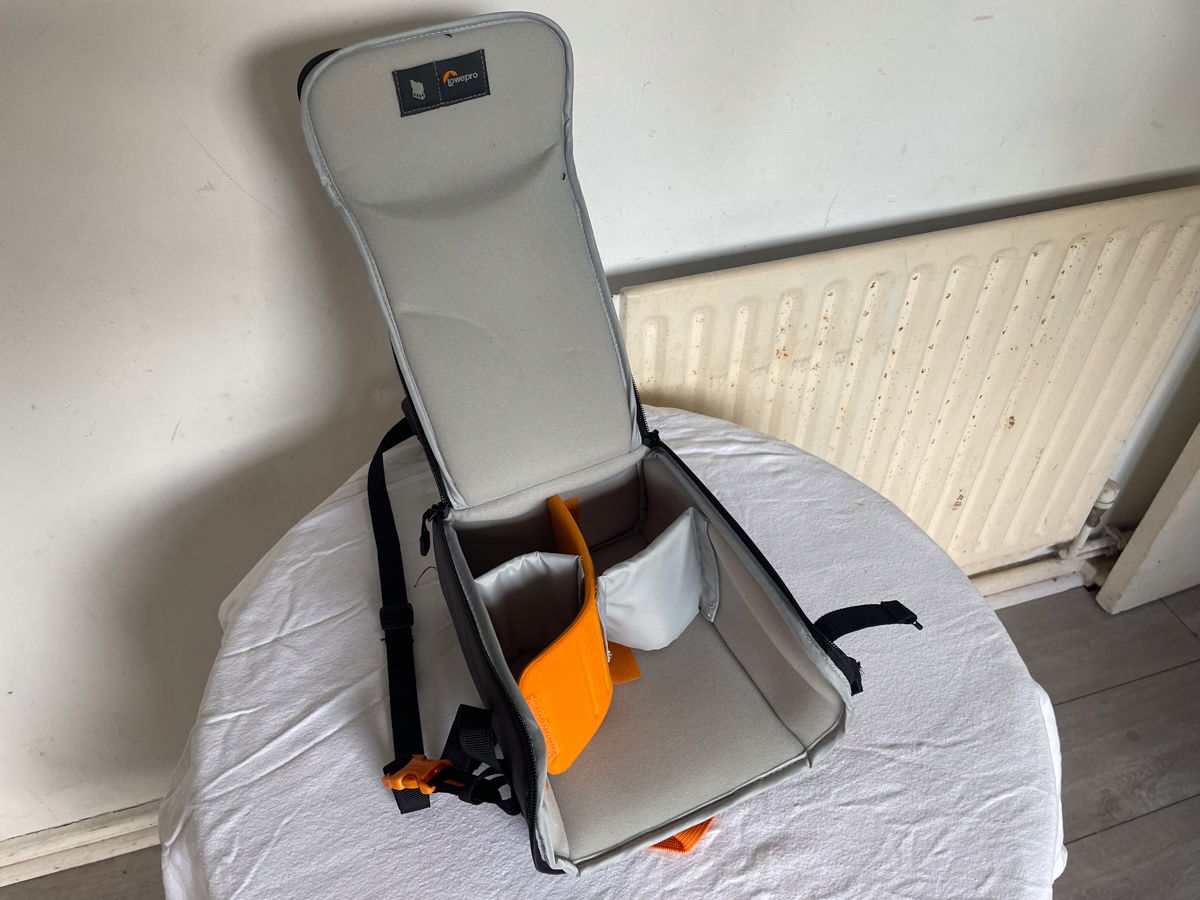 Security
The Lowepro Trekker Lite BP 250 AW offers very little in terms of security.
The major worry is that someone could easily access the main zipper as it stands out and unzips quickly. Lowepro combats this by positioning the straps in a way that allows you to pass the straps through the wide zipper tags.
This won't stop people from getting into your bag, but you will feel it if someone attempts to undo it.
Additional Features
The Lowepro Trekker Lite BP 250 AW's main feature is the removable camera compartment you can use as a sling bag.
This is ideal for those on hikes or guided tours where you may want to take your camera out every few minutes but also want added security.
You will find a laptop compartment at the back of the bag that can carry up to a 15-inch laptop. Inside, there are two extra sleeves that are ideal for storing your mobile phone or other accessories.
The backpack also features a slim but deep water bottle holder. This may not hold a large water bottle, but its tight elastic will ensure nothing falls out.
The customizable straps are another great feature on the Lowepro Trekker Lite BP 250 AW. These let you configure the bag in a few different styles. This helps you carry more equipment or make your bag more secure.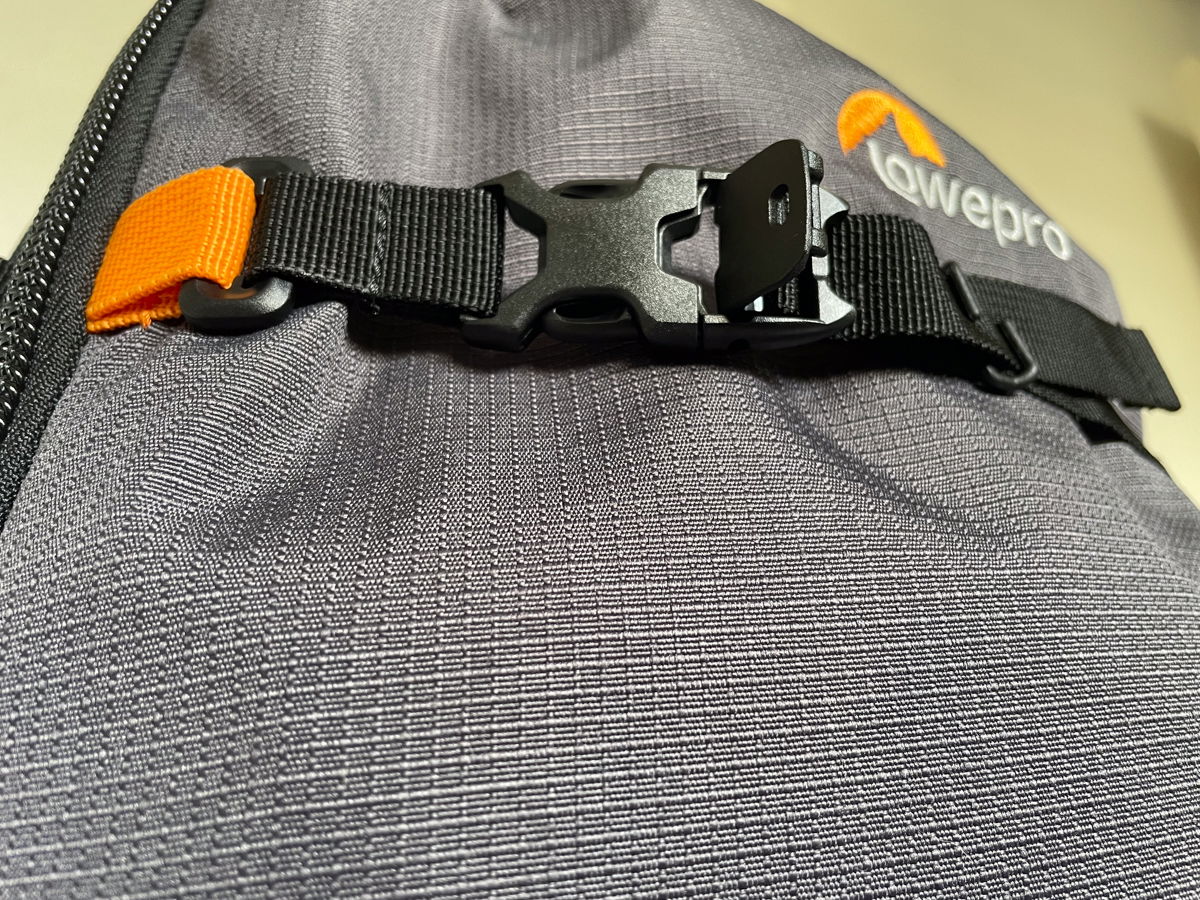 Compatibility and Versatility
Regarding camera gear, the Lowepro Trekker Lite BP 250 AW isn't compatible with a wide range of gear configurations. This means the Trekker Lite is only designed for specific types of equipment.
For photographers who have a kit that fits in the camera compartment, you get a versatile bag that you can use in a number of ways for several shooting styles. But for those with larger gear setups, you may want to look elsewhere.
Compatibility With Cameras and Lenses
The removable GearUp bag only provides you with 4.5L of volume. Lowepro designed this bag specifically for compact camera users. They say it can fit a compact mirrorless camera with an attached 24-70mm lens and one other lens.
Lowepro suggests it for cameras like a Sony a7, Olympus OM-D E-M10, or the Canon EOS M5.
This may not seem like a lot of gear, but there are plenty of photographers who carry only this much equipment. Especially if you are going on a long hike or a vacation that doesn't require a lot of lenses.
Inside the camera compartment, you have a main divider that conforms to the camera with a lens attached. Underneath this section, you'll find enough space for another lens. This lens must be compact, though. It won't fit a 70-200mm lens.
Carrying Versatility
The Lowepro Trekker Lite BP 250 AW gives you lots of versatility for how you carry your equipment or configure the bag.
The traditional backpack method is comfortable and keeps all your gear compact. The downside to this configuration is the access to your camera equipment. It can be tricky to unzip the bottom of your bag and then reach in and grab your camera.
Lowepro has a feature that makes removing this compartment easier. You can turn the inside compartment into a cool and convenient camera sling. This makes it a lot easier to access your camera gear.
This carrying method also allows you to leave your backpack at home while still giving you a sling bag to take your gear out with you. This reduces the amount of weight you have to carry.
Sustainability
The Lowepro Trekker Lite BP 250 AW is a huge step for Lowepro as it is one of their bags that is part of their new Green Line. This initiative aims to heavily reduce their consumption by using recycled materials and sustainable packaging.
The Lowepro Trekker Lite BP 250 AW is made of 80% recycled materials and solution-dyed fabrics. This is split into 60% recycled materials and 20% solution-dyed fabrics.
Lowepro aims to feature all its camera bags in this Green Line by 2024. A conscious step toward sustainability could be attractive for environmental photographers who want to consider all aspects of their photography kit.
Price and Value
The Lowepro Trekker Lite BP 250 AW doesn't provide you with the best size-to-price ratio on this list. But it's a specialty bag that may be worth the price for certain photographers.
Its specialty comes from its lightweight and simple design, which allows for multiple customization options.
You also are technically getting two bags—the main backpack and the GearUp sling bag. This alone makes it almost worth the price tag.
This camera bag is only worth it if you have a small amount of compact camera equipment and need the lightest bag possible. This is especially true for photographers who go on hikes or adventure holidays. If you plan on something other than these excursions, check our alternatives to see what other camera bags might be a better choice for you.
Warranty
Lowepro provides all its customers with a lifetime warranty. This goes a long way when considering a camera bag that costs a considerable amount of money.
Simply register your product upon purchase to ensure you qualify for the warranty in the future. You will also have to re-register your bag after ten years.
After studying their warranty, they can be particular about the damages and faults that occur to your bag. But upon further research, they are more lenient than what their warranty states. So it may take some communication to get your bag back to operating condition.
Alternatives to the Lowepro Trekker Lite BP 250 AW
The Tenba Fulton V2 is another compact bag that would be good for your travels. A big advantage of this bag is that it uses high-quality materials for unfavorable conditions. It also has an extendable space for personal items thanks to its roll-top design.
The Tenba Fulton V2 is ideal for photographers who want a casual bag that doesn't stand out as a typical camera bag. This is advantageous for travels as it may be more challenging to spot environments where you must be more careful with your equipment.
The main disadvantage of the Tenba Fulton V2 is that it doesn't have the option to access your equipment quickly like the Lowepro Trekker Lite. You will have to take your bag off your back to access your camera gear.
The Tenba Fulton V2 is a lightweight bag that is comfortable and ideal for traveling. Another big positive is that it is available for a great price.
The Wandrd Prvke bag is slightly more refined than the Tenba Fulton V2. This is a great option if money is not an issue and you want to buy the best bag possible. The Wandrd Prvke comes in at the top of our list of camera bags.
The Wandrd Prvke is ideal as a travel bag as you can customize the insides to your ideal specifications. This comes from the different size insert you will have to purchase. This allows you to shift the size of your camera-to-personal-equipment ratio.
The disadvantage is that it is quite expensive. You will also have to buy all the added inserts and the extra hip belt if you want these items.
The Wandrd Prvke is heavier than other bags, but it will ensure you have all the necessary items for travel. I also really like the quick access flap it provides.
Use our discount code EXPERTPHOTOGRAPHY at checkout for 15% off your first order!
The Thule Covert is a great alternate option if you want a backpack that provides extra space for travel or hiking. It is a versatile bag with multiple ways to store your camera gear.
The Thule Covert and the Lowepro Trekker Lite's most similar feature is that they both provide removable inserts. The advantage of the Thule Covert is that this removable insert is bigger than the one Lowepro provides.
The disadvantage of the Thule Covert is that it is bigger, bulkier, and heavier. So it may not be an ideal bag if you want to keep your weight to a minimum.
Final Verdict of the Lowepro Trekker Lite BP 250 AW
Measurement

Measurement

Score

Design and Aesthetics

Design and Aesthetics

Build Quality and Durability

Build Quality and Durability

Functionality and Ease of Use

Functionality and Ease of Use

Weather Resistance

Weather Resistance

Compatibility and Versatility

Compatibility and Versatility

Value for Money

Value for Money

Total Score

Total Score
The Lowepro Trekker Lite BP 250 AW scored 74.7 points out of a possible 100. It placed 11th out of 18 of the top bags we looked at. The main reason is that it only allows you to store certain camera gear. Apart from this, its lightweight nature and simple layout make it a great option for those with minimal camera equipment.
The Lowepro Trekker Lite BP 250 AW is a camera bag that caters to a specific photographer. And it would take a lot of work for this photographer to find a camera bag that is more fitting than the Trekker Lite.
This is thanks to its hybrid ability to be the ideal travel companion while also being able to hold camera equipment.
Its travel qualities come from the lightweight design and the materials used. Lowepro designers have packed this compact bag with smart features to give you quick access and simple storage options.
These design features do come with downsides, though. There is less padding than we hoped. This means it may not best the best option if you want to keep your expensive gear as safe as possible.
A bag like this is ideal for photographers looking for the lightest bag possible. This would suit any photographer looking to hike up a mountain or out on a long day shooting while carrying minimal equipment.
The Lowepro Trekker Lite BP 250 AW is a specialist bag and would only function well for some photographic genres. The name is a huge giveaway, so anyone looking into this bag should know what to expect. And if you are looking for a trekking buddy, this is the camera bag for you.