There's no doubt that the Peak Design Everyday Backpack V2 is a popular and well-regarded way to carry and protect your gear. It's one of those products that seems to get everything right. And make no mistake, having a good camera bag is more than just keeping your stuff protected. Being able to access it all quickly and efficiently improves your workflow.
So, to find out what all the fuss is about, and to see if the Peak Design Everyday Backpack V2 could be the bag for you, read our review!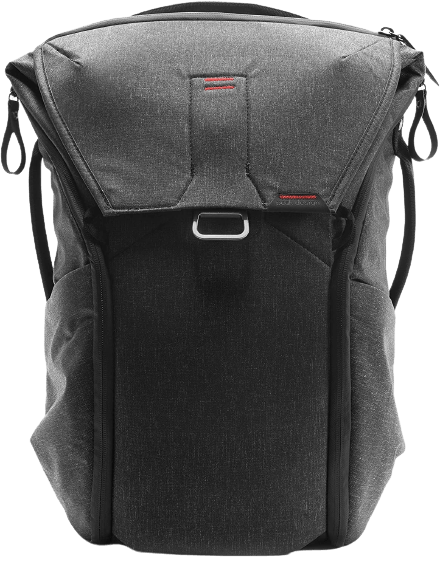 Peak Design Everyday 20L Backpack in Gray
Looking for a versatile and stylish backpack to protect and expand your gear? The Peak Design Everyday Backpack is the perfect solution. With customizable compartments and expandable external storage, it's perfect for photographers and active individuals.
[ExpertPhotography is supported by readers. Product links on ExpertPhotography are referral links. If you use one of these and buy something, we make a little bit of money. Need more info? See how it all works here.]
What you Should Know About the Peak Design Everyday Backpack V2
The Peak Design Everyday Backpack V2 is an award-winning camera bag that debuted in late 2019. It takes all the best parts of the famous Original Everyday Backpack and adds a handful of key new features based on customer feedback.
The result is an extraordinarily comfortable backpack that holds more gear, is easier to use, and looks great everywhere. Whether you are in an office in New York or exploring the peaks of the Himalayas, you will never look out of place. And while there's so much to love about this backpack, its most significant strength is its versatility.
First off, it comes in two distinct sizes. Professionals prefer the 30-liter pack, but there is also a sleeker, smaller version with 20 liters of carrying capacity.
There are other features we will talk about in detail. These are the top flap with MagLatch technology, a customizable main compartment, and expandable external storage. For more on where this backpack shines and where it needs improvement, check out the list of pros and cons below.
Pros:
Stylish and innovative design that is perfect for the mountains, the city, and day-to-day life
The main compartment is versatile, spacious, and 100% customizable
Constructed from high-quality, durable, and weatherproof materials
Expandable side pockets for carrying a tripod or water bottle
Meets all domestic and international carry-on requirements
Internal pockets for storing delicate and small items
Many sizes and color options are available
Instant access via the magnetic top latch
Large tablet/laptop compartment
Three separate access points
Insanely comfortable
Cons:
Who is the Peak Design Everyday Backpack V2 For?
The truth is that there's a place for this Peak Design Camera bag in everyone's camera kit! And while it's primarily designed as a camera backpack, even people who don't own cameras can't stop raving about it. That's because of its removable FlexFold dividers. They allow you to transform it into a backpack for everyday use quickly.
Travel and street photographers see outstanding results from the Peak Design Everyday Backpack V2. Whether they are spending a day exploring the city or a week abroad, it has more than enough space for all their photography essentials and non-camera items.
There are two situations where this bag is not ideal. They are multi-day hiking adventures and extended trips where you live out of a backpack. However, that has everything to do with the size of the pack, not how comfortable it is. For those scenarios, my top recommendations are the Lowepro PhotoSport Pro 70L AW III and the Osprey Aether Plus 60.
Peak Design Everyday Backpack V2 Key Features
Let's dive in and discover what makes this unique camera backpack stand out from the competition!
Build Quality & Durability
The first thing that catches the eye when you get your hands on the Peak Design Everyday Backpack V2 is how well made it is. Every bag is made from durable 100% recycled materials and has a premium look and feel. Throw in the fact that the bags are solution-dyed to save water and energy, and the outcome is a rugged, environmentally friendly backpack.
The bag's primary material is a long-lasting, tear-proof 400D nylon. The nylon is double poly-coated with a powerful DWR (Durable Water Repellent). And the same product is even injected into the nylon for further protection. The coated nylon helps make the outer shell weatherproof and protects the bag's contents from rain, snow, and sand.
All the metal components, including Peak Design's patented waterproof UltraZips, are built from sturdy, anodized aluminum. Anodized aluminum is exceptionally durable and is resistant to rust and corrosion. You never have to worry about the zippers rusting shut or snapping.
Another standout feature is the 900D nylon liner at the bottom of the bag. 900D nylon is one of the most impervious materials known to man. And the liner makes the bag's bottom fully waterproof. This means even if you are in rain or snow, you can set the backpack down and be confident that your camera gear will remain safe.
The build quality of the Everyday Backpack V2 is off the charts. It's a rugged bag designed to last a lifetime no matter where the road may take you. Technical problems are rare, but they can happen. Luckily, every Peak Design product comes with a lifetime guarantee.
Design
The Peak Design Everyday Backpack V2 has a modern and minimalist design that is both beautiful and practical. User-generated feedback played a huge role in the bag's creation. And the company's innovative designers put endless hours into ensuring every feature serves a specific purpose.
The 20-liter version measures 46 x 33 x 21 cm and weighs an astonishingly light 2.01 kg. Alternatively, the 30-liter backpack checks in at 48.5 x 33 x 27 cm and weighs 2.11 kg. Both bags meet the carry-on requirements of all major airlines. And both have a luggage pass-through on the rear panel. The luggage pass-through allows you to attach it to the handle of a suitcase when traveling.
Another nice feature for travel is the grab handle on the side of the bag. With the shoulder straps magnetically attached to the back panel, it's a convenient way to lug around your camera equipment. Now, let's dive deeper into two of my favorite design attributes!
MagLatch Top Flap
One of the defining features of Peak Design's Everyday Backpack V2 is the MagLatch lid. It's a system comprised of a magnetic hook on the top flap and four metal attachment points on the front of the bag. To open the top flap, pull quickly, and everything is right there. It provides literally "instant access," and I have never seen a bag that rivals it in that regard.
You can latch the hook more firmly onto one of the attachment points for extra security. This is smart when traveling. Or when you don't need to get in and out of the bag often. Simply pull the lid down until you feel it clasp onto one of the bars to ensure it locks correctly. Depending on which point you are attached to, you can expand or compress the bag's volume by up to 8 liters.
The MagLatch technology is a unique system that certainly takes time to get comfortable with. I had my doubts at first, but after spending some time with it, I saw how secure and effective it is. If you don't like it, the Everyday Backpack Zip is a great alternative. It shares the same internal layout and replaces the lid with a zipper.
Multiple Easy Access Points
The Peak Design Everyday V2 has three unique access points to the central compartment. One on the top and one on both side panels. The ability to enter the bag from all angles is a massive plus. And it makes getting in and out of the pack a piece of cake. Also, it provides you with full access to your camera kit at all times.
I love the side access points. Both side flaps open entirely and feature two zippers so you can unzip them from either direction. And the side access allows you to enter the main compartment without completely removing the bag. This is a huge time saver for on-the-go shooters and videographers.
Storage & Organization
Now we'll talk about the Peak Design Everyday Backpack's different compartments.
Main Compartment and Origami Dividers
Most of the bag's carrying capacity is in the spacious main compartment. It's 100% customizable, allowing you to maximize space and create the perfect setup for your gear. You use the three FlexFold dividers to customize it. They attach directly to the inside of the main compartment using Velcro.
The FlexFold dividers feature built-in lines that allow them to be folded and adjusted to create shelves and pockets. You can store cameras, lenses, and even drones like the DJI Mavic Pro in these spaces. The dividers are the perfect balance between firmness and protectivity. And the strong Velcro keeps them in place at all times.
You can remove the dividers when you don't need to transport your camera or other photography equipment. Removing the panels creates a giant top pocket. It makes the backpack great for travel, school, hiking, and more!
Laptop Compartment
Located on the rear panel of the backpack is a padded laptop sleeve. It can fit up to a 15" laptop. There is also a separate tablet pocket. Both a computer and a tablet can fit inside simultaneously. But I found it more comfortable when carrying one or the other. If you own two thin laptops, like the MacBook Air, you might be able to squeeze them both in.
This bag is an excellent choice for professional photographers and filmmakers who never go anywhere without a computer or tablet.
Internal Pockets
On top of the two primary compartments, the bag has three small pockets. You will find the first one at the top of the laptop sleeve. It has a depth of five inches and runs the entire length of the backpack. It's ideal for storing small items such as keys, wallets, phones, etc. An elastic key leash also comes with the bag.
The two other secret pockets are on the side flaps. They have waterproof zippers and are fantastic for storing tiny, water-sensitive gear. Things like memory cards, spare batteries, charging cables, and external SD card readers.
External Storage
This bag still lacks external zipper pockets. But it has made some massive improvements compared to the Original Everyday Backpack. First, the mesh side pockets are more prominent and can hold larger gear. The side pockets on the original version were too small for robust water bottles and tripods. But with the V2, that is no longer the case.
It boasts new Cord Hook external carrying straps. Four durable straps (2 x 27 cm and 2 x 49 cm) accompany the bag, allowing you to secure additional accessories outside the pack. There are hidden magnetic pockets to tuck the straps away when not in use. You can also use them for the sternum strap, waist belt, or a rain cover.
Comfort
One often-overlooked factor when shopping for camera backpacks is its comfort level. But that's a huge mistake. No matter how practical a bag is, it's worthless if it hurts when you wear it. Fortunately, the Peak Design Everyday Backpack V2 is remarkably comfortable.
Shoulder Straps
The shape and the foam padding in the shoulder straps have improved with the Peak Design Everyday Backpack V2. The new straps are designed to fit the body's shape better. And the swivel points connecting the straps to the bag allow you to swing the bag to your front easily.
Additionally, the new foam inside the straps is comfortable and does a better job of adjusting to the contours of the shoulders. While it might not make a difference when carrying less gear, the new straps are a lifesaver if you have a heavy load.
The shoulder straps also feature more magnets. The magnets attach to the backpack's back panel when you aren't wearing it to help minimize its volume. This is particularly handy when traveling by plane and you need to meet specific size requirements.
Sternum Strap
An adjustable sternum strap further enhances the comfort of the Peak Design Everyday Backpack V2. It can attach to three points on the shoulder straps to best match your height. Or you can remove it entirely. It releases quickly and uses strong aluminum components.
The purpose of the sternum strap is to help pull the bag forward and remove weight from your back. If you are walking long distances, carrying a lot of weight, or wearing the backpack for extended periods, I highly recommend using it.
Waist Strap
The Peak Design Everyday Hip Belt is an optional accessory sold separately. With that said, I couldn't imagine living without it. One of my crucial purchasing factors for any bag is always if it has a hip belt. They help spread the weight of your gear evenly. And they also keep things from bouncing and moving around.
The Peak Design Everyday Backpack belt is generously padded for extra comfort. And it's adjustable to fit waists of all shapes and sizes. It's lightweight, super easy to install, and works with other Peak Design backpacks.
Another perk of this strap is that you can wear it independently as a utility belt. When worn like this, you can attach one or two Peak Design Capture Clips for carrying cameras or lenses. It's fantastic for wedding, event, and portrait photographers.
Peak Design Everyday Backpack V2 Alternatives
The Peak Design Everyday Backpack V2 is certainly not the only photography backpack out there. Here are some other popular alternatives:
Our Verdict
Overall, I could not be more impressed after getting my hands on the Peak Design Everyday Backpack V2! It's a genuinely game-changing camera bag that exceeded every expectation I had.
Its minimalist design manages to be both trendy and functional. And it was shocking how fast and easy it was to get in and out of the Everyday Backpack. Initially, I was skeptical about how sturdy the MagLatch system would be. But after playing around with it, all of my concerns went out the window.
Furthermore, I was surprised just how much photography gear it holds. The 30L bag easily fits a DSLR or mirrorless camera and four or five additional small lenses. In contrast, the 20L backpack can carry a camera and three or four lenses. You can also attach large items like a Peak Design Travel Tripod or water bottle to the outside. My only issue is a lack of external pockets.
Finally, I want to reinforce how well this bag works for travel and street photographers. It meets all carrying requirements, and the comfortable shoulder straps allow you to wear it all day and walk around comfortably. Portrait photographers and videographers would also benefit from owning this bag.
Overall Scores
| | |
| --- | --- |
| Measurement | Score |
| Main Features | |
| Extra Features | |
| Construction and Durability | |
| Handling and Ergonomics | |
| Value for Money | |
| Total Score | |
Camera Backpack Buying Guide
What to Consider Before Buying a Peak Design Everyday Backpack V2
How much equipment do you typically carry?
How much space do you need? 20 or 30 liters?
Do you want extra room for non-camera items?
Are the shoulder straps and sternum strap comfortable? (They are.)
What type of photography do you shoot?
Do you need a laptop/tablet pocket?
What is your budget?
Frequently Asked Questions
Is Peak Design a Good Brand?
Absolutely! Peak Design might be a relatively new kid on the block, but its impressive product lineup speaks for itself. Their camera bags are their most well-known products, but they also sell tons of other great photography gear. My favorite product of theirs, and something that pairs perfectly with the Everyday Backpack, is the Peak Design Capture Clip. I own three of them!
Is the Peak Design bag worth it?
Without a doubt! While its price is on the high end, its performance, durability, and lifetime warranty make it worth every penny. Additionally, regardless of the type of photos or videos you shoot, I'm confident the Peak Design Everyday Backpack V2 will help take your content to the next level.
Is the Peak Design Everyday Backpack waterproof?
Technically it's not 100% waterproof, but it's as close as possible. The Backpack's 400D nylon has two layers of DWR coating and is nearly impenetrable. The YKK zippers are waterproof, and the bottom of the bag boasts a 900D nylon liner for extra protection. However, I always like to pack a rain cover for complete peace of mind. It's a must-have if traveling or spending time outdoors.
Does the Everyday Backpack V2 come in different sizes and colors?
Yes. You can buy a Peak Design Everyday Backpack V2 20L or a Peak Design Everyday Backpack 30L V2. Both are spacious and can hold much more than they seem, thanks to their customizable FlexFold dividers. On top of that, you can choose from four fashionable colors—black, charcoal, midnight, or ash.
How much does the Peak Design Everyday Backpack V2 cost?
Both the 20L and 30L backpacks check in at just under $300. If that's out of your budget, don't worry. Some cheaper Peak Design bags are the Travel Backpack 30L, the Everyday Backpack Zip, and the Everyday TotePack V2. Depending on your needs, smaller and larger Peak Design bags are also available on their website.
Is there a Peak Design Everyday Backpack V3?
As of now, there is no public news regarding a third version. But rest assured, the innovative minds at Peak Design are working diligently on one behind closed doors. And when they do debut it, I'm optimistic it will be their finest work yet.
The Peak Design Everyday V2 is perfect for carrying your kit all over the city. Check out our Colorful Cityscapes course to look at your city through new eyes!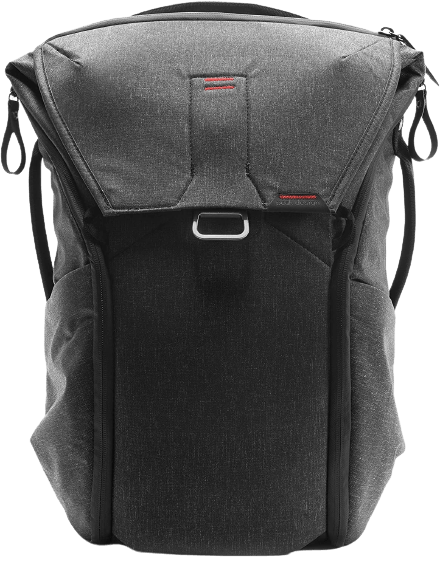 Peak Design Everyday 20L Backpack in Gray
Looking for a versatile and stylish backpack to protect and expand your gear? The Peak Design Everyday Backpack is the perfect solution. With customizable compartments and expandable external storage, it's perfect for photographers and active individuals.