Picnic images give you the chance to have fun and be creative. They can also be used for many different photo shoots.
Read on to see our 11 secrets for a great picnic photoshoot!
California Picnic Woven Picnic basket
Looking for inspiration for your next picnic photoshoot? Our beautiful, eco-friendly woven picnic basket is the perfect addition to any outdoor event, protecting your food and adding a touch of elegance to your photos.
[ExpertPhotography is supported by readers. Product links on ExpertPhotography are referral links. If you use one of these and buy something, we make a little bit of money. Need more info? See how it all works here.]
11. Planning a Picnic Photoshoot: Choosing the Purpose
A picnic photoshoot is suitable for many different occasions.
It can be part of an engagement shoot or family photo session. Your picnic photography might be used for a fashion editorial. Or in a food and lifestyle magazine. It's important to be clear about the purpose of your picnic photos. It will influence your decision about the photoshoot.
Know the purpose, and it will be easy to proceed with the rest.
10. Find the Perfect Picnic Spot
Location is everything. You can choose to take picnic photos in the forest, on a meadow but even on a beach.
When choosing a location, make sure you have the right permits to take photos on the spot. Picnic spots are usually on private lands. But you shouldn't take any risks.
Look for scenic picnic spots. A forest, lakeside, a beach or even a park can serve as an ideal picnic spot.
But you can also organize a picnic photoshoot in someone's garden. You can create the same atmosphere, and your clients don't even need to leave their home.
9. Pay Attention to the Background
When you are choosing the location, pay extra attention to the background. It might be the perfect location, but if there is a weird sign or some trash in the background, the photos will be ruined.
You can always try to frame your photos to leave the disturbing elements out. But it is easier to find a background that enhances your picnic photos.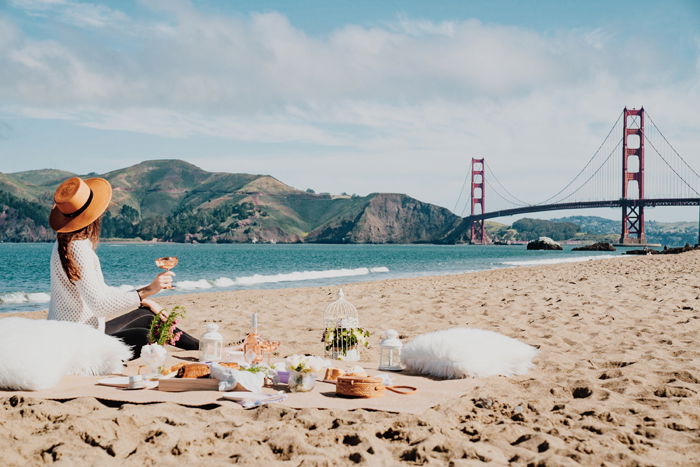 8. Shoot During the Golden Hour for Soft Lighting
A picnic photo takes place outdoors, and you can work very well with natural light. But you need to choose the best time for your picnic photoshoot.
You want to avoid bright sunlight because it can create harsh shadows. And your subjects will be squinting in the pictures.
The best time to shoot outdoors is during the golden hour. This is the period around sunrise and sunset. The light gets diffused and soft, which is ideal for a photoshoot.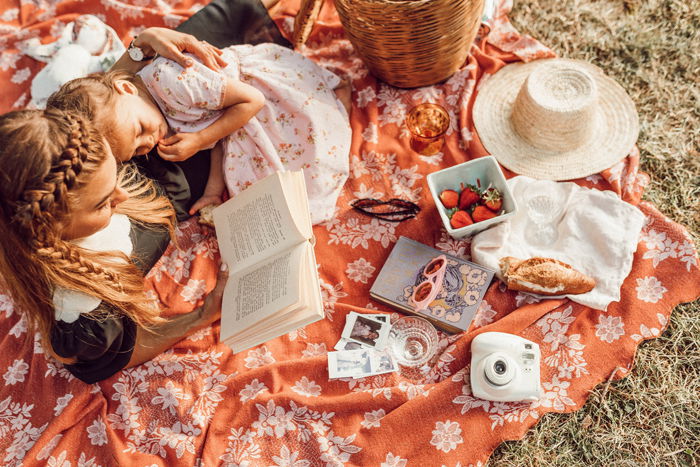 7. Choose the Picnic Outfits for Your Models
Whether you are capturing a family picnic or an engagement shoot, it is your job to help your models to choose their outfits.
In a family photo, you can ask the members to dress up in matching clothing. This is a cute way to show that they belong together.
It's important that your models feel comfortable in their outfits. Make sure that their clothing fits the surrounding and weather conditions. You don't want your models to be freezing during a long photo session.
6. Add Picnic Props to Enhance Your Images
Props are important for outstanding picnic photography. Be creative and use all kinds of decoration and elements that enhance your pictures.
A picnic basket with snacks and drinks is essential for picnic pictures. You can also add a picnic blanket, lanterns and colorful paper decorations.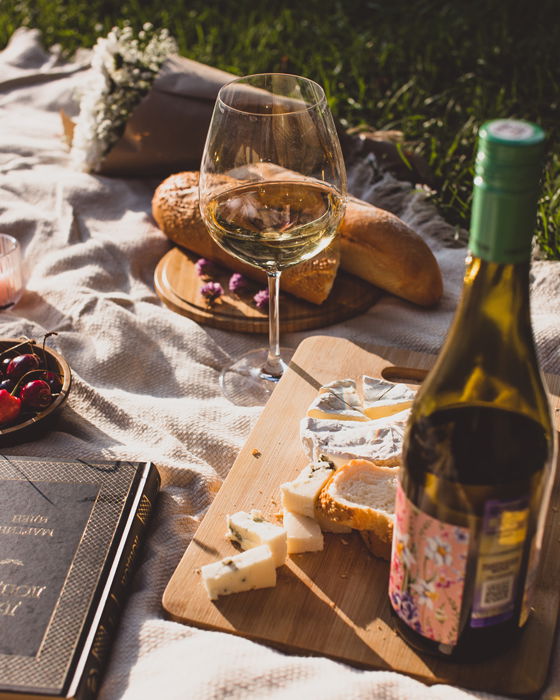 5. Use Picnic Photography for a Family Photo Shoot
A family picnic picture looks amazing in the family photo album. Ask the family members to bring a few board games or cards to play with. If the children have favourite toys, you can also include them in the family picnic pictures.
Before taking photos, let the family members get comfortable with the camera. Ask them to play, eat and enjoy themselves. Start taking pictures when they are not conscious about your presence anymore.
When everyone managed to loosen up a bit, you can direct them into poses. If they have any specific setup in mind, make sure you include it.

4. Turn an Engagement Session into a Picnic
Photographing an engagement session is another great opportunity for a picnic setup. It's easy to create a romantic atmosphere and keep it natural.
You could even tell the story of the proposals through your photography. Start with the couple having some picnic food before they pop the question. You can finish the picnic photoshoot with the couple clinking with glasses of champagne.
3. Take Close-ups of the Details
Besides taking pictures of the people at the picnic, make sure that you photograph the details as well.
Take close-up photos of the food, decoration and the surroundings. It will be easier to tell a story if you include visuals of minor details as well.
2. Capture Group Picnic Photos
Whether you are photographing a big group or a couple, ensure to capture a few group photos as well. Include everyone in the pictures and try different poses.
Group photos are great to show the connection, intimacy and bonding between the group members.
1. Have Fun and Be Spontaneous
As a photographer, you have to plan, organize and direct during a photoshoot. But it's also important to have fun and be spontaneous.
The best pictures are often results of unplanned scenarios. Let go of an exact plan and go with the flow during the picnic session.
Conclusion
Shooting picnic photography gives you creative freedom, and it is a good chance to try out new compositions. Grab a picnic basket, a few props and take advantage of the hot summer days!
For more portrait photography tips, read our eBook – Profit from Portraits!