Looking to buy a Sony lens but don't know where to start? This guide will explain all the abbreviations and what they mean, as well as the different types of Sony lenses available. We'll also take a look at some of the best Sony lenses for different photography genres. Let's get started with Sony Lenses explained.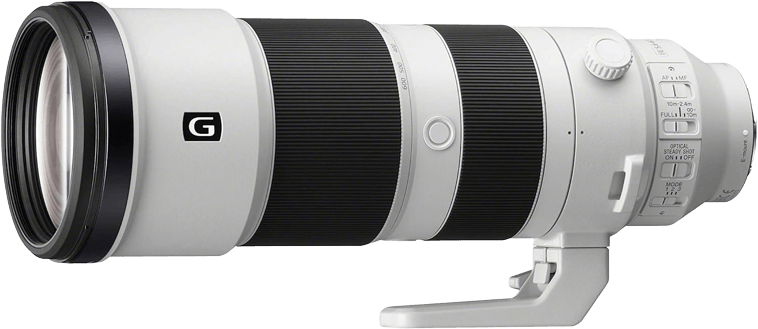 Sony FE 200-600mm f/5.6-6.3 ED G OSS
Learn everything about Sony lenses explained and their features in our comprehensive guide. Discover the perfect super-telephoto zoom lens with outstanding sharpness, fast AF, and compact design for your photography needs.
Sony Lenses Explained: What are Lens Abbreviations?
Lens abbreviations are an excellent way for companies to show off the features of their products in their names. This is great for the customer, as it makes for quick and easy browsing through products.
You can usually find lens abbreviations in the product name, but you can also find them printed on the barrel of your lens. Knowing the abbreviations will help considerably, especially with the compatibility and understanding of the Sony photographic range.
Let's take a look at an example.
The Sony FE 200-600mm F5.6-6.3 G OSS
The most important information is the focal range and the aperture. These are the numbers that we see. This information is surrounded by acronyms that tell us more about the lens' properties. From this information, I can tell that it is part of Sony's highest-quality lens range (G) and that this lens has particular optical image stabilization (OSS).

Understanding Sony Lens Abbreviations
We will look at all the abbreviations provided by Sony in this list. Some of these acronyms are the same on Zeiss products. But we will not touch on Zeiss branded lenses in this list.
Sony Zeiss Terms
First of all, I will clear up any Sony Zeiss terms you may encounter. Sony manufactures the lenses now, but the design still comes from Zeiss. Or, Sony has its lens designs approved by Zeiss.
Distagon – Distagon is Zeiss' name for a formula to produce wide-angle lenses. These lenses can be heavy, as they are pretty complex. There are only two Sony Zeiss Distagon lenses—the Sony Zeiss Distagon T* FE 35mm F1.4 ZA and the Sony α Carl Zeiss Distagon T* 24mm f/2 ZA SSM.
Planar – Almost every modern 50mm prime lens incorporates the Planar formula. Planar lenses are known for their symmetrical layout where the aperture is in the middle, between the other elements. This allows the lens to make wider apertures with sharpness all around the frame and little chromatic aberration.
Sonnar – Sonnar lenses are the most common of these three options. This name speaks to a specific construction of the lens. It has a simple arrangement of the internal elements, a fast aperture, and will produce great contrast with little flare.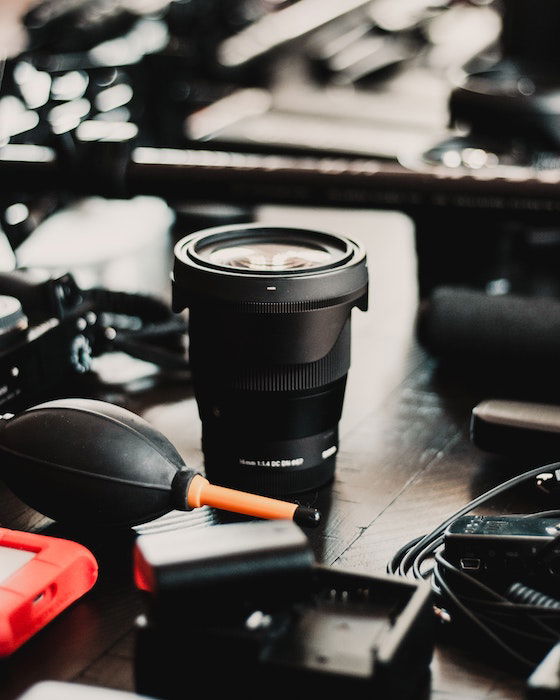 Sony Abbreviations
A – A-mount lenses are designed to be used on Sony's 'Single Lens Translucent Cameras' (SLTs). The A-mount lenses first appeared when Sony bought Minolta in 2006. Minolta had used the design of this mount since the 1980s. Sony has decided to discontinue the A-mount this year.
AA – Advanced (A) Aspherical (A) lenses feature an extremely high thickness ratio between the center and the outer edges. This means you get a significant improvement in the lens rendering.
APD – An apodisation (APD) optical element collects less light at the edges. This allows for smoother defocusing because of its optical characteristic.
AR – The lens features Sony's own 'Anti-Reflective' (AR) technology. This reduces inter-element reflection and helps light transmission. You won't find this acronym on the side of a lens, but all G and GM lenses feature this coating.
DDSSM – Direct (D) drive (D) supersonic (SS) wave motor (M) talks to the focusing motor. The motor is designed to quickly move heavy and large lens elements for faster autofocusing.
DT – Digital (D) technology (T) can be found on lenses made for APS-C sensors. Digital technology lenses can also be used on Sony's full frame cameras. There is a crop mode setting that turns a full frame sensor into a cropped-sensor camera.
E – E-lenses are on Sony's mirrorless cameras. There is no physical difference between the full frame E-mount and APS-C-sized sensors. Instead, lenses are designed to resolve different image sizes using Sony's new 'one mount' system.
ED – Extra-low (E) dispersion (D) glass. This type of lens features a glass element designed to reduce chromatic aberrations.
F – Fluorine (F) coating provides a defence that reduces the lens' 'wettability' and repels contaminants. This means that you can easily wipe away water or oil-based grime from the lens.
FE – Full (F) E-mount (E) lenses cover Sony's full frame digital sensors.
FL – Lenses that have a fluorite (FL) element in them. This is not glass, but transparent calcium fluoride, giving the lens a lower dispersion and less chromatic aberration. Fluoride is also lighter than regular glass.
G – Gold (G) is Sony's old highest-quality range of lenses.
GM – Gold (G) master (M) is Sony's new highest-quality range of lenses. It is an update of the G-range to provide lenses for Sony's latest mirrorless E-mount cameras.


IF – Internal (I) focusing (F) is a feature where the elements inside the lens move to adjust your focus. This means the length of your Sony autofocus lens will not extend when focusing. This is another acronym that will not be found printed on the lens barrel.
OSS – Optical (O) steady-shot (SS) is Sony's optical image stabilization system. You can find this on Sony's E-mount lenses.
PL – Sony produces a range of lenses that use the cinema industry-standard PL-mount system.
PZ – A lens with power (P) zoom (Z) capabilities. These power zoom lenses have an electronic zoom motor. The lens barrel will feature a power zoom button. This feature is great for video as it provides you with a smooth, constant zoom.
RDSSM – Ring (R) drive (D) supersonic (SS) wave motor (M) is a motor that provides smooth and silent capabilities to specialist Sony autofocus lenses. These lenses also have a position-sensitive detector to detect the amount of lens rotation.
SAL – Sony (S) A (A) lens (L). SAL is an acronym found in Sony's product numbers for lenses made for their A-mount system.
SAM – Smooth (S) autofocus (A) motor (M) lenses are Sony's cheaper lenses. They are the least progressive lens motor compared to SSM or DDSSM motors.
SEL – Sony (S) E (E) lens (L). Like SAL, you can find the SEL abbreviation on Sony's product number for their E-mount lenses.
SMO – Smooth (S) motion (M) optics (O) is exactly what it says it is. It is beneficial for moviemaking equipment.
SSM – This acronym stands for Sony's supersonic (SS) motor (M). It uses a ring-type piezoelectric motor that gives you extremely quiet, fast, and accurate autofocusing. These lenses have a distance scale built into the lens and have full manual override capabilities. This means you can adjust the focus ring after setting your autofocus. You may not find this acronym on every lens barrel that features it.
STF – Smooth (S) transition (T) focus (F) lenses have special APD (apodisation) lens groups that are thicker toward the lenses edges. These lenses give smooth out-of-focus highlights. It comes at a cost, as these lenses do not feature autofocus.
Super ED – Super extra-low (E) dispersion (D) lenses have enhanced compensation for chromatic aberration.
T* – This acronym is found in Sony's 'ZA' lenses and signify that the lens has a Carl Zeiss T* coating. T-coating was developed in 1935 and drastically reduced the amount of inter-element reflection inside a lens. Zeiss refined the coating in the 1970s, adding the * to the T. There is no specific formula—each type of lens design or glass requires its own application to produce optimum results.
TC – Tele (T) converters (C) increase the focal length of a telephoto lens. These lenses feature a magnifying glass that comes as an element between your lens and your camera.
XD LM – Extreme (X) dynamic (D) linear (L) motor (M) lenses feature a new autofocusing system. Linear motors have a contactless electromagnetic drive that allows for extremely quiet movements. The smooth autofocus motor also provides a high thrust needed to handle larger lens elements. You will also get great speed as this system is developed to keep up with the fast autofocus speeds in other Sony lenses.
XA – You can find this on lenses with an extreme (X) aspherical (A) feature. These are particular pieces of glass inside the lens that have a considerately broader curve. This allows for a more compact, higher-performing lens. Sony has manufactured these to the highest degree, where they boast a surface precision of 0.01 microns. The XA feature is currently only found in GM lenses.

Conclusion
After looking at this list, you now know the complete list of Sony lens abbreviations from AA to XA. This knowledge helps give us an understanding of the anatomy of a photography lens. The more information we know about this, the better our judgment on these lenses and others.
It can be hard to remember all this information, so make sure you have this page bookmarked to return to when searching for Sony lenses!
If you're still learning all the photography basics, check out our Photography for Beginners course!