Masking is one of the most powerful tools in Photoshop, and it's one that you should learn how to use if you want to take your photography to the next level. With masking, you can selectively edit only certain parts of an image, which can be a great way to improve your photos without making any major changes. In this article, we'll take a look at some of the best photoshop masking techniques for creating stunning underwater photos.
Underwater Photography Tips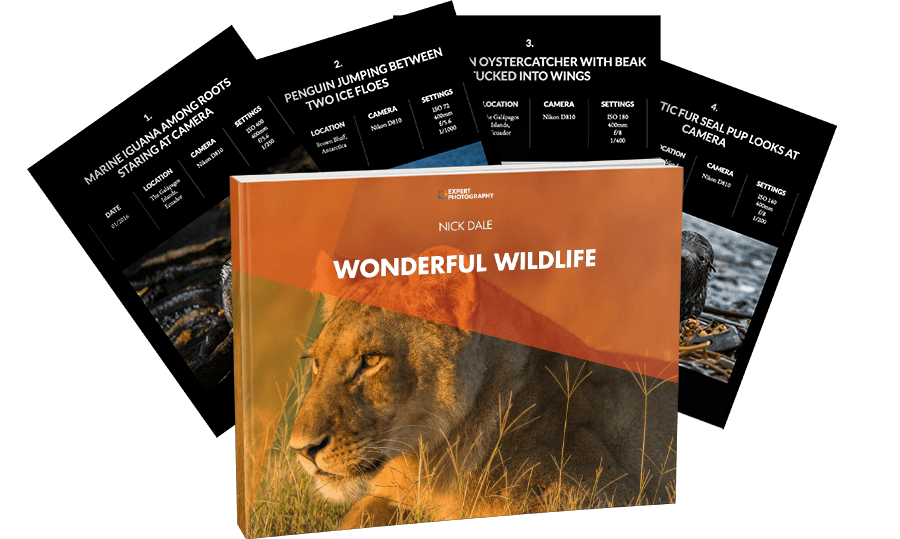 Wonderful Wildlife
Explore the underwater world with this comprehensive guide to underwater photography and unlock the secrets of capturing wonderful wildlife.
39. Photoshop Masking Techniques for Taking Atmospheric Photos of Water
Being underwater is exciting enough on its own. All the atmospheric light, details, and blue tones are perfect for taking simple photos.
38. Capture the Beauty of Underwater Life
You can use underwater photography to take unique photos of aquatic animals like jellyfish, dolphins, and turtles.
Make sure you go out on a sunny day so you can capture your subjects in the best light possible.
37. Shoot Close to the Surface to Get a Glimpse of Both Worlds
Half-above, half-below photos are perfect for those who love juxtapositions.
You can use this technique to focus on the differences between water and land. Or to emphasize the beauty of both worlds.
36. Take Surreal Photos in Aquariums
Just because you can't swim or don't have the proper equipment shouldn't stop you from taking cool underwater photos!
Aquariums can't directly give you water to shoot in. They can still be used to take surreal and magical photos of animals.
35. Capture Details at the Bottom of the Sea
In some locations, the bottom of the sea is just a couple of meters away.
Use shallow water to take bright and joyful photos of starfish, pebbles, and anything else that catches your eye.
34. Take Epic Photos of Professional Swimmers
If you want to take epic action photos, collaborate with professional swimmers.
These people are guaranteed to give you lots of incredible poses and tricks worth capturing.
33. Take Close Up Photos of Sea Animals
Many sea animals, especially ones used to visitors, are friendly.
This can give you lots of time to properly interact with them and take cool close ups.
32. Capture a Piece of History by Photographing Artifacts
If you're looking for a bigger adventure, find a location with artifacts.
It's unusual to see architecture underwater. Your photos will stand out. Regardless of all the other benefits, the experience of seeing history underwater is bound to be an unforgettable one!
31. Take an Unconventional Self-Portrait
Most selfies feature faces, but self-portraiture is so much more than that.
You can take photos of your hands, hair, or other details without showing your face. Since all of this will be happening underwater, your photos will stand out.
30. Take Fun Photos of Friends and Family for Great Memories
You can spend quality time with your family by taking hilarious photos of them underwater.
You'll be working with people you know. This way you'll avoid awkwardness and take heartwarming photos at the same time.
29. Take Funny Photos of Yourself Relaxing Underwater
Take funny photos of unexpected situations. You wouldn't expect someone to casually relax underwater as if they were at home!
28. Have a Romantic Underwater Couples Shoot
There are probably millions of couple photographers out there. This can make it difficult to take unique photos of people in love.
If you want to take your photos to the next level, take romantic photos underwater.
27. Photograph Animals Enjoying the Water
Not every location has friendly sea creatures waiting to be photographed.
When you need to improvise, take photos of different kinds of animals enjoying the water, such as dogs or pigs.
26.  Use Unusual Props Underwater for Unforgettable Results
If your goal is to take unique underwater pictures, use unusual props like flowers, chairs, and curtains.
Make sure that they don't pollute the water.
25. Ask Your Models to Wear Everyday Clothes for the Shoot
Underwater photography is often associated with swimwear, but don't let that limit you.
If you want to re-create an everyday situation underwater, ask your models to wear formal or everyday outfits.
24. Take Classic Photos Using Analog Photography
Do you have an analog camera that you don't want to damage? You can still take great "underwater" photos like the one above.
Photograph your model floating on water.
23. Use a Disposable Camera for a Retro Effect
When it comes to underwater pictures, the cheapest approach involves waterproof disposable cameras.
These cameras will let you take underwater pictures with a retro effect. Photos like this are perfect for stress-free vacation photoshoots.
22. Interact With Your Surroundings to Take Authentic Photos
One of the best ways to take incredible underwater pictures is to interact with your models. Get to know them before you take your camera out.
Your relationship will make it easier for you to take creative and loving photos of anything you come across during your underwater adventures.
21. Shoot When the Sun Isn't Readily Available for a Moody Light Effect
A lack of light is usually not ideal in underwater photography because it might result in grainy or blurry photos.
If you're comfortable with low light photography, you can take great moody photos of landscapes and sea creatures.
20. Take Conceptual Photos of People and Objects
Underwater photography is often surreal, which makes it the perfect genre for conceptual photoshoots.
A conceptual photoshoot usually has a specific theme. This can be self-discovery or nostalgia. Underwater currents, bubbles, and textures can all help such visions come to life.
19. Have a Shoot at Midday so You Can Work With a Lot of Light
Being underwater means having to work with less light.
To have as much light as possible, take photos in the middle of the day when it's very sunny.
This will ensure that all of your photos end up looking as sharp as possible.
18. Photograph Your Equipment for Cool Behind-The-Scenes Shots
If you like documenting your photoshoots, you can easily do so. Photograph your equipment and take a few self-portraits.
These kinds of photos are rarely portfolio-worthy. But they're a great way to introduce others to your passion and make you more approachable as a photographer.
17. Hide Parts of Your Model's Body or Face to Get Surreal Results
Since water on its own has a surreal feel, it's easy to take atmospheric portraits underwater.
To intensify the effect, hide parts of your model's face. You can do this by covering their face or by having them submerge half of their body in water.
16. Take Dreamy Photos During the Golden Hour
If you go to the beach shortly before sunset or after sunrise, you'll get to work with the perfect light: golden hour light.
This light complements all kinds of people, places, and objects.
15. Focus Away From Your Subject for Unique Underwater Shots
Focus away from your subject. Keep them in the frame, but focus on something close to your lens.
As a result, you'll get a dreamy effect that you can use in other genres, such as double exposure.
14. If You Can't Shoot Outdoors, Take Photos in Bathtubs or Pools
If seas, oceans, and aquariums aren't accessible, you can shoot in swimming pools or bathtubs instead.
These are great (and oftentimes safer) alternatives to traditional underwater photography.
13. Take Fun Cosplay Photos Using Disney Character Outfits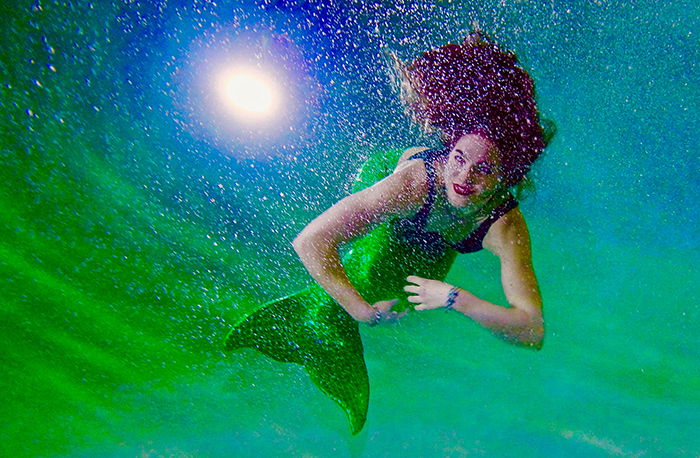 Cosplay photography is an ever-growing genre that's perfect for those who enjoy dressing up and re-creating famous movie scenes.
Characters like Ariel from The Little Mermaid work well with underwater photography.
Underwater cosplay photography will give you lots of opportunities to take fun, colorful, and joyful pictures.
12. Take Photos of Flowers and Fruit Using Vases Filled with Water
Another great alternative to traditional underwater photography is vase photography. All you need is a clear vase filled with water and a few props (i.e. flowers, fruit, etc.)
Dip your prop into the vase and take photos. This activity doesn't require any housing equipment and gives you full control over your photos.
11. Capture the Surface From a Very Low Angle
If you shoot against a source of light, you'll either get lots of sun flares or a silhouette.
Use this to create cool underwater silhouettes.
10. Take Colorful Photos of Children
Children tend to be joyful and energetic, making them the perfect subjects for colorful photography.
Photos like this are perfect for family albums.
9. Convert Your Results to B&W for Otherworldly Results
Underwater pictures and b&w work well together.
Use them to create mysterious, eerie, or thoughtful photos of people and places.
8. Use Dresses to Take Elegant Portraits
Long, flowy dresses look ethereal underwater.
This idea works well with underwater wedding and couples photography.
7. Experiment With Image Rotation for Unusual Results
When you edit your photos, rotate them in different ways.
You might get awe-inspiring results that are significantly better than the original photos!
6. Take Abstract Photos Above Water
You don't always have to be underwater to take cool underwater shots.
For an abstract effect, stand over a body of water and photograph your model while they're completely underwater.
5. Take Cool Action Photos of People Diving
Action photos that feature people mid-dive are difficult and fun to create.
Experiment with professional swimmers to ensure safety.
4. Use Warm Pool Lights to Make Your Subject Stand Out
Many swimming pools have warm lights that are perfect for making underwater portraits stand out.
I recommend using warmer light for portraits. Cooler tones often tend to look unnatural and unflattering.
3. Take Incredible Photos of Large Waves
If you have the chance, take photos of professional surfers or swimmers making the most of large waves.
2. Look for Appealing Patterns on Plants
Some of the most appealing photos out there have similar patterns that work in harmony.
You can easily find these patterns on underwater plants.
1. Photograph Underwater Landscapes
Underwater landscapes, whether in a fish tank or in the ocean, are incomparable.
This is a great way for budding landscape photographers to improve their skills and take unforgettable photos at the same time.
Conclusion
Anyone can take stunning underwater pictures. These can be in a swimming pool, in the sea, or anywhere else where there's a body of water.
Once you get the hang of this genre, you'll be able to take gorgeous underwater pictures whenever you want.
Why not check out our post on 25 awesome photography facts you probably didn't know!

Underwater Photography Tips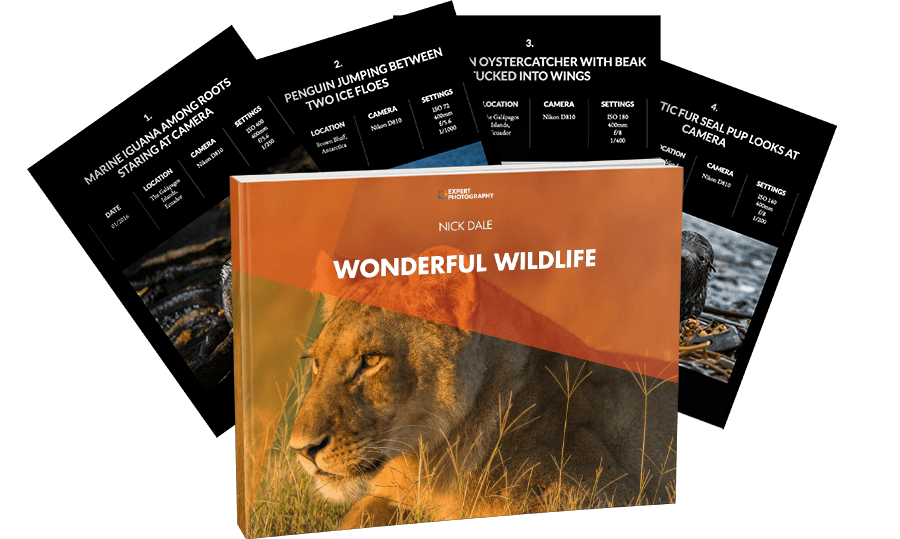 Wonderful Wildlife
Explore the underwater world with this comprehensive guide to underwater photography and unlock the secrets of capturing wonderful wildlife.