If you're a photographer planning to travel around Europe, make sure Amsterdam is on your list.
What makes this city a favourite among travel photographers is that it's small, pedestrian-friendly, and there's plenty of sights to see.
Here are 8 best Amsterdam photography locations you need to check out and photograph.
8. Rijksmuseum
This old wax candle factor has been converted into a museum. It is among the most iconic structures in Amsterdam.
Built in 1885, it now houses a collection of over one million historical artifacts and artworks. It's the largest museum in the Netherlands. It is also among the most visited.
After renovations that went on for ten long years, the Rijksmuseum's restored grandeur now makes it a magnet among photographers.
You can take photos of the museum's imposing facade overlooking a large pool of water. But you can also get into the building and photograph the massive interior and the artworks that adorn it.
The museum is also home to one of Netherland's oldest libraries, Cuypers Library. Go up the winding staircase and explore different vantage point to shoot the dizzying stacks of books.
Or you can walk along its corridors and create a panorama that would make any bibliophiles faint in envy.
The Rijksmuseum is a busy location even at night. It's not only frequented by tourists but it also serves as a thoroughfare for the locals.
If you want to take architectural photos without the people, consider waking up before sunset to get the shots you need.
7. I Amsterdam
The iconic I Amsterdam sign first appeared in front of the Museumplein in 2004. It quickly became popular among tourists.
What made it particularly attractive was that it had the towering Rijksmuseum in the background.
Sadly, the I am Amsterdam sign was removed from the Rijksmuseum in 2018. Oddly enough, the reason was that it was attracting too much attention from the visitors.
The good news is that you can still find the sign in different locations around the city. In fact, you'll find one as soon as you walk out the Schipol Airport. You can even find one in front of the Bijlmer Arena and other tourist-heavy areas.
Among the best I Amsterdam locations you can find right now is the one in front of the Amsterdam Centraal Station.
With an equally historic structure in the background, this is a photo location you cannot miss. After all, you'll find yourself visiting the terminal a lot on your way to different areas around the city.
6. A'Dam Toren
Wonder how Amsterdam looks like from above? Then better include A'dam Toren on the list. One of its main attractions is an observation deck that gives you a 360-degree vista of the city.
This building looks ultra-modern and even futuristic. But it was actually built in 1971 and was in poor shape before it went through renovations in the late 2000s.
The Toren Overhoeks as it was called then, was reopened in 2016 as A'dam Torren (Amsterdam Dance and Music).
Apart from the observation tower, A'dam Toren is also complete with new high-tech facilities such as a revolving restaurant. And for those with nerves of steel, it even has a swing that flings you off the top of the building.
Sadly, although the observation deck allows you a higher viewpoint, the fences that surround it may obstruct your camera. So if you want to shoot sweeping panoramas of the city, it would be best to do it inside the restaurant.
And who's to complain? Taking photos while drinking wine isn't a bad prospect. Just make sure to bring a polarizer in case you find some glare on the window glass.
Bringing a mini tripod you can set up on your table would help as well. Especially since you don't want to be setting up your bulky equipment while people are eating.
5. Groenburgwal
Amsterdam is famous for its canals. They're everywhere, and it can be quite overwhelming for the uninitiated to find the best vistas for photos. Every single one looks charming, none of them compares to Groenburgwal.
What makes Groenburgwal suitable for landscape photos is that it provides a perfect view of the Zuiderkerk tower.
As the first protestant church in Amsterdam, Zuiderkerk has been an iconic landmark in Amsterdam since the 1600s. Seeing its reflection on the waters of Groenburgwal is like looking through a time warp. Especially since the place has changed so little.
Even before the camera was invented, people already recognized the scenic views that Groenburgwal offered. So much so that even Claude Monet painted it in 1874.
The view that Monet saw during his time may be slightly different when you visit today. But you can still take photos of the tower by standing on the wooden bridge in Staalstraat over the canal. Yes, the same one that Monet portrayed in his 1874 painting.
4. Damrak
If you're arriving from Centraal Station, Damrak is the main street you get on to enter the city center.
Like anywhere in Amsterdam, Damrak is full of old buildings worth photographing. But among the most iconic and Instagrammable structures in the area are called the Dancing Houses.
The name "Dancing Houses" comes from the houses along Damrak that look tilted due to the uneven foundation of the ground.
"Dancing houses" are not unique to Damrak and are in fact all over Amsterdam. Originally a marshland, most of the buildings built on the city during the early years eventually start leaning.
What makes Damrak different from other locations is that the houses there appear to float on the water since they're right by the canal. Their bright colors and the reflections they create on the water makes for vivid images.
Coming out of Centraal Station, Damrak's Dancing Houses are among the first photo opportunities you'll encounter in Amsterdam. So get your camera out of your bag and walk around until you see the colorful facades by the canal.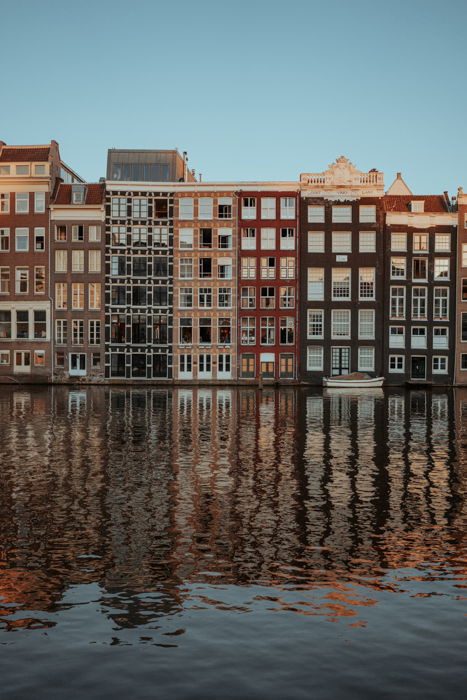 3. De Gooyer
Although the Netherlands is famous for its windmills, Amsterdam doesn't really have much of them. The good news is that you can find one between Funenkade and Zeeburgerstraat in Amsterdam Oost.
Standing 26.6 meters tall, De Gooyer is the tallest wooden windmill in the country and is considered a national monument.
The windmill was built in the 16th century and was last used as recently as the 40s during WWII to grind corn. The mill isn't operational anymore, but its blades still turn.
Since De Gooyer is an old structure, it's not open to tourists. But since it's so big, you can still take photos of it from afar. You can even go to the pub right next to it and take a few snapshots while enjoying a pint.
Of course, there are plenty of other places outside of Amsterdam that offer windmills with scenic backdrops. If you're only staying in the capital and want that quintessential Dutch photo, then De Gooyer is worth visiting.
2. Hortus Botanicus
Not in the mood to shoot old buildings? Then consider visiting Hortus Botanicus, Amsterdam's premier botanical garden.
Hortus Botanicus started in 1638 as a herb garden, cultivating medical plants for the city's doctors. Today, it's known for its huge collection of plants that exceed 6,000.
Hortus also prides itself for its rare and exotic plants and trees including a 2000-year-old agave cactus.
The garden's most Instagrammable locations include a huge greenhouse with tall trees and an intricate glass dome. In the middle, you'll find Victoria Regia plants with their large basin-shaped leaves and white flowers.
Of course, you can also explore the pathways outside the garden to photograph bright and colorful plants along the way. And if you're into long-exposure photography, visit at night when the trees are lit up in different colors.
After your tour around the garden, stop by Orangery Cafe. There, you can sip a cup of coffee while admiring the giant trees that appear to grow out of the floors.
The place has large windows and light-colored walls that create beautiful lighting throughout the day.
1. The Royal Palace
Amsterdam is home to the Royal Palace of Amsterdam which the Dutch Royal family actively use to this day.
Built in the 17th century, the palace's colossal rooms still retain their Golden Age charm. They serve as the backdrop for the gala dinners and the other events that the Royal family host throughout the year.
Of course, the palace isn't available to visitors when there's royalty in the premises. But you're welcome to visit it and explore its grand halls any other time.
Capture all the intricate details of just about everything that adorns the palace–from chandeliers to walls to furniture. But don't be afraid to put down your camera every once in a while and relish the place's noble ambience.
After all, you don't always get the opportunity to feel how it's like to be royalty.
Before you go, make sure to check the Royal Palace website to see when you can explore the premises.
The ticket for adults is only 10 Euros which is a great deal for a palace tour. If you can't get in, you can always take photos from outside, instead.
Conclusion
There are plenty of other charming locations in Amsterdam apart from the ones that we included in the list. Every corner you turn has its own surprises. So take your time to explore the city and open yourself to new experiences.
The Dutch capital may be old, but it's always evolving. Look out for new artistic creations and locations that would make your own trip even more unique.
Why not check out our post on 25 awesome photography facts you probably didn't know!
Want More? Try Our Landscape Photography Course
Do you want to capture stunning landscapes every time you shoot?
I've developed a five-step process to capture stunning landscapes. It covers location scouting, weather, time of day, composition and camera settings.
I've outlined my process in this course.