If you're looking for an amazing cityscape to photograph, Barcelona is definitely the place to go. With its stunning architecture and beautiful waterfront views, the Catalan capital provides plenty of photographic opportunities for any budding shutterbug. Here are ten of the best Barcelona photography hotspots.
What You Need to Know When Taking Pictures in Barcelona
There are certain things that are good to know once you are in Barcelona:
Use public transportation. It's the fastest. Driving is also fast, but you'll spend a lot of time trying to find a place to park.
Remember photo regulations. You can take photos in the city, but if you are in certain places such as train stations or the vicinity of buildings, security might tell you that you are not allowed to take photos. This happens especially if they see you with a "professional" camera.
You are not allowed to use a tripod in the city without asking for a permit in the city hall. My experience tells me that if you are in a place where you don't annoy anybody with your tripod, nobody will come to tell you anything. But be aware that if you decide to use it, the police might come and ask for your permit.
As in any other big city, always be aware of your belongings. The pickpockets in Barcelona are very skilled. If you're not careful you can have your wallet stolen without even realising it. Always keep important documents in a safe place on you and try to handle your wallet as little as possible in the street.
10. El Born Barrio
One of my favorite places in Barcelona is the Born Quarter. Its streets hold the essence of Barcelona.
It is a pleasure just wondering around this area taking typical pictures of Barcelona.


El Born has a lot of restaurants, cafes and little stores. It is a lively neighbourhood with a lot of opportunities for street and travel photography.
You can find several famous places such as the Santa Maria del Mar Cathedral. If you take a guided tour in the church, you will be able to access the rooftop.


Another interesting place is the El Born Market. This modernist building was the first market in the city, built from metal and glass.
During its renovations in 2002 some important archaeological ruins were found and now it is a cultural center.

9. Ciutadella Park
If you visit the Born Quarter you mustn't miss the Ciutadella Park.


In 1888, Barcelona held the International World Fair in the park and it was redesigned with gardens and works of art.
Some of the buildings from the citadel and the Exposition still stand. These include a chapel, a lake with a waterfall, and some bars.


As a curiosity, the park has a life-size mammoth sculpture. All Barcelonians (and a lot of tourists) take photos with.


If you want to take photos of an emptier park, visit it during the weekdays.
During the weekend you can find a lot of people enjoying their time outdoors. They're doing sports, playing music, juggling or even practising acroyoga.
Perfect time for street photography and portraits!

8. Parc del Laberint d'Horta
Another spot to visit is the Parc del Laberint d'Horta. This is the oldest garden in Barcelona.
This neoclassical style garden was designed in 1792. In the 19th century it was extended with a romantic woodland.


This park is full of spots to take photos: numerous fountains, a waterfall, mythological sculptures, and a Chinese gate, to name a few. It even has a 14th century country house (called Torre Soberana).
You will find a maze out of cypress trees in the middle. Although the maze itself is not big, it adds fun to the visit!
There's two upper floors to the labyrinth. From the first floor you can take nice photos of people inside the maze or you can use the maze as background.


There is another upper level with a Pavilion and a little pond.


Although it is a beautiful park, it is not so well known and tourists don't visit it too much. This makes it a great place to enjoy some calm in the city.
You need to get a ticket at the entrance (you can't get it online or in advance). Entrance is free on Wednesdays and Sundays. But it's worth to pay and enjoy the park with even less people than on the free days.
7. Mossen Costa i Llobera Gardens
This is quite a special garden. It specialises in cacti and succulent plants. In fact, it is the most important garden of this type in Europe.
It is a project of the architect Joaquim Maria Casamor, built together with the cactus specialist Joan Pañella.
It hosts over 800 species from all over the world, including desert and sub-desert areas, tropics and even high mountain. You can't miss it if you are a nature photographer!


It is located at Montjuïc, a hill next to the sea that overlooks the city. The easiest way to get there is by car. You can also get there on the metro (Drassanes stop) if you don't mind a short walk.
I recommend you to bring a mosquito repellent.

6. Greek Theater and Magic Fountain
Yes, you can find a Greek Theater in Barcelona! It is in Montjuïc. Although it is not an original one, it is a great location for photos. It is a well done "replica" created during the International Expo of 1929.
For the most part of the year, the Theater is empty and you can access it to take as many photos as you want.
However, on certain dates it is used for cultural activities such as theater and music shows. Check before you go if the Theater is empty. You can do it on the website.


The Theater is surrounded by gardens. You'll find beautiful roses in the spring.
The gardens also have a pergola that is a really cool spot for photos. There is also a viewpoint close by.


Not far from the Theater you can visit other interesting photo locations in Montjuïc, such as the National Palace (Museum).
As it is on top of the hill, you can take beautiful shots of Barcelona. The city view is especially beautiful at night.
Heading down from the Palace, you'll find a complex of fountains. The main one is the Magic Fountain of Barcelona, with light shows and music.
Check the show times before going to make sure you won't miss it!

5. Sagrada Familia
The Sagrada Familia is one of the masterpieces of the modernist architect Antoni Gaudí. Still under construction, this church is different from the ones you have seen until now.
When finished, it will have 18 towers in addition to the tallest central one.


Its facades are full of a mixture of religious and nature details, especially the Nativity facade, that was originally designed and built by Gaudí.
It is very spacious inside, with a unique column design and a beautiful ceiling. The colorful big windows allow a lot of light in and create a beautiful atmosphere.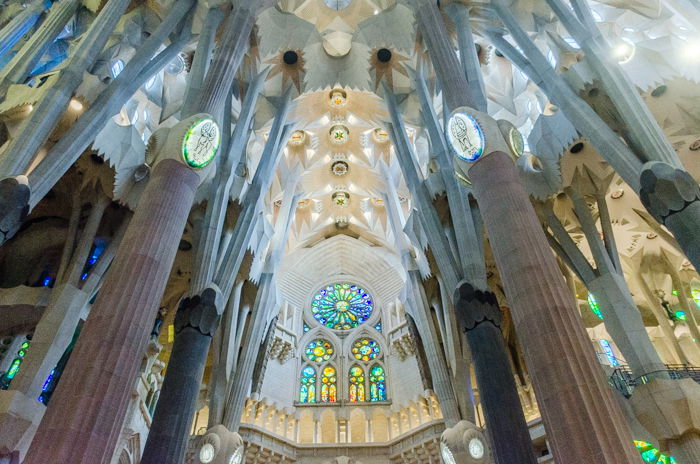 I strongly recommend you to plan your visit in advance to avoid the big crowds. Get the tickets online ahead of time.
You will need to choose not just the day, but the time to enter into the church. Early in the morning on a weekday is the best option if you don't want it to be too crowded.
A ticket with access to the tower is a bit more expensive. But it's worth it.
If you pick the one of the Nativity facade, you'll enjoy nice views of the city and get even closer to Gaudi's work.
4. Glories Tower
The most visible building of this contemporary zone is the Glories Tower, a bullet-shaped 44, high tower.
Its glass surface has a color gradation from cooler to reddish tones. Don't miss it at night, when it is is lit up.


Next to the Tower, you will find the Design Museum. The building lines are interesting and you can play around with your photo composition.
In the back of the museum there is a pool that is quite photogenic too. There is a coffee place in the Museum with beautiful light in the mornings.


Nearby there is the Encants Vells flea market. It is an impressive mirror structure that stands out because of its originality.
This canopy contrasts with the secondhand objects of the flea market.
You can also find cafes these, antique shops, as well as stores selling new products.

3. Tibidabo
The Tibidabo is the 512 meters high mountain that overlooks the city. On top of it you'll find the Church of the Sacred Heart of Jesus.
When visiting the temple, you can take an elevator to the top and take some beautiful panoramas.


There is a little amusement park next to the church. Although it has no crazy attractions, it is a nice visit because of the views, the friendly atmosphere. It maintains the same charm it had in the 19th century, when it first opened.
When planning your visit, take into account that it is closed during winter.


There are different ways to get to the mountain. The easiest is to take a special bus (Tibibus) from the city center. If you like public transportation, however, I recommend you to do something different.
Go to Avenida Tibidabo with the train (Ferrocarril, the first stop is also in the city center). Once there, take the Blue tram. It dates back to the 1901 and will make you feel like you traveled to the past.
Finally, take the Tibidabo Funicular railway. This one has been operating since 1901 too. This trip takes some time, but it is special.
2. Forum
The Forum is a big open space built to celebrate the Forum Universal de las Culturas in 2004. Now it is an urban park that you can visit at any time.
The Natural Science Museum (kid oriented) is there too. It has water activities and an urban forest. There is also a little port with some stores and restaurants.


Probably the most photogenic spot is an eye catching solar panel that has become part of the Barcelona skyline.
Besides being a clear open space with a lot of interesting lines for your compositions, the Forum is also a great place for street photography.
You will find people having fun with their skates, running, walking or just spending some time in the sun.
If you are looking for inspiration, the Forum can provide you with some cool photography ideas.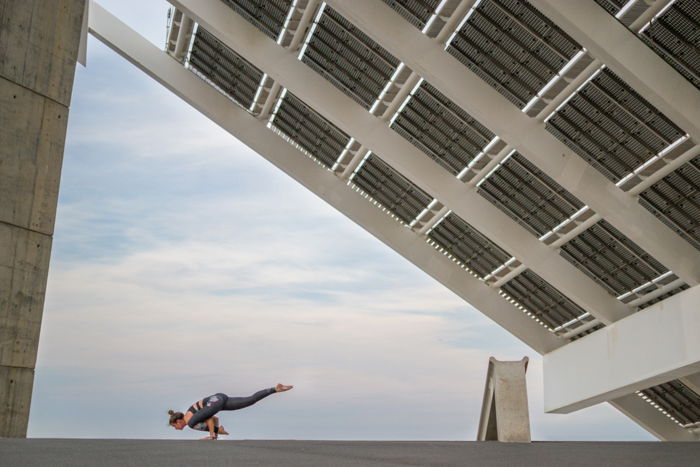 You can also catch some fantastic sunsets over Barcelona from the Forum.


You  can take photos inside the Forum. However, security will tell you that it is forbidden to take photos in the Port area if they consider your camera to be "professional".
There are some cultural events happening on certain dates. If you are planning to go, I recommend you have a look at the Forum activities first.
1. Sitges
I added this beautiful town to the list because it is one of my favorite photo locations. It is just 38km south of Barcelona and you can reach it by train in 30-40min.
Walking through the photogenic streets in the center of the town, you will experience the Mediterranean essence combined with the lively atmosphere provided by the beach.
There's also a lot of little restaurants and clubs.


Important events happen in Sitges all the time. These include carnival, the International Sitges Film Festival and the Corpus Christi. Check the events' calendar before organising your trip.
Conclusion
Barcelona is a wonderful travel destination, perfect for all types of photography.
You will have a lot of opportunities to take great shots of architecture, parks, street photography and many more.