If you're looking for a camera bag that will protect your gear and last for years, the Black Forest RIMO Bag Camera Messenger Bag is a great option. This bag is made from high-quality materials and features a number of handy compartments and pockets that make it easy to store and access your equipment. The shoulder strap is also adjustable, so you can find the perfect fit no matter what size or shape you are.
[Note: ExpertPhotography is supported by readers. Product links on ExpertPhotography are referral links. If you use one of these and buy something, we make a little bit of money. Need more info? See how it all works here.]
Black Forest has a philosophy that blends design, material, and craftsmanship. All their wears are hand-crafted. And they make no compromise in function or design.
The RIMO I Camera Messenger bag is the perfect embodiment of this philosophy. It's a stylish bag that looks and feels like something crafted with care. It's not a product of fast fashion or mass production.
The RIMO I is an urban-inspired camera bag. It's made of genuine vegetable-tanned leather. And the build quality is evident at first glance.
The exterior has a classic satchel design, with a deep-tan colouring. The style is timeless and sophisticated. It looks as at home in a business meeting as it does on a casual day out with your camera.
The thick leather makes for a robust camera bag. And the interior padding gives you extra security while carrying your camera gear.
The RIMO I has a spacious interior with plenty of useful pockets and compartments. There are designated compartments for your camera and lenses. And it also has pockets to hold your laptop and notepads.
Key Features
Now I'll take you through the specifics of the RIMO I Camera Messenger Bag.
Build Quality
The undeniable smell of leather hit me as soon as I opened the box. It was that rich and musty smell you get from new, high-quality leather. That was the first good sign.
And the smell was just the start. The RIMO I looks and feels like genuine leather, because it is. If you're looking for vegan products, I'm afraid this bag isn't for you.
When I first lifted the bag, I knew this was no imitation. The bag isn't heavy, but the weight reassures you of its sturdiness. There's a heft you don't get with faux-leather products.
The bag is constructed with premium hardware components. The metal buckles are solid and well-fitted. And the zips are strong with a smooth action.
Functionality
The main pocket of the RIMO I is spacious and accommodating. The interior measurements of the main pocket are 13.5″ long, 10″ high, and 5″ wide. The leather hood provides cover and protection to the main zippered pocket.
Closed-cell foam padding lines the main compartment, which can fit your camera and at least two lenses. The bag comes with dividers you can move around to customize the interior to best suit your needs.
They can even be removed completely from the main compartment to transform it into a travel bag. It's big enough for a laptop, clothes, and anything else you might need for a short trip.
There is a specific padded compartment for your laptop. So even if you are carrying your camera, you have space for your computer too.
The front zippered compartment has an assortment of smaller pockets for small items. That includes two micro SD card slots. The side pockets are a little cramped. But they still add extra storage space for smaller items. Our Quick Capture Cheat Sheets are a great way to learn as you go and will fit in this pocket perfectly.
This Black Forest bag shows real attention to detail in terms of design. They know what a photographer needs when they're on the move. It combines function and ultimate protection.
Style and Comfort
The RIMO I camera bag looks great at a business meeting or on a casual day out with your camera. This urban-inspired camera bag has a timeless style with easy-going sophistication.
The exterior is a classic satchel design with deep-tan colored genuine leather. The main strap goes over your shoulder to wear it as a messenger bag. Or there's a handle if you want to carry it like a briefcase.
The anti-skid adjustable shoulder strap evenly distributes the weight over your shoulder. It's padded so the main strap doesn't dig into your shoulder.
At first, the anti-skid shoulder strap felt a bit big. But as the vegetable-tanned leather softened, the padding moulded to my shoulder.
The broad shoulder pad also protects your clothes. You don't need to worry about the strap creasing or crumpling your clothes if you're dressed to impress.
Alternatives
In my day-to-day life, the RIMO I is a bit big for me. I usually don't carry much gear around with me. I usually have just two small cameras and a few notebooks.
If you're interested in a smaller option, the K2 Messenger Bag from Black Forest is a great choice. It still has their excellent hand-crafted quality. But it's small and inconspicuous.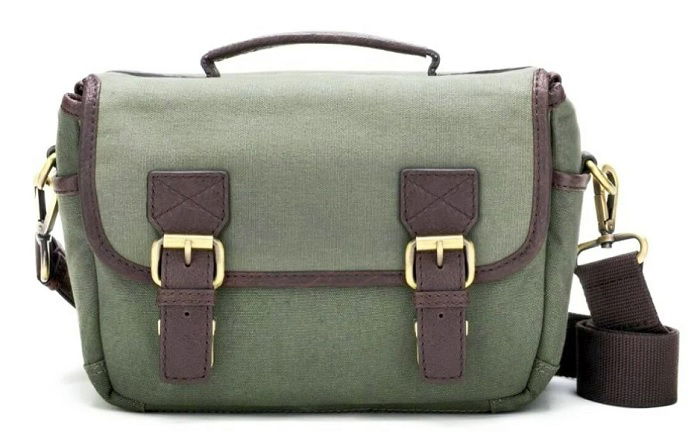 Shoulder bags aren't for everyone. If you prefer a backpack-style camera bag, the Bagsmart camera backpack is an excellent choice.
It has an excellent array of compartments for all the pieces of equipment in your own kit. And the compartment arrangement is customizable.
It's stylish and durable at a reasonable price point. One benefit to this bag is you can carry all your gear and still have both hands free.
Verdict
I'll start with the negatives. Or rather, negative. And that is the size. For me, it's a little big for what I need. And really, that's personal preference more than a criticism.
The build quality is excellent. The RIMO I is a perfect example of Black Forest's hand-crafted quality. The genuine vegetable-tanned leather is thick and durable. And the additional padding keeps your gear safe.
The interior is spacious. And the ability to customize the compartment layout makes it a versatile, high-quality bag.
The RIMO I Messenger Bag combines style, function, and ultimate protection. It's one of the highest quality camera bags on the market. It can withstand high-stress work and it looks great.
The Black Forest RIMO I Messenger bag is one of the best on the market right now.