If you have a blog already, there's a good chance you've heard of BlogStomp. Even if you've heard of it, you may be hesitant to buy the software.
Read our full BlogStomp review so that you can determine if the features it brings are a good fit for your photography!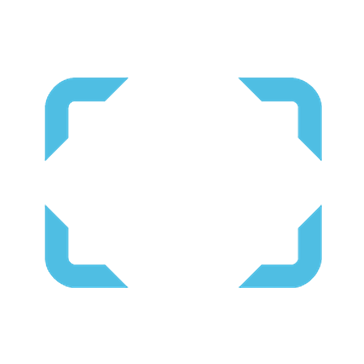 Shootproof
Looking for an easy way to manage your photography business? Discover a web-based software that streamlines your workflow, organizes your photos, and helps you make more money.
[ExpertPhotography is supported by readers. Product links on ExpertPhotography are referral links. If you use one of these and buy something, we make a little bit of money. Need more info? See how it all works here.]
What Is BlogStomp?
BlogStomp is an easy-to-use software. It allows you to create photo collages and instantly size photos for social media, blogging, or galleries.
It's a paid software, but can be valuable for many photographers. It's very easy to use and provides a quick solution for sharing your photography with the world.
Clearly, BlogStomp was created with bloggers in mind. As a photographer, though, having a blog can be a large part of your marketing plan. Whether you photograph weddings, families, or commercial, a blog is a great way to create content. You can share it with your online audience to drive traffic to your site.
BlogStomp is clearly made for blogging. But, its features are helpful for non-blogging photographers too. If you're active on social media or present galleries to your clients, there are several tools that make photo processing easier.
Things to Know Before Starting
One thing you'll notice is that there's no button for saving or publishing a photo. Instead, BlogStomp has a "Stomp it!" button. Stomping a photo or a collage means that you're saving or publishing it.
Don't forget to have the login information ready for your social media, websites, and gallery providers. This is because some sections of BlogStomp need to connect to your accounts to post images.
When starting up the software, you'll also be asked what platform you're going to be stomping to. It makes life easier, as BlogStomp can automatically size the images for you.
Finally, BlogStomp has what they call Quick Batch Mode. With this, you can drag a folder into the BlogStomp icon on your desktop. It will stomp your photos as a batch without even opening the program! This is a great feature for processing a large group of photos to fit one of your standard sizes.
Best Features of BlogStomp
Freestyle
The Freestyle tab is where you create collage layouts. You can either use templates or create your own. Once you select multiple photos (by holding the Shift key as you select images), various collage layouts will appear on the right. At the bottom of this column, there will also be the option to create your own custom layout.
Besides creating a collage, you can also create an Instagram post or Facebook cover image. The options for these are at the top of the screen inside the Freestyle tab.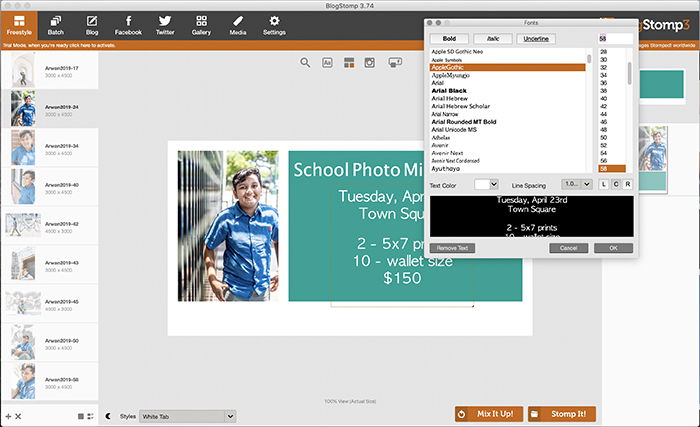 Finally, the Freestyle tab is where you can add color blocks and text. Adding them allows you to also use these templates as graphics for advertising. It could, for example, be a holiday mini session that you want to advertise on social media.
Batch
The Batch tab will automatically size individual photos to your set size. This is great for when you have a large number of photos that need to get sized uniformly.
Settings
The Settings tab is where you set your preferred settings that will apply across the board. Here is where you set the default image size, output quality, border sizes, and colors, and even add your logo!
Blog
The BlogThe Blog tab lets you send photos to your blog in the blink of an eye! You can add multiple blogs in the column on the left, but be ready to enter the login information for each.
Gallery
The Gallery tab lets you upload directly to your galleries, such as on Shootproof. If you present galleries to your clients, BlogStomp helps you to load photos into an album within your galleries.
Facebook and Twitter
The Facebook and Twitter tabs are for you to post to each. Currently, Facebook does not work in direct cooperation with BlogStomp. So when you select this tab, you'll immediately get redirected to your Facebook page. At the same time, the folder with your stomped photos will also open.
With the Twitter tab, you create your post and then instantly add to your Twitter feed!
Media
The Media tab is perfect for transferring the photos you stomp to an external storage device. Under this tab, you can load in the photos you want to save, and BlogStomp will automatically size them. This way, they will fit within the space left on the storage device.
Alternatives to BlogStomp
While BlogStomp has loads of great features, there are alternatives if you're not yet convinced.
Lightroom does allow you to create layouts on a page with multiple photos, but it's created and set up for printing. This means there are standard paper sizes, margin settings, different output settings, and so on.
Another alternative could be Photoshop. It provides you with all the freedom you need to customize it but can take much longer to create.
The main alternative to BlogStomp is Canva. With the free version of Canva, you'll only need to select a template size as a base. You can then drop your photos on it as you wish. Canva gives you the ability to drag and drop images, add text and color blocks, and export easily. But it doesn't have the automatic posting abilities that BlogStomp does.
If you're looking for the easiest and fastest way to create collages to publish online, BlogStomp will be the best option.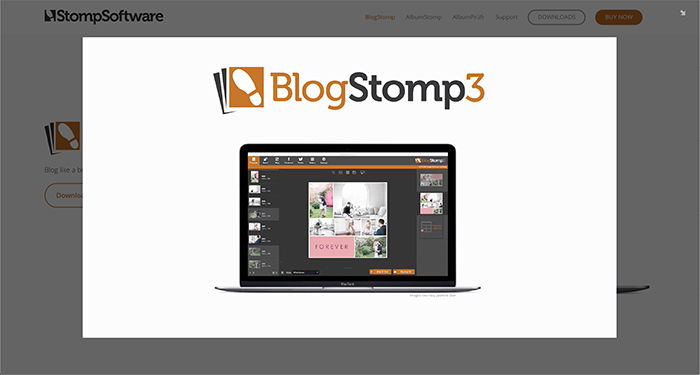 How Much Does BlogStomp Cost?
You can download a free trial of BlogStomp on StompSoftware's website (https://www.stompsoftware.com/blogstomp/ ). The trial has no time limit and gives you access to all the features, but it does add a BlogStomp watermark to stomped images.
If you do decide to purchase, it's $49 or $89 depending on whether you want a single user or studio access. If you create albums for your clients, you may want to consider buying more programs from StompSoftware.
You can buy BlogStomp, AlbumStomp, and AlbumPrufr as a bundle for $159 or $259. Again, it depends on whether you want a single user license or studio access.
You can download or purchase BlogStomp here.
Conclusion
BlogStomp was created with blogging in mind. However, it offers features that can be useful to anyone sharing photography work online. We all share our photography on social media, but BlogStomp can be ideal for you on a larger scale. It also comes in handy if you create galleries for client sessions, blog about sessions, or want to create a collage for social media. While alternatives exist, no other software offers the simplicity and automation that BlogStomp does.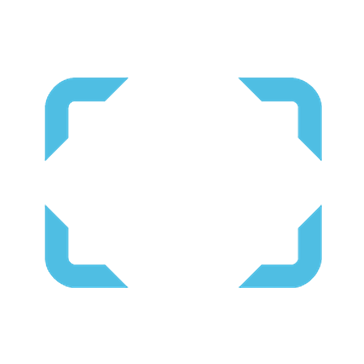 Shootproof
Looking for an easy way to manage your photography business? Discover a web-based software that streamlines your workflow, organizes your photos, and helps you make more money.