Christmas flat lay photography is the perfect way to get creative and into the festive spirit. Even if there's a blizzard outside, embrace your Christmas creativity and make some magical flat lay photos! We'll provide you with a list of our 16 favourite Christmas flat lay photo ideas that you can try at a home photoshoot!
eBooks and Courses for Everyone
Christmas Flat Lay Photography: What is it?
Flat lay photography is a new form of image-making that is taking the creative world by storm. It's a simple concept, but you can make some fabulously colorful photos with a few props and ideas.
Using any flat space, you can unleash your creativity and make arrangements using household items. You can also use different surfaces and materials as the background.
Flat lay photos are becoming popular with all sorts of creative people. Influencers are using them to spice up their social media platforms. Commercial photographers use flat lays for promotional images. Plus, product and food photographers find them to be excellent formats for their photoshoots.
You can use almost any theme when it comes to flat lay photography. But Christmas flat lay photography is the best way to get festive with your camera this winter!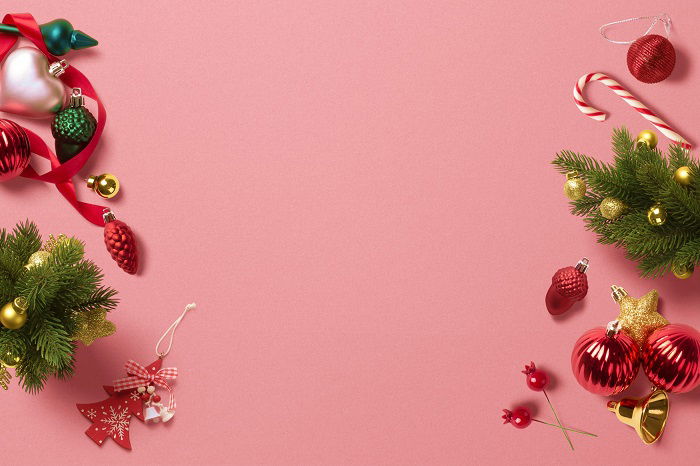 16 Stunning Christmas Flat Lay Ideas
1. Use Tree Decorations for Christmas Flat Lays
For many, there is no more significant symbol of the holiday season than the Christmas tree. With their boughs aglow with lights and decorations, they transform our living rooms into a winter wonderland.
We are all familiar with the classic decorations, so using them in flat lay photos makes excellent images. And even though we are familiar with some types of decoration, every tree is unique.
2. Show Off Your Wrapping Skills
Christmas is a time of sharing and giving to others. Christmas presents are more than material objects. They're expressions of gratitude and love we share with those we care about.
Many people enjoy the wrapping of presents. It's a tranquil task that allows you time to think about the people you love. By using wrapped gifts, we can evoke these warm feelings in our flat lay images.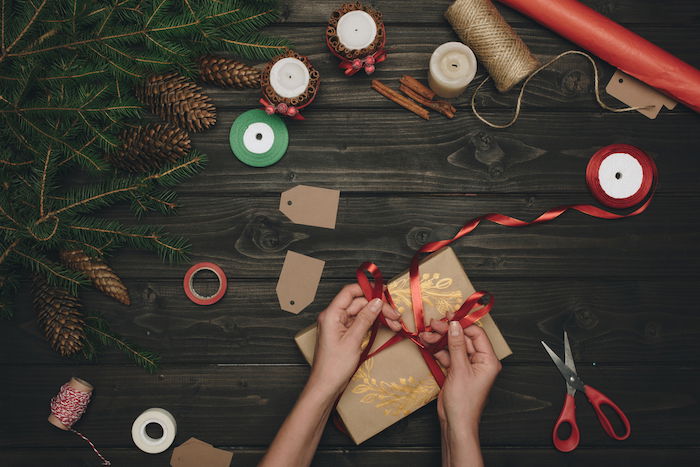 3. Make a Christmas Wreath Flat Lay
The Christmas wreath represents a welcoming hearth and a happy home at Christmas time. The sight of a colorful wreath hanging on the door will warm you up before you even step inside.
They're an excellent subject for flat lay photos because of their intricate details. And they look great when they're complete. But you can also document the process of making one in a series of photos.
4. Display Your Christmas Comfort Treats
When it's cold outside, there's nothing better than getting cosy inside. While the snow falls, you can spoil yourself with your favourite soul-warming treats.
From warm puddings to hot chocolate, you can incorporate your winter treats into your flat lay photos. It's a great way to share these Christmas delights with others.
5. Take Creative Christmas Craft Flat Lays
If you love making your own Christmas card and decorations, you can incorporate your crafts into your photography. The tools and materials make for fantastic flat lay imagery. And this is a great way to promote your work if you're a professional craftsperson.
6. Use String Decorations for a Minimalist Composition
String decorations look great around the house. And they make fabulous images when used in Christmas flat lay photos. Their linear quality can give your pictures a dynamic composition. You can do a lot with very little in your flat lay designs.
7. Spruce Up Christmas Displays with Winter Foliage
Once autumn is over, many trees are bare and cheerless. But there is still color to be found in the natural world. Evergreens never fail to add a splash of color, no matter how harsh the winter is.
Bring the natural colors of the Christmas winter season into your flat lays. You don't have the floral jewels of spring and summer. But there is beauty in wintery woodlands.
8. Decorate Christmas Flay Lay Scenes with Dried Fruit
Fresh fruit is another thing we miss in winter. But dried fried can still give us that citrus zing when the nights are long and cold.
Dried fruit has excellent muted tones. Their bright oranges and yellows have softened and matured. Dried fruit brings subtle hints of color to your Christmas flat lays.
9. Let Others See Your Christmas Baking Process
There aren't many activities that activate the body's senses quite as well as baking. And Christmas baking is always extra special.
The baking process and utensils are perfect subjects for festive flat lay photos. And they make great images for sharing recipes or your Christmas baking skills.
10. Showcase Scrumptious Christmas Baking
Once the bake is complete, celebrate your edible masterpiece in your flat lay photography. It's a great way to show off your baking accomplishments for your business if you're a baker or food blogger. Or you can help others advertise (and eat) their culinary creations!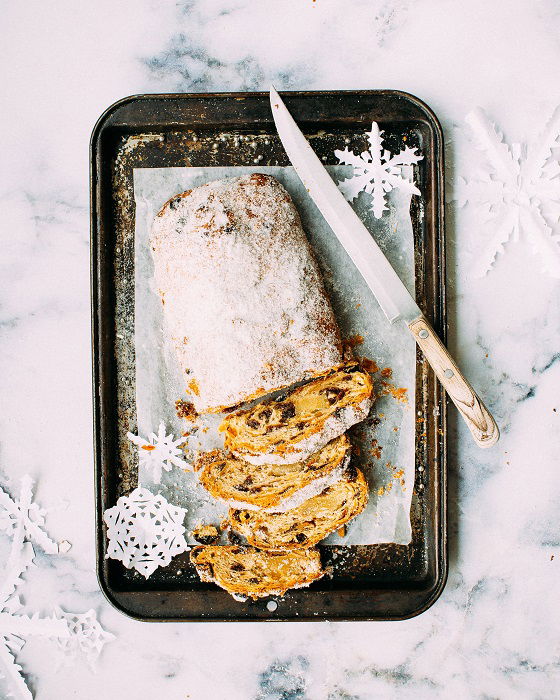 11. Create a Striking Collage With Festive Objects
By using lots of small objects, you can make a large Christmas image collage. You can use small decorations, foliage, and dried fruit to build a big picture.
You can create anything Christmasy, from presents to nativity scenes. And the array of objects will give your flat lays unique color, detail, and texture.
12. Communicate Cheer in Christmas Flat Lays
Using words is a great way to send a Christmas message with your flat lay photography. Not only are the images still beautiful, but this will help spread the festive spirit.
You can turn your flat lay photographs into personal Christmas cards. You can send them to friends and family. Or, if you're running a business, you can use them in your Christmas promotional material.
13. Arrange Jingle Bells in Christmas Flat Lays
The sound of sleigh bells is the sound of Christmas. We know that sound as soon as our ears pick it up. And they're mentioned in many a Christmas song.
Bringing bells into your flat lay photos utilises those associations. When we see them, we hear them too. And we immediately know what time of year it is. You can also group them into more recognisable Christmas shapes.
14. Create Flat Lay Photos with Candy Canes
Candy canes are another symbol of the festive season. We seldom see them at any other time of year. They belong in a snowy-white Christmas wonderland. Use these iconic sweet treats for a simple but effective Christmas flat lay by playing with composition and cropping.
15. Shoot Flat Lays of Your Christmas Card Writing
Sending Christmas cards in the post isn't so popular these days. But some still keep up the tradition. And writing Christmas cards gives you time to contemplate others and what they mean to you.
You can bring this into your flat lay photos. It's not just about the cards—it's about the joy of reaching out to loved ones at this special time of year.
16. Use Paper Snowflakes as a Motif in Flat Lays
Paper snowflakes are great fun to make. They bring back memories of festive activities from when we were in school. And if you have kids, you can get them involved.
You can use white or colored paper. And the shapes they create are excellent for adding intricate detail to your flat lay composition.
Conclusion
Christmas flat lay photography can give your end-of-season content an exciting lift. You can use it to jazz up your social media profiles. Or you can use flat lays for your business materials. We hope our list has inspired you to try some Christmas flat lay ideas this year!
Check out our Products in Focus e-book to capture compelling photos with basic setups.


eBooks and Courses for Everyone