Shooting a fashion show is always a fun experience, but runway photography also takes a lot of time and commitment.
If you're interested in trying runway photography, we have a few fashion photography tips to help you get started.
9. Runway Photography: 9 Tips for Starting with Small, Local Fashion Shows
Before you dive straight into event photography, consider going to a fashion show and observe how it operates. That way, you'll know what to do by the time you pick up a camera.
Some of the best events are student-run fashion shows at universities and colleges. Since they're not commercial, the security is loose and the atmosphere is more casual.
That means you have more freedom to walk around and even talk to models and designers.
Apart from college fashion shows, there are also some locally owned fashion stores run that like to showcase their products at local events.
These types of affairs only happen once in a while. Keep your eyes peeled for any announcements online or even in newspapers. Who knows, you might get lucky to attend one.
Plenty of cities now also organize a "fashion week" at least twice a year. Find out if your area has one, and buy a ticket to attend it. Most of them feature international brands as well as local offerings.
These types of shows are perfect opportunities for you to see how a real fashion show looks like.
8. Make Sure You Can Bring a Camera to the Event
Since you're still starting out, you won't have the same access to the shows that professional photographers have.
That means that you may not even be able to bring your camera at all.
Different fashion shows have different rules when it comes to photography equipment.
Many big events often don't allow spectators to bring cameras at all. Their reason is to keep their content exclusive.
But there are also some smaller shows allow certain types of cameras, and others even let you bring whatever you want. They do this because it's basically free press for them.
Before you go, do your research and find out what you can and can't bring. If the rules state that you can't bring a telephoto lens, then don't bring it. Otherwise, they won't let you in at all.
If the event only lets people bring non-professional cameras, then bring a point-and-shoot camera that can zoom. Although it doesn't always offer the best quality, it's compact and a lot of shows prefer it over chunky DSLRs.
You can use it until you gain enough experience and finally be allowed in with professional equipment.
7. Choose the Correct Lens
The best lenses for fashion photography are telephotos. Why? Because they let you shoot up close even when you're far away.
As mentioned, there are some shows that don't allow you to bring a big lens at all if you're a non-professional.
So what do you need to do if you can't use a telephoto? Then try a small kit lens that lets you zoom in and out when shooting. That way, you have more freedom to shoot no matter where you are.
The only problem with kit lenses is that most of them can only go up to 70mm. In other words, it doesn't have a lot of zooming power.
To overcome this issue, try to get a seat close to the catwalk. That way, you can still get beautiful runway photography shots of the outfits.
Apart from the focal length of your lens, you should also consider its maximum aperture size. In other words, find out how wide can your optics go.
It's always preferable to choose a lens that can go up to f/1.8 or even f/1.4 because they're perfect for low light photography. Options which have these aperture values are called fast lenses because they let in a lot of light.
As a result, they allow you to shoot with fast shutter speeds even when in a poorly lit environment.
6. Best Camera Settings for Fashion Photography
The best type of camera for fashion photography is the one that allows you to change the settings manually. That means, your device has to either be a DSLR or a mirrorless camera.
One of the most crucial DSLR settings for indoor low light you need to adjust is your ISO. Most catwalk events can be quite dark, so feel free to use any number between 500 to 800.
Doing so would allow you to shoot with higher shutter speed. However, if you go any higher than the values we mentioned, you'll risk introducing image noise.
Next, switch your camera to Aperture Priority and choose any value between f/4 to f/1,8 or f/1.4. That way, you' can blur the fashion show background so your viewers can see your subjects better.
Choosing Aperture Priority lets your camera select the shutter speed automatically. That means you don't have to fumble with other settings, anymore.
Nevertheless, it's still crucial to ensure that your shutter speed doesn't drop below 1/60th of a second. If it does, you'll end up with motion blur which renders your photos useless.
Should your shutter speed dip below 1/60th, increase your ISO until you reach the recommended setting.
5. Focus on the Eyes
When doing model photography, it's essential that your subject is always sharp. And the secret to making sure you get it right all the time is to focus on the eyes. This is especially useful when using a shallow depth of field.
First, go to your menu and choose Continuous Focus Mode. Doing so allows your camera to keep your subject sharp even when it's moving.
So how do you use it? simply half-press your shutter and the lens will keep refocusing as your model is walking along the catwalk.
Most cameras today feature eye detection, so you don't have to worry about making sure the eyes are sharp.
But what if you have an older camera? Then you can use the focus and recompose technique, instead. Simply move your viewfinder until your focus point (the little box in your frame) aligns with the subject's eyes.
Once the eye is in focus, move your frame until you achieve a balanced composition. Then, simply press the shutter to capture the image.
4. Include Details to Highlight the Atmosphere
Plenty of newbie photographers emphasize shooting models too much that they forget about the outfits. What they don't realize is that the clothes should always be their priority.
So when taking photos at a show, pay attention to what the models are wearing. Take your time to look at the intricacies of their clothes and take pictures of them.
If a particular brand features shoes or accessories, include them in your shot. If possible, take a close-up photo to showcase the product.
You should also take half body shots instead of only full body pictures. That way people will also get the chance to see the outfits better.
3. Photograph From Multiple Angles
Moving around while the show is going on can be difficult since you don't want to interrupt other people watching. But that doesn't mean you should only stay in one place, either.
When there's a break during a show, take that as your opportunity to look for another location. You can either try to get close to the ramp walks or shoot from afar.
Just remember not to block other people, and make sure you're in position before the next show starts.
If possible, try to get a few shots from the side, the front, up close and afar. That way you have a variety of pictures to choose from.
2. How to Get a Media Pass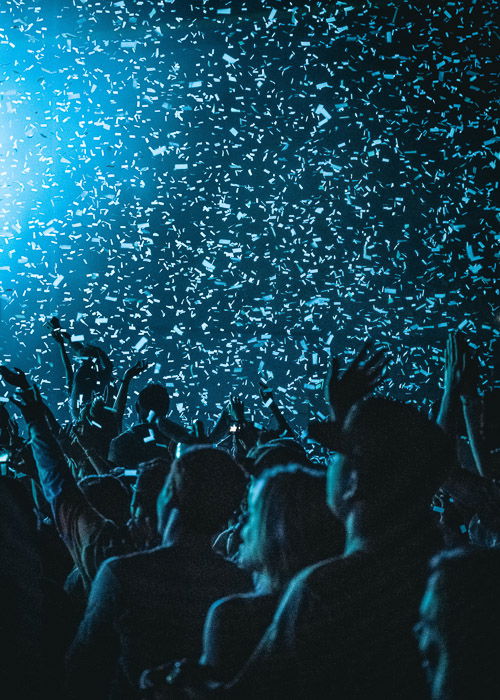 The media pass is a golden ticket that will allow you access to the fashion show as a member of the media.
So how do you acquire it? First, go to as many shows as you can and keep taking pictures. Once you have enough, build your portfolio.
The main point of the portfolio is to show people that you have experience photographing events. You can submit it to local publications which may hire you if they like your work.
If sharing your images to publications isn't successful, you can also create a photo blog, instead.
Finally, you can contact the PR department of the event you want to cover and show them some of your work. If they like what you offer, then they will give you a pass even if you don't have that much experience.
Media passes are limited. So don't fret if you get denied the first time. Just keep trying because eventually you'll get one and rub elbows (sometimes literally) with professionals.
1. How to Handle Being in the Pit
It's crucial that you study photographers working when you're in a fashion show. In most cases, you'll find most of them in the "Pit." It's a term that refers to the platform where people from the media stand and take pictures.
If possible sit close to photographers to see how they work during the event. Take notes on how and where they position themselves when shooting.
Also, observe how they work with each other. Often times, you'll see them swap places throughout the event. That way, they can get different shots from various angles. Pay attention to how they do it because you'll be doing the same once you're there with them.
Conclusion
Photographing fashion shows can be intimidating. So it's essential that you practice a lot before you mingle with the professional crowd in the pit.
Make sure you have enough experience, so by the time you get your media card, you'll know exactly what to do. If you follow the steps we taught you, you'll find that doing fashion shows can be so easy.