The Pentax KP is an interesting proposition. Some people will be put off by the relative lack of available lenses for Pentax's lens mount. Others will be drawn to the "safer" choice of more familiar brands.
But there's always room for the slightly odd in this world. And the Pentax KP has enough strengths to make it worth your consideration. Especially as this review will talk you through the alternatives if you decide that this one isn't for you. Read on to find out!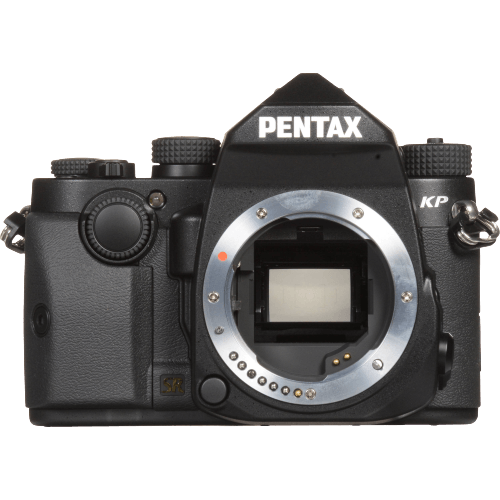 Pentax KP
Looking for a midrange APS-C format DSLR camera that can withstand harsh weather conditions? Discover the compact and weatherproof Pentax KP, perfect for nature, landscape, and astrophotography.
[ExpertPhotography is supported by readers. Product links on ExpertPhotography are referral links. If you use one of these and buy something, we make a little bit of money. Need more info? See how it all works here.]
Pentax KP Overview and Specifications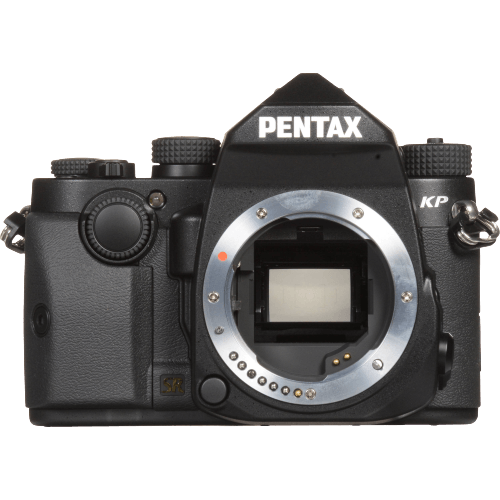 | | |
| --- | --- |
| Released | 2017 |
| Sensor Format | APS-C |
| Lens Mount | Pentax KAF2 |
| Megapixels | 24 MP |
| Autofocus Points | 27 |
| Maximum ISO (Native) | 819,200 |
| Frame Rate | 7 fps |
| In-body Stabilization | |
| Video | |
The
Pentax KP
is an APS-C format
DSLR
in the midrange market, aimed at photography enthusiasts. It has plenty of uncommon and handy features for hobbyists. It's very well built, promising to withstand harsh
weather conditions
when paired with the right lenses.
Looking at its price tag, its direct rivals are the likes of the Canon 80D, 90D and Nikon D7500. The competition is stiff. Yet the KP doesn't really try to compete against these cameras. Their feature sets are optimised for completely different applications and types of photographers.
To briefly summarise my opinion before diving in the details, I think the KP is an awesome camera, but for specific purposes. It's quite dull in terms of video and action photography. However, it excels in nature, landscape and astrophotography, as well as any genre that requires high resolution.
Features
Mount and Compatibility
The Pentax KP is built around the K-mount system, one of the older ones still in consumer use. This means you can freely use lenses even from the '70s. There are a myriad of lenses on offer, both fully manual and electronically controlled.
Most are great in terms of image quality, but Pentax has been reluctant to release lenses that use modern technologies. This is most evident in their autofocus performance. Almost all Pentax lenses I've seen or used had issues with slow, uncertain autofocus, and also motor noise.
The DA 50mm f/1.8, supplied with the KP for this review, is a prime example of this. Its image quality is quite decent, especially considering its price tag. But its autofocus motor sounds like a chainsaw. You can feel its vibration through the rubber grip of the camera. It also turns the focusing ring when autofocusing. Even the worst Canon lenses, like the EF 50mm f/1.8 II or the older 18-55s, are better than that.
You also need to keep in mind that, as the K-mount is no longer a widespread standard, new third-party lenses are often not available natively. Adapting other DSLR mounts, such as Canon EF or Nikon F, is not possible. You can adapt older medium-format lenses.
Sensor
The KP has a 24MP APS-C sensor with a 1.5x crop. This is quite standard in cameras in this category.
In terms of dynamic range, this sensor is decent, but not groundbreaking. In my not very scientific testing, I've found that it's roughly 12 stops in daylight conditions. It keeps up very well at high ISOs, though. Even at 6400, it seemed to remain around 10 stops, slightly beating my full frame Canon 5D MkIII.
The sensor is advertised to have a maximum sensitivity of ISO 819.000. On paper, this is true, but there's no meaningful use for it in real life. Obviously, images look like a mess of noise and false color at any setting close to 819.000. The low-light performance of this sensor is decent, in line with its competition, but nothing extraordinary.
Stabilization
The sensor has a 5-axis stabilization system, which is a very welcome addition. Pentax seems to be the only manufacturer to include shake reduction in DSLRs. It works with any and every lens you attach, whether it's electronic or not. It's one of those features that don't seem to be so groundbreaking, yet going back to an unstabilised system afterwards is a pain.
The stabilization module opens up many possibilities in this camera in addition to simply stabilizing. Pentax has used it to introduce a feature called Pixel Shift. This is a great tool to increase resolution when using a tripod.
With Pixel Shift turned on, the camera takes four images in rapid succession using the electronic shutter. These shots are shifted by one pixel at a time and then merged into a larger file (RAW or JPG).
This technology has several advantages for non-moving subjects. First, it increases spatial resolution, while not increasing the actual pixel count. Images taken with Pixel Shift are dramatically more detailed if done correctly.
It also gives you better color reproduction and dynamic range. Moving the sensor is a square pattern essentially cancels out the Bayer color filter array. In the final shot, every single pixel has a component taken with either (red, two green, and blue) color filter. This quadruples the RAW file size but removes the need for demosaicing during the conversion process.
Noise is also slightly reduced, but this is less noticeable and effective.
Another great use for the shake reduction module is the feature called Astrotracer. In Bulb mode, you can turn this on to follow the movement of the night sky. Of course, this has limits, but you can extend exposure time to several minutes with this feature even with a telephoto lens. All you need is a sturdy tripod and a quick calibration. Keep in mind that earthly foreground elements are blurred during Astrotracing.
Autofocus
As I've written above, autofocusing is not a strong point of the Pentax KP, but not only because of the body. There are very few lenses in Pentax's lineup that could support a properly implemented subject-tracking system.
Options for autofocusing when using the optical viewfinder are decent. There are many different area modes and a continuous or single option. Pinpoint focusing is actually very precise, targeting an almost dot-like area only.
In live view mode, you only have contrast detection, which is slow and annoying.
Video
The video features of the Pentax KP are disappointing. It maxes out at 1080p/30. Autofocus is basically unusable during video recording.
You can record 4k time-lapses internally. The compression used for this is not very strong, which results in large file sizes, but gives you a bit more headroom during editing.
Body and Handling
The Pentax KP is built like a tank. It's covered in sturdy, high-quality plastic and has a strong metal base beneath that. It's fully weather-sealed, so you can take it out in the rain with the right lenses. Sealed Pentax lenses are marked with 'WR'.
It's heavy and considerably large at 132mm x 101mm x 76mm and 700g.
It has a detachable and replaceable grip, which is ambivalent. It's cool to have the option, but it has drawbacks. One of them is that the shutter button is way back almost parallel to the sensor – not comfortable at all.
Another is that even though I've received the largest grip available, even that was quite small and didn't make sense with such a heavy camera. A creative solution is to 3D-print your own, larger grip (all you need is a hex key mount), but we shouldn't be forced to do this.
In terms of controls, there are plenty of dials and buttons, most of them are customizable. There are three main dials, but mapping all three exposure elements to each has not been possible for me. There is a dial for drive modes, and one for exposure modes. The screen is bright, but not touch-sensitive.
Pentax uses perhaps the most complicated system for exposure modes. Besides the usual Av, Tv, P, and M, there is also an Sv (ISO-priority) mode, and a TAv mode. You also have five customizable modes.
Battery life is quite mediocre for a DSLR, but still better than most mirrorless cameras on the market. A single UHS-I SD card is used. They have separate doors, and both are accessible when a tripod plate is attached. You also have the option for a battery grip.
One of the least ergonomic features on the KP (and any K-mount camera) is the placement of the lens release button. It's located at the left bottom of the mount in a quite inaccessible place, it's small and hard to press. There's not much Pentax can do with it, though – this has been the same since 1975.
Alternatives
The KP has no directly comparable alternative, but there are many other options in this price range.
If you're looking for better video features and ergonomics, look towards the Canon EOS 80D or 90D.
If you're looking for slightly better image quality and much better autofocus with the viewfinder, I recommend the Nikon D7200 or D7500.
If you want the key features of the KP in a smaller, lighter, not so protective camera body, I advise checking out the Pentax K-70 instead.
Our Verdict
The Pentax KP is a strong contender in some specific niches. It's not an awfully versatile camera, but it's awesome for resolution-intensive works.
I recommend it above all for nature and landscape photography, and astrophotography. Avoid it for sports and action, if possible. For any genre in between, it's fine – it will give you the images you'd expect at this price point.
| | |
| --- | --- |
| Measurement | Score |
| Main Features | |
| Extra Features | |
| Construction and Durability | |
| Handling and Ergonomics | |
| Value for Money | |
| Total Score | |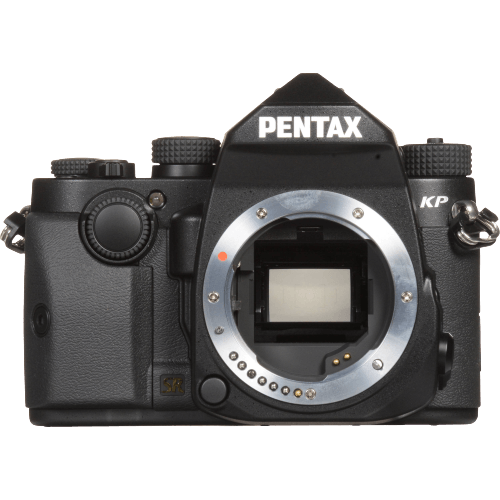 Pentax KP
Looking for a midrange APS-C format DSLR camera that can withstand harsh weather conditions? Discover the compact and weatherproof Pentax KP, perfect for nature, landscape, and astrophotography.