Creative reflection photography is a great way to add an extra layer of interest to your photos. By capturing the reflections of drinks in different surfaces, you can create some really eye-catching images. Here are a few tips on how to get started.
eBooks and Courses for Everyone
Creative Reflection Photography: Sketching Your Way to Capturing Memories
First of all, think about the story you want to tell. The reflection you're going to make doesn't have to be complicated, but it has to be connected to the whole scene.
I think the best way to come up with an idea for a shot like this is to think about your character. This is your hero.
Is it a child who wants to be an archaeologist? Put a dinosaur reflection in a cup and add a fern near it.
Or a reader obsessed with fairy tales? Let's make a still life with a book and a ghostly dragon.
A traveler, who wants to fly all around the world? Good, let's make an airplane reflection in their cup!
Catch your character's thoughts and make a reflection silhouette from them. In my case, it was a botanist, who founds a rare carnivorous plant.
What Gear Do You Need
1. Source of Soft Light
To make a creative reflection in a coffee cup the most important thing we need is a large source of soft light.
It can be a softbox or a big diffuser. Or you can use window light, passed through a white cloth. This get rid of the reflection of objects in the street.
It is much easier to work with a constant source of light. You'll be able to see the shape of the reflection immediately.
If you're used to working with speedlights like I am, you won't have any issues either.
Template and Props
To make a template for our reflection we need a sheet of thick paper and a layout knife (more about that later). And surely we need a cup of tea or coffee and some additional items to match your story.
If you have a reflection of a sea horse, stick to sea-themed props, pick a blue ceramic cup, add a hand-drawn treasure map, some sand and a couple of seashells.
In my case, the predatory plant silhouette works with moss, fallen leaves, and some mushrooms.
Camera and a Tripod
And last, but not least, you will need a camera with any lens suitable for still life photography. I favor 105 mm. You will also need a tripod to free your hands and concentrate on composition.
Make a Template
Cut a form of reflection you want to get from paper. It's best to use simple forms for the first try (stars, heart, airplane). You can try more complicated forms later (a tree branch, octopus or even letters).
Decide, do you want a dark silhouette or a shiny figure. I wanted my predatory plant to be a light spot inside a cup. So I didn't need the figure itself, but a cutout of it in the paper.
The same goes for shots with an airplane and the dragon, here I use a sheet of paper with a hole in it.
For a shot with a blackbird, I used the silhouette itself to get a dark shadow on a bright reflection. Pick whichever you like best!
The size of your cutout should be about the size of the reflection you want to get. If the diameter of your cup is 8 cm, the cutout should be about 6 cm.
The whole template should be about 12, to cover all the space that should remain dark.
Use a layout knife or small scissors and very thick paper to make the template. This way it can hold its own weight and it will be easier to hold it in the air.
Arrange Your Composition
Put your camera on a tripod, choose the angle that makes you able to see the surface of a liquid. After that arrange a composition with a cup and objects related to your reflection.
In my case, it's some mushrooms I made from polymer clay and fixed with paper clips. I also added some moss and fallen leaves I always keep on hand.
Set the Lights
You can use any lighting scheme you like. You need to have a soft light right above your cup, so it could make a bright spot on the surface of the coffee.
If you have only one light source, a big reflector above the cup will also do the trick.
Most of the time I use two light sources. The key light is a speedlight behind a big diffuser. I placed this behind and slightly above my scene.
It provides beautiful shining reflections and is crucial to getting the creative reflection in-camera.
The fill light is a speedlight in a small strip-box on the left side of the scene. It lifts the shadows slightly and creates more volume.
Try to not shoot from the side of a light source. If your only light is above the scene don't place your camera above the scene too.
Unless you want to get a flat image without shadows that show the volume of objects. Add another source of light on the side or move your camera lower.
How to Focus for Sharp Reflections
You can adjust the sharpness of the edges of your reflection in two ways. First, you can move the template further or closer to a cup.
The closer you are to a cup, the sharper reflection you get. I prefer slightly blurred edges. You may want them to be strongly blurred or extremely sharp.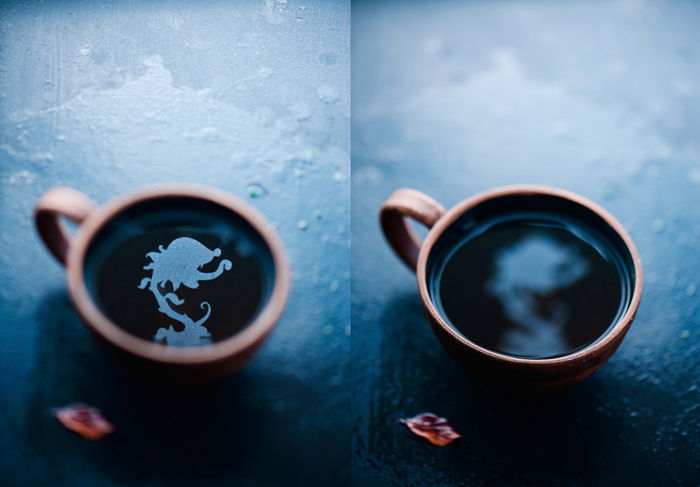 Second, you can change the focus of your camera, sliding between blurred object and sharper reflection or vice versa.
It's mostly a matter of taste. Don't make the edges of your reflection too blurred, so the viewer can recognize the shape.
Take a Shot
Put the list of paper with a cut figure between the source of soft light and the cup. This way you can see a silhouette in the reflection.
Set the focus mode to manual. Autofocus may decide that it prefers reflections to an entire scene and focus on it. This leaves your still life in a blur and keeps you from combining two shots afterward.
Take control of this and focus manually.
Most of the time this trick works in-camera. Sometimes, the right size of reflection comes with your hand or an edge of a sheet of paper in the frame.
In that case, capture two shots and combine them later. Using a tripod makes it very simple even you're not experienced in post-processing.
Last quick suggestion. You can make your background wet and it will shine just like the surface of tea under the soft light!
Conclusion
If you need to get rid of paper that got in the frame, combine a shot with a reflection and a shot with a clear background using Layer Mask.
Hopefully, you got the effect in-camera and all that remains is to adjust the tones and enjoy the finished picture.
Here are some more examples of what you can do with this technique:
I believe this trick is as versatile as it is fun to try. I can't wait to see all the stories you come up with! Best of luck with your experiments!


eBooks and Courses for Everyone