ShootProof vs Pixieset is a close contest. They are both popular online photo printing services, but which is the best? Let's take a look at the pros and cons of each to see which comes out on top.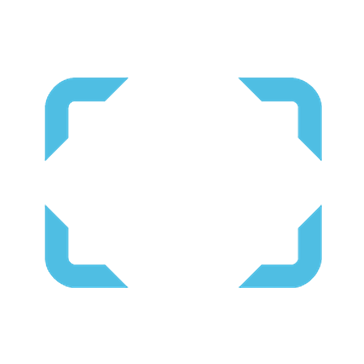 Are you curious about Shootproof vs Pixieset? Discover the best online photo printing software for your business needs with our comparison article.
Comparing Shootproof vs Pixieset: Why do You Need a Photo Sharing Site?
Are you moving from occasional photography jobs to earning money from your photos? Then you probably already know that you need an efficient way of storing and sharing your photos.
It will transform the organization of your photos. Your clients will love how easy it is to access photo galleries. And you can sell photos directly from the website's online store without input from you.
So the question isn't, "Do I need a photo-sharing website?" The question is, "Which is the best photo-sharing website for me?" And for thousands of photographers, that answer comes down to Shootproof vs Pixieset.
Features to Look for in a Photo-Sharing Platform
One thing you'll notice from this review of Shootproof vs Pixieset is that there are a lot of shared features. It's good to note how carefully they have matched their services to the needs of photographers. And that includes their clients.
Now let's discuss some key features to look out for.
Customizability
This is important across the whole range of features. Many photographers' needs are broadly the same. But there can be small differences in the details.
One small example is watermarking. Some people choose to protect their online photos with a watermark. Some people choose not to. With both platforms, you get to choose.
With paid plans, you can use your own domain name.
Client Galleries
Both Shootproof and Pixieset allow you unlimited client galleries. They both offer a range of templates to choose from.
And customizability means you can change layouts and colors to suit your needs. They both also allow you to add your own branding and logo on paid plans.
Private galleries mean that your clients' photos are not publicly available. But they can see the entire gallery. And what gallery visitors see depends on what permission you give them.
Print Sales
You will appreciate this if you've ever had to handle photo sales. And wedding photographers will especially appreciate it.
Customers can select photos from the client galleries and order prints. They contract the printing to different labs, so you'll have to check what's available. Usually, they include standard prints of various sizes. They might also include mounted or framed prints.
Both platforms also offer paid-for digital downloads.
You can offer discount codes or coupons to promote your site and encourage sales. Conveniently, both platforms handle the sales side of things. This means you don't have to worry about accepting credit cards or other similar payments.
Uploading
Pixieset and Shootproof both provide Lightroom plugins. This means you can upload to galleries straight from Lightroom.
Shootproof also offers a desktop uploader for Mac and Windows. You assign the gallery, brand, and even watermark in the uploader. It then makes the necessary changes as it uploads to your portfolio.
Pricing and Plans
Both platforms offer free accounts. Of course, these have some limitations. Choose the plan that best suits you according to the number or size of images used. I'll explain some of the differences in detail later in this article.
Mobile Gallery Apps
These allow you to create a mobile app for your clients. Let's say you take the photos at Adam and Eve's wedding.
You then create an app that allows Adam and Eve (and anyone else they choose) to browse their photos. And they can select and order any photos directly from the app.
And the apps for both platforms display galleries optimized for mobile devices.
ShootProof vs Pixieset: What Plans Do Pixieset Offer?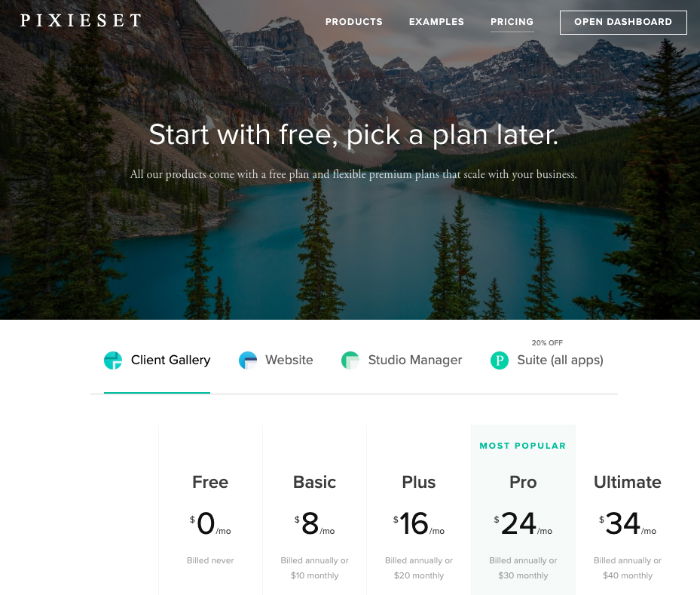 Pixieset offers a number of plans. Their client gallery plans range from $0 to $40 per month. (Or $34 per month if paid annually.) As you would expect, the free version is very limited.
Pixieset ranks its plans by the amount of storage used. This ranges from 3 GB on the free accounts to unlimited on the Ultimate Plan. In the same way, video upload ranges from 0 to 5 hours for those same plans.
Pixieset's free account lets you sell photos, accept online payments, and give coupons and gift cards. Pixieset takes a 15% commission on sales on this plan. And it includes three mobile apps for clients.
The free plan is a good way to see if you like Pixieset. You can test out the platform by investing only a little bit of your time. If you think it will work for you, you can upgrade to a paid plan.
All the other plans let you use your own custom domain and add your own branding. There's no limit to mobile apps and no commission on sales.
If you find that your chosen plan is wrong for you, you can change it anytime. You can upgrade plans if you get more business than you thought. Or you can downgrade plans if you only use 50% of your storage.
User Interface
The Pixieset interface is easy to use. It is easy to set up the galleries. And things like titles, layout, and watermarking are intuitive. Likewise, choosing a processing lab and arranging prices is straightforward.
The dashboard for the photographer is intuitive and well thought out. The range of templates isn't overwhelming, but that can be good. Most people will find something they like. And they are easy on the eye with plenty of custom options.
Integrated Tools
There is a suite of business tools available called Studio Manager. This is not part of the gallery plans, but it's integrated with them.
It expands the functionality of Pixieset substantially. You can draft, send, and sign contracts digitally. And you can create, send, and track invoices.
But I think Pixieset missed an opportunity with their presentation. It's easy to miss the additional functionality of the Studio Manager.
It wasn't immediately obvious when I initially glanced at it during my research. But setting up an account with each platform did point me in the right direction in the end.
ShootProof vs Pixieset: What Plans Do Shootproof Offer?
<img class="wp-image-825874 size-full aligncenter" src="https://expertphotography.com/wp-content/uploads/2022/07/shootproof-vs-pixieset-shootproof-plans.jpg" alt="List of plans that
ShootProof's plans also start at $0 per month. The plan level isn't determined by storage space but by the number of photos you upload. The free account gives you up to 100 photos and is also a good way of trying it out.
Paid plans start at $10 per month. (Or $8.33 per month if you pay annually.) They go up to $60 per month for the Unlimited Plan. (Or $50 per month if paid annually.) And all features are available on all paid plans.
One handy feature is being able to archive client galleries. When your Shootproof online gallery is no longer active, you can archive it. It costs just a little bit to do this, but it's a good system.
Music
Perhaps the most notable difference with a Shootproof gallery is the music option. This makes music available to those viewing your galleries. It's $5 per month for one genre of 115 songs. These are the genres:
Sports & Action
Babies, Kids, and Family
Boudoir & Fashion
Weddings & Love
High School Seniors
Or, for $10, you get the Ultimate collection of more than 20,000 songs. You can filter by theme, style, mood, tempo, instrument, or vocal. It is very comprehensive.
Contracts
Integration
The theme of integration continues through the invoicing process as well. You can add this seamlessly to an email with the contract. And you can easily set up autopay or automatic email reminders.
The same system also provides reports. This includes sales from the website and through your invoicing. It's a very neat solution that provides your clients with a very professional experience.
Access Control
Controlling access to professional photographers' photos is vitally important. Sadly, some people may try to steal your content. Both platforms offer levels of protection. And Shootproof has a lot of flexibility within this feature.
For any given Shootproof gallery, you can set different permissions. This might allow free access to the entire gallery. Or you can offer watermarked access or limited downloads.
You can specify whether they can download full-size or smaller files. And you can nominate certain people to have different permissions from everyone else. For instance, if you shoot a wedding, you can give the bride and groom special access.
ShootProof vs Pixieset: Which is Better?
Both of these platforms will make your life as a photographer much easier. Both user interfaces are straightforward. Both sites offer offline payment and all aspects of an online store. And you can offer client discounts and manage digital download permission.
The range of plans from the two providers seems to offer the same prices. Let's look at the entry-level paid plans for $10 per month and $60—the two ends of the scale.
Cheaper Plans
Pixieset has a problem that I mentioned earlier. They list their Suite app separately from their Client Gallery app. It takes a bit of searching to work things out. At the $10 end of the market, Shootproof is our clear winner.
The gallery functions and mobile apps are pretty much the same. But $10 with Pixieset does not buy you the invoicing or contract features.
With Pixieset, the cheapest plan with all those features starts at $35 per month. It comes with 1,000 GB of storage. This compares very favorably. ShootProof charges $30 and $40 for 25,000 or 50,000 photos, respectively.
More Expensive Plans
For $60 per month, there's little to choose between the two. Both give you unlimited storage. You can use both of them as your photography gallery homepage as well as your digital store.
They're not identical, however. And at this price, you want to be really happy with what you're getting. This is true both for functionality and user experience.
Trial Account
Are you considering opening an account that will cost you $30 or more monthly? If so, I recommend opening a trial account with both. It's definitely helpful to see the full functionality of a trial account.
You're not limited to what a free plan gives you. So invest some time before you invest some money. Because in the ShootProof vs. Pixieset battle, anything above $30 is evenly matched.
I you want to take your photography business to the next level, check out our Profit from Portraits e-book.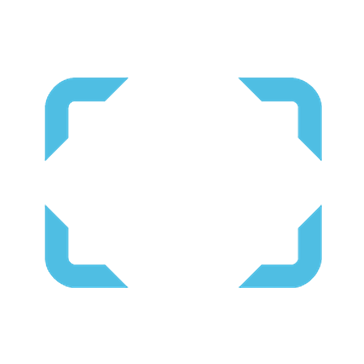 Are you curious about Shootproof vs Pixieset? Discover the best online photo printing software for your business needs with our comparison article.