The best photo album is the one you have, to paraphrase the old camera adage. Look at the state of our photo trunk in the picture below. It will surely be no surprise that the pictures we look at most are the ones in photo albums. And those albums form a continuum from really rather nice to "what were they thinking?"
Customizable And Convenient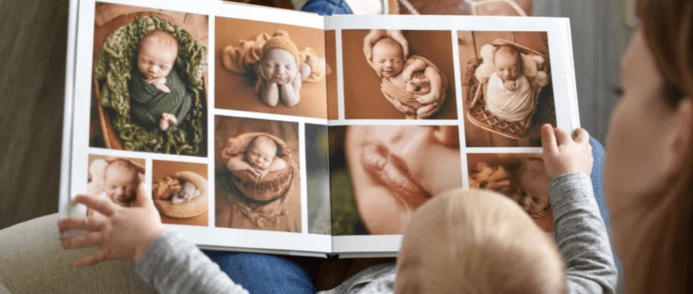 Shutterfly Photo Books
Looking for inspiration to create a beautiful and personalized photo album? Check out this online store that offers a wide range of sizes, covers, and paper types to create a unique and custom-made photo book.
[ExpertPhotography is supported by readers. Product links on ExpertPhotography are referral links. If you use one of these and buy something, we make a little bit of money. Need more info? See how it all works here.]
What to Look for in the Best Photo Albums
Purpose—You don't want a leather-bound monster to cart around with you to show your friends photos at the coffee shop. Conversely, you don't want to throw your wedding photos in a dollar store plastic 4 x 6 photo wallet. So think about the purpose for each photo album when you choose it. The best photo albums suit your purpose. These are your own photos, so pick the best way to show them off.
Storage type—It's stating the obvious, but you have to stick your photos in your photo album somehow. I've already mentioned the magnetic type. Thankfully, these have improved over the years. Certainly, they are now better than the cheap ones that have let me down.
They comprise a rigid board where you place your photos. And a clear sheet of plastic. This peels back, you place your photos and then cover them with the plastic. It adheres to the pages but not the photos. The benefit is that it's not as fiddly as using glues or mounts. And it allows you to include other flat objects, like tickets or postcards. You must remember to leave enough margin around the photos to give the plastic something to stick to.
Pocket-style photo albums have plastic sleeves with pockets for you to slip the photos in to. The advantage is that it is quick and easy. On the downside, you are absolutely restricted to the size chosen by the manufacturer.
Scrapbook-style albums provide you with a blank canvas, so to speak. You can choose to stick whatever you want, wherever you want it. The advantage is that you can be very creative. You can place the photos however you want. If you can draw or write beautifully, you can annotate or illustrate your pages. Like a magnetic album, you can add other elements—place cards from your wedding, for instance. The disadvantage is that your photo mounts, glue, or sticky pads, have to be good. Otherwise, the photos can become loose.
Archive protection—I have been careful to choose albums that don't include chemicals or substances that will harm your photos. Acid, which is frequently used in paper production, can damage photos over time. Lignin, a natural part of paper pulp, is what causes it to yellow with age. This is also undesirable in your photo albums.
What Are the Best Photo Albums for Your Collection?
You'll find options here for magnetic leaves, scrapbook-style leaves, and slip-in albums. What you prefer is just a personal choice. Check out the buying guide at the end for a discussion of the merits of each style.
Storage type: Scrapbook
Size: 12 x 8.7 inches (30.5 x 22 cm)
Capacity: 200 4 x 6 inches (10 x 15 cm) or 5 x 7 inches (12.7 x 17.7 cm) photos
Cover material: Leather
This Rustic Town leather cover photo album will look great on your shelves or coffee table. It has that Indiana Jones vibe about its looks. The cover is held closed by a flap and leather strap. I confess this is a little bit of a triumph of style over function. But this is for style-conscious people. There's nothing quite like leather photo albums for looking classy. The leather is soft and supple and will only improve with age.
The pages are acid-free cotton rag. And like your granny's old albums, there is a patterned, semi-transparent interleaf between all the pages. You'll need glue or adhesive photo corners to add your photos. But you can mix and match sizes, labels, and other media to the pages.
For stylish flexibility, this is a great choice. It comes nicely nestled in a presentation and storage box. Its success as a photo album will depend on the quality of the glue or photo corners that you use.
Storage type: Pocket, loose-leaf
Size: 11.75 x 10.5 inches (29.9 x 26.7 cm)
Capacity: 120 4 x 6 inches (10 x 15 cm) photos
Cover material: Bonded leather
This Gallery Leather album is a good choice if you're looking for a big leather album. It's not as quaint as the Rustic Town album, but it has some compensatory features. It is a loose-leaf design. This means you can mix and match the inserts to your photos.
You can add inserts for 4 x 7 inches (10 x 17.7 cm), 5 x 7 inches (12.7 x 17.7 cm), and 10 x 8 inches (25.4 x 20.3 cm) photos. You can also choose black scrapbooking inserts. You can also add photo notes in the 4 x 6 leaves. They come on a sheet, which makes it easier to write or print on than if they are in the album.
The inserts are free from PVC and acid. Like all Gallery Leather products, the whole album carries a lifetime guarantee. The ability to mix and match the contents is a real plus with this album.
Storage type: Pockets
Size: 8.25 x 8.75 inches (20.95 x 22.23 cm)
Capacity: 200 4 x 6 inches (10 x 15 cm) photos
Cover material: Book cloth-covered board
One neat feature of the Kolo Hudson is the archival acid-free paper. Even though it has pocket-style photo storage, the pockets are fixed to high-quality paper. This means that any notes you want to add can be written alongside on paper that takes ink or pencil.
A three-inch square window on the front can be used for a cover picture. The hard-wearing book cloth cover material should last a long time. The album comes in a range of 12 different colors and black leather. There is also a 3up version with space for 300 4 x 6 inches (10 x 15 cm) photos.
Kolo says that the Hudson is the US's number one best-selling premium album. It is easy to see why, as it offers no-nonsense quality and ease of use.
Storage type: Pockets
Size: 9.25 x 9.25 inches (23.5 x 23.5 cm)
Capacity: 200 4 x 6 inches (10 x 15 cm) photos
Cover material: Bonded leather
One problem with slip-in leaves for photo albums is that you can normally only insert photos in one orientation. So you have to rotate the whole album to see, say, landscape photos. Pioneer Photo Albums have overcome this problem with a patented slip-in page, which accepts prints in either format. At least for the standard picture size for photo album use of 6 x 4 inches.
Alongside the pockets is a "Memo" section where you can write details of the photograph. Some users have warned that the ink can smudge easily. So you have to be careful with your pen choice.
The leaves themselves are free from acid, lignin, and PVC. This should ensure long life for your photos.
The cover is bonded leather. Not as fancy as proper grain leather, but it does add a touch of luxury at a more affordable price. At less than $20, this is an affordable solution for collecting your photos together with a touch of style.
Storage type: Magnetic
Size: 12 x 12.7 inches (31 x 32.4 cm)
Capacity: 20 leaves, each 11.4 x 11.75 inches (28.9 x 29.8 cm)
Cover material: Faux leather
The Pioneer Photo Albums X-Pando offers a flexible-format album with so-called magnetic leaves. This is the commonly-used term for a card leaf with a plastic overlay. This overlay adheres to the card stock but not the photo.
The inserts are acid, lignin, and PVC-free. They are held in place with posts and screws. This means you can add extra pages as and when you wish. The large, almost-square format accommodates everything up to 8 x 10 prints.
The free-form possibilities mean you can add concert tickets, postcards, notes, or anything flat to the pages. This sort of photo album is a great choice for holidays or family celebrations.
Storage type: Magnetic
Size: 13 x 13.2 inches (33 x 33.5 cm)
Capacity: 20 leaves, each 12.4 x 12.8 inches (31.5 x 32.5 cm)
Cover material: Faux leather
This is our last large-scale album. The Zoview is another magnetic album. The leaves are acid-free, and the plastic covers should protect your photos, even if you spill liquid on them.
The photo album looks the part. Although it's only faux leather (or "PU leather"), it's nicely stitched to give it a classy look.
The leaves are big enough to hold two 4 x 6 or even 5 x 7 prints. Like other magnetic pages, you are not limited to a uniform size or even just to photos. If you run out of space, a simple post-and-screw system allows new pages to be added.
The Zoview provides good-looking storage at a lower price than a premium album. Its flexibility and expandability make it a good choice.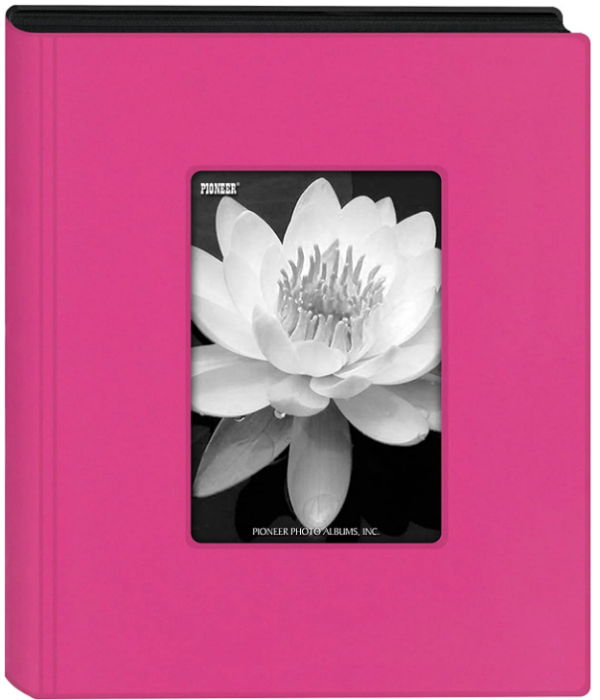 Storage type: Pockets
Size: 4.88 x 6.5 inches (13.4 x 16.5 cm)
Capacity: 24 4 x 6 inches (10 x 15 cm) photos
Cover material: Plastic
So far, the cheapest photo album we've seen was under $20. If even $20 is, to quote Ted Lasso, "a little rich for your stomach," then this Pioneer photo album might suit you. It is smaller in size and capacity. But larger in attitude, with its bright pink, padded cover. There is a small frame in the front to showcase a cover photo.
This is an album simply designed for convenience and compactness. The pockets have no memo space, and will only accept the standard 4 x 6 photos in one orientation. But it's clearly intended for easy portability.
Despite this, the pockets themselves are acid, lignin, and PVC-free. So your photos are protected from premature aging better than with a simple, budget, dollar store album.
Storage type: Pockets
Size: 5.3 x 7.4 inches (13.5 x 18.8 cm)
Capacity: 48 4 x 6 inches (10 x 15 cm) photos (96 in total)
Cover material: Flexible plastic
Like the Pioneer album above, this Dunwell photo album is mainly useful for quick and easy storage and display of your favorite photos. If you have a lot of photos to archive and not much time, it can sometimes be helpful just to get them in an album. Fancy labels and annotations have their place. But sometimes life is too short.
Despite being less than $10 for two albums, you still get non-glare, acid-free, non-cling pockets. It means that you can quickly and easily get the photos safely stored and ready to view. Perhaps before moving the best ones on to something nicer.
Storage type: Scrapbook
Size: 12.5 x 12.5 inches (31.8 x 31.8 cm)
Capacity: 200 4 x 6 inches (10 x 15 cm) or 100 5 x 7 inches (12.7 x 17.7 cm) photos
Cover material: Leather
Even when it looked like printed photos were dying, I bet wedding photos refused to lie down. Wedding photo albums are as much a part of the big day as the bouquet. Or the embarrassing uncle. Your Perfect Day's wedding pictures album has a luxurious soft leather cover. This gives it a sense of occasion, befitting the memories it holds.
The leaves are plain, with a semi-opaque protective page between the pages. The album comes complete with 800 photo mounts to fix your photos. The size allows a combination of sizes and orientation.
As it's a wedding photo album, it's important that you can fit in those bigger photos. You can even include some Polaroids if your guests have been taking them. It also has room for orders of service and other mementos inside the back cover.
Some people have even used it as a guestbook on the big day, adding photos and mementos later. This photo album is a flexible solution to giving your wedding photos a touch of class while keeping them safe. It's for sure an album you will return to time and again.
Storage type: Magnetic
Size: 13.6 x 13.2 inches (34.5 x 33.5 cm)
Capacity: 30 leaves, each 12.5 x 11 inches (31.8 x 27.9 cm) photos
Cover material: Faux leather
This RECUTMS wedding album also allows you to use a mixture of photo sizes. But, because it's magnetic, you don't need to use glue or sticky pads. It also means you can change your mind (and your photo layout).
The photo album has lignin, PVC, and acid-free pages to protect your photos. The faux Leather cover is available in 12 different colors and is buttoned for a classic look. There is a front cover window to make the album more personal.
This RECUTMS photo album is great for an unashamedly "wedding" album. Perfect if you want format flexibility and no photo corners.
Are Photo Books or Photo Albums Better?
My nephew, who is thoughtful and kind, regularly sends my parents a photo book. They have a really rather charming collection now. And they look superb, like proper coffee table books. He's a much better person than I am. Of course, all of this is possible because of the wonder of online digital printing. You can buy photo albums that look like books. Or you can buy actual books.
If you've never tried it, then it is worth a go. If you think about the process, it is much simpler than albums. Instead of printing the photos, you select the ones you want. Then upload them to the printer's website. There you choose a template, add text, and so forth. Then you order the book.
There's nothing quite like seeing your photos in a book. It surprises me that a minority of my wedding clients choose a book for their wedding pictures. But we all have our preferences. We'll consider two of the most popular online book services to finish this review of the best photo albums. Christopher Bryan-Smith has recently made an in-depth comparison between the two services.
Which Online Photo Album Service is Best?
As with any online photo printing service, Shutterfly doesn't limit itself to photo books. But, they do an extensive range.
Suppose we look at wedding day photo albums, for example. There are 12 templates to choose from, each with six possible sizes. Then you can choose softcover, hardcover, or premium leather cover.
With so many permutations, it's safe to say that your photo book is likely to be unique. Unlike even the best photo albums, you can add round or oval photos. And the really impressive shots can stretch across the pages.
If you find only 12 templates a tad restrictive, worry not. Mixbook offers no fewer than 74 templates. You can then choose three different formats (landscape, square, or portrait) and two sizes. There's no leather option, but you can opt for soft or hardcover.
You can choose to add your own stickers or backgrounds or use the Mixbook ones. Flexibility is the key. And Mixbook came out top in our review partly because of its user interface. All those options can overload you with choices. But Mixbook handles it all smoothly.
Conclusion
Let's start with the easy one. What's the best online photo book service? Mixbook wins with its combination of choice, simplicity, and price. Print quality is a given with both services.
For simple, quick, and convenient storage of standard 4 x 6 inch prints, I'd opt for the Pioneer Photo Albums CLB-246/BK. Its capacity and simplicity are winners.
For style, I can't help but love the Rustic Town Leather Cover Photo Album. It's stylish in a shabby, world-worn way. It makes you wonder what treasures might lie within. And it's a great choice if you want your photo albums without plastic sleeves.
Customizable And Convenient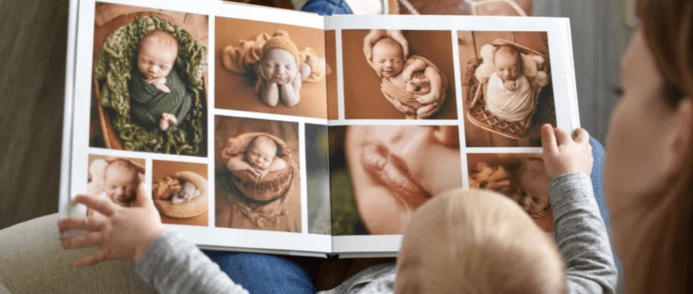 Shutterfly Photo Books
Looking for inspiration to create a beautiful and personalized photo album? Check out this online store that offers a wide range of sizes, covers, and paper types to create a unique and custom-made photo book.