Our mission is to make photography simple.
And the free cheat sheets below will help you to learn photography fast.
If you're interested in learning more about a topic, check out our related products and free training.
Beginner
Composition Poster: Leading The Eye
For great images, you need great composition. But the trouble is that the 'rules' can be hard to remember (there are so many of them).
That's why we've designed this wall poster. It summarises some of the most important topics covered in our ebook and cheat sheets, Intuitive Composition.
This poster focuses on leading the eye, which gives you total control over how someone looks at your photos.
When to Use Different Focal Lengths
You probably shouldn't use a wide-angle lens to shoot a portrait… or a telephoto lens to shoot interior architecture.
But knowing when to use each focal length can be tricky. That's why we designed this cheat sheet.
This is just one of the 52 cheat sheets we produced for our best-selling Quick Capture Cheat Sheets.
Exposure Triangle Poster
For most photographers who are just starting out, understanding the exposure triangle is key to taking well-exposed photos.
But this can still be a little tricky to understand if you don't know how aperture, shutter speed, and ISO work. That's why we also filmed a full course called Photography for Beginners.
Check out the poster and course using the links below.
Creative
Fun Project: The Easiest Way to Shoot Levitation Photography
This is a project from our best-selling ebook, The Creative Photography Cookbook.
The ebook shows you how to capture images through 30 different projects covering these special techniques: steam and fire, balance and levitation, special effects, action, and splashes.
Learn how to capture awesome levitation photography with this free cheat sheet.
Fun Project: Cheat Sheet for Colourful Waterdrop Photography
This is a project from our creative photography course, Wow Factor Photography.
The course shows you how you can capture 30 different creative images from the comfort of your home.
Along with the 30 videos, there's also a printable cheat sheet for each project. This is one of the most popular and most accessible projects you can try today.
The Ultimate Macro Photography Checklist
This is one of the bonuses from our course, Macro Magic.
It's a printable checklist to help you to get started with macro photography quickly.
Download it now and use it to plan your creative macro photography shoots.
10 Incredibly Important Tips for Improving Your Food Photography
The goal of food photography is to make your food look appetizing and delicious, without making it seem too artificial or processed.
That's easier said than done though, which is why we produced an ebook on it called Edible Images.
And we also designed this cheat sheet to help you get started quickly.
Fun Project: Capture Your Dog Lying on a Bench
We worked with a dog trainer and photographer to produce a stunning project-based ebook called Perfect Pawtraits (please excuse the pun).
This is a cheat sheet from one of the 30 projects covered in the ebook.
And best of all, you don't need any prior experience or extra equipment to capture these images.
Lightroom
Lightroom Shortcuts Cheat Sheets
Lightroom is incredibly powerful… if you know how to use it properly.
That's something we cover in detail in our course, Effortless Editing with Lightroom.
And if you want to speed up your workflow, it can be really helpful to know all of the shortcuts. That's why we designed these three cheat sheets with all of the shortcuts you could ever want to know.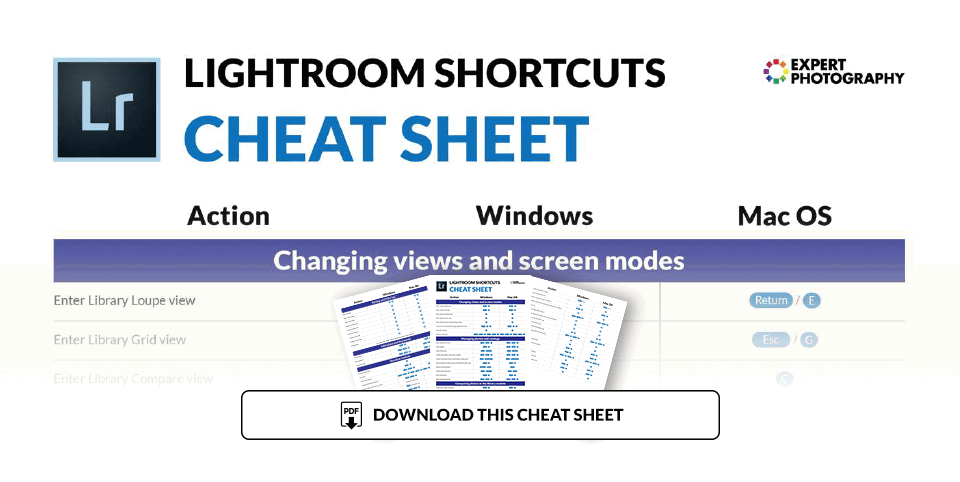 The Lightroom Develop Module Cheat Sheets
A fast way to edit your photos in Lightroom is through the use of presets.
We've developed The Preset Collection to help with this, but it's important that you still understand what every development slider does.
That's why we created this develop module cheat sheet for you to download below.
Outdoor
The Ultimate Milky Way Photography Preparation Checklist
Milky Way photography is some of the most fun you can have with your camera, and something we cover in detail in Milky Way Mastery.
It's not as hard as it seems, but you do need to learn some new techniques and planning tips.
And this free checklist will help you capture great images on your first attempt.
The Long Exposure Photography Checklist
Long exposure photography is an important skill to master because you can use it in so many different situations.
It's something we cover in detail in our course, Infinite Exposures.
But if you just want a quick way to experiment with long exposures today, download our cheat sheet below.
Fun Project: Capture a Perfect Cloud Over Minimal Scene
Sky photography is a niche of landscape photography that is a lot of fun to experiment with.
There's so much variety, you can shoot interesting photos of the sky in almost any weather.
We teamed up with master sky photographer, Jay Daley, to produce our ebook and cheat sheets, Shooting Skies.
This is the cheat sheet from one of our 30 projects.
The Landscape Photography Checklist
Landscape photography requires careful planning and preparation to shoot successfully. That's something we cover in detail in our course, Simply Stunning Landscapes.
To help make life easier for you, we also produced this cheat sheet which covers gear, weather, location, settings, and composition.
The Ultimate Time-Lapse Cheat Sheet
Time-lapse photography uses still images to make magnificent movies. It uses the same medium, but it's a very different process.
Forget everything you know about camera settings… you actually want motion blur in your images!
Our course Total Time-Lapse covers this in detail, and you can get started today with this free cheat sheet below.
Fun Project: Shoot a Bear About to Catch Salmon
Wildlife photography is fun, exciting, and… difficult. You need to have a diverse set of skills, and often some specialised gear too.
That's why we try to make it as easy as possible for you, with our ebook, Wonderful Wildlife.
This is one of the 30 projects that you can learn to capture, download it below.
Business
Quick-Start Checklist For Your Photography Website
If you want to make money from photography, you need customers. And to get customers, you need a website.
But starting your website isn't easy if it's your first time. But after 50+ million visitors to ExpertPhotography, it's safe to say we know a thing or two about websites and search engine optimisation.
That's why we produced an ebook called Organic Marketing for Photographers, to help you get the traffic you deserve.
Click below to download the quick-start checklist.
Fun Project: Capture Classic White Glare on Sunglasses
Product photography is one of the few niches you can make money from, without having to take photos of people.
And best of all, it's fun and easy! You can capture your own unique images from the comfort of your home, with a very simple setup.
To show you how easy it can be, we published an ebook and set of cheat sheets called Products in Focus, and this free download is one of our 30 projects.
The Photography Business Quick-Start Checklist
Making money from photography has (unfortunately) very little to do with the quality of your images.
It's all about your strategy, positioning, pricing, and how you present yourself in your local market.
It's something we cover in detail in our ebook Profit from Portraits, but if you want a quick way to get started, download the checklist below.
Styling, Positioning, & Composition for Real Estate Photography
Real estate photography is a tricky, but very profitable niche to work in. Most of the time you are not shooting pretty properties, but boring buildings.
To make ordinary photography stand out, you need to know how to style them!
We cover real estate photography in great detail in our ebook, Picture Perfect Properties, but if you want to jump straight to the styling tips, download the cheat sheet below.
The Anatomy of a Perfect Instagram Post
Is your Instagram feed looking a little lacklustre? Do you want to get more likes on your posts? If the answer is yes, then this cheat sheet is for you.
For more social media help, check out our social media ebook.