You have lots of choices when looking for the best macro lens for iPhones. Most modern smartphones have a built-in wide-angle lens and telephoto lens. But one area most phones currently lack is a macro lens feature.
If you're looking for an excellent macro lens attachment to take close-up photos, choose the Xenvo Pro Lens Kit. It provides great macro magnification in a simple-to-use and lightweight attachment.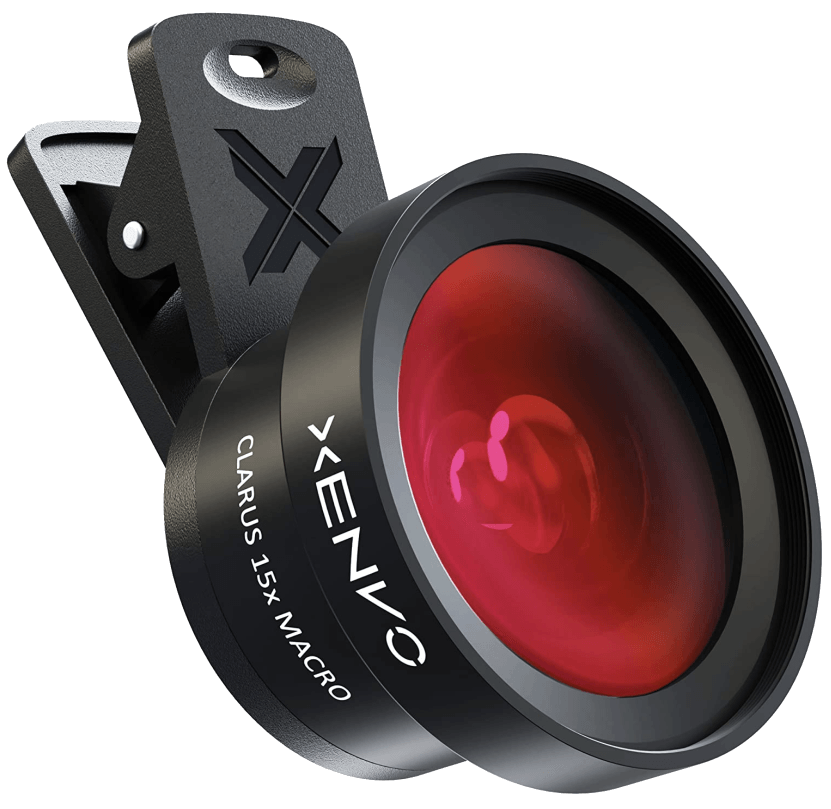 Xenvo Pro Lens Kit
Capture stunning macro images with this powerful and portable macro lens
[Note: ExpertPhotography is supported by readers. Product links on ExpertPhotography are referral links. If you use one of these and buy something, we make a little bit of money. Need more info? See how it all works here].
What Is the Best Macro Lens for iPhone?
Here is a quick roundup table of our top choices. Read on below to find out about each product in depth!
Best Macro Lens for iPhone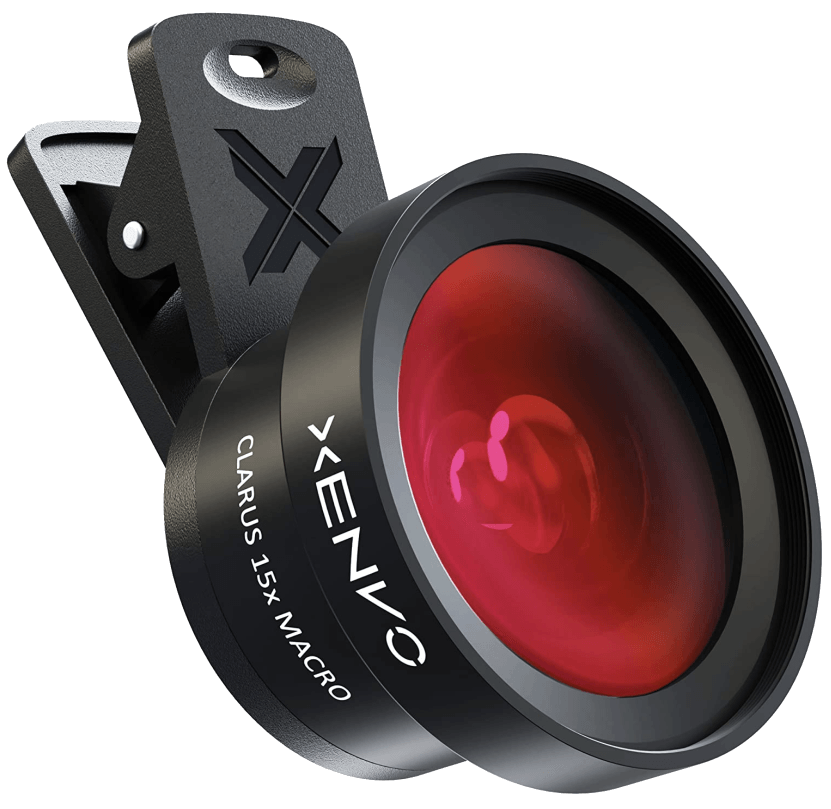 | | |
| --- | --- |
| Brand | Xenvo |
| Magnification | 15x |
| Attatchment Type | Clip |
| Weight | 3.65 oz / 303 g |
| Key Features | HD optical glass, comes with an LED fill light, great build quality |
| Best For | Those who want a quality wide-angle macro lens for a good price |
The Xenvo Pro Lens Kit includes two types of standard lenses you commonly see in most other brands. It comes with a wide-angle lens and a macro lens. Plus, it comes with a helpful LED fill light.
The lens is made of quality glass that eliminates ghosting and lens flare. And to use the macro lens, all you have to do is unscrew the wide-angle lens that's on top of it.
The Xenvo also comes with a standard rubber clip-on attachment that is compatible with most phones. And it works on both single- and dual-camera phones from either Apple or Android.
The Xenvo Pro Lens Kit is a simple but effective macro lens for iPhones. It's cheaper than its competitors. But it is also one of the best-reviewed budget lenses online.
So don't discount it for how simple it is. It could be exactly what you need!
| | |
| --- | --- |
| Brand | ANGFLY |
| Magnification | 20x |
| Attatchment Type | Clip |
| Weight | 6.4 oz / 181 g |
| Key Features | Cinema-grade quality glass, edge-to-edge clarity, dual-lens compatibility |
| Best For | Those who want a bigger lens to ensure no vignetting or quality loss at the edges |
The ANGFLY comes with a macro and wide-angle lens. What makes it different from its competitors is that it's specifically built to be compatible with dual-lens phone cameras.
The best thing about it is its glass lens. This ensures you record in 4K or high definition (HD) without losing quality.
Its magnifying power is not as good as its counterparts. But at least you can guarantee sharp photos.
It works well with both iPhones and Androids. But the downside of the ANGFLY Macro Lens is that it doesn't work with phone cases.
It does have a well-designed bracket to secure the lens to your device in a snap. The bracket also goes around the phone lenses. So you don't damage them when you install the macro attachment.
| | |
| --- | --- |
| Brand | Supereyes |
| Magnification | 200x |
| Attatchment Type | Stick-on |
| Weight | 1.06 oz / 30 g |
| Key Features | Highest magnification macro lens for iPhone |
| Best For | Photographers who want a temporary micro-level lens for their phone |
Marketed as a dermascope that lets you take close-up photos of your skin, the Supereyes has 200x magnifying power. That means it can capture images on a micro-level!
It is arguably the most unique (and cheapest) macro lens you can buy online. The disposable macro lens is a long plastic tube with an adhesive at the base.
You stick it to your phone lens instead of attaching it with a clip or a bracket. The clear shaft lets light illuminate your subject even when you're close. And it works seamlessly with your flash.
Since the Supereyes Macro Lens uses an adhesive, you can only attach it so many times before it loses its stickiness. You also need to zoom in digitally to avoid the vignetting the plastic shaft causes.
But despite its few caveats, it takes awesome images of even the most basic objects!
4. KEYWING 3-in-1 Phone Lens Kit
| | |
| --- | --- |
| Brand | KEYWING |
| Magnification | 20x |
| Attatchment Type | Clip |
| Weight | 2.89 oz / 81 g |
| Key Features | High-qulaity optical glass, aluminum shell, and rubber clip |
| Best For | Travelling or other environments where your lens could break |
The KEYWING 3-in-1 Phone Lens Kit is a set of lenses that attach to your iPhone in a simple clip. The macro lens provides you with 20x magnification. This is a high number for a simple iPhone macro lens.
It is built with high-quality optical glass. And it has a durable aluminum shell. So it's built well for people who want variations in outdoor or travel photography.
I like that the clip has a rubber backing and more grip for your device. This isn't just one of the best macro lenses for iPhone. But it can also work on any smartphone or even on your iPad!
The lenses are interchangeable, and they work in a simple screw-in fashion. The product also comes with a bag to keep all your equipment in.
The KEYWING 3-in-1 Lens Kit is worth looking at if you don't mind two extra lenses. The build quality alone may make it worth it. And it never hurts to have two other lenses to mix up your shooting style.
| | |
| --- | --- |
| Brand | Easy-Macro |
| Magnification | 4x |
| Attatchment Type | Band |
| Weight | 0.229 oz / 6.4 g |
| Key Features | Extremely small, lightweight, and portable |
| Best For | Those who want a simple macro lens to put in their pocket |
The Easy-Macro Lens Band is one of the list's cheapest and simplest macro lens attachments. It's a rubber band with a small bead of a lens that you align with your smartphone or iPhone lens.
Frankly, it doesn't look fancy and can be challenging to install. But the photos it takes are surprisingly sharp, considering how simple this lens attachment is.
It also attaches quite securely. So you don't have to worry about it falling off while taking photos. And the Easy-Macro boasts a 4x magnification at a shooting distance of one inch.
Because of its design, this lens band is compatible with almost any phone, from iPhones to Androids. And it works even with a phone case.
Macro Lens for iPhone FAQs
We've answered the most frequently asked questions about the best macro lens for iPhone photography. We hope this helps you in your buying decisions.
What Are the Benefits of Using a Macro Lens?
A macro lens can provide a unique perspective and show us a whole new world. We aren't used to seeing everyday objects up close in detail. So these photos can feed our curiosity for detail.
By seeing certain objects in detail, we find a new appreciation for them. This is particularly relevant to the natural world. Take a macro picture of a plant or flower, and you will see what I mean!
What Is the Difference Between a Telephoto and a Macro Lens?
Even though both lenses bring you closer to your object, they have different qualities. Macro lenses have a short minimum focus distance. This allows you to get clear images when up close.
A telephoto lens allows you to zoom in to see further. This extended focal range brings you closer without having to move closer.
Read our post on zoom lenses for iPhone that has some telephoto options.
How Do I Take Better Macro Photos With My iPhone?
The number one tip is to set the focus yourself. You can do this by tapping the screen at the point you want in focus. You will know it is working when the small yellow box pops up.
Getting the right focus can be hard when using a macro lens for iPhones.
Conclusion: The Best Macro Lens for iPhone
The best macro lens for iPhone depends on you and your phone's requirements. Remember that even though the products on the list do the same job, they all work a little differently.
Don't think that the more expensive lens must be better than the cheaper ones. You can get a cheap lens and still take great macro photos with your iPhone.
Our top choice is the Xenvo Pro Lens Kit, thanks to its great abilities for a great price!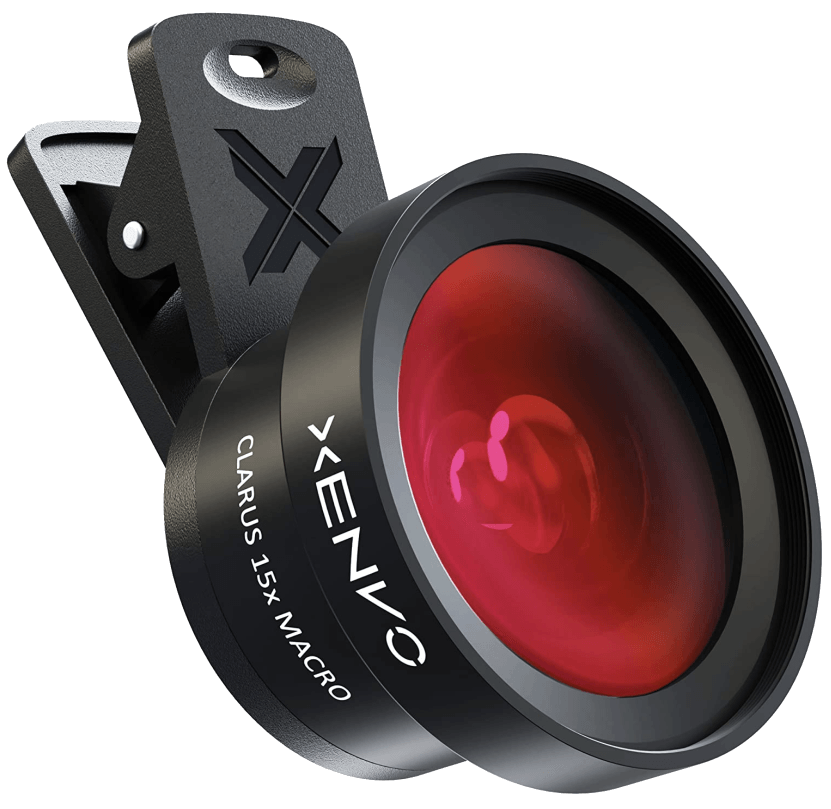 Xenvo Pro Lens Kit
Capture stunning slow motion shots with this professional grade lens kit, perfect for any camera.