Travel photography blogs and vlogs are great sources of inspiration. Both for traveling around the world and the photography that comes with it. They can provide useful tips and destination ideas as well.
Check out our list of the best travel photography blogs. They will inspire you to take some great travel photography of your own.
eBooks and Courses for Everyone
The Best Travel Photography Blogs
This is a fantastic travel photography blog. The name sums up what you can expect if you start reading Jim M. Goldstein's articles.
He provides us with great images and tips, which you can put into place not only in travel but in all areas of photography.
Reviews, how-to articles and practical pieces of advice are all commonplace here. It's one of the best blogs for landscape tips too!
Eunice Khong is the photographer and traveller behind this fantastic blog. She first started it to keep a travel diary and share her tips.
Since then, the website has grown into a community of photographers who share their travel experiences and best holiday ideas.
The page is being updated almost daily, with amazing information and stunning photography. It is easy to navigate, as the articles are organised according to destinations.
The blog presents locations from all around the world. No wonder the site has won several international awards. It is definitely one of the best travel blogs out there.
This site started as a blog that described life in Paris and gave tips for visitors. Since then, Faye has moved around the globe and captured all her adventures.
She keeps tracks of the best places in every city she visits, collecting the best places to eat, sleep, or stay at. This can be useful for anyone who is looking for tips when planning their holidays.
Faye's images are professional. She knows how to use compositional techniques to capture the soul of her destinations.
Hand Luggage Only is a travel diary made by two guys, Yaya and Lloyd. They travel the world and write their adventures down, accompanied by quality images.
They organize their posts into several categories. These include travel, photography, destinations, food, hacks, and videos.
Under each section, you will find ideas and stories that the guys collected from their trips. Check them out. You might find some useful information for your own travels.
Kirsten Alana is a travel photographer from Los Angeles. She covered more than 50 countries over six continents and continues to see more. You'll come across quick snapshots of the culture, as well as gorgeous landscape images.
Not only are her photos amazing, but her web design is also eye-catching. It is a joy to read her beautiful photography website.
You'll find some of the best photography travel blog photos here.
Meandering Wild is written by an English traveller, Suzanne, who tries to go out on road trips and adventures as much as possible.
Her goal is to inspire the reader to travel and to help with the planning. This photography blog advises about different types of trips, such as hiking, diving, or wildlife destinations.
She also includes photography kit tips and tutorials, where she shares some of her images. Check out her Instagram if interested in wildlife and travel photography.
If you have a camera and a wild spirit, Jeremy Scott will try everything he can to get you out there, on the road and in the wild.
This professional adventurer has created an online community. It aims to help as many people as possible. From destinations to trip planning, the blog provides practical advice to those who are looking for their next adventure.
Beware – you'll be booking a flight within the first hour of reading.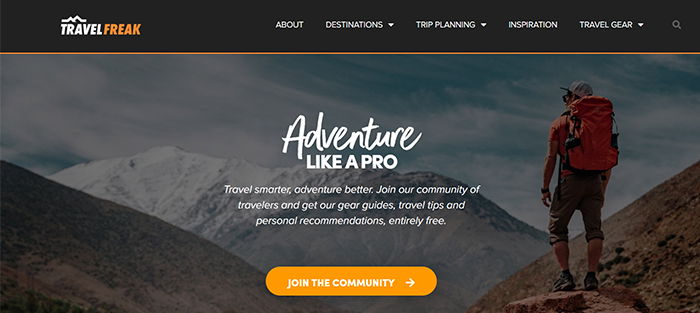 Nomadasaurus is Australia's biggest travel photography blog. It is written by two content creators, Alesha and Jarryd. They started documenting their journey from Asia to Africa in 2013.
Ever since, they have been sharing their adventures from all corners of the world. They have a long list of countries that they have visited, where you can check blog posts related to each.
Some of these articles are about practical traveling tips. Others aim to inspire the reader to leave the comfort of their home and seek adventures.
Paris is one of those cities that has a rich culture, cuisine and lifestyle. No wonder so many travel photography blogs write about it.
Carin takes in all the delights that this wonderful city has to offer.
You'll find architecture, fashion and urban photography. You'll see many images of herself traipsing through the urban landscape.
This one is more for the ladies, but there is no reason why guys would not find helpful information.
This site was founded by a couple, Deb and Dave back in 2007. Since then, they have been recognised as two of the most influential travellers out there.
They believe adventure is for everyone and nothing can stop you if you want to explore the world. Based on this idea, they have built up their site in an easy-to-navigate way.
You can find destinations, itineraries, travel tips, and personal stories on this website. This blog is a must-read if you are looking for one of the best travel photography blogs.
The first thing that catches attention when it comes to this website is the name. The playfulness sets up the idea and style of this travel photography blog.
Anna shares her images alongside great writing and tips on traveling across the globe. She currently has five travel guides, about Japan, Italy, British Columbia, Ecuador, and Iceland.
Gaze upon her Instagram for the best images. They capture her wild spirit and passion for travel.
Ken Kaminesky's page is the result of his passion for travel and photography.
It covers locations from around the world like the Hungarian Opera House or the Bow River.
There is a good reason he has one of the best travel photography blogs on the internet.
His traveling expertise shines out from his articles. He not only shares his images, but he also gives tips on how to take great images by yourself.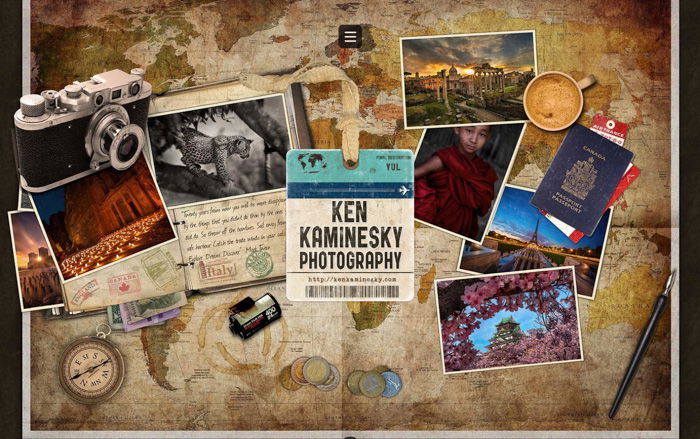 Alex left the US to travel the world and never looked back. Her adventures are well documented through her superb photography.
She has a well-designed website, making it a pleasure to peruse. The travel activities are broken down into easy to find categories. She also shares resources and guides that you can use for your travels.
The diary of her adventures is something you should follow if you are looking for inspirational and informative articles.
Trey Ratcliffe created and manages the site, which has a name that reminds us of a tedious part of traveling. In contrast to the title, the content of the blog is everything but boring.
Trey has a great talent for photography, and his images reflect the atmosphere of many unique places. He writes short summaries, as well as longer reviews and tutorials, all related to travel photography.
His shots get their magic from the creative use of angles and perspectives. Check it out if you are planning to get into the field of travel photography.
The name of this travel photography blog definitely catches our attention. It's ambiguous yet shows the writer as an avid explorer, willing and excited to go anywhere at any time.
Gary Arndt left to go traveling in 2007 and hasn't been back since.
You'll find his blog updated almost daily. It provides you with fantastic photography destinations, gear trips, podcasts, and personal stories.
The daily photo section is an excellent source of inspiration for your next trip abroad.
Conclusion
Getting inspired is a crucial part of creating spectacular travel photography.
This is why we have collected the best travel photography blogs out there. The authors of these pages don't only have beautiful portfolios, but they also provide tips and tricks to help you on your adventures.
Check them out if you are looking for travel photography inspiration!
Planning on bringing your camera on your next holiday? Make sure you also have our Quick Capture Cheat Sheets for those who love to learn while shooting.


eBooks and Courses for Everyone