Those still starting in photography may not fully grasp the importance of a white backdrop. But you'll need one as you delve deeper into specialized disciplines such as portraiture, product, or still life product photography. And you also need some technical knowledge to determine your best option.
When I started doing product photography, I bought a fancy light box I thought would be perfect for my needs. But as I gained more experience, I realized that I needed more than one option, especially since there are so many types of objects that have different lighting requirements.
But choosing the correct backdrop doesn't just concern product photographers like me. All photographers, from fashion professionals to enthusiasts, should figure out the best background for their work.
[Note: ExpertPhotography is supported by readers. Product links on ExpertPhotography are referral links. If you use one of these and buy something, we make a little bit of money. Need more info? See how it all works here.]
Common Types of White Backdrop Photo Backdrops
There are so many options out there when it comes to white backdrops. Here's a list of some of the most common materials used for backgrounds and how they differ.
One material isn't necessarily better than the other. Each one has its advantages and specific uses. So your choice depends on your requirements and how you intend to use your background.
Muslin—This is your best option if you're on a budget. It's so affordable that you can buy an 8 x 10″ sheet for less than $50. It's made of fabric, so it's easy to store. Plus, you can easily wash it if it gets dirty.
Polyester—If a white muslin background is too thick for you, the next best option is polyester. It's a little thinner, so its texture isn't as apparent as muslin. But it has all the other advantages of any different fabric background: It's relatively light and easy to store.
Seamless Paper—Studios love this type of background because it's relatively inexpensive. But unlike muslin, it has a smoother surface, perfect for close-up shots and flat lays. Most manufacturers offer this paper as 2-ft, 4-ft, and 8-ft options.
Foam Core Board—Foam core board backgrounds are not as common as seamless and muslin. But they are perfect if you want stiff backdrops that don't need a backdrop stand, unlike paper and fabric versions. Small foam boards are pretty cheap and are widely available. But larger options can be pricey.
Acrylic—Since acrylic backdrops can be expensive, they're typically reserved for tabletop photography. Their smooth surface makes them a favorite among product photographers. Since they're reflective, they tend to make any product look luxurious.
Collapsible—There are dozens of options that would fall under the "collapsible" category. Some are made of fabric, while others are foam board or plastic. But no matter the type of material, they're a great choice if you have a small space or need to travel a lot for projects.
11 Best (& Affordable!) White Backdrops Options for Photography
We've compiled some of the most popular white backgrounds you can use for different photography needs. We've listed various options for headshots, portraits, and even product photos. That way, you'll know exactly which one to pick according to your requirements.
The white background options you see below are made of materials we listed above. We'll show you the features of each product on the list to help you figure out the best options for you.
Savage is one of the trusted brands when it comes to seamless backdrops. Its catalog has hundreds of colors and shades, making it popular among photographers. They even have two options for white:
Another factor that makes Savage a great option is that it offers a wide variety of sizes for their backgrounds. They have 26″ for headshots and product photographs, 53″ for single-person portraits, and 86″, 107″, and 140″ for group photos.
Neewer is one of the best brands when it comes to affordable photography products. You may know them for cheap softboxes, flash units, and tripods. But they also offer large sheets of muslin backgrounds. Their 10 x 20-ft white backdrop is one of the biggest you can buy for muslin options.
Neewer's muslin paper has a rod pocket that lets you easily hang it from a background stand. It's also stitched along the edges to prevent accidental tears. Oh, and did we tell you it's foldable and easy to store?
If you don't like the rough texture of muslin, you might want to consider getting a polyester photography backdrop instead. There are plenty of options, but GFCC is one of the most popular due to its quality and durability.
So why choose GFCC white backdrop over muslin options? Well, it's lighter than muslin, and it's also easier to clean and store.
Its size is 8 x 10 ft, a bit smaller than the Neewer muslin option. But frankly, it's more than enough for most photography and even video applications. They also offer kits for chroma keying, which you can remove in post-production.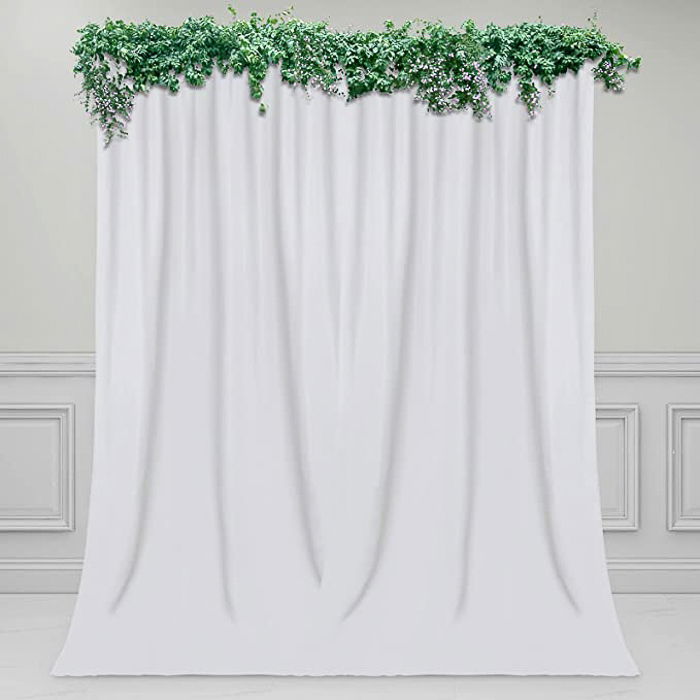 We must admit that a regular white backdrop can sometimes be too bland. So if you want your background to have some lovely textures, PureFit curtains are for you.
They look like regular curtains but are custom-made for photography. You can use them for traditional portraits or even events like weddings.
Purefit curtains are made of polyester microfiber, which gives them a velvet feel. They're also non-reflective, so you don't have to worry about hot spots in the background.
The kit has two 5 x 10 ft curtains, which are large enough for big group photos. They're also machine washable. So you can throw them in the washer after an event.
If you're a photographer who does a lot of on-location portraits, consider getting Fovitech. It's a collapsible backdrop that works like one of those foldable windshield sun shades.
It's made of muslin with a flexible aluminum frame you twist into a small disc. It's only 28″ when folded and 5 x 6 ft when unfurled.
Fovitech is double-sided, making it perfect for different portrait projects. Apart from the white side, it also has a black side, which is ideal for low-key portraits.
It has loops you can use to hang onto a backdrop stand. But you also have the option to rest it against a wall. It's a great small white backdrop for photography.
A V-flat is typically used as a light modifier. One side of it is black, and the other is white. You use the white one to bounce back light to a subject and the black to subtract light.
But since V-Flat World introduced its foam core board foldable V-flat, photographers have also used it as a collapsible backdrop. Photographers use it primarily for headshots and half-body shots because it's only big enough for those uses.
V-flat is different from all other backdrops because it's highly portable. It's made of foam core board and is foldable. So you can carry it anywhere.
If you're looking for a great product photography light box, we recommend Amazon Basics Portable Studio Box.
We know it's strange to include an Amazon Basics product on this list. But this all-in-one portable studio is one of the best options out there. It's big, cheap, and it has lights. And did we tell you it even folds into a bag you can easily carry around?
So what makes the Amazon Basics lightbox exceptional? First, it's 25 x 30 x 25″ big. That means it can fit small to medium-sized items without any issues. Second, it already includes bright LED lights, so you don't have to worry about buying a separate light source. Third, it has a camera hood at the top, which lets you shoot flat lays. And finally, it costs only a fraction of its competitors.
Are you into product photography and require a clean white backdrop for photographing small to medium items? Then consider getting the MyStudio seamless cyclorama.
You can think of it as a smaller version of the large cyclorama walls in large production studios. In case you didn't know, a cyclorama is a type of backdrop that doesn't have seams or edges. As a result, anything you photograph against it appears to be floating.
MyStudio offers the features of a cyclorama on a much smaller scale for taking product photos. It's made of plastic, which makes it durable. And it has a matte finish that prevents hot spots from any light source.
Since the seamless white backdrop produces clean images, MyStudio makes it easy for you to isolate your products in post-production.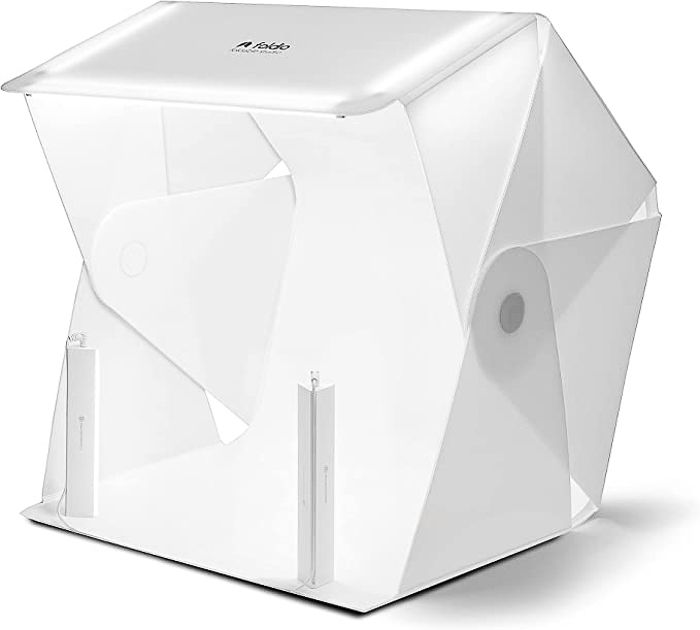 Orangemonkie's Foldio 3 is one of this list's more expensive white backdrops. But in our opinion, it's quite a bargain because of all its advanced features. Think of it as an all-in-one studio that lets you shoot quality product photos in a small package.
As the name suggests, Foldio 3 is a foldable white backdrop. Once opened, its 25 x 25 x 22″ in size. And it is more than enough to capture products sized small to medium.
It also features bright LED bars with a dimming controller. It surrounds the box on three sides to ensure even illumination. And if you're tired of using a white backdrop, you can always replace it with a black option, which is perfect for photographing jewelry.
As a testament to Neewer's affordability, we're adding another of their product to our list. This time it's the Neewer 32 x 32″ light tent.
Although you can use this white backdrop for regular products, it's most beneficial when capturing shiny objects. Since it's an enclosed structure with white walls, you don't have to worry about highly polished products reflecting everything inside the room you're shooting in.
The Neewer light tent is made of white fabric similar to the ones used in softboxes. They allow you to shine a light source all around it to create even lighting.
You can close the tent entirely with a velcroed sheet. It has a slit in the middle, so you can insert your camera lens when photographing shiny objects. And once you're done taking pictures, you can fold its flexible aluminum frame into a small disc.
If you're on a budget but need a quality white backdrop, you can always go DIY with a white foam core board. You can quickly buy them online or at your local hobby or hardware store. They're not only cheap, but their clean matte surface allows for great photos.
There are plenty of options if you're looking for an excellent foam core board. But we like Ucreate because it has a 20 x 30″ size, which is big enough for tight headshots. Apart from the white backdrop, it also comes with six other colors you can use if you want to get creative with your images.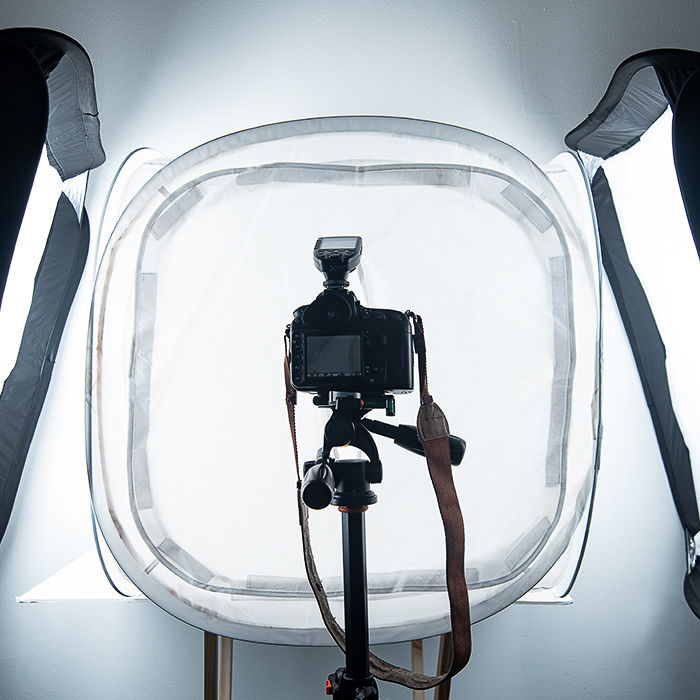 Conclusion
There are so many different types of white backgrounds. So make sure you get the one that fits your needs. And, of course, you don't have to stick to one type of white backdrop either. You can get several options, especially if you work with different subjects.
It would be best to buy large backdrops such as seamless paper and muslin for portraits. For still life and product photography, you have a few options depending on what you need to shoot.
Consider getting a portable studio light box if you want an all-in-one solution. But if you're a professional and want more versatility, seamless paper is still the most versatile choice because you can shoot anything from small to large objects.
Do you want to learn how to capture attention-grabbing product photos? Check out our Products in Focus e-book!