There's no doubt that a good photographer is always prepared. And part of being prepared is having the right clothing for the job. That's why we've put together this list of 31 best shirts for photographers. From flannels to tees, we've got you covered. So whether you're shooting a wedding or just out on a nature hike, make sure you have one of these shirts on hand!
Photography-Themed Design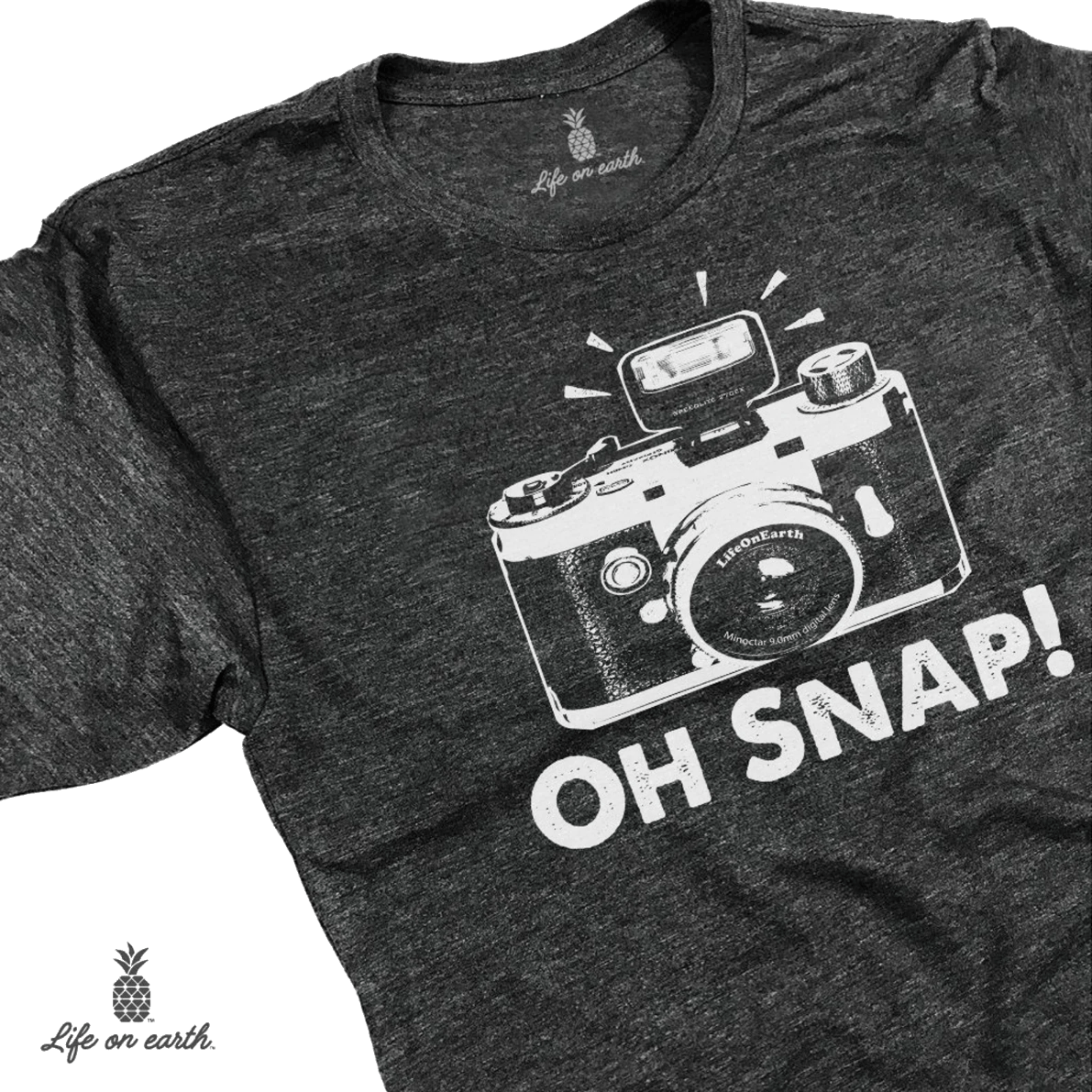 Looking for a stylish addition to your collection of shirts for photographers? Check out this Etsy store for a black t-shirt with a classic camera design that's sure to make you say "Oh Snap!"
Shirts for Photographers: Photography T-shirts
Let's dive into our list of cool t-shirts and funny photography t-shirts you can buy for yourself or the photographer in your life.
Let people know lens selection in photography is everything with this t-shirt! It's a great conversation starter about the photo equipment we use to shoot.
This t-shirt is a nice inside joke for experienced photographers out there. Only wear if you know manual settings. Otherwise, you could be in for some embarrassment!
I am a big fan of designs inspired by cameras. The lines stemming from the aperture numbers are found on old cameras. They are used to formulate correct exposure. Here, the lines lead into a mountain with an aperture for the sun.
For fans of superhero movies, now you have a t-shirt you can wear! This photography shirt design is a fun way to boast about your fast shutter speed skills.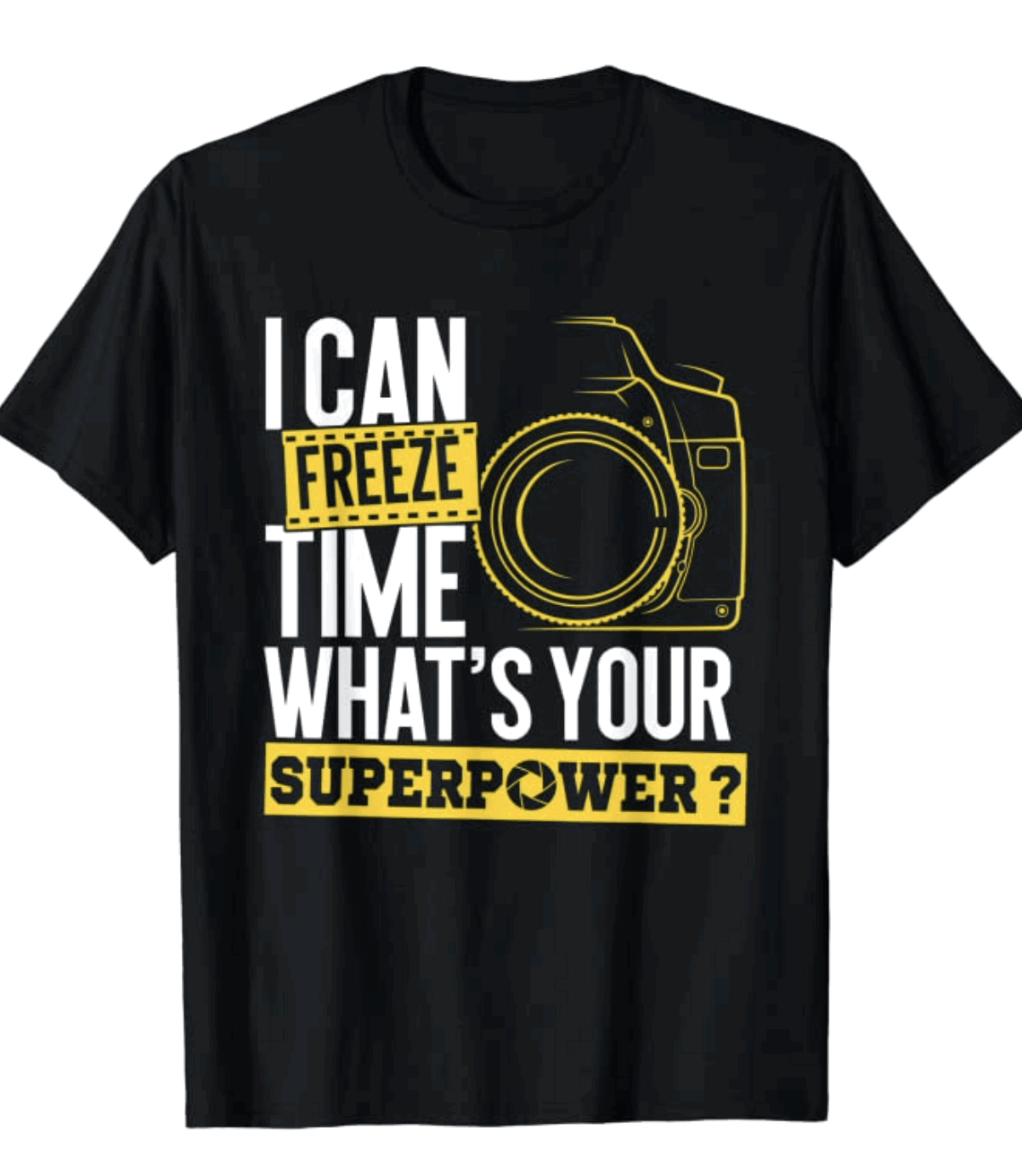 For those who prefer glib expressions, you'll like this design! It's a saying often used to express surprise or disappointment over a mistake or insult. So, it's perfect for photographers who can have a good laugh about themselves.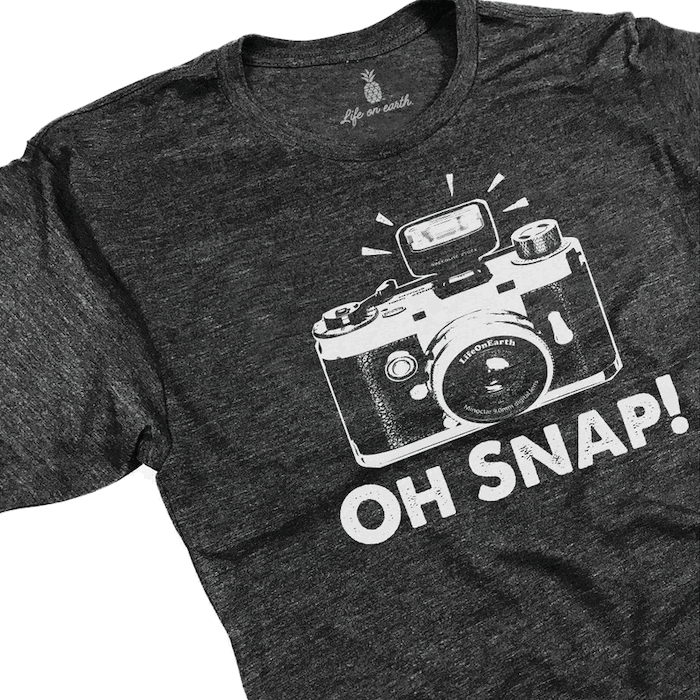 This photography shirt is just referencing f-stop numbers… right? A fun, tongue-in-cheek reference for those who know how important aperture is to a photographer.
A perfect shirt for the old and wise photographers out there, especially if they're fans of The Godfather. This design comes in a range of colors on different shirts. It would be an excellent gift for the head of your local photography club!
What better way of showing how important photography is in your life than to show how it pulses with your heart!
Some photography shirt ideas tend to be complicated. If you want a simple t-shirt design, look no further.
This is the ultimate photography shirt for your assistant. Next time you have a studio shoot planned, you can save the trouble of fishing out the grey card by having them wear this.
This photography shirt allows you to simultaneously take a grey card picture and a test shot for the model!
Several photography shirts have this design, but this is my favourite. I like how the photographer is laboriously hunching over the tripod, a position we've all been in one too many times.
For the photographers who are keeping film photography alive, you'll love these Kodak t-shirts.
This simple design is a great way to show people that you are an old-school photographer.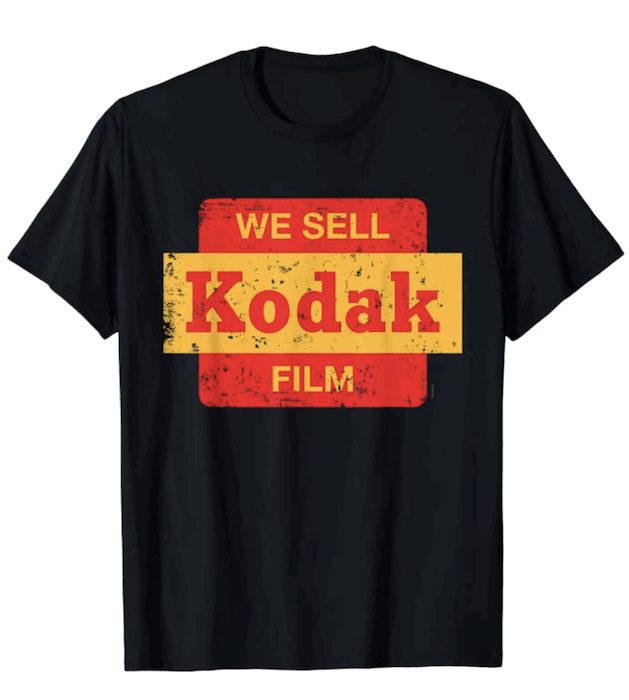 Another tongue-in-cheek photography t-shirts. Of course, the design references a camera flash. But it is excellent innuendo for something a bit more naughty.
We all know the photographer who is a bit of a party animal. Have you ever found a hip flask hidden in your friend's camera bag? If so, this is the right present for them.
It is satisfying to look at this t-shirt and not be utterly confused by it as a photographer. The charm of these shirts comes from having an inside joke that only photographers get.
Another great gift for the film photographers out there. Or let people know that you keep darkroom film processing alive with this shirt.
Sometimes, photography t-shirts tell the complete truth… this is one of them. If you're shopping for a photographer who loves shopping for new photography gear, this is the perfect present for them.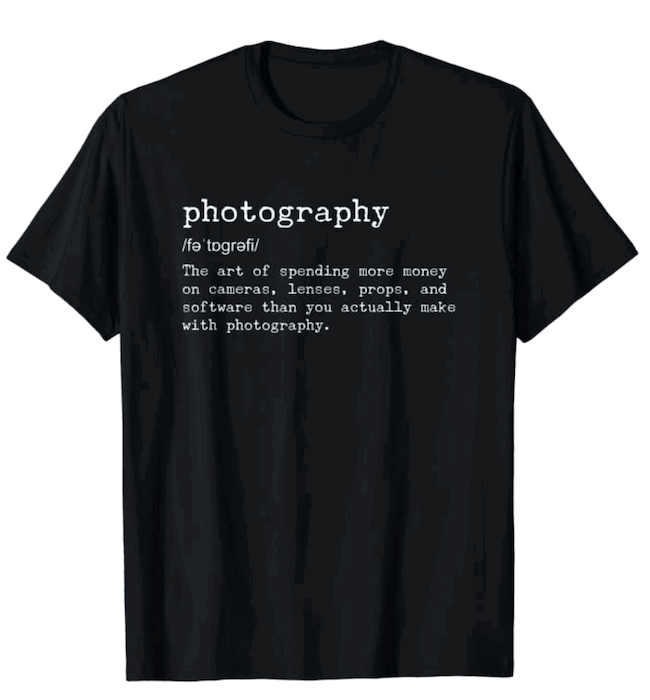 A guilty confession… I'm glad they put vector images on this shirt. Otherwise, you can see how people would get the wrong idea! It's a great play on words and a funny gift for photographers who appreciate dark humour.
If you're looking for something a bit more forward, search no further. For the flirty photographers… perfect for getting people's attention.
Some t-shirts are best when they are kept simple. This t-shirt replaces the O's with aperture icons. This is great for photography events. Let people know you're ready for the next shot.
We're all familiar with the range of contortions photographers put their bodies through for the perfect shot. If not, you're not putting the right effort into taking your photos!
A funny peek into an alternate reality with this shirt! We see a scene where a portrait shoot is happening with pieces of cheese. I also like the old, large format camera used in this design.
Sometimes we need these inspirational quotes to keep us going. Why not wear it loud and proud to spread the good vibrations around!
Give people a warning before taking their picture with this cool t-shirt design. It's perfect for street photographers. If people see you coming down the street with your camera and this shirt… they know you mean business!
This is one of my favourite t-shirts. It won't mean much for those who aren't familiar with the histograms in the photo editing process.
For those familiar with them, you are probably building an image in your head of what the picture looks like!
This is for the photographers who always have a camera with them… the hardcore photographers who live and breathe photography 24/7.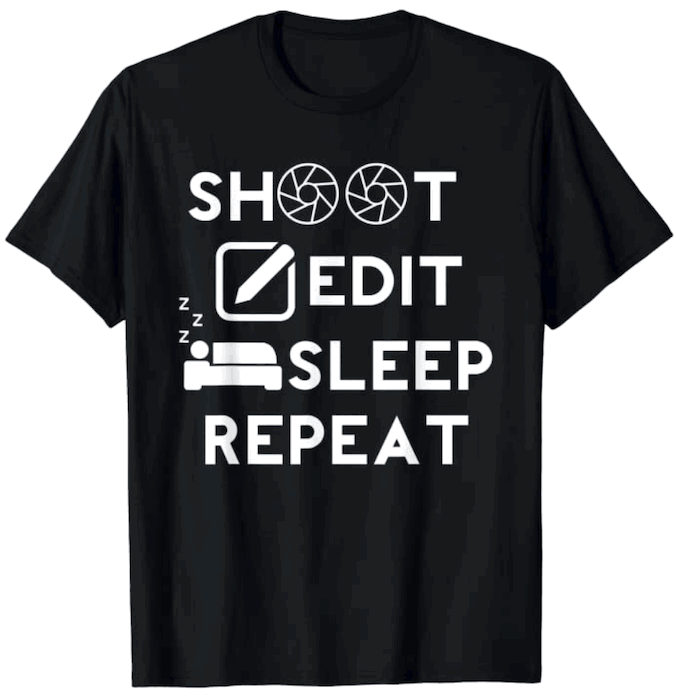 The mantra of darkroom gremlins. Or a great reminder for people who are beginners in the darkroom. For those who don't know, it describes the process in which you would develop a piece of photographic paper in the darkroom.
We've all been there… the long days where we're so excited by our photography that nothing can take us away from editing our pictures at our computers.
These shirts are great presents for the photo editors out there. The people who extend their days into nights editing pictures with a cup of coffee.
With these shirts, astrophotographers will be as easy to spot as the North Star. The typical astrophotographer is rarely seen unless it is in a field at night. So this is a great way to show off their favourite hobby.
This t-shirt has an exciting design for both photographers and product engineers. The appeal of seeing out how a camera is put together sparks our nerdy side… but it's still a cool t-shirt!
Are you still learning the fundamentals of photography? Or do you like being questioned on this topic?
This design serves as a one-stop-shop, illustrating the choices you can make in the manual setting of your DSLR camera. If you ever forget, you have a quick reference!
A great way to show off your photography knowledge is to recite the order of aperture stops. It is the photographer's equivalent of naming as many digits of pi as you can.
Conclusion
Photography t-shirts are a great addition to any photographer's closet. I enjoy the ones that have a practical use, like the 18% grey card design.
Although, it's also fun to share the cheesy photography one-liners that people have come up with. Some genuinely make me giggle every time!
Try out The Creative Photography Cookbook to take beautiful and technically perfect images!
Photography-Themed Design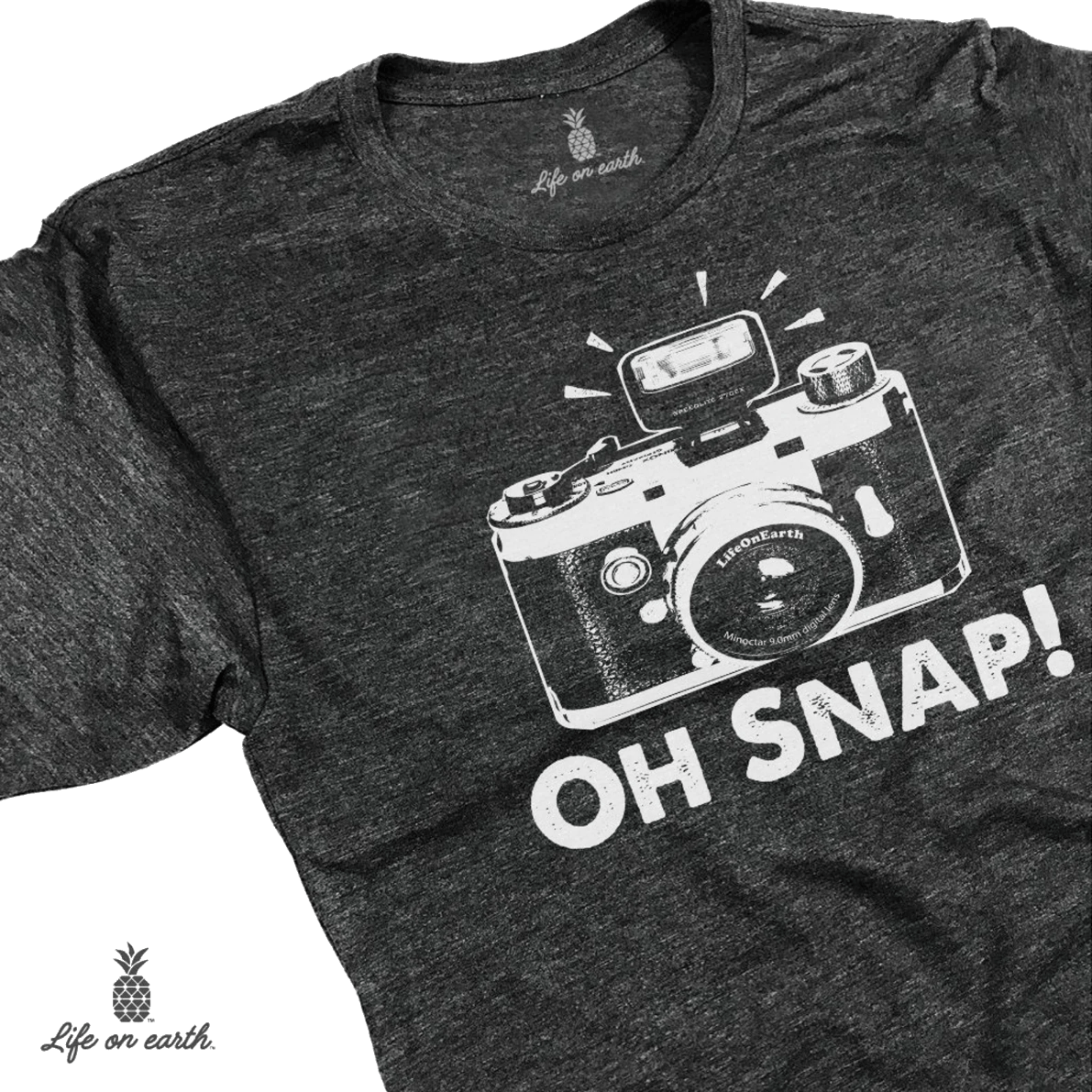 Looking for a stylish addition to your collection of shirts for photographers? Check out this Etsy store for a black t-shirt with a classic camera design that's sure to make you say "Oh Snap!"