The Peak Design Everyday Zip 15L is a stylish camera backpack with a unique design. And it's pitched as a day bag for casual use and inner-city travel. As you'll see from our review, we admire its build quality and materials. But there are flaws with its layout and functionality.
Peak Design has become one of the leading brands for camera bags. Its bags top many online lists of the best camera bags. And the brand is genuinely respected in the photography industry.
They also have one eye on sustainability and use recycled materials. And buyers get a lifetime warranty on any of its camera bags.
The Everyday Zip is well-equipped for a casual camera backpack. The main compartment has a good capacity. And it has a good array of pockets, including laptop and tablet sleeves.
Plus, it provides weatherproof protection for your camera gear. But it isn't perfect. Some design flaws stop it from being an elite camera backpack.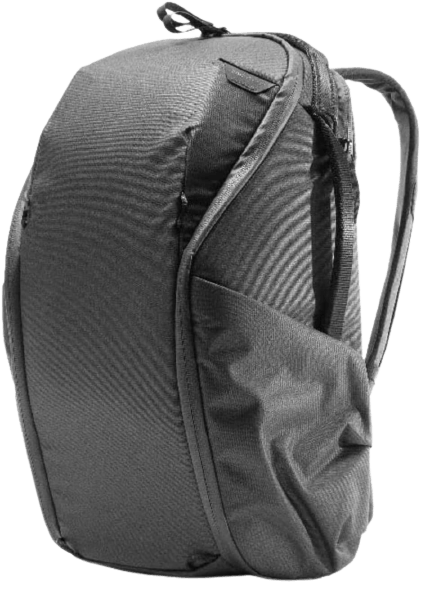 Experience the perfect blend of style, durability, and sustainability with this camera backpack. With space for all your gear, weatherproof protection, and a lifetime warranty, this bag is designed for the urban explorer. Its unique design may have its quirks, but the top-notch build quality and an array of pockets make it a reliable choice.
For full transparency about our review process, you can read about how we scored and ranked the bags here.
Strengths and Weaknesses of the Peak Design Everyday Zip 15L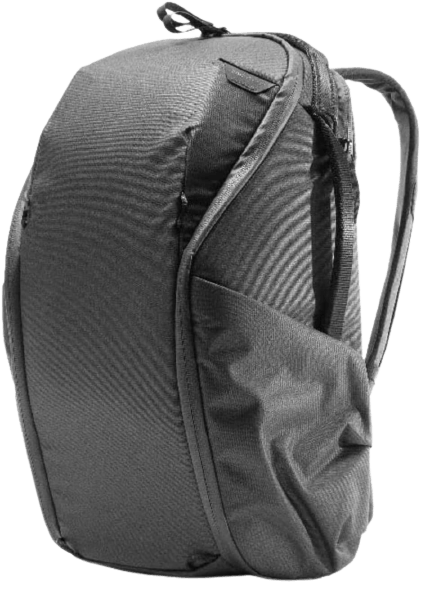 Weight

Weight

1550 g

Capacity

Capacity

15 L

Access Points

Access Points

Side

Airflow Back Support

Airflow Back Support

Yes, without mesh

Laptop Sleeve Capacity

Laptop Sleeve Capacity

13-inch

Tripod Holder

Tripod Holder

Warranty

Warranty

Lifetime

Waterproof Rating

Waterproof Rating

Weatherproof
Its first strength is the quality of the build and materials. It's a well-constructed backpack. Everything fits together perfectly. The high-quality materials inside and out give the bag a trustworthy finish.
The Everyday Zip is weatherproof that can cope with truly bad weather. And Peak Design has achieved this level of protection while keeping the overall weight low.
It's not a heavy bag by any standard. And that's key to the bag's popularity. It's only a 15-liter backpack. But the efficient use of space means it has a good storage capacity.
Due to the limited padding, you can't carry too much gear. This is a weakness, but you get a good amount of general storage space.
The Everyday Zip design is unique among the backpacks we've reviewed. But this isn't necessarily a good thing. The layout has some accessibility issues. So storing and getting to gear isn't always easy.
The padded dividers, while clever, make bag organization more complicated than necessary. And we expect more protection with a camera bag in this price range.
Design and Color Options
The Peak Design Everyday Zip has a sleek and smart design. The outside is simple and uncluttered. And the strong materials hold their dome-like shape at all times.
It looks smart enough for business engagements. And there's nothing to suggest it's a camera backpack to the casual viewer.
You get four color options for the Everyday Zip. We've reviewed the bag in Black. But it's also available in Ash Grey, Midnight Blue, and Bone (Beige).
It isn't the widest selection of colors. But it gives you enough choice. You can select a color that best matches your style and wardrobe. And all the colors are muted for a subtle finish.
Street photographers might find the design too formal. And dome-like quality of the rigid shell might put some buyers off. But it will appeal to anyone who appreciates its elegant simplicity.
Build Quality and Durability
Build quality is one of the main strengths of the Peak Design Everyday Zip. And it's especially durable for a bag marketed towards inner-city use and street photographers.
Exterior Material
The main outer shell is made with 400D nylon canvas. It's a thick material with a thin layer of foam beneath. It's also a double poly-coated, DWR-impregnated nylon (durable water repellant).
It feels slightly coarse to the touch. But it is smoother than untreated nylon canvas.
The coatings strengthen and add weatherproofing to the nylon. It does attract dust and debris, which stands out clearly on the black version. But that's a small price to pay for this level of protection.
No one likes a soggy bottom on their backpack. And thankfully, the Everyday Zip has a reinforced bottom that prevents moisture from seeping in.
The bottom is made of 900D nylon. That's thicker and more durable than the nylon used for the main shell. And it protects your gear if you put the bag down on a wet surface.
The straps are made of glass-reinforced nylon. And the buckles and clips are durable anodized aluminum.
The Ash, Midnight, and Bone models have leather accents. But these are made of Hypalon rubber on the black Everyday Zip.
Weather Protection
As we've already mentioned, the Everyday Zip has excellent weather protection. The coatings on the outer nylon canvas give your gear weatherproof protection.
This means it isn't only weather-resistant, only protecting against light showers. The fully weatherproof bag keeps camera gear dry in torrential downpours.
You don't need to worry about water entering the back through the zippers. The main zipper has a rubber seal that keeps water out. This creates a waterproof shell for your camera equipment.
There's no additional rain cover with the Everyday Zip. But the outer materials provide so much protection that you don't need one. You won't be forced to find shelter every time the heavens open.
Interior Material
When we look inside the backpack, there's no dip in quality. The main interior lining is a similar nylon used for the exterior. Only it's smoother to the touch and slightly fluffy to stick the Velcro dividers to it.
You also have large sections lined with soft polyester. It's lightweight and gentle against the skin. It's the type of polyester you find with high-quality sportswear. It is also used for internal pockets.
It looks smart and has a nice feel all over. We know that's not a high priority when photographers look for a backpack. But it does improve the user experience.
It also demonstrates Peak Design's attention to detail. And they haven't cut corners on internal materials.
Straps and Back Support
The shoulder straps are a minor weakness of the Everyday Zip. They do have a reasonable layer of padding. But it's firm foam with very little give.
The straps are also rather narrow, so the weight isn't well distributed. This might be a concern if you're packing a heavy load.
Adjusting the shoulder straps is easy, taking little time and effort. You simply pull the lower nylon strap to tighten it for the perfect fit. The aluminum buckle allows the strap to move smoothly through it.
One problem is the nylon strap easily loosens when you don't want it to. It doesn't lock into position, so it slides out and becomes slack. This gets annoying when you carry the backpack for long periods.
We're happy to say there's a chest strap. It's a nylon strap with metal clips on either side. And it counteracts the problem with the narrow shoulder straps, distributing the weight across your body.
Each shoulder strap has a slim groove you can attach the clip into. The grooves cover about half the shoulder strap. So you can clip them higher or lower for a comfortable fit.
The Everyday Zip chest strap is a positive. But it isn't a top-quality one.
There's nothing wrong with the materials. And it has a clever design. But it doesn't make a huge difference when carrying a heavy pack. Plus, we're also disappointed there's no waist strap.
There is padding on the back of the bag. There are two vertical strips of thin foam. They're connected to the bag in the center, creating a butterfly effect.
It isn't the best back support we've seen. But it does separate your back from the bag, allowing some airflow.
Seams and Stitching
The exterior seams are a subtle indicator of the backpack's overall quality. Most seams are folded or tucked in, making connection points more secure. And very little stitching is left exposed.
The tucked seams look tidy, adding to the bag's sharp aesthetic. And they reassure you about its waterproofing. With most seams and stitching hidden, there's no obvious way for water to get in.
Some stitching is visible around the side pockets. But the manufacturers have used a fine thread, and the stitching is very neat, with no fraying or loose ends.
You can also see the stitching for the top handle. And the quality is even better. The handle is secured with reinforced stitching on both sides.
They've used a lot of thread. And the connection points are rock-solid. You would need superhuman strength to pry them apart!
The bag's interior also has tidy seams. The stitching is visible around the main opening. But again, it's neat and discreet.
In other areas, you can barely see the stitching. It's either tucked away out of sight. Or they've used a fine thread that's the same grey color as the other materials.
Internal Padding
The internal padding is the Everyday Zip's biggest weakness. There's no padded camera pouch as you get with most camera bags.
Instead, you have two removable padded dividers. You can arrange them in various ways. But the protection is limited.
This unique design makes it flexible. But the dividers don't offer the protection we expect from a company with Peak Design's reputation.
The dividers have a foldable design that allows you to customize the bag's interior. This means you can change it to fit your exact gear.
The dividers are octagonal plates with several grooves in the padding. The grooves let you fold the sides up, giving you neat storage options.
The problem is the lack of protective padding. The dividers have nine foam pads. But the foam is thin, firm, and unyielding.
The pads are hard to the touch. And you need to apply tons of pressure to get any give from them. They don't feel like they would off much protection if the bag were knocked or shaken.
The sides of the bag have a decent layer of padding. It's only thin foam, but it feels more protective than that found in the dividers.
The Everyday Zip's level of protection is fine for casual strolls with the camera. But there's reason for concern if there's any risk of physical contact with the camera bag.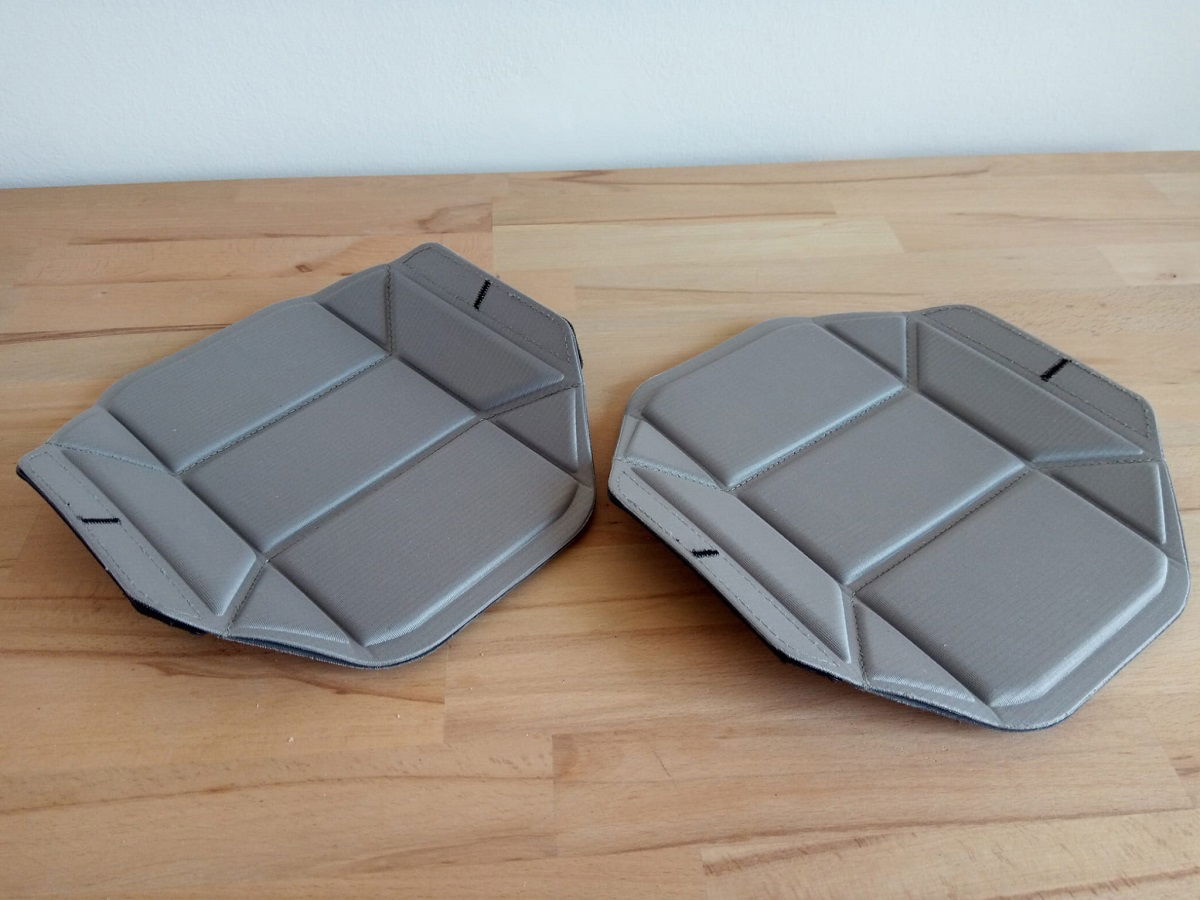 Zippers and Fastenings
There's very little to complain about with the zippers. The main zipper is one of Peak Design's extra-durable zippers. The zipper thread and head are all-metal.
Generally, the zipper's action is smooth when you pull it open or close. But the opening's curved shape can make it awkward.
There's no such problem with the back-pocket zipper. It moves smoothly when opening and closing. And the interior zippers are also a pleasure to use.
All external zippers have a rubber zipper pull. This makes them easier to grip with your fingers.
Plus, they allow you to lock the bag by threading a cable or padlock through them. That's an extra security feature many photographers will appreciate.
The internal side pockets are held closed using magnets. It gives the bag a clean appearance without too much clutter from zippers. And it makes it easy to open and close the pocket.
Lastly, as discussed in the Weather Protection section, the outer zippers have a rubber sealing that keeps water out.
Functionality and Ease of Use
Peak Design has gone for something different with the design of the Everyday Zip. And while we appreciate the originality, they haven't produced the most functional camera backpack.
Of course, the Everyday Zip is a day bag and doesn't need the specialist features of a travel or hiking backpack. But in trying something new, Peak Design has sacrificed ease of use and functionality.
Size and Weight
The Peak Design Everyday Zip 15L's light weight is a definite positive. It weighs only 3.4 lb (1.5 kg) when it's empty.
This means you can stuff it full of gear before it becomes heavy on your shoulders. It's exactly what you want in a camera backpack for casual use.
The bag we're reviewing is the Everday Zip 15L. But Peak Design also has a 20-liter option if you want something bigger.
The rigid outer shell means it doesn't collapse and keeps its dome shape. But the 15-liter backpack isn't too bulky.
It sits nicely on your back. And it isn't a hindrance when jumping on and off public transport or walking through busy streets.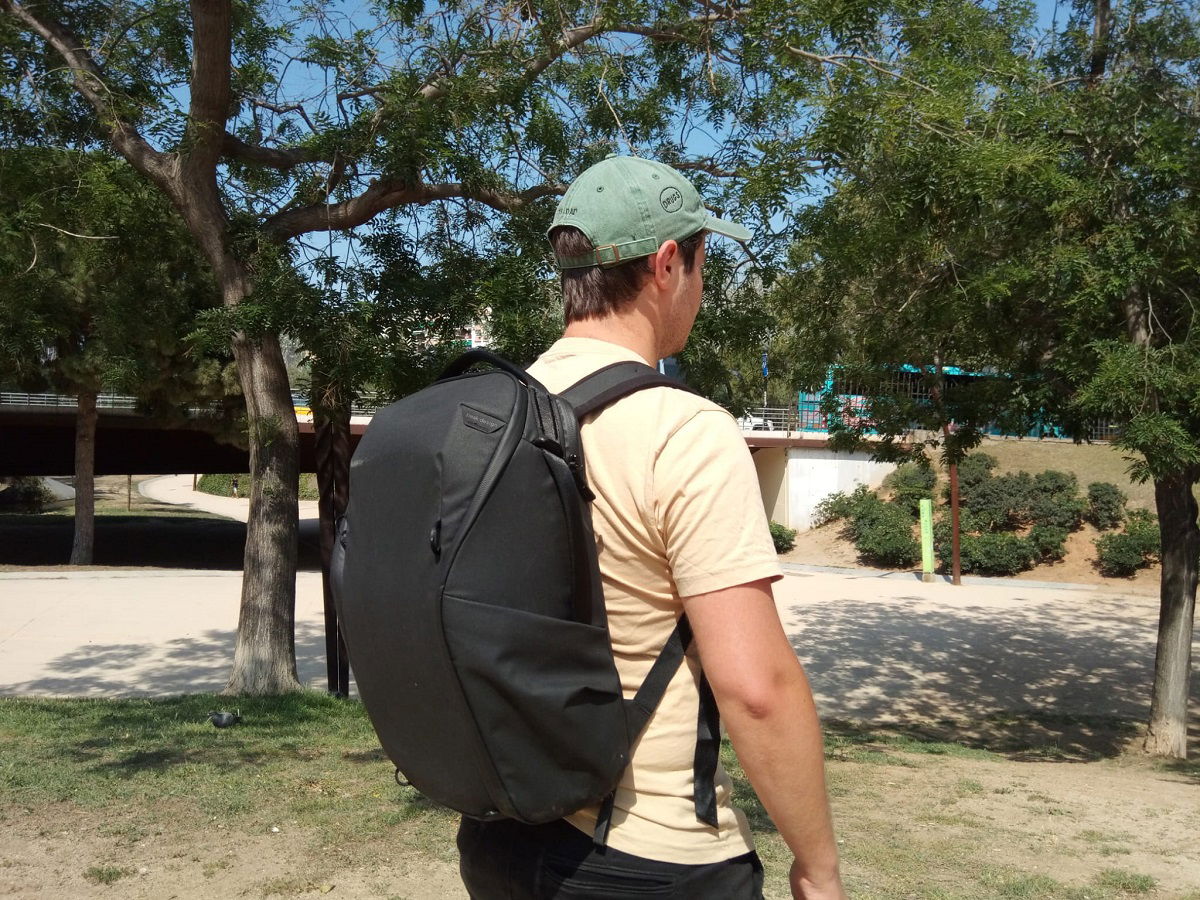 Capacity
The Peak Design Everyday Zip 15L has ample space for camera gear and extras.
You can carry a full frame DSLR or mirrorless camera with a lens on and a couple of extra lenses. And you still have space above for clothes and other personal effects.
The main section is a large open space. And when you remove the two dividers, you are left with a large compartment.
This allows you to use the Peak Design Everyday Zip 15L as a normal backpack. It's an efficient use of space that makes the most of the 15-liter capacity.
You also have a pouch at the back of the bag. There's dedicated space for laptops up to 15 inches. And there's a tablet sleeve. The rear section also has a top pocket for cables and other bits and bobs.
Organization and Customization
The Everyday Zip comes with two dividers for the main storage compartment. And these two dividers are the bag's only source of organization and customization.
The dividers span the width of the bag's interior. And they connect to the back and front sections of the bag with Velcro.
When in position, they serve as dividers and shelves. You place your gear on or in between them. And they protect and keep everything in position.
Thanks to the Velcro, you can position the dividers at any point in the backpack. You can move them higher or lower whenever you need to.
You can also use just one divider. Or, as said earlier, you can remove both and use the bag as a standard backpack.
You can also fold and reshape dividers. They have a series of grooves and flaps to reshape them.
By folding the two side flaps inward, you create three smaller pockets in the center and on the sides. They make a nice space for lenses and other smaller items.
But even when held in position by the backpack's structure, the dividers don't really hold their shape when folded. This makes them unreliable when holding expensive equipment like lenses.
Access Points
With just one zipper, the Everyday Zip gives you front and side access. This sounds great, in theory. But in practice, it doesn't give the most functional bag access.
The main zipper runs from one bottom corner to the other. It goes all the way to the top and back down, opening the front of the backpack. It's handy if you're loading or emptying the bag.
The one-zip design is meant to give you easy side access. But you need to pull both zipper heads to the top for this to work.
When both zipper heads are connected at the top, you can pull one zipper down to open the side. This gives you side access to the backpack.
You can grab your gear from the side using this method. But it isn't the most convenient side access we've seen.
The bag's large side flap gets in your way. And the sides open more at the top than further down. So there's a risk of things falling out. It doesn't give you a smooth, easy experience when retrieving gear.
Another problem with the side access is the dividers. They are attached to the front and back of the interior, meaning they hold the bag together.
This makes it more difficult open the bag from the sides. And it stops the bag from opening fully from the front.
One positive is that you can open the bag on either side. It doesn't matter if you're right- or left-handed. You can still access your gear. But the overall design doesn't work well in practice.
Security
The Peak Design Everyday Zip doesn't have much in the way of specialist security features.
The main details to mention are the rubber zipper pulls. They are rubber hoops you can tie or lock together to keep the bag closed. They are essential with any camera backpack.
The fact it doesn't look like a camera backpack is helpful for security. It means you're less likely to be targeted by thieves when walking in public.
A casual camera bag, like the Everyday Zip, doesn't need the same security level as an air travel bag. But we are still disappointed security is so low on Peak Design's priority list.
The bag isn't totally vulnerable. But we expected more from one of the top brands of camera backpacks.
Additional Features
The Everyday Zip has a modest selection of additional features, some of which we've mentioned already.
There are the laptop and tablet sleeves in the bag's back pocket. So you can get a 15-inch laptop and tablet in there at the same time.
You also have the side water bottle pockets. And there's a strap on each side that transforms them into tripod holders. All photographers will appreciate that.
You also have three handles for additional carrying options. There's one at the top and one on either side of the bag.
These extra handles are helpful if you take the bag on and off a lot. And they make traveling on public transport much easier.
This is a streamlined and uncluttered backpack. That's part of its appeal. But we expected a few more subtle flourishes from Peak Design.
Compatibility and Versatility
The Everyday Zip exhibits some versatility in the main storage space. And that allows better compatibility with cameras and gear. But both are undermined by the overall design of the backpack.
Compatibility With Cameras and Lenses
In theory, the Peak Design Everyday Zip 15L can hold several cameras with lenses attached. It has space for them. But I don't believe the dividers can be trusted to support and protect that much.
Walking around with a DSLR or mirrorless is no problem. They can be full frame models with a 70-200mm lens.
Plus, you'll have space for an extra lens or two. But I wouldn't pack much more than that in the camera section.
There's nothing to worry about if you use smaller cameras. Street photography favorites like the Fujifilm X100V and the Leica M10 fit in nicely.
You can carry several cameras of that size, along with other accessories. You also have space for additional vlogging equipment like selfie sticks and ring lights.
Space for large interchangeable lens cameras is limited. You can carry one body comfortably.
But this isn't a backpack that will transport your full photography studio. You need to be selective about what you take when using the Peak Design Everyday Zip 15L.
Carrying Versatility
There's only one way to carry the Everyday Zip over long periods. And that's with the shoulder straps in the traditional backpack style.
You can adjust the shoulder straps for height. And you have the optional chest strap if you need extra support with the weight. But that's the total extent of the carrying versatility.
You do have handles on the top and sides. But you will only use these to lift or carry the bag over a short distance. It serves as a classic backpack, and that's about it.
Price and Value
The Everyday Zip 15L is one of Peak Design's more affordable camera bags. That's not to say it's cheap, because it isn't. But you can find the reasons why Peak Design has reached this price.
The main contributing factors are the durability and quality of the materials. The outer nylon is strong and weatherproof.
It doesn't just protect against a few drops of rain. It can withstand heavy downpours for long periods. Plus, they achieved this with recycled materials.
The internal materials are also excellent. Unlike other backpack brands, Peak Design hasn't cut costs on the interior. So superb quality is visible inside and out.
We also appreciate the metal features like clips and buckles. They give a far more professional look and feel than plastic fixtures. And the magnets on the inside pockets are a similar classy touch.
But we believe the design and functionality, while unique, devalues the backpack. The poor functionality leaves you frustrated. And when you consider what you pay, the frustration may grow even stronger.
Warranty
We are happy to see Peak Design back its product with a lifetime warranty. And this is one of the strongest warranties we've seen from a camera backpack manufacturer.
The agreement isn't full of loopholes and clauses. It's simple and easy to understand. Plus, they cover manufacturing defects and breakages or failures that render the bag unusable.
There are some reasonable conditions. They won't replace or repair the bag if it has cosmetic blemishes or stains. And they don't cover any damage caused by neglect or mistreatment.
Overall, it's a fantastic warranty package. It's reassuring to see Peak Design trust its products. This assures you that you're buying a quality camera backpack.
Sustainability
The lifetime warranty ties into Peak Design's sustainability score. When you buy a Peak Design backpack, you know it'll be with you for years. It's not going to end up in a landfill next spring.
The mass production of disposable products is a detriment to our planet's health. And a company like Peak Design, which creates high-quality products built to last, should be celebrated.
The Peak Design Everyday Zip is also made using recycled materials. This adds even more credit to their sustainability score.
They are using waste while not creating waste. That's why Peak Design is one of the most sustainable brands in the photography space.
Alternatives to the Peak Design Everyday Zip
If the Peak Design Everyday Zip doesn't scratch your itch, here are some alternatives.
We have another weather-protected day bag. We have a bigger camera backpack for trips and travel. And we have a robust hiking backpack for outdoor enthusiasts.
The Duo Daypack from Wandrd is our top-rated day bag. It costs more than the Everyday Zip.
But the quality, craftsmanship, and usability all justify the higher price. It's a beautiful backpack that protects your stuff even in the worst weather.
The materials are of the highest order. They've spared no expense inside or out. And everything has been wonderfully put together. It's the perfect blend of artistry and professionalism.
The outer materials are fully weather-sealed. And that includes the rubber-coated zippers.
The straps are strong and comfortable. And the chest strap helps you carry a heavy load. It also has a water-bottle pocket and fleece-lined pockets for your laptop and tablet.
The interior has a unique "pop camera cube" to protect your camera. This can be folded away to give you more storage versatility. And the interior has padded pockets for all your camera accessories.
Like the Everyday Zip, the Duo Daypack has an Infinity Zip that opens all the way around. But the Duo Daypack's zipper works much better.
The Wandrd has four zipper heads and gives you side access. And it has everything you could need in a photography day bag.
Use our discount code EXPERTPHOTOGRAPHY at checkout for 15% off your first order!
The Lowepro Freeline is a fantastic camera bag if you want something a bit bigger. The extra size and space allow you to use it for longer trips. But the functionality and protection make it a great day bag.
Many camera bags have side access. But the Freeline's side-access points are some of the best we've experienced. They are wide and spacious, making it easy to get your camera in and out.
You also get a small, padded pouch at the bottom of the bag. It's a neat place to store a camera and other small accessories. And you can remove the pouch and wear it as a sling bag for great versatility.
The exterior materials are excellent. And there's plenty of padding on the inside to keep your gear safe.
It's also big enough for full frame cameras with battery packs attached, so capacity isn't an issue. That's another reason why it's such a versatile camera backpack—and one we highly recommend!
If you're looking for a camera backpack for hiking, the Thule Covert might be what you need.
It's a 32L backpack with a padded pouch, plenty of space, and a vast array of pockets. It's also a durable backpack built for life in the great outdoors.
It's a durable backpack with strong weather-repellent materials. It's a roll-top bag with plenty of storage space in the main compartment. And there's a padded camera pouch for a full frame DSLR.
You also have side access from both sides. And the camera pouch transforms into a sling bag when you remove it.
The Covert is more expensive than the Everyday Zip. But it has enough space for a full camera setup and plenty of other items for hiking and outdoor activities.
Thule is a trusted outdoor brand with a focus on sustainability. And the Covert is a backpack for photographers passionate about the outdoors.
Final Verdict of the Peak Design Everyday Zip
Measurement

Measurement

Score

Design and Aesthetics

Design and Aesthetics

Build Quality and Durability

Build Quality and Durability

Functionality and Ease of Use

Functionality and Ease of Use

Weather Resistance

Weather Resistance

Compatibility and Versatility

Compatibility and Versatility

Value for Money

Value for Money

Total Score

Total Score
The Peak Design Everyday Zip scored 72.5 points out of a possible 100. While that's a respectable score, that does put it in the lower half of our list of camera backpacks. We're sure some photographers will like this bag. But it won't be for everyone.
The Everyday Zip is an original camera backpack for casual photographers. And its materials are top quality throughout. It's a well-crafted backpack that marks high for overall quality.
But Peak Design has tried something new with the Everyday Zip's design. And their attempt to reinvent the camera backpack has fallen short.
The bag's use of two dividers instead of a pouch gives you more flexibility. But there is a loss of protection and security for your camera gear.
And photographers generally want and appreciate side access. However, this bag's access points are not practical. So the camera bag's usability is lessened.
It still has everything you need in a day bag, though. It may be light on additional features. But you can carry your gadgets, tripod, and bottle of water. And there's space for extra items.
It isn't cheap for a day camera bag. But the materials and build quality justify a large part of the price. And Peak Design has a fantastic warranty agreement and a squeaky-clean sustainability record.
There is a lot to like about the Peak Design Everyday Zip 15L. But the original design is a misfire, which unfortunately reduces the bag's value.