There are countless ways to get creative within the world of photography. You can manipulate your shots in endless ways, from manual techniques to after effects and specific gear. One of the most visually intriguing shot styles is tilt-shift. Professional photographers and amateurs alike use it.
You might be asking yourself, "What is tilt-shift photography?" Tilt-shift is a genre and style of photography that is growing in popularity. It's both an active shooting technique and a post-production effect. But how do you do tilt-shift photography?
eBooks and Courses for Everyone
What Is Tilt-Shift Photography?
In most tilt-shift shots, a camera gets used to result in the subject appearing like miniature models. You'll need a particular type of lens to take these shots properly. A tilt-shift lens allows the plane of focus to be controlled. This is the "tilt." The "shift" refers to the subject's position being adjusted without the camera moving. With depth of field and control of the image plane, you can get creative. We have also put together a handy guide to the tilt-shift lens.
So, by shifting focus and moving the relative position of objects, you have endless creative opportunities. By shooting images from a high angle, you enhance the effect. This is why tilt-shift images look miniature, especially cityscapes and architecture shots. This process is also helpful in photographing large objects, such as skyscrapers. The tilt-shift effect can also add depth and focus without "miniaturizing" images.
You can also add a tilt-shift effect to your images in post-production. This consists of a series of blur gradients and saturation changes. Through manipulation, this creates an alternate focus in the picture and creates the illusion of a miniature.
25 Unique Examples of Tilt-Shift Photography
To showcase tilt-shift photography, we have selected 25 of our favorite shots. You'll see this unique technique's different subjects, styles, and applications.
1. Shooting From Above
This shot is an excellent example of the tilt-shift technique. The focus of the image makes details snap and colors pop. It most notably creates a sense of the miniature, creating scale between the cathedral and houses to people in the street and boats on the water. You'll often see increased saturation in tilt-shift shots. This gives the same effect of bright paint on a miniature model.
2. City Life in Miniature
Tilt-shift works exceptionally well in city scenes with plenty of cars and people. In this shot, you can see the intense focus and blur. This works to focus the eye and heighten the sense of miniature. Taken from above, the shot evokes the toy town imagery that many tilt-shift photographers strive for.
3. Get Nature Into Your Composition
Tilt-shift is great for everything from city photography to nature shots. Water can be a great medium, especially when contrasted with boats and rocky shorelines. You'll get great textures and color tones. In this shot, both the ship and far shore have the "model" look that you'll see in tilt-shift photos.
4. Detail in Perspective
This shot does not fully miniaturize this skyscraper and the city around it. It does showcase the potential that the tilt-shift method has for capturing a sense of scale. This is especially good for tall buildings. For fans of detailed artwork, shots like this feel alive and full of depth. It also displays the benefits of using tilt-shift to adjust and preserve perspective.
5. Color is Key
This shot is an excellent example of the detailed textures and layers you can capture. It shows excellent contrast between the people, waves, and dunes. You can make any scene look like a model board with tilt-shift shots. Even expansive beaches or evocative landscapes are great subjects.
6. Capture Everyday Life
Closer shots also look great. When focused on one street, or even a street corner, you'll pick up great detail. Here, daily life on the street appears like a toy city. The blurred focus helps draw the eye to the central truck. This creates a false sense of scale from the viewer's perspective rather than from the objects captured.
7. Shoot Texture-Rich Shots Like Models
This shot captures the feel of a miniature especially well. The contrast between houses and nature makes for great texture and depth. Subjects such as forests and jungle are great for playing with tilt-shift. The varying heights and sizes of trees can look great in miniature, especially when tracing paths or roads through them.
8. A Fully Lit Model City
A great way to capture the feel of a model city is through light. Street lights and building lights add great points of focus. Along with adding life and color to your shot, they also help create scale.
In this shot, the points of light create great detail in buildings and streets. This works even better with miniature people adding scale. The heavy blur and focus pull is especially effective here.
9. Architecture and Symmetry Make Great Mediums
The tilt-shift technique is excellent for symmetry and patterns. For city shots and architecture, this can be stunning. The detail becomes that of the entire city shot. In this image, the subject takes on a new perspective. The miniature view of the city streets and buildings becomes almost abstract.
10. Make Grass Look Like a Forest
You can also take something already miniature and play with it. Shooting smaller objects or animals can create scale and contrast. This can lead to exciting photos. You can create forests out of grass or mountains from pebbles. This shot shows excellent detail in the cobbles and gives the weeds perspective growth.
11. Bring Models to Life
The tilt-shift technique is also great for shooting miniatures. It's great for controlling contrast and perspective. You can see how the method works in this shot of a miniature city. The pulled focus and hard blur add great depth and life to it. You can get creative with tilt-shift lenses and processes.
12. Making Big Machines Look Tiny
Making large objects appear like toys is a common sight in tilt-shift shots. Large pieces of equipment such as excavators and large trucks work great. Positioning people and vehicles together in your image can add to the effect.
In this image, the textures of the worksite make the effect pop.
13. Capture Great Perspective and Texture
In this shot, tilt-shift has been used for a great perspective. The truck appears small, but this image does not create a forced miniature perspective. It shows the potential that tilt-shift has in creating focus. It also brings out great detail in the rocky textures. This shows the advantages of focal length.
14. Not Just for Miniatures
This is another shot that shows the focal length advantages of tilt-shift. You can get vibrant photos full of depth and texture. True, making things look smaller might be the main draw for many. But remember that tilt-shift offers so much more.
15. Sports Stadiums Look Great in Miniature

Sports are also an excellent medium for tilt-shift. The heavy blur and angle make the ice rink appear like a toy set. The effect is enhanced with rich saturation. It works well for crowds and large groups of people, so arenas and stadiums are perfect.
16. Different Mediums Create Perfect Models
Large open fields with roads and pathways can look great. When combined with water and cars, you can get train set-looking shots.
Small details like lampposts and signs help sell this scene as miniature. The blurred edges add the finishing touches.
17. Train Stations are Great for Model Shots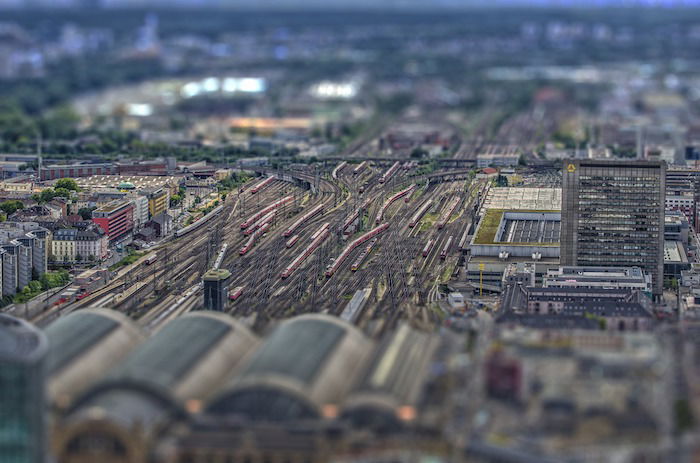 One of the best subjects for tilt-shift is trains. Train tracks and cables look great in miniature. This city shot looks like an incredibly detailed train set. It makes an otherwise uninspiring view dense and complex.
The narrow focus draws all attention to the center of the image. This shot shows the benefits of using a quality tilt-shift lens.
18. Houses and Buildings Make Great Models
A slightly lower shooting angle can completely change the feel of your image. This can help sell the appearance of tiny houses and trees. Fans of detail can experiment with capturing a little snapshot of life.
19. Water and Architecture Look Great in Miniature
A narrow focus draws all attention to the center. Tilt-shift works well with medieval cities. Pitched roofs and city walls can look great in miniature. With increased saturation, the water and buildings contrast nicely.
Even the out-of-focus areas add to the effect. Your brain creates the perspective.
20. Perspective is Key
Clear, open shots work best for tilt-shift. In this image, the people appear tiny compared to the buildings behind. It shows how you can create a miniature effect within a part of an image.
The slight blur of this image also makes it a more dynamic image in the background and the foreground.
21. Use Architecture to Create Extra Detail
This is another excellent miniature shot. Classical architecture works well. Straight lines and shadowed areas add interest to your image. Features such as arches and statues are also great for tilt-shift photography.
Try to experiment with blur and focus to change the composition of your shot drastically.
22. Classic Landscapes Meet Tilt-Shift Photography
This shot, taken from a distance, shows the benefits of tilt-shift with landscapes. The miniature effect is there. It could result from the level of zoom as much as tilt-shift.
The effect does not need to be as drastic as in other shots. You could focus on the other benefits of the technique.
23. Tilt-Shift Can Be Full Of Life
Different levels and heights appear in this image. This helps give it a great sense of depth and life. The miniature effect works well with the mist. The mist and clouds also help to mask the blur and unfocused areas. This creates a more visually pleasing shot.
24. A Picture-Perfect Model City
This tilt-shift photo combines great architecture will plenty of life. Tiny cars and people create a perfect miniature scale model effect. The high saturation helps add to the miniature effect. This particular shot is a result of post-production. While tilt-shift lenses are superior, you can get results from software alone.
25. Express Yourself and Your Style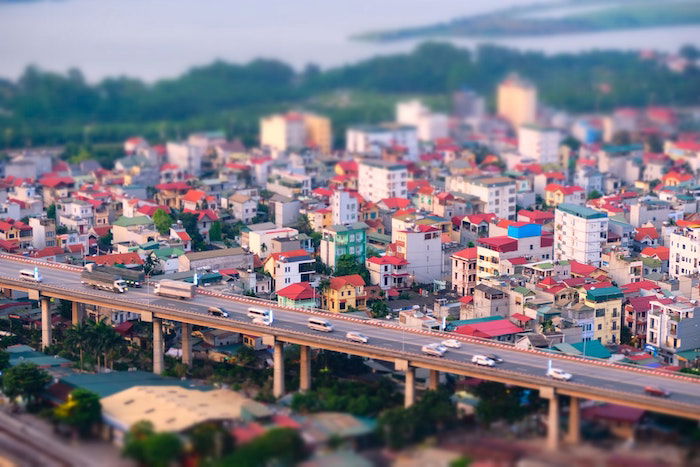 Tilt-shift photography can make use of several different techniques. A shallow depth of field can alter your image. In this shot, the rich saturation mimics the bright paint of a model miniature. Tilt-shift photography can be a great way to express yourself and your style.
Conclusion
The tilt-shift effect is undoubtedly unique. The range of uses the technique has makes it a great tool in the belt of any photographer. While the most popular and recognizable results are miniature photos, tilt-shift can help you take better photos.
Tilt-shift lens photography is excellent for portraits and experimenting with focus. You can also play around with perspective control. A tilt-shift lens allows you to explore the full potential of the technique. If you want to edit your photos in the miniature style, editing flair and software is a great way to start. Many online examples you'll see are "miniature faking" in this way.
You can see from the tilt-shift photography examples we selected that the medium is full of potential. Perhaps you are the next big thing in tilt-shift photography!
Check out our Effortless Editing with Lightroom course to create tilt-shift effects in post-processing!


eBooks and Courses for Everyone