If you're looking for a quality Fujifilm camera that will take amazing photos, we have a few for you to consider. With a wide variety of models to choose from, there's sure to be one that's perfect for your needs.
Our top pick is a medium format camera. But it combines the huge sensor size of medium format, with a compact body and excellent autofocus.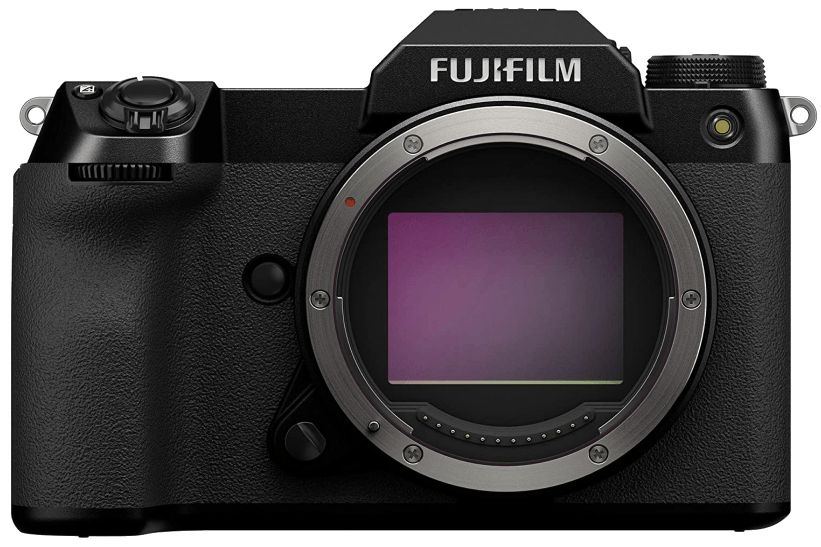 This medium format camera offers the best of both worlds, with its impressive image quality and compact size.
Shop 3 Offers
[Note: ExpertPhotography is supported by readers. Product links on ExpertPhotography are referral links. If you use one of these and buy something, we make a little bit of money. Need more info? See how it all works here.]
What Is the Best Fujifilm Camera in 2022?
We'll look in some detail at our top choices. But first, here is a summary of the cameras we recommend.
Now let's look in more detail at those cameras. Let's start with the top pick.
1. Fujifilm GFX100S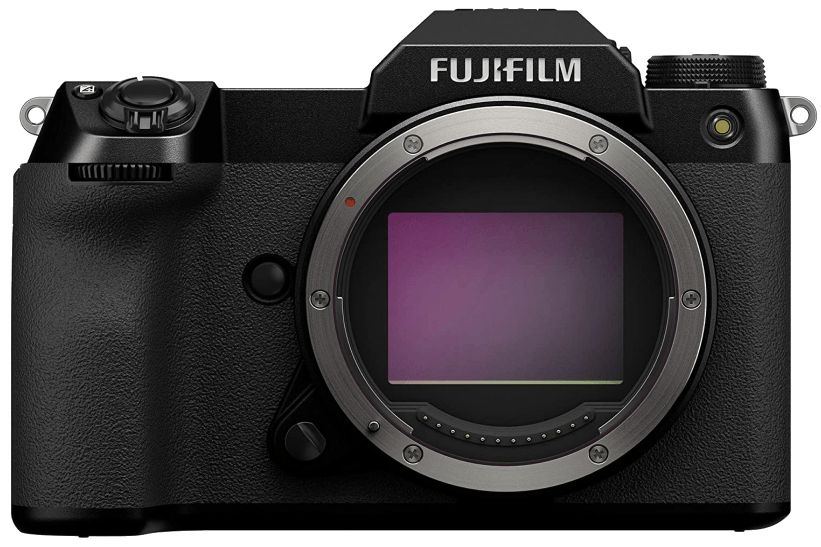 Sensor Format
Medium Format
In-body Stabilization
Video
Best For
Medium format photography at an exceptional price
The Fujifilm GFX100S is the newest iteration of the record-breaking Fujifilm GFX100 series. Not only does it have a medium format sensor producing 102 MP images, but it also does all this in a reasonably sized camera body! So there's no wonder it sits at the top of Fujifilm's range of cameras.
The most significant difference between the GFX100 and the GFX100S is the size and weight. The GFX100S has almost reduced the size by half while still providing the same quality. But the most surprising difference is that the price is nearly half of the current GFX100!
The GFX100S still keeps the same excellent autofocus system that appeared in the GFX100. It also has the impressive color handling we expect from all Fujifilm cameras. And this bigger sensor really pushes Fujifilm's capabilities to show us what's possible.
They have made a small development in the image stabilization for this camera, jumping from a 5.5 stop range to a whopping 6 stops. It may not seem like a lot, but that half stop of light can be the difference between a sharp picture and an unusable one. The GFX100S also comes with 4K video. It doesn't have the best frame rate, but it still allows you to make fantastic quality films. 
Another nice addition that Fujifilm has added to its S version is a dial on the top with 6 custom preset slots. This is perfect for photographers who want to quickly change between different custom shooting modes.
Overall, this camera is for peak performance in a portable form. It's especially great when paired with Fujifilm's beautiful G lens range. If you need the highest possible quality while out on location, this could be the medium format camera for you as long as the price is no issue! 
2. Fujifilm GFX50S II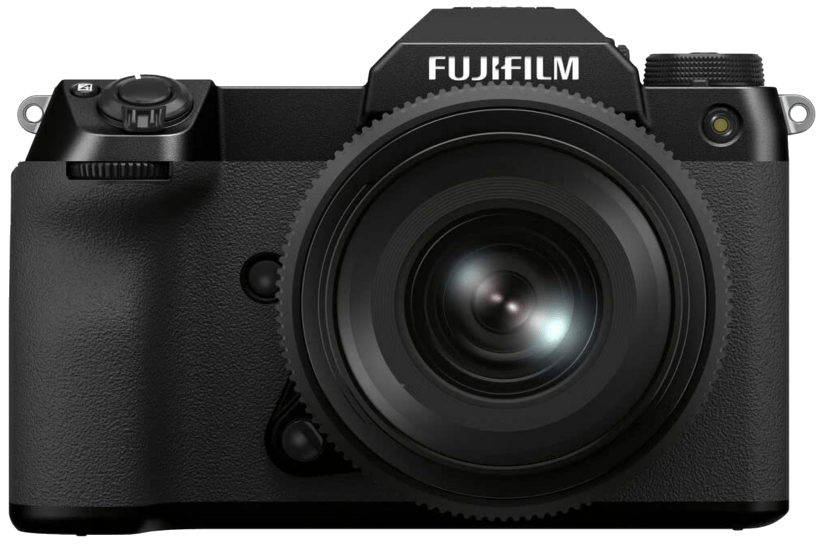 Brand Fujifilm
Sensor Format Full Frame
Lens Mount Fujifilm G
Megapixels 51 MP
In-body Stabilization
Autofocus Points 425
Minimum ISO 100
Maximum ISO 12,800
Frame Rate 3 fps
Video
Screen Size 3.2"
Best For Medium format photography on a budget
The Fujifilm GFX50 range is the other medium format camera range made by Fujifilm. And the GFX50S is the newest version in this line. It comes in as one of the most affordable medium format cameras on the market. And it provides you with a superb 51.4 MP in a portable size. Actually, its size almost perfectly mimics the new GFX100S. But its price reduction also comes with a reduction in image quality. But 51.4 MP is still very high quality.
Compared to the last GFX50S, the only real noticeable change is an improvement in image stabilization. You get an impressive 6.5 stop difference with its image stabilization, which is the highest in the Fujifilm range. This is great news for people who want to shoot on the go, especially in low-light situations.
It's always handy to have image stabilization when shooting with a large sensor. But with these capabilities, it's more of a blessing! Another difference is the size—it is a bit bigger and heavier than its previous iteration. But because Fujifilm's cameras are usually on the smaller side, this isn't an issue.
Auto focusing is a breeze with this camera. And you won't waste any time in those blink-and-you-miss-it moments. You also get Full HD video. Another feature I like about this camera is the six different types of auto bracketing it offers. This ranges from focus bracketing to ISO and white balance bracketing. It even comes with bracketing for different film simulation types. 
The GFX50S II also has Fujifilm's Pixel Shift Multi-Shot. This mode combines 16 RAW files to make a 200 MP image! This mode is specifically designed for archiving works of art and other important cultural assets.
3. Fujifilm X-T4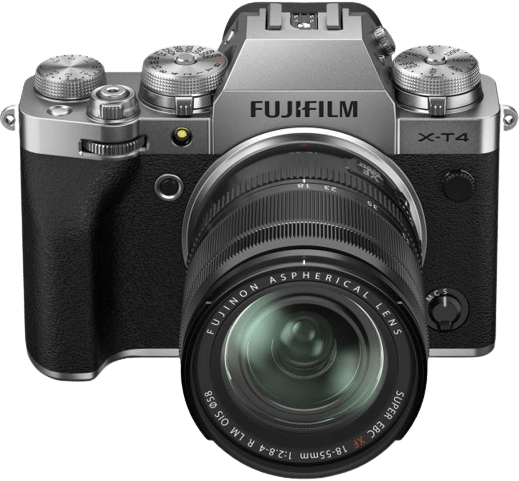 In-body Stabilization
Video
Best For
Photographers looking for a competent all-rounder
The Fujifilm X-T4 is the best all-around camera on this list. If you're looking for a Fujifilm camera that can do it all with excellent results, look no further. It is still an APS-C sensor. But the advantage of this is that Fujifilm was able to make a camera small enough to be the perfect travel companion. This sensor is smaller than a full frame sensor. But this is bursting with powerful capabilities from its X-Processor 4 processor and its 5-axis in-body image stabilization. 
You will also find many handy and user-focused design choices around the camera. For instance, you get dual card slots—a must-have for any digital camera nowadays. You will also notice the tilting touchscreen display. This makes shooting a whole lot easier for certain types of photography, like concert photography or vlogging. Speaking of video, the X-T4 offers 4K video at up to 60 fps. This is more than enough for high-quality video outputs! 
The autofocus is as trustworthy as you would expect from the top range of Fujifilm cameras. The X-T4 autofocus boasts the quickest speed of 0.02 seconds, so you'll never miss a shot. Fujifilm has also spent time developing how the autofocus works in low-light conditions.
It has improved its low-light shooting abilities. And the star of this show is the 6.5 stop equivalent in its image stabilizing. If you like the stylish Fujifilm designs and want a camera that can perform to the highest standard, this may be worth looking into. For these reasons, I would say this is the best Fujifilm camera for street photography. 
4. Fujifilm X-H2S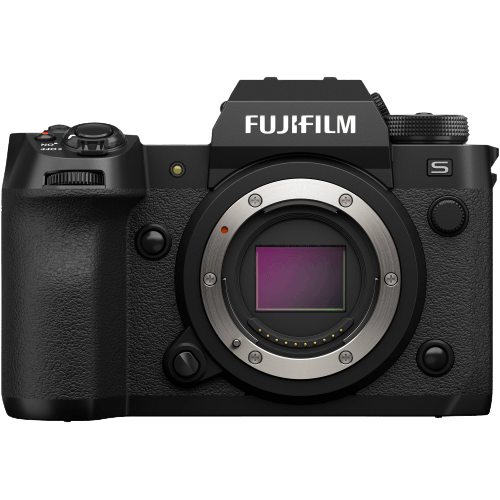 In-body Stabilization
Video
Best For
Photographers who need a high burst speed
Fujifilm's X-H2S is the newest camera in their X range and is specifically designed for speed. It is the first X camera that features the new X-Processor 5. It effectively doubles the camera's processing speed and introduces AI technologies and HEIF format files. On top of this, it reduces power consumption. And a longer battery life means you get more time shooting! Some of these AI technologies include better face and eye detection, and not just on people. The AI tech can now help identify birds, animals, and even vehicles. 
You can also see a big part of Fujifilm's quest for speed in its burst mode. The X-H2S can shoot blackout-free bursts of up to 40 frames per second! And if you want non-stop continuous bursts, it can shoot at 30 fps for up to 100 images! These are some fantastic speeds for such a small camera. And if you want to go handheld in low light, you get an image stabilization system that can compensate for up to 7 stops! 
You can also find speed in the upload times as the X-H2S has dual card slots. And one is specifically for CF express cards. This speeds up the writing as well as reading time for your images. The X-H2S also has excellent weather sealing capabilities. It feels like it can handle more challenging environments than others. This also becomes evident with their new grip on the camera. It makes the camera feel much more sturdy. You also get a super light shutter release which takes the slightest click to release the shutter. 
Also, the X-H2S comes with a direct connection to computers for streamers or vloggers. You can instantly register the camera as a webcam without any other apps. 
5. Fujifilm X-Pro 3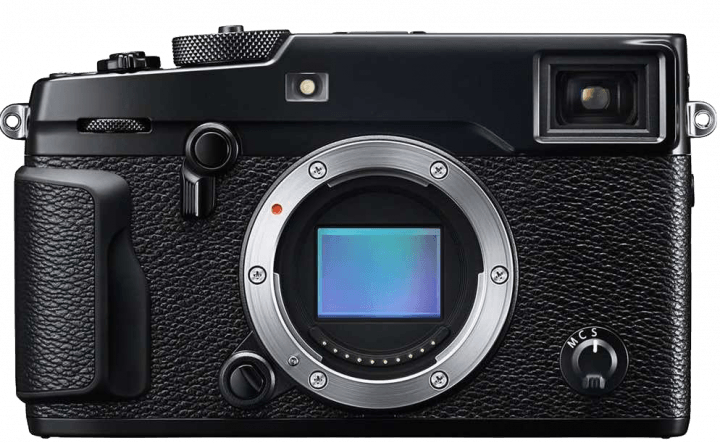 Brand Fujifilm
Sensor Format APS-C
Lens Mount Fujifilm X
Megapixels 26 MP
In-body Stabilization
Autofocus Points 117
Minimum ISO 160
Maximum ISO 12,800
Frame Rate 11 fps
Video
Screen Size 3"
Best For Photographers who need a versatile interchangeable lens camera
The Fujifilm X-Pro 3 is among the best mirrorless cameras on the market. It first hit the stores in 2019 and remains a favorite for Fuji camera lovers worldwide. The advanced viewfinder is one of the most fun features in the X-Pro 3. It makes a noticeable difference in your shooting style.
This advanced viewfinder allows you to seamlessly swap between EVF (electronic viewfinder) and OVF (optical viewfinder). This has long been a feature of Fuji's X100 series, but it appears here for the first time on a camera with interchangeable lenses. These viewfinders allow you to get the best of both worlds. You can use the EVF for seeing your exposure and the OVF for seeing what's outside the frame. 
One of my favorite features is the second screen for film simulation and shooting data. This isn't particularly helpful but adds to Fujifilm camera's classical aesthetic they have with all their cameras. There is a small screen at the back, and if you look at old cameras, they have a similar empty square. This is meant for ripping off a square of your film box so you remember what film you're shooting with.
Now, with Fujifilm's film simulation modes, you can shoot similar to a film camera by having the screen turned away and just being able to see the film type you are shooting with! You can even edit this small screen to show your shooting data. Some people might find this hidden screen annoying, but I think it allows for more carefree shooting. 
The Fuji camera also has an improved battery life and great filming capabilities. I am a big fan of the metallic build which also has great weather sealing. If you're buying the camera new, you can have a selection of 3 different finishes—titanium, black, and duratec. This last option is scratch-resistant, which allows you to keep the finish in pristine condition. And I can't lie, Fuji cameras' looks are a huge selling point. 
6. Fujifilm X-S10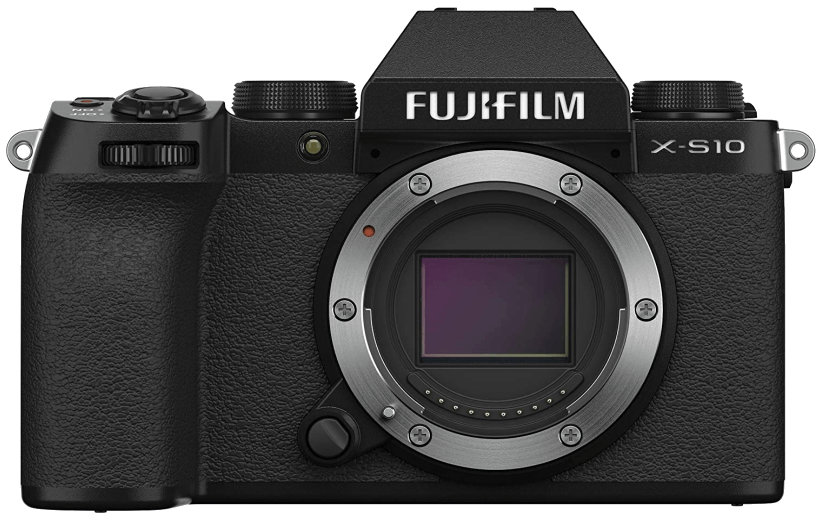 In-body Stabilization
Video
Best For
Vlogging on the go
Another great Fujifilm camera is the Fujifilm X-S10. This is one of the newest ranges from Fuji. It's specifically designed for people who want to move to mirrorless but want different controls than the X-T4 or X-T3 series. It even has the same sensor as the X-T4, but it's in this super-compact body.
Fuji markets this camera as being here for creativity, allowing you to get creative without the camera getting in the way. One way they have done this is to use four custom settings available on your dial. This is more than enough to use different shooting styles while out photographing. 
You get many other features from this lightweight camera with great image quality. You get a tilting screen. And great autofocus with face detection and great eye detection. On top of this, you get Bluetooth and Wi-Fi capabilities, so getting hold of the image quickly is a breeze. I am a fan of the fact that you can connect this camera directly to Instax printers. This means you can get instant printouts of your images within minutes. 
The camera also gives you up to 4K video options. It has webcam capabilities, so you can set this up as an easy streaming or vlogging camera for your home. If you like to vlog on the go, this camera is light enough to hold with your arm at full stretch for a while without getting tired! This makes the X-S10 the best Fujifilm camera for vlogging on this list.
7. Fujifilm X100V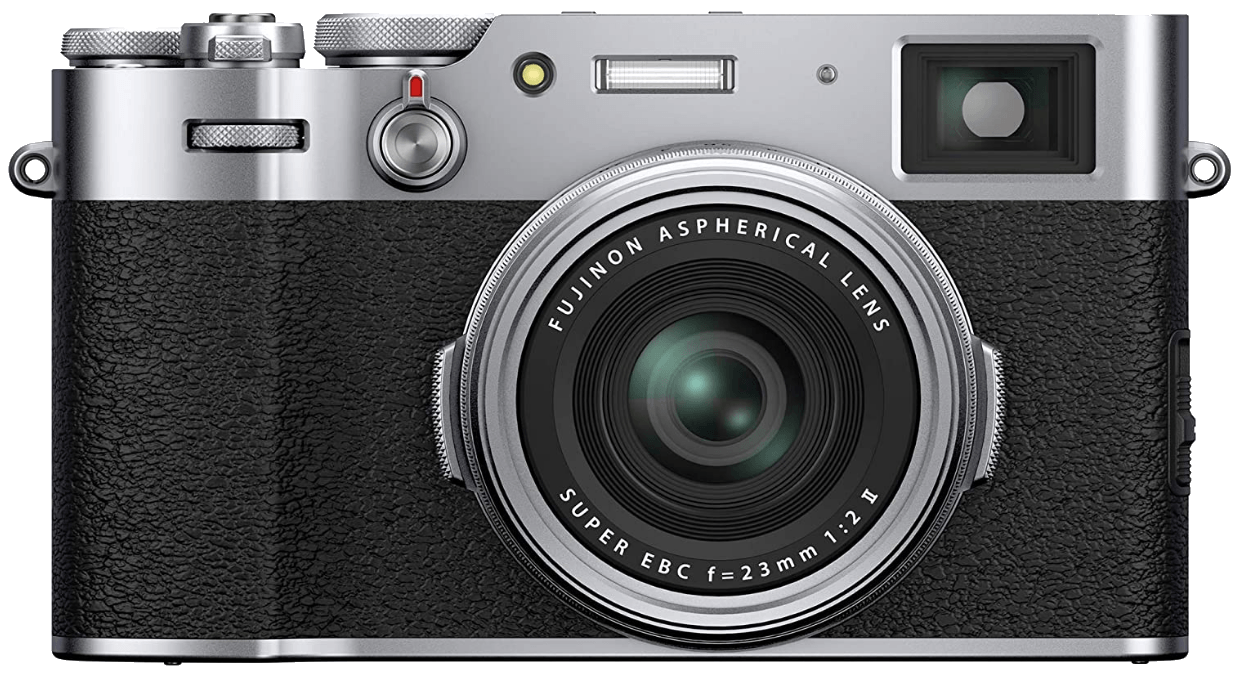 In-body Stabilization
Video
Best For
Travel photography
The Fujifilm X100V is the first Fujifilm camera on this list that comes from their fixed lens range. This means the camera comes with just one lens that isn't interchangeable. Good thing the lens they choose is a beautiful 23mm f/2.0 which works great as an all-around lens. Of course, you must decide if this focal length works for your shooting style. If you want the ability to zoom in on your subjects, it would be best to look for another camera. 
The X100V works best as a compact camera. It works amazing as a point-and-shoot as well as a camera to use in fully manual mode. The dials around the camera and the movable aperture ring on the lens make the manual setting super accessible. Of course, Fujifilm cameras are great at urging us to go manual anyway. And the X100V eases you into this style of shooting seamlessly. 
Fujifilm has had great success with its X100 range. I even have one of the older generations, so I know exactly why they are so popular. Their newest version has come a long way, though. Featuring the X-Trans 4 sensor that's found on Fujifilm's top cameras, paired with this new, sharp lens, you get professional-quality images from such a small size. This is really the selling point for the X100V, excellent image quality made for traveling. 
This iteration comes with 4K video, 11 fps burst shooting, and an even better battery than before. You even get other extra features like a built-in ND filter which allows for longer exposures. Enhanced eye and face detection are also a massive plus for this mirrorless camera. You won't find any dual card slot, and the weather sealing isn't exceptional. But because it's a small camera, you can keep it protected easily. 
8. Fujifilm X-E4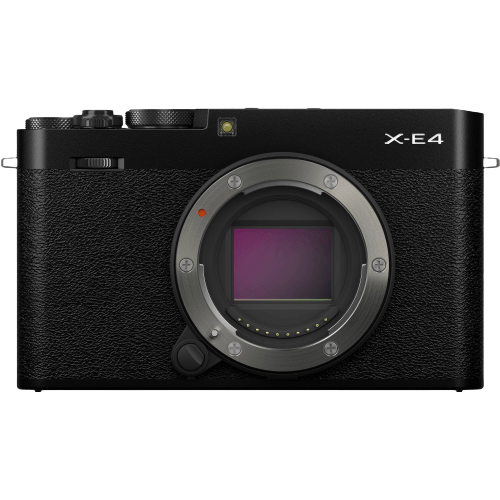 Brand Fujifilm
Sensor Format APS-C
Lens Mount Fujifilm X
Megapixels 26 MP
In-body Stabilization
Autofocus Points 425
Minimum ISO 160
Maximum ISO 12,800
Frame Rate 20 fps
Video
Screen Size 3"
Best For Anyone looking for an interchangeable lens camera that is very compact.
If you're looking for a camera as small as possible with the ability to change lenses, the Fujifilm X-E4 is the smallest camera Fujifilm produces with these capabilities. For its size, you don't get too many limitations either. It still comes with the same processor and sensor found on the X-T4.
The most noticeable reduction is of things to grasp onto. It has fewer dials and buttons to manually change settings on your camera. So basically, they've stripped everything back, even the viewfinder, which is purely electronic. 
Fujifilm has stripped back the camera so much that it doesn't even feel secure while using the bigger lenses in the X-mount range. There's not much of a grip on the camera body. Fuji has identified this, and they produce extra accessories to combat this issue. For instance, they have made a thumb rest and an added hand grip if you still want to use bigger lenses or if you just want more comfort. 
Even though it is small, it's still jam-packed with great features. You get a tilting screen which comes in handy with its 4K video capabilities. These capabilities even allow for Full HD video at 240 fps from such a small camera! All this coupled with fast autofocus speeds and great face and eye detection, even in low light, makes for an all-around great camera. The size and weight are the deciding factors in whether it is for you or not. 
Picking The Best Fujifilm Camera For You
Fujifilm has been in the camera industry for a long time. And it's clear they have established themselves as one of the top camera brands. They have found their niche style in color handling and, most importantly, their signature design. This design style is reminiscent of old 35mm cameras, so there's a sort of classy nostalgia attached to their cameras. I'm a big fan of this. 
The GFX Series
Fujifilm recently came out with the GFX range, which features their medium format digital cameras. These sensors are bigger than full frame cameras. And in digital photography, the bigger the sensor, the more quality and dynamic range you can get out of your photographs. 
I would suggest the GFX cameras are for top professionals who are happy to drop a lot of money on getting a full gear setup. I would also say they are for any photographer looking for an entry into digital medium format cameras. This is because some of the new ones on this list are the cheapest medium format cameras available. 
The X Series
The X series is Fujifilm's trademark cropped sensor mirrorless range of cameras. This range focuses on reducing the size of average digital cameras to a cool and compact design. The cropped sensor in these cameras is between a half frame and a full frame sensor of normal DSLRs. This means the sensors are better than quite a few of the DSLRs on the market right now.
You get all types of cameras from compact and entry-level to the more advanced cameras in this range. Within this range, the aesthetic stays fairly consistent. Fuji has walked a fine line between classic and modern styling. And I think they tread it extremely well. 
I would suggest the X cameras are for photographers who want a small and easily transportable camera that still packs a punch. They work exceptionally well in specific environments like street photography. It is also a perfect companion for nature lovers because they are lightweight, making it easy to carry on long hikes.
Conclusion
After looking at this list, we can see there's a full camera range that Fujifilm produces to satisfy a wide range of different skills and genres in photography. They have everything from cutting-edge medium format cameras to top-of-the-line point-and-shoot cameras. So choosing the best Fujifilm camera for you depends on what you want. But by looking at Fujifilm's history with excellent color management, it seems any camera you pick will produce exceptional results. 
The most crucial factor to consider is a Fujifilm camera's style of shooting. If you enjoy the slower shooting process that is more similar to film 35mm cameras than a DSLR, a Fuji camera is definitely for you. Part of photography's charm comes from the way you use a camera. The camera's looks will even change how people act in front of the camera! So, go through this list and see which camera can work the best for you! 
Out of all these fine cameras, we've gone for this medium format one as our top pick.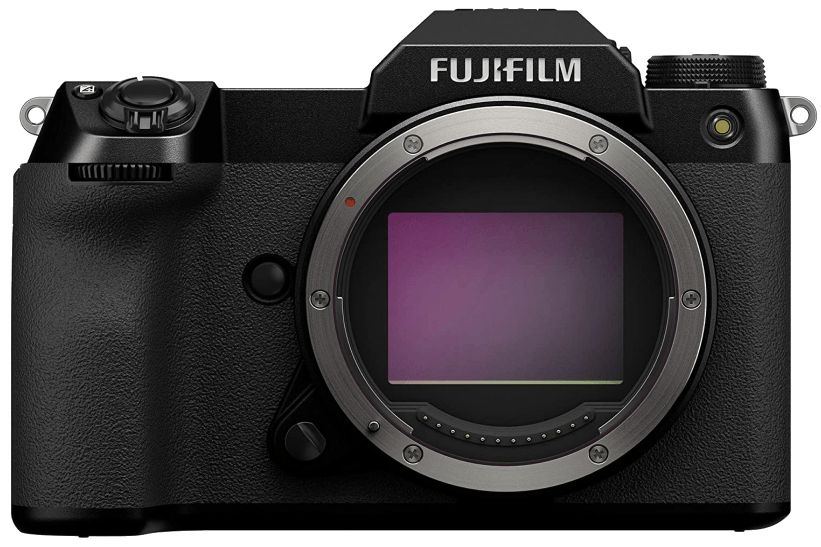 This medium format camera offers the best of both worlds, with its impressive image quality and compact size.
Shop 3 Offers