In 2017, Nikon celebrated its 100th birthday.
Over the past century, Nikon has emerged as a time-tested brand for photographers worldwide.
In this article, the spotlight is on their cameras. Whether you are a professional or starting afresh with a Nikon camera in 2021, you'll find one that suits your needs. But how do you pick just one? Each camera holds its own in the right setting.
That's why we have analysed the best Nikon cameras and classified them based on high-end, mid-range or entry-level. Before we dive in, here's a glance at Nikon as a brand.
[ExpertPhotography is supported by readers. Product links on ExpertPhotography are referral links. If you use one of these and buy something, we make a little bit of money. Need more info? See how it all works here.]
What You Need to Know About Nikon Cameras
Nikon is Japanese multinational corporation founded in Tokyo in 1917. Initially, the company specialised in optics and imaging products. From 1988, the company has been renamed Nikon Corporation, following its line of cameras.
Nikon started producing its own camera bodies after the Second World War. The Nikon S, a rangefinder film camera series from 1949, was the first to take the US market by storm. That was just the start.
Today Nikon is renowned for its cameras and binoculars, and an impressive selection of high-performance flashes and camera lenses.
Photographers worldwide endorse Nikon cameras and equipment. Focused on embracing diversity and creativity, Nikon has ever-growing popularity.
So, let's dive into our detailed list of the 13 best Nikon cameras of 2021-and find the top Nikon camera for you!
The Best Nikon DSLR Cameras
Nikon's DSLR cameras are famous, and they are used widely by professional photographers. Here are our suggestions if you are thinking about investing in a DSLR.
DSLRs for Professionals
The Nikon D850 is a high-end camera, one of the best in its category on the market. It's for professional photographers and highly versatile. Be it wildlife, event or sports photography; it serves several photography niches.
It has a 45.7MP full-frame, backside-illuminated sensor. The wide ISO range from ISO 64 to 25600 (expandable to ISO 32-102400 equivalent) exceeds expectations in low-light conditions.
The D850 has a 153-point AF system with 99 cross sensors, which provide powerful focus in diverse situations.
It can capture up to 9 frames per second, making it a great action camera, and perfect for catching the decisive moments.
Thanks to its features, the image quality is incredible.
What makes it the best DSLR is that it's also perfect for making videos as it captures them in 4K UHD.
The two memory card slots prevent you from running out of storage during photographing or video recording.
The Nikon D780 is another full-frame camera on our list. It's recommended for professional photographers. It's a versatile gadget, and you can use it for multiple niches of photography.
It's the improved version of the Nikon D750. It comes with a 24.3MP sensor and an ISO range of 100–12800. The resolution and dynamic range result in great image quality.
Its 51-point autofocus system ensures smooth AF even in low-light situations.
The D780 offers rapid continuous shooting at up to 6.5 fps.
This camera can also capture 60p Full HD videos. This doesn't make it the best camera for video recording, but it's still impressive.
It also has a dual memory card slot and durable batteries, so that it can serve you during long photo sessions too.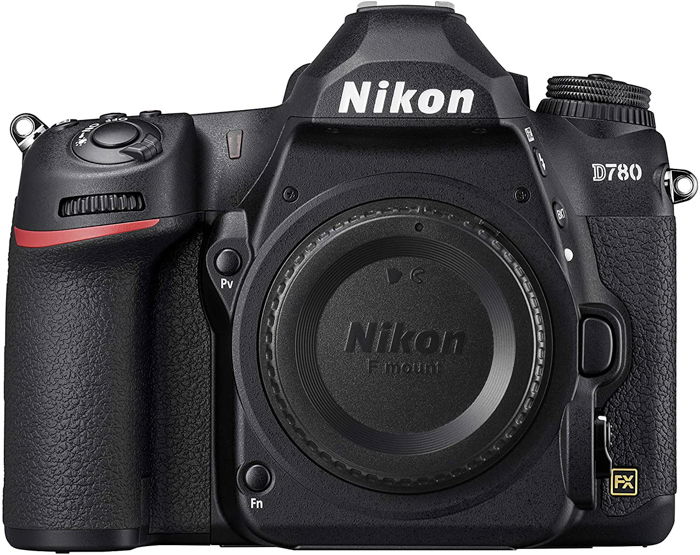 The Nikon D500 is a high-end crop sensor DSLR camera. It can be used for any niche, but we highly recommend it for action, sports photography, or wildlife photography. The DX-format, the AF system and the fps values make it a favourite among professional photographers.
The APS-C sensor offers outstanding agility, especially when it's used with a telephoto lens. Being a DX (Nikon's crop sensor) system, the addition of a telephoto lens extends the focal length to longer than that with full-frame.
The sensor has 20.9MP, and the ISO range is 100-51200 that is expandable to an impressive ISO 1,640,000. Even in meagre light, you can preserve the details in your shots.
The 153-point AF system makes it suitable for action photography, as it can keep the moving subjects in focus.
It's capable of approximately 10 fps continuous shooting to split-second moments.
The 4K UHD videos are professional-grade. The results are jaw-dropping.
DSLRs for Beginners and Enthusiasts
The Nikon D7500 can be the best DSLR for those planning to level up their photography to a professional level. It's the younger sibling of the D500, offering a lot of the same features, but in a more accessible and compact body.
It has a 20.9MP crop (APS-C) sensor (so it's a DX-format) and a 100-51200 ISO range, expandable to ISO 1,640,000.
It has a 51-point AF system which features group-area AF for secure subject tracking.
It's capable of continuous shooting with a rate of 8 fps.
Additionally, it can record 4K UHD (30p) high-quality videos.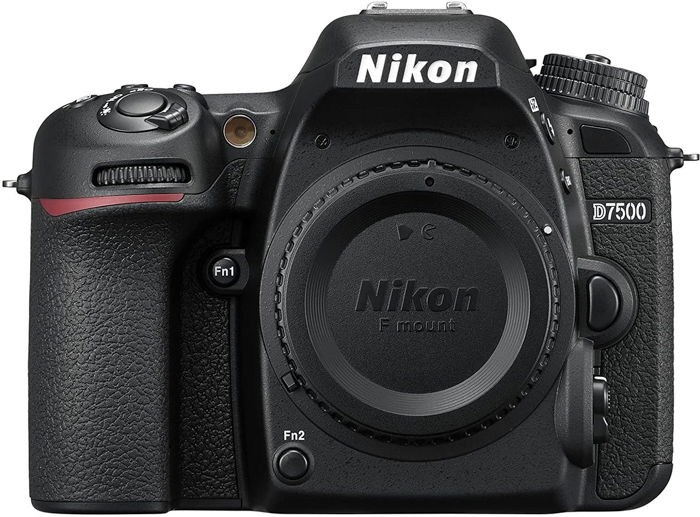 The Nikon D5600 is one of the best entry-level DSLR cameras. You can get creative with it, and try yourself in different fields of photography.
It has a 24.2MP crop sensor and an ISO range of 100 to 25600. This leaves no reason to worry about image quality in insufficient lighting.
This gadget comes with a 39-point autofocus system. This is not as impressive as the higher-level DSLRs but still a reliable choice for still and moving subjects.
The continuous shooting can go up to 5fps, which – again – doesn't seem to be much, but it serves budding professionals.
The 60p Full HD videos have high quality. So this camera is a good choice for dabbling in videography too.
The Nikon D3500 is for those who are just stepping into photography. It's a perfect first DSLR for anyone, as it can be used for several purposes.
It even has a guide mode that helps you learn and improve your photography skills.
It has a 24.2MP APS-C sensor, and the ISO range is 100-25600.
The 11 autofocus points are less than you can find in the other DSLRs on our list. However, the focusing system is accurate, and these points will satisfy any amateur photographer.
The 5 fps continuous shooting mode makes it easy to capture movements.
Also, it's capable of recording 60p Full HD videos.
The Best Nikon Mirrorless Cameras
Nikon's first mirrorless camera was introduced in 2018. Since then, Nikon has designed professional and high-quality products in this category as well. Take a look at our favourite options- you might find the best Nikon camera among them!
This Nikon Z7 II is a high-end mirrorless camera. It's the perfect choice for professionals, working in any field. It's suitable for action and wildlife photography. It has Eye-Detection and Animal-Detection autofocus for both photos and videos.
It has a full-frame sensor with an impressive 45.7 megapixels. The ISO range of 64-25600 is perfect for shooting in bright and low light conditions, without falling back on image quality.
With the 493 point-phase-detect autofocus system, your subjects will be in focus, irrespective of where they sit in your frame.
It can shoot 10 fps- that's a good value if you're interested in shooting live-action events.
The 4K UHD videos are a much-appreciated bonus.
The dual memory card slots ensure that you have plenty of storage for your shots. Also, it is USB- charged. This makes it perfect for photographers on the go, who don't mind recharging the batteries from a power bank.
The Nikon Z6 II is a mirrorless Nikon camera that stands out for exceptional image quality.
It has a 24.5MP full-frame sensor and a 100 to 51200 ISO range which is expandable to 204,800.
Its 273 autofocus points will keep your subjects in focus at any part of your frame. It also has Eye-Detection and Animal-Detection autofocus for photos and videos as well.
It offers high-speed continuous shooting, with a capacity of 14 frames per second. You won't miss any important moments in your shoot.
The Nikon Z6 II captures amazing 4K UHD videos, and with the autofocus systems, it is suitable for a lot of different situations.
It has dual memory card slots and can be charged with a USB cable.
The Nikon Z5 has a portable, weather-sealed and easy-to-handle body that makes it ideal for several photography niches.
It has a 24.3MP full-frame sensor and its ISO range is 100-51200.
The 273-point AF system offers accurate focus across the frame. The Eye-Detection and the Animal-Detection are convenient additional features.
It has a 4.5 fps max burst rate that is still commendable although it isn't as impressive as the previous model. If you're into action or sports photography, don't make this your first choice.
The Nikon Z5 is also capable of recording 4K UHD videos.
It also has dual SD clots and can be charged through USB.
The Nikon Z50 is a Nikon mirrorless which is perfect for creative photography. Due to its portability, you can take it anywhere, and explore fun features like the 180° tilting monitor. Take note, influencers- this is an easy-to-use selfie camera as well.
It has a 20.9MP crop sensor and the ISO range is 100-51200.
The 209 focus points cover almost the whole frame and provide you with great freedom while focusing on your subject. It also has Eye-Detection Autofocus that's particularly useful for portrait photographers.
It can shoot up to 11 frames per second.
This gadget is also capable of recording 4K UHD videos.
The Best Nikon Compact Cameras
Nikon has compact cameras as well, which are easy-to-use and offer amazing images. We collected our top 3 recommendations in this category.
The Nikon Coolpix P1000 is a suitable choice for those who would like to have a high-end compact camera. It's ideal for different purposes, from documenting family events to more artistic and professional projects.
It has a 16MP crop sensor and you can set the ISO value between ISO 100 and 6400. You cannot compare the image quality to the Nikon DSLRs or the mirrorless systems, but it is good enough for everyday shooting.
This camera has a NIKKOR lens with an ultra high-power 125x optical zoom. This implies that its angle of view is equivalent to a 24-3000 mm lens. It gives you the freedom to place your subjects at different distances.
The maximum aperture is f/2.8-8. At 2.8, you can take photos with nicely blurred backgrounds or in low light.
You can catch the best moments with it, due to the 7fps burst rate.
It can even record 4K UHD videos, Superlapse and Time-lapse movies.
The Nikon Coolpix P900 is another notable compact Nikon camera. It's portable, and you can take it anywhere without worrying about space. It's a versatile gadget- a nice start if you want to try a hand at photography.
It has a 16MP sensor and an ISO range of 100-6400. This is a rather wide range when you're merely experimenting with photography.
The P900's NIKKOR lens has a capacity of 83x optical zoom. The angle of view is equivalent to that of 24-2000 mm lens. The maximum aperture is f/2.8-6.5, so it can perform well in low light when you don't zoom too much into the scene.
It can capture full-HD movies, which is not as impressive as the performance of the P1000. It offers decent quality images, but making videos is not a high point of this gadget.
The Coolpix W300 is the best Nikon camera for those who love action photography, extreme sports or underwater images and videos.
It's a waterproof gadget down to 30m/100ft. It's also shockproof to a drop of 2.4 m/8 ft, freezeproof down to -10°C/14°F, and dustproof. Now that's a camera built for adventure.
It has a 16MP sensor and the ISO range is 125-6400. That's a decent range for the target user-group.
It has a NIKKOR lens with 5x optical zoom and an angle of view equivalent to 24-120 mm lens. The maximum aperture is f/2.8-4.9 provides satisfactory low-light performance.
It's capable of an impressive 4K UHD 30p movie recording as well.
With four fun colours to choose from, you will surely find one you like!
Conclusion
This concludes our list of the 13 best Nikon cameras to consider in 2021. You can choose from our list of full-frame and crop sensor cameras, DSLR and mirrorless systems. Or, you can find more portable, point-and-shoot options as well.
We highly Nikon as a brand because it's reliable, consistent and innovative in its design process. While there are age-old debates on how it compares to similarly well-established camera brands, Nikon is a stalwart in its field.
Whether you are a professional or a beginner, having a Nikon is an advantage. So how do you make the best use of it? It's simple- go wild! Channel your crazy ideas into creating art. You can do it with household objects. All you need is a strong concept. We created a 30-day Wow Factor Photography Course that eases you into experimental photography. Not only will you discover your unique style but develop strong concepts that result in exemplary photos. So, go wild!