If you've ever tried to take a picture or shoot a video, you know how important lighting is. It isn't easy. Achieving a smooth and consistent level of light is difficult if you're not working in a professional studio. But whether you're shooting macro photography or creating makeup tutorials for social media, a ring light could be the answer.
The best ring lights will give you professional lighting conditions at home. Photographers, bloggers, vloggers will benefit from the even illumination a ring light provides. They'll make your selfies sizzle, and your portraits pop. If you want to take your home photography or video productions to the next level, a ring light is what you'll need.
The value of a ring light is no longer a secret, and there are plenty to chose from. But which is the best ring light for you? There are different types, and some are designed with a specific purpose in mind. Fear not! We are here to help you.
This is our list of the 10 best ring lights for photography and videography.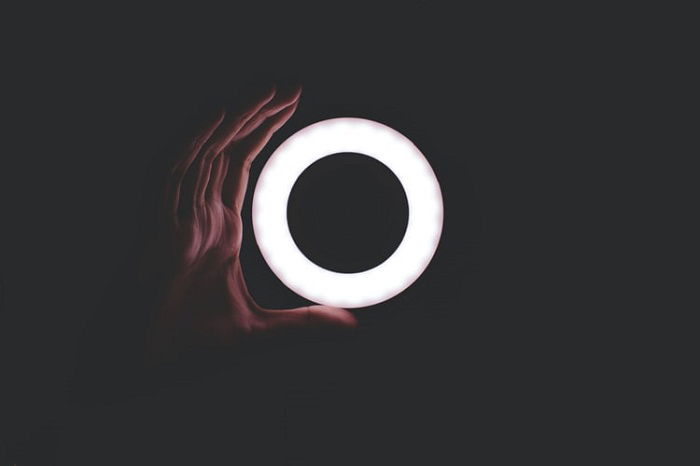 [Note: ExpertPhotography is supported by readers. Product links on ExpertPhotography are referral links. If you use one of these and buy something, we make a little bit of money. Need more info? See how it all works here.]
What is a Ring Light and Why Do You Need One?
The name says a lot. It's a lighting unit in the shape of a ring. It doesn't sound complicated, but there's more to it than that.
The purpose of a ring light is to provide bright and consistent light. It will illuminate your subject evenly, eliminating areas of shade. They work particularly well when the subject is close and head-on to the camera. This is why they are ideal for photography and video that involve faces. It's the same concept as the glamorous mirrors with bulbs all the way around.
There are two main types of ring lights, off-camera and on-camera. Off-camera lights stand alone and allow you to move the light as you wish. On-camera lights attach directly to your camera, often encircling it. But both have the same purpose. The ring of light will provide the shooter with even lighting on all sides.
The advent of the ring light came with the on-camera ring flash used for macro photography. Now their scope has broadened tremendously. The even lighting effect is perfect for selfies on Instagram or makeup tutorials on TikTok. They will bring a sense of class and professionalism to your photos and videos.
Use On-Camera or Off-Camera Lights to Suit Your Style
On-camera ring lights are ideal for macro work and on-location portraits. They're compact, portable and they can plug into a DSLR or mirrorless camera's hot shoe slot. Ideal for stills, but as this is a flash, it won't work for videos.
Off-camera lights need to be mounted on a stand or tripod. Your camera can be attached to the mount in the center of the ring. The light encircles the camera completely, meaning you won't experience any annoying shadows. The continuous light they provide makes them excellent for vlogging or streaming, too.
Ring lighting can make your media stand out. The ring light illuminates your subject entirely. When shooting faces, they will make the skin glow and the eyes twinkle. In portraits or selfies, you often experience circular catch light in the subject's eye. This can make their eyes glisten, attracting the viewer's attention.
When choosing a ring light, you'll need to consider your purpose. What type of media are you creating, and why do you need a ring light? A macro photographer and a TikTok will be looking for different things. You'll have to think about your budget and the camera you're using. To avoid vignetting, your camera lens will need to fit through the ring.
There is a lot to consider, but we will help you find the best ring light to meet your needs. Photographers, influencers, and vloggers, you need to check out our list. We will have the best ring light for you.
Best Ring Lights
Here is our list of the best ring lights available right now.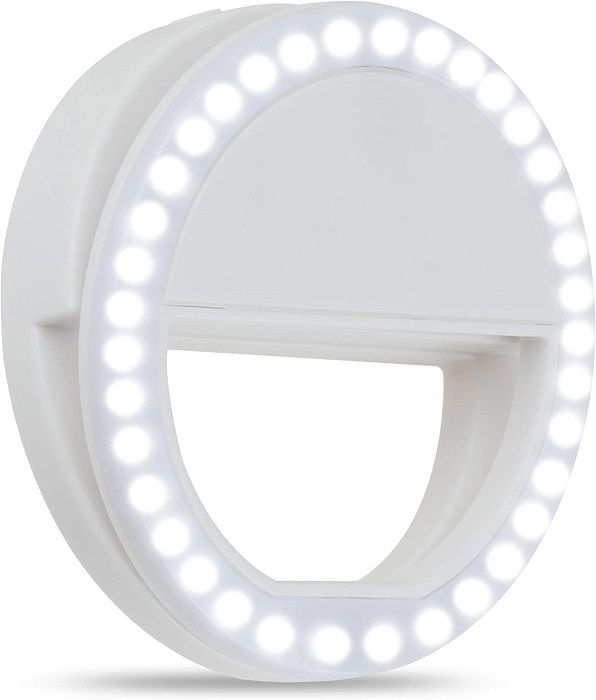 This is the simplest ring light you will find. It's small and clips directly onto your smartphone. It's affordable and couldn't be easier to use
The 36 LED lamp beads provide perfect illumination for selfies and videos from your smartphone. There are three adjustable light settings so you can get the shots just right.
You can charge it using a USB cable, so no batteries are required. And, when fully charged, it will give you two full hours of illumination.
It's only 100g with a diameter of 10cm. You can put this LED ring light in your pocket.
Of course, this is not for professional photographers. It's designed especially for selfies and videos. If you want to give your online profile a boost, then this is the best ring light for you.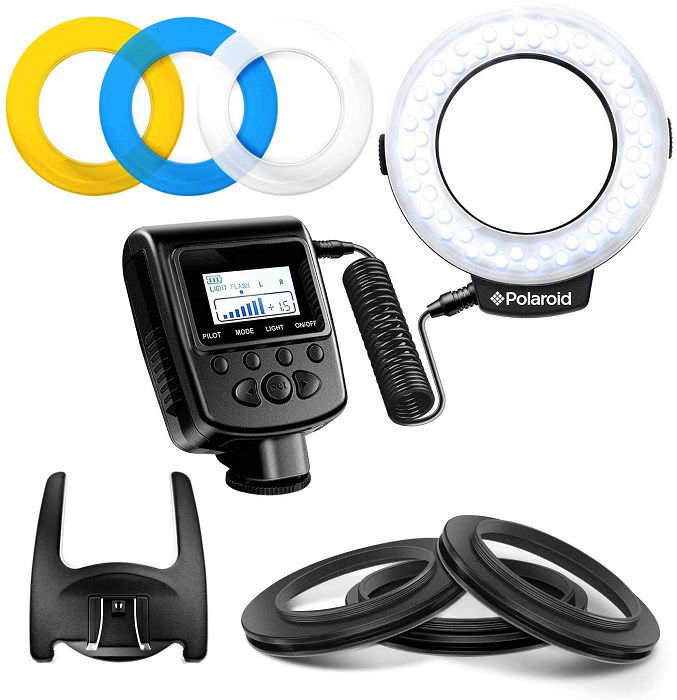 This LED ring light from Polaroid is handy and affordable. It's not the most powerful light on this list, but it might be just what you need.
Unlike some other items on this list, this ring light fits directly onto the end of your camera lens. But, with continuous illumination, it works for stills and video.
The seven brightness settings help you get the effect you need in different environments. But, you'll need a diffuser accessory to adjust the color temperature.
The flash function works with any camera that has a hot-shoe connection. Several lens mounts are included, so you can attach them to any lens between 49mm and 77mm. But check the list first to make sure it will accommodate your lens.
The battery life isn't great, so you'll need a good supply of AA batteries. The build quality also lets this set down, as it's not the most durable. But this is a good place to start if you're new to ring lights.
The Godox Wistro Ring Flash is a traditional on-camera flash. But, thanks to its built-in LED bulbs, the ring also provides continuous light. It was designed for outdoor portraits and fashion photography. But it's excellent for macro photography too.
This ring light is pretty powerful, with a guide number of 118 and a 0.05 to 2.8 second recycle time. It is capable outdoors, and the fast recycle time means less time between shots.
The adjustable power from 1/1 to 1/128 offers excellent versatility. It also gives you the option of blending the ring light with the ambient lighting. The lithium-ion battery is capable of 450 flashes before needing a recharge.
The continuous LED ring light has a 5600K fixed color temperature. It's not adjustable without modifiers, but a diffusion cover is included. And, at 1.4 kg, it'll give your arms a bit of a workout.
If you're looking for a ring light for selfies and vlogging, the FotodioX 18″ Bi-Color is the ring light for you. If you're looking to set your social media ablaze, this is the kit for you. It is affordable and has everything you need.
The ring is 18 inches, which makes it perfect for smartphones as well as cameras. A phone mount is even included in the pack. You can add some pizzazz to your makeup tutorials without needing to purchase a camera.
You can swap the phone mount for a mirror if you want to use the light for applying makeup or self-examination. And the travel case allows you to set up your studio where ever you need to.
You can add variety to your posts by adjusting the light temperature. The light range of 3200K to 5600K helps you adjust to different lighting conditions. It's also great for changing the mood of your content.
This is a great lighting kit, but there are two flaws. There is no stand included, and you need to connect to the mains for power. But, for the price, this is one of the best ring lenses for selfies and vlogging.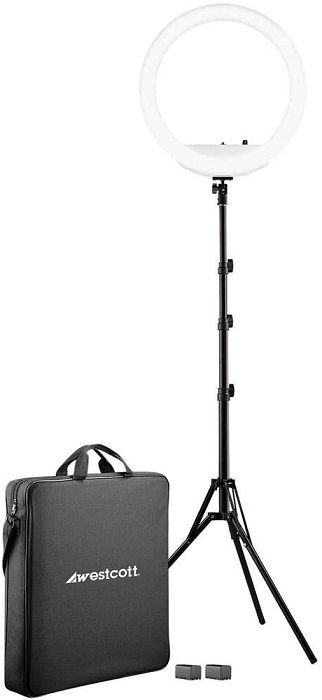 This LED ring light from Wescott is reliable and versatile. It's excellent for on-site or in-studio shoots. The kit includes a 6.5-foot stand and mountings for DSLRs and smartphones. The mountings are mobile and can swivel, which adds to your shooting options.
With an adjustable temperature range from 3200K to 5600K, you can get the shots you need no matter what the conditions. It also offers a high degree of color accuracy.
When it comes to power, this light rig is flexible. You can plug it into the mains, or, if you're on location, you can use the rechargeable batteries that come with it.
The carry case is strong and spacious enough for all your equipment. This is an excellent portable ring light.
This isn't the cheapest ring light on our list, but it is one of the best ring lights on the market. The Wescott LED ring light is professional quality and won't let you down.
The Ledgo ring light has excellent versatility. The light's handles allow for handheld use, and the camera mount is multi-angle. This gives you the ability to tilt and turn the camera when it's attached.
The light is pretty intense, with the adjustable brightness levels from 3200K to 5600K. This is great for full illumination, but there is a built-in diffuser if you need something softer.
The Ledgo ring light holds its own in a professional setting. It can be used on a tripod, in-hand, and even has a mounting plate for a rail system. You also have the choice of mains or battery power.
It can connect to cameras and smartphones, but the inner diameter is only 12 inches. It's a bit tight, but if your device fits in there, it'll connect.
The Ledgo is a professional-level ring light. It is on the pricey side, even without a stand or batteries included. It's not for casual Youtubers, but it's one of the best ring lights on the market for pros.
The Yongnuo YN-14EX is another excellent budget ring light.
This macro light uses and twin-tube design, which allows you to adjust either side individually. You can change the brightness levels on each side to give you a wide range of effects. It can add depth to your images, rather than having a flat light level.
The light has fewer power settings than some of its rivals, only 1/1 to 1/64. And, the recycle time of 3 to 5 seconds is rather slow.
A modelling light is included and it works with TTL, as well as other features like flash exposure bracketing and first and second curtain sync.
It may be a budget option, but the Yongnuo gives you plenty to play with. For versatility, it's one of the best ring lights on the market.
So the RoundFlash isn't actually a ring light. It's an accessory that turns your existing hot shoe flash into a ring light. But the result is an even softer light with those same ring-shaped catchlights.
A collapsible design makes the RoundFlash easy to tuck into a bag. It's lightweight, compact, and easy to transport.
As it works with your existing flash, there's a smaller learning curve to working with a modifier over a brand new lighting system. It's also cheaper than some ring light setups. And the modifier is beginner-friendly.
As a modifier that diffuses an existing light source, it's not as powerful as a dedicated ring light. And while lightweight, the design is a bit bulky when in use and looks rather odd to shoot with.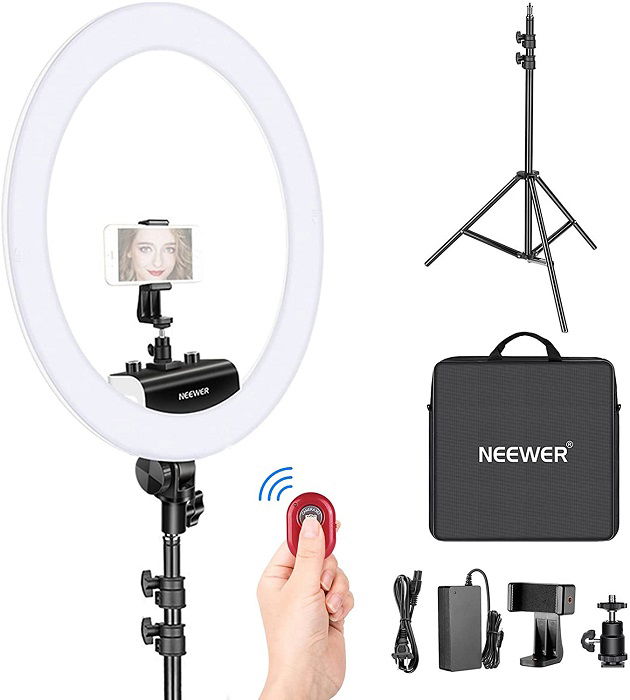 Neewer is a budget lighting company that offers some great budget options. And this ring light kit is the perfect example.
The Neewer LED ring light kit contains mounting options for both cameras and smartphones. And for the latter, the mount will allow for both vertical and horizontal mounts.
And, unlike other budget options, a stand and a carry case come included. This gives the freedom to shoot in different locations. You aren't confined to your room at home, but the lack of battery power is limiting.
This Neewer ring light is color adjustable from 3200k to 5600k and has other light dimming options. These settings help you adjust to different environments so you can vary your content creation.
This is an excellent option for new social media stars and amateur photographers. If you're taking arty selfies or making video tutorials, it's one of the best portable ring lights out there.
The Ikan is the best mid-range ring light on the market. The light itself is great, but it offers excellent value for money when you consider the kit you get with it.
The Ikan light is lightweight, offers a sizeable 120-degree coverage area, and has a built-in diffuser. You can also pay an extra $20 to include a makeup mirror as well.
The 3200K to 5600K temperature range, 10-100% power settings, and a built-in diffuser give you more options to play with. It gives you a large amount of creative control, so it's easy to change the environment or mood of your media.
The kit includes a stand, two batters with a charger, a power cord, and mounts for both smartphones and digital cameras. That all comes in a handy carry case.
At first glance, this may not look cheap. But with everything included, it's great value for money. The Ikan ring light is perfect for shooting video blogs at home or for photoshoots in the studio. It's the best ring light you can buy right now.
Conclusion
Ring lights are fast becoming a must-have piece of equipment for many media creators. And for good reason. From studio portraits to the humble bedroom selfie, a ring light will take your content to the next level.
The ring light comes in many forms, so you need to know which meets your needs. You need to think about the images and footage you want to create and what equipment you already have.
Our list has featured the best ring lights available today. If you're a social media newbie, a YouTube heavyweight, or a professional producer, you can find the best ring light for you. Illuminate your content and get a ring light today.
If you're interested in learning how to build a social media following for your photography, check out our Social Success Strategies eBook!