The advancement in microcomputer technologies has quickly transformed tablets from glorified phones to small, portable cameras and computers. So, today, we're going to give you a quick rundown on the ten best tablet cameras today. And we have you covered both iOS and Android devices.
If you're a photographer who likes the idea of having an all-in-one travel companion, a tablet could be a great option. The development of these smaller computers has created tiny but powerful camera sensors. We now have tablets with just as many megapixels as DSLRs made in the early 2000s.
Plus, these devices now function with more processing power than it took us to land on the moon! They can perform powerful image editing functions just like a laptop or desktop computer.

Note: ExpertPhotography is supported by readers. Product links on ExpertPhotography are referral links. If you use one of these and buy something, we make a little bit of money. Need more info? See how it all works here.
Top 10 Best Tablet Cameras
I'm sure you have seen someone in an audience take a picture using their tablet. It does seem counterintuitive, as people usually use camera phones, mirrorless cameras, or even DSLRs these days. But now, with high-resolution screens, it makes sense to use tablet cameras.
You can seamlessly go from taking pictures and video with a tablet to editing images. You don't have to worry about transferring them to your laptop. You can see your photos from the first click to the last edit. So, let's take a look at a combination of these two technologies in tablets.
Apple has led the charge on what a small tablet camera can achieve in the modern day. Their most recent iPad features the best iPad camera to date. It has a front-facing 12-megapixel (MP) camera and three types of rear cameras:
12MP wide-angle
10MP ultra-wide-angle
TOF 3D LiDAR scanner
LiDAR technology uses light pulses to read depth. It is particularly helpful for augmented reality.
The Apple iPad Pro 2021 has a whole load of features that make this tablet camera successful. My personal favourite is the Night Mode feature. If you get the chance, go into a room, turn off all the lights, and take a picture. You will be blown away by the detail it manages to extract from a seemingly pitch-black room.
And there is no shortage of extra features. The most attractive ones might be its video capabilities. It can shoot video in 4K of up to 60 frames per second. It has full HD capabilities to shoot 240 frames per second if you want to capture slow-motion scenes. And if you are a moviemaker, you can edit videos with professional software. The tablet's M1 processor can handle it. This is probably the only tablet on this list that can cope with 4K video editing.
Operating the tablet itself doesn't come with any difficulties. It has excellent battery life and an awe-inspiring Retina XDR screen. The only drawback may be the price tag. For all these reasons, the iPad Pro 2021 sits comfortably at the top of this list as the best tablet camera.
The iPad Pro 2020 version is almost identical to its newer version. It has the same rear element camera but differs in its front camera. It shoots at 7 megapixels rather than 12. This may only be an issue for the vain among us, who want to look crisp and sharp while video chatting or taking selfies. 
Its AI features are a great example of what Apple is doing to improve tablet photography. Elements like live mode and facial recognition make for a more effortless and more seamless photography experience. This is important as we use phones and tablets as point-and-shoot cameras rather than fully manual devices.
Apart from this, the system itself does not have an M1 processor. So, it will be slower than its younger sibling. You will not find this an issue, though. It is still powerful enough to handle photo editing software. But, it may struggle when encountering a 4K video project.
The advantage of these slight differences with its newer version is a bit more of an affordable price. It's worth exploring if you want to upgrade your current iPad. The 2021 iPad Pro isn't a lot different. So, you could consider this older version the best tablet camera available, too.
If you're looking to get away from Apple products, the Samsung Galaxy Tab S7 comes in as the best Android tablet. With a 13-megapixel rear camera and an 8-megapixel front camera, you have enough quality resolution to take some great images. And if you're preference is video, this tablet shoots in 4K at 30 frames per second. 
The S7 does have an extra wide-angle lens that shoots at 5 megapixels. This isn't amazing, but having the option to go ultra-wide is a helpful feature.
The camera has a range of features that make photography more accessible. For instance, there is a Hyperlapse feature to make fast-motion videos. And it has other practical options like creating panoramas and night images. My personal favourite is using manual controls inside the camera application for more precise settings. 
Samsung has produced a great tablet that is easily portable and has a great battery life compared to most others. These two qualities alone, plus the fact they will be a considerate amount cheaper than Apple products, make for a tempting purchase.
As Apple has just released their newest line of iPads, it's hard to keep them off the list. This is especially true when they have released an up-to-date version of their 'mini' series. This smaller rendition will cost you half the price but does not have the same capabilities as its bigger sibling. It still boasts a whopping 12 megapixels for the rear and front camera, earning a spot amongst the best tablet cameras. 
If you plan to use your tablet strictly for photography, this option could be perfect for you. The size isn't overbearing and can fit in a small bag. You could even operate the camera with one hand if you trust your grip. The best thing about this size of tablet camera is its "all-screen" design that maximises the tablet's surface. This means you'll be able to take great pictures and edit or view them without compromise.
The Apple iPad Mini 6 has 10 hours of battery life. It lasts you a full day of shooting. And it is the first time that an iPad mini has Apple's Smart HDR feature. It instantly spruces up images in a subtle way. You can also record 4K videos and use a flash. The latter option is not seen on tablet cameras much. With all these great features, the deciding aspect you may have to consider is its size.
Now, let's take a look at Window's number one option as the best tablet camera. The Microsoft Surface Pro 8 seems more like a laptop than a tablet. This means it's a durable option. And you get the same power as a regular laptop as well. With the Surface Pro 8, Microsoft provides you with the most considerable amount of RAM in a Window's tablet.
The rear camera is 10 megapixels, and the front camera is only 5 megapixels. From a design perspective, the camera is inconspicuous. It's not as prominent as the ones you would find in Apple products. This can perhaps make you think that the developers were not too interested in pushing the camera's specs. Regardless, the camera does a great job. It still captures enough details to produce good photos.
Window's Surface Pro 8 still gives you full 4K and HD video options. And there are plenty of photography modes and applications to get your creative juices flowing. Apart from this, you are getting a tablet with excellent capabilities and works great as a portable workstation.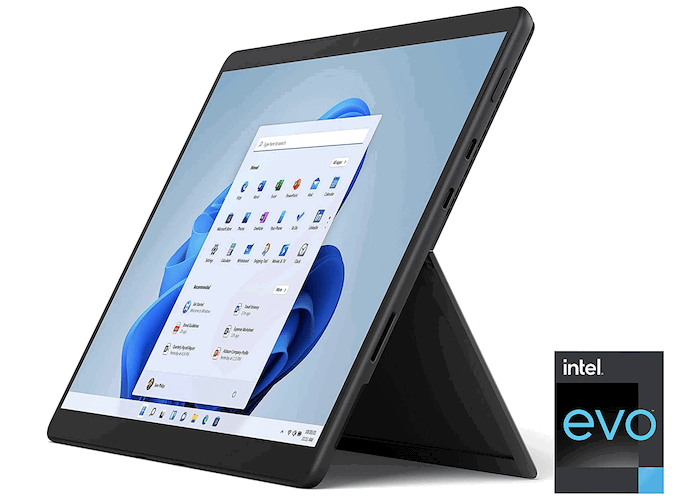 Apple is so ahead of the game when it comes to small camera sensors. That is why the 2018 edition of the iPad Pro still makes it onto the list of the best tablet cameras in 2021. The 2018 edition has the same 12-megapixel rear camera as the newest iPad Pro. And it has the same front camera as the 2020 iPad Pro. The only parts it's missing is the LiDAR and ultra-wide options. If you don't think you'll need these extra features, the iPad Po 2018 could be your tablet. 
The tablet itself operates in a way that is more like a desktop Mac rather than an iPhone. It is the first in the range of iPads compatible with external hard drives. So, you're able to sort through your images taken on other devices and snap your own all from a handheld tablet.
Perhaps the best feature about this tablet is its price. As Apple has released two more editions since 2018, you can find this iPad for a fantastic price—much lower than its release price. If you are on the hunt for a great deal, finding places that sell this iPad secondhand is a great way to bag one of the best tablet cameras out there.
Microsoft's Surface Pro X comes in narrowly behind its newer version. In terms of camera capabilities, the Surface Pro X is the same as the Surface Pro 8. Its 5-megapixel front camera and 10-megapixel rear camera make it a tempting option to buy. Plus, you will find it at reduced prices compared to its newer release. 
The Surface Pro X is light and portable. We've placed it at this position on the list because of its processing power. You have two processing options when buying this model. Both will be great for photo editing, but you may notice some struggle when editing bigger video projects. 
The rear camera can support 4K filming, but you will only get HD video for the front camera… which is still great! Overall, the Surface Pro X will provide pretty great pictures in the right hands.
Levono makes its way onto our list of best tablet cameras with this fantastic Android option. Many features make the Levono Tab P11 Pro appealing. Most important is its affordable price. It's an ideal option for tablet cameras with a 2K display to view your photos on a more portable screen.
Its value comes with its 13-megapixel rear camera that also features a 5-megapixel ultra-wide option. It then has an 8-megapixel front camera to take selfies in high resolution. These options are great, but it tends to be a little bit buggy when it comes to certain features, such as facial recognition. 
From my experience, it is a great tablet when it comes to the camera but could do with refinement in other places. This isn't super surprising. You can pick this tablet camera up for a considerate amount cheaper than options higher up this list.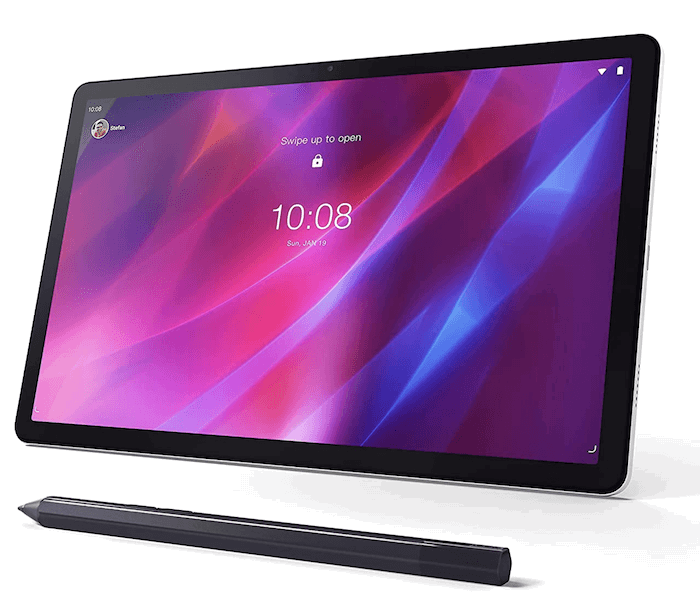 The Microsoft Surface Go 2 comes in as a smaller, lighter version in the Microsoft Surface range. The Go 2 has the same front camera as the other Surface tablets. But the rear camera drops down to 8 megapixels. This is sufficient for taking decent photos. But they will not be as high-quality as other options higher up on this list.
The Surface Go 2 earns its spot on this list of best tablet cameras because it is a great budget option. The tablet will provide you with all the necessities that tablets offer. And, it functions well as a portable device you can use to snap and show photos quickly.
It has AI features such as facial recognition and scanning for text. Plus, you get full 1080p HD video with both the front and back camera. You will be hard-pressed to find a tablet with the same capabilities for its price.
The Samsung Galaxy Tab A7 is comparable to the Microsoft Surface Go 2 in weight and size. This is also when it comes to price. The Galaxy Tab A7 comes in just a fraction cheaper. These budget options have the same camera capabilities with an 8-megapixel rear camera and a 5-megapixel front camera. 
These last two options were released in 2020, so they are up to date in operating systems and software. Because you can use them as computers, you can easily edit your images on these devices. The A7 can handle imaging software as long as the image sizes aren't too overwhelming. Regarding the photos that the tablet takes, you have plenty of control without compromise on this tablet.
Conclusion
After looking through these options, you will see it comes down to how much money you want to invest into your new tablet camera. There are updated tablets put out every couple of years. So, you can find a bargain with older models. But it could be good to put in a little more money to get something that lasts.
If you study this list, it's not hard to see that Apple has so far produced the best tablet camera. But consider what you will use your tablet for before deciding to buy.
Now that tablets have become computers of their own, they can make your life and daily workflow a lot easier. Their added function as cameras emphasises this. As we all know, photos are an integral part of communication. Having the best tablet camera can be a quick way to streamline your picture-taking and editing processes.
If you want to keep your hands free while using your new tablet, check out our review of the best iPad stands, too!
Try out our Effortless Editing With Lightroom course to make your photos truly striking!